Commons Hansard
21 Jun 2006
Local Transport Funding
3.06 p.m.
Mr. David Clelland (Tyne Bridge): It is a pleasure to serve under your chairmanship, Mr. Bercow, although I must begin with an apology to you, the Minister and Opposition Front Benchers, because I will not be able to stay for the winding-up speeches. I have to attend the Select Committee on Transport, which is dealing as we speak with issues not unrelated to those before us.
I congratulate my hon. Friend the Member for Pudsey (Mr. Truswell) on securing this important debate. He is right that in the next round of the comprehensive spending review it is crucial that transport in the major conurbations is properly addressed. Funding is certainly an issue in the North-East of England, where there is a Going for Jobs campaign that has been supported by local business, local Members of Parliament, local government and the local press. In that campaign we are recognising that transport is crucial in improving and growing the economy of the North-East, and in increasing jobs. At the moment we are suffering from under-investment in transport - not only in public transport but in road and rail links, especially roads.
The North-East is the only English region that is not directly connected to the motorway system. There is a stretch of two-lane motorway running from Newcastle to Scotch Corner, followed by 35 miles of dual carriageway before we rejoin the motorway system for the rest of the country at Dishforth. There should be national as well as local investment in transport issues.
The north-east's spending on road and rail infrastructure has increased by just 25 per cent. over the last six years - four times less than the national average and nine times less than for London. I know that there are arguments that London is a special case, and perhaps that is why more is spent on education and health in London, but the spending gap in those areas is as nothing compared with the spending gap per head between London and the rest of the country on transport. Crossrail and the Olympics are in danger of making that even worse.
One answer to congestion and environmental problems is to improve public transport. We are particularly concerned about that in the North-East, and in Tyne and Wear in particular. Our passenger transport executive and authority do a remarkable job, but they recognise that congestion costs British business £20 billion and that that figure is getting worse and will continue to do so over the next few years. Car ownership in the region is expected to rise by 30 per cent. between 2001 and 2021.
The Highways Agency is not helping. Using its infamous article 14 orders, it is blocking new development because of congestion, which is slowing down economic growth in the region. If we introduced congestion charging, as is being examined, it would increase the need for efficient public transport solutions.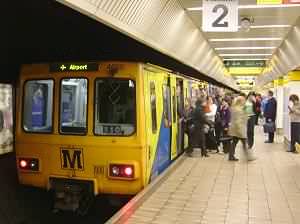 36 million passengers every year


That brings me to the Tyne and Wear metro system, which is extremely successful. When the new Sunderland extension was opened, 16 per cent. of its passengers had previously travelled by car. Thirty per cent. of individual passengers using the system could travel by car but instead choose the metro. The metro certainly allows longer commuter journeys and is crucial as skills shortages become more of an issue with employers.

It is also cost-effective. The metro meets 69 per cent. of its costs; only 7.4 per cent. is met by local authorities. However, the metro is 26 years old. It has carried more than 1 billion people over those 26 years and it remains the only locally owned and operated railway in England. It carries 36 million passengers every year through some of the busiest commuter corridors in Tyne and Wear. Having no metro would mean 15 million more car journeys every year in Tyne and Wear. The metro is the most cost-efficient urban passenger transport railway in the UK. The subsidy is just 42p for each passenger carried. As I said, however, the metro is 26 years old, so it needs to be improved if it is to last.

That brings me to Project Orpheus. That proposes a £500 million investment plan, which will secure the future of the metro over the next 30 years, renewing the whole system for the price of renewing London's Victoria station. Project Orpheus was recently submitted to Ministers, and we await their consideration. It is a 20-year plan to reinvigorate the metro. It offers bus-based solutions in all 29 key corridors over the next 10 years, and the possible long-term extension of the metro would come about through use of on-street tram technology. The Department for Transport does not look favourably on that at the moment, but let us hope that that changes.

If we do nothing, speed restrictions on deteriorating track will mean longer journey times. Metro cars will begin to fail between 2010 and 2015. Reliability will fall as power, signalling and escalators fail more often. Stock and stations will degrade, increasing the gap in comfort with the car. The cost to the taxpayer will spiral as passenger numbers fall and costs rise. The operating deficit is predicted to rise to £60 million per annum by 2025, and if nothing is done, the whole system will have to be closed at some point in the next 20 years. In that case, there would be up to 40 million more journeys by road in Tyne and Wear - 15 million by car - which would increase the pressure on river crossings and major routes, and overall business competitiveness would suffer. It is therefore crucial that we have that public investment in the metro system and in public transport generally in Tyne and Wear over the next few years.

We should be considering not only funding, but the powers of passenger transport authorities. Currently, local government carries the power when it comes to providing bus lanes, concessionary fares and so on. PTAs have very little power in those areas, hence Newcastle has no-car lanes, Gateshead has bus-only lanes and some other authorities have bus lanes. The situation is confusing for motorists and particularly taxi drivers, who like to use those lanes when they can. They do not know which lanes they can use and which they cannot. However, the passenger transport authority has no power to apply a common standard and a common rule across the conurbation. In that respect, the powers of PTAs need to be increased.

The situation is similar for concessionary fares. In relation to concessionary fares for over-60s and disabled people, the problem of cross-boundary issues will be resolved in 2008, when the national scheme comes in. However, other concessions that we have in Tyne and Wear or had until recently, such as teen travel and concessions for students travelling around, are restricted according to local authority boundaries. Quite often, students want to travel to further education establishments and so on outside their area, but are unable to do so. The PTAs need more powers, but perhaps there should also be a regional authority, not necessarily on the model of Transport for London, although certainly Transport for London has shown that a co-ordinated approach in a major conurbation is the way to have successful public transport, and that is something that we can do in Tyne and Wear.

I support my hon. Friend the Member for Pudsey in what he said about bus deregulation. The Transport Committee, which I am about to address, is considering that subject. The public need improved bus services in the conurbation: the services have deteriorated badly since bus privatisation. A form of regulation or re-regulation is needed quite urgently. I hope that the Select Committee produces a report that suggests that, and that Ministers take it seriously.

House Speech Contents  Return to Homepage
---
Promoted by Ken Childs on behalf of David Clelland, both of 19 Ravensworth Road, Dunston, Gateshead. NE11 9AB
Homepage