03/12/08 Carlisle MP urges Carers to find out about Support
19/11/08 MP visits Carlisle Fire Station - Integrated Risk Management Plan
13/11/08 Government gives Card Account Boost to Post Office
12/11/08 Come on Cumberland
07/11/08 Life-changing course commences in Carlisle
31/10/08 MP demands Fair Share from BBC News
17/10/08 Labour leads the way on combating climate change
01/10/08 Extra cash for workers in Carlisle this autumn
22/08/08 MP predicts - "It's a tragedy waiting to happen"
21/08/08 MP calls for Windfall Tax on greedy energy companies
01/08/08 'No excuse not to pay up'
01/08/08 Hospital's University Status
01/08/08 People before Profit
18/07/08 Carlisle under Construction
15/07/08 Eric critical of Closed-Door Policy of NHS Trust
15/07/08 Local MP supports disabled young campaigners in Carlisle
11/07/08 Hilltop wrong place for Super Surgery
04/07/08 Carlisle MP, Eric Martlew, welcomes Government action on Credit Unions
25/06/08 Super Surgery should be at Belah
20/05/08 MP congratulates crime-cutters
01/05/08 Eric calls for ban on trade in seal products after seeing cruelty of Canadian hunt
24/04/08 Schools Minister to visit Carlisle
27/03/08 MP Eric Martlew welcomes U-turn on Bed Reductions at the Cumberland Infirmary
12/03/08 Eric Martlew MP welcomes a Budget for Stability and Opportunity
11/03/08 MP urges Residents to sign up for free National Bus Travel
11/03/08 Support for 'Council' Post Offices
18/02/08 Carlisle MP to meet Isle of Man Chief Minister in Border TV talks
30/01/08 Better Blue Badge
23/01/08 School Huts could be there for Decades!
18/01/09 MP Eric to meet Isle of Man Chief Minister over threat to Border TV
17/01/08 MP exposes Massive £600,000 Payment to Consultants by City Council
09/01/08 MP asks Insurance Companies to reduce Premiums
07/01/08 MP says give people of Carlisle a vote on Border TV future

---
Carlisle MP urges Carers to find out about Support
3 Dec 2008
Carlisle MP, Eric Martlew added his support to Carers UKís national carersí rights campaign on Friday 5th December 2008.
There are over six million unpaid carers in the UK who provide care support to family, friends and neighbours, saving the country an estimated £87 billion each year. The Carers Rights Day campaign, run by Carers UK, seeks to increase the take-up of benefits and raise awareness of carersí rights and the support that they may be able to get. It might be the Carerís Allowance, meals on wheels, council tax discount or practical support caring that makes a difference.
Mr Martlew said:
"Itís a real concern that carers in Carlisle may not be getting all the help they are entitled to. Carers are fulfilling a vital role in society and without them the NHS and social care system would not be able to cope. It is essential that they are given information about their rights so that they get the support they need and do not live in poverty, risking their own health and future prospects. I look forward to meeting Carers on Friday, 5 December in the Old Town Hall and will be there at 10.30 am".
Carers UK urged carers to get in touch with its helpline, CarersLine (0808 808 7777 or www.carersuk.org).
Imelda Redmond, Chief Executive said,
"Nearly three quarters of carers are financially worse-off as a result of caring, with many falling into poverty and debt. Yet around £740 million per year in carers benefits go unclaimed. Carers must get clear information on what they are entitled to, and how to claim it."
---
MP visits Carlisle Fire Station - Integrated Risk Management Plan
19 Nov 2008
On Friday, 21 November 2008 at 09.30 Carlisle MP, Eric Martlew, will visit Carlisle Fire Station at the invitation of Firefighter Malcolm Hind.
Malcolm and colleagues from Carlisle, visited the Houses of Parliament last week (12 November 2008) to lobby MPs on the number of firefighter fatalities and Eric said when he returned to Carlisle he would like to visit the Warwick Street station.
He will be shown around the station before meeting with FBU members and those on their regular watch among items for discussion will be the Integrated Risk Management Plan which is currently out for consultation.
---
Government gives Card Account Boost to Post Office
13 Nov 2008
Carlisle MP, Eric Martlew pays tribute to local campaigners
Local Post Offices received a boost today as the Labour Government awarded the contract for the POCA service to the Post Office. The news will be welcomed by local post offices who rely on the business people picking up their pensions or benefits through the Post Office Card Account brings into branches. Around 6,360 people in Carlisle have their accounts
Welcoming the news Eric Martlew thanked local people for campaigning with him on the issue:
"This is great news for the post office. I recently met with James Purnell to discuss this issue and I am delighted that the government has listened to what I have been saying on behalf of local people. I would like to thank everyone who has stood up for local post offices and made their voices known on this."

"With the financial crisis that started with the American banks now being felt here in Britain, people are feeling worried about their finances. Post Offices are often the only providers of banking services in local areas so this vote of confidence in the post office is very welcome."
The Labour Government has decided to award a new contract for the continuation of POCA directly to the Post Office. This announcement is good news for the Post Office as the card account is an important source of income and brings customers through the doors of post offices across the country. The National Federation of Sub Post Masters had said that, without POCA 3,000 Post Offices would close.
We announced in December 2006 that there would be a successor to POCA and put that product out to tender. However, in order to support a viable Post Office network the Labour Government have decided to cancel the current procurement exercise.
Labourís Secretary of State for Work and Pensions James Purnell paid tribute to Carlisle MP, Eric Martlew, for campaigning on this issue saying:
"I applaud Eric for standing up for people in Carlisle and his local post offices. I know how important post offices are to local communities and this provides real help for these local businesses and their customers in tough times."

"This is the right decision for Carlisle."
The Post Office Card Account is a very straightforward account specifically designed to pay benefits administered by the Department for Work and Pensions, the Northern Ireland Social Security Agency, Service Personnel and Veterans Agency and Inland Revenue tax credits.
Only benefits and pensions can be paid in and they are collected across a post office counter using a plastic card and PIN.
About four million people receive their benefits and pensions this way, including around two million pensioners.
The National Federation of Sub Postmasters had claimed that 3,000 post offices might close if post office did not receive the contract.
---
Come on Cumberland
12 Nov 2008
Carlisle MP Eric Martlew, has called on local Cumberland Building Society to cut their interest rates.
"Because of the massive 1.5% cut in interest rates last week, thousands of Cumbrian families will see their mortgage rate slashed," said Eric.

"Many building societies have pledged to pass on the full reduction but the Cumberland Building Society has not yet made such a commitment," continued Eric, "I hope they will decide to pass on the whole benefit of the 1.5% rate reduction as in this are more people have mortgages with the Cumberland and they should have access to this help to enable them to keep up with their payments. If the likes of Abbey, The Nationwide and others can pass on the full benefit, I think the Cumberland Building Society should do likewise."
---
Life-changing course commences in Carlisle
7 Nov 2008
Some of Cumbriaís most vulnerable youngsters will be one step nearer to a brighter future thanks to a new programme launched today (Friday 7th November) by Eric Martlew MP.
Pioneered by charity Rathbone, the "One Life" scheme gives teenagers a good grounding in health and social issues; plus helps them to find work or move on to college.
And, says Rathbone Centre Manager Val Ferguson, the programme will change lives - not least because our so-called "street-wise kids" know so little about problems such as drug addiction, poor diet, crime and a lack of education.
"It became apparent during the pilot for "One Life" that some of our trainees were living in the moment and were unaware of the consequences of what they were doing" said Val. "While some had supportive parents, others lacked any real role model and were spiralling into joblessness, despair and crime before they came on the programme.""
Running for the next two years, "One Life" will see struggling 14-16-year-olds from the Richard Rose Academy in Carlisle work in small, intensive classes at the Rathbone Centre on Lowther Street. They will learn and be able to pick up qualifications in the following areas:
One Love - teenage pregnancy and good sexual health
One Child - the responsibilities behind being a decent parent
One Drink - the consequences of alcohol addiction
One Time - understanding why people break the law
One Learner - the importance of gaining an education and not truanting
One Body - the benefits of healthy eating, and,
One Citizen - our responsibilities to the community and the dangers of racism
Amongst those to succeed on the pilot programme was a Carlisle girl whose love of pranks and being drawn into the wrong crowd resulted in her being labelled, "disruptive". By learning boundaries and the ability to behave appropriately, she has now moved on to a course that should lead on to full-time employment.
Although presently aimed at Year 10 and 11 students from Carlisle, "One Life" could be extended to other age groups - including adults. The programmeís pilot has not gone unnoticed outside of Cumbria and joining Eric Martlew MP will be educationalists from other parts of the country.
"One Life" is launched at:
10 30am
Friday, November 7th
Rathbone
1st Floor
21 Lowther Street (junction of Devonshire Street)
Carlisle
Current and former "One Life" trainees, local dignitaries and special guests will also accompany Mr Martlew on his tour of the Centre.
Val Ferguson concluded:
"We believe we have a very special programme here that could be about to make a difference in the region and beyond. It brings trainees back into education and therefore society, by treating them respectfully and they come in ready to learn and make theirsí a better life."
Aside from organising "One Life" Rathbone Carlisle works with 14-18-year-olds to help them move into professions such as Childcare. To learn more about the charity, visit www.rathboneuk.org email carlisle@rathboneuk.org or telephone 01228 817670.

10 Nov 2008
Eric said at the launch,
"I admire the dedication and commitment of the staff and the enthusiasm of the youngsters.

"We have got here some teenagers who obviously donít like school and others who come specifically to do a course here. It is working.

"For generations weíve had problems with young people who, for whatever reason, school has not met their aspirations.

"So it is important to make sure they get a chance like this, otherwise they will be disadvantaged for the rest of their lives and then their communities will be disadvantaged too."
Rathbone is one of the largest independent providers of education and training in the tertiary sector. The focus of our work is with young people facing great personal challenges in terms of their learning and social support needs. Rathbone provision reaches 12,000 young people annually across Scotland, England and Wales. Our work ranges from specialist provision for young people aged 14+ who are partially or fully excluded from school, to advanced modern apprenticeships. We also have a number of street level outreach projects which engage young people who are otherwise not in education, employment or training. We operate from a network of 69 centres across the UK.
---
MP demands Fair Share from BBC News
31 Oct 2008
With ITV proposing to cut our local services in North Cumbria, Carlisleís MP, Eric Martlew is calling on the BBC to give more attention to the area.
"For years BBC television has got away with almost ignoring Cumbria in their news programme because of the comprehensive cover we got from Border Television and their Lookaround programme," he said.

"Now the BBC must fulfil their obligation to improve their news coverage of Carlisle," he continued, "I am calling on the Director General of the BBC to give us a dedicated news slot in BBC Look North - itís the least they can do."

"If the BBC can pay Jonathan Ross £18m, I am sure they can find the small amount of money to provide a news service for North Cumbria and end their neglect of this area."

"Theyíve got away with giving us too little for too long".
---
Labour leads the way on combating climate change
17 Oct 2008
Carlisle MP, Eric Martlew, says
"The decision to make tougher targets to cut harmful emissions is the right one, and Iíll support it.

"Labour has taken action on the threat of climate change. Our Climate Change Bill will set a long-term legal framework for reducing emissions for the first time. Labour believes a global deal will only be possible if Britain plays its part, leading the way with other developed countries."
Eric Martlew added,
"The Bill will make us the first country in the world to put carbon reduction targets into law. And we have shown that action on climate change should have an even stronger voice in Government.

"The appointment of my Labour Colleague Ed Miliband as Britainís first Secretary of State for Energy and Climate Change shows our commitment to taking on one of the greatest challenges the world faces.

"But we now want our Climate Chance Bill to go further. This summer the Government looked into the long-term target for Britainís emissions to see if it would deliver real action. They have now decided to take tougher action.

"Our greenhouse gas emissions in 2050 will not be 60 per cent lower than 1990, but 80 per cent lower. Iím pleased that the government has taken this action and that target will be set in law. I will support this and vote for it in the House of Commons."
Notes:
The Climate Change Bill will make us the first country in the world to put carbon reduction targets into law.
Based on a lot of evidence, we had said the target should be a 60 per cent cut in emissions. Since then, the situation has got even more serious. Arctic sea ice has melted faster than expected. Emissions from other countries have grown faster. The impacts of each degree of climate change are known to be worse.
The new Climate Change Secretary Ed Miliband told the House of Commons that we would take action based on what the Climate Change Committee has said is needed. So for the UK to play its part, our greenhouse gas emissions in 2050 will not be 60 per cent lower than 1990, but 80 per cent lower.
The target will also apply not just to CO2, but to all greenhouse gasses. With these cuts Britain will be playing its part to stabilise greenhouse gasses at a level that limits global warming to 2 degrees Celsius.
---
Extra cash for workers in Carlisle this autumn
1 Oct 2008
The National Minimum Wage is going up again. The rate is rising to £5.73 per hour for workers aged 22 and over, £4.77 for 18-21 year olds and £3.53 for those aged 16 and 17.
Welcoming the news Carlisle MP, Eric Martlew said:
"I became an MP to fight for the rights of working people in Carlisle. The minimum wage is one of Labourís proudest achievements in Government.

"And when families are struggling with rising fuel, energy and food prices it is more important than ever to have a rising National Minimum Wage. To me itís pretty simple, if you believe in fairness, you should support the National Minimum Wage. When it came in ten years ago people like David Cameron strongly opposed it."
Eric also sent out a warning to rogue employers that they will be punished for not paying the National Minimum Wage.
"With the National Minimum Wage there is no excuse not to pay up. If you think a rogue employer is not paying up then get in touch with me on 01228 511395 or call the national minimum wage helpline on 0845 6000 678.

"I will also vote for Labourís Employment Bill which will be going through Parliament. It will mean we can take even tougher action on rogue employers with serious cases going to a Crown Court.

"So the message is simple: Con workers in Carlisle and you will face tough action. There are no excuses not to pay the National Minimum Wage."
---
MP predicts - "It's a tragedy waiting to happen"
22 Aug 2008
Carlisle's MP, Eric Martlew, is calling for Councillor Olwyn Luckley, the Lib/Dem Portfolio holder for Health and Communities on Carlisle City Council to look again at their decision to locate the new women and children's hostel in Shaddongate, next to the John Street Hostel for homeless men.
"I was appalled by Carlisle City Council's decision", he said, "And asked the Police for details of the number of reported incidents at the men's hostel. The information makes grim reading. In the last 12 months there have been 98 incidents reported in or adjacent to the hostel."
He continued,
"Only on Tuesday tea time this week I personally saw four police vehicles attending an incident at the hostel. This cannot be the right environment in which to place vulnerable women and children. If this scheme goes ahead, I fear that it will be just a matter of time before a tragedy occurs."
He demanded that Councillor Luckley, who is a councillor for the ward, to take the decision back for reconsideration following release of the damning police figures.
---
MP calls for Windfall Tax on greedy energy companies
21 Aug 2008
Carlisle's MP, Eric Martlew, has written to the Chancellor of the Exchequer, Alistair Darling, asking him to impose a one-off windfall tax on energy companies.
He urged the Chancellor to give urgent consideration and said,
"Rising energy and fuel prices are affecting everyone, but it's the poorest and those on fixed incomes who are paying the heaviest price."

"Bills have rocketed in recent years and the energy companies have made record profits for they've blatantly exploited their customers and it's now time for the Government to step in to curtail their greed."
He continued,
"Since 2000 we have faced gas price rises of 100% and electricity rises of 61%, with further recent increases, including British Gas raising its gas bills by a record 35%.

"During this similar period the main energy companies have seen their profits rise from £557 million in 2003 to £3 billion today. The oil giant, BP, is making an astronomical profit of £37 million per day and has enjoyed a staggering 23% increase in their profits to £6.7 billion for the first 6 months of this year.

"Their greed leaves me no choice but to ask the Government to intervene to levy a windfall tax to help people with their energy bills."
Letter to Alistair Darling:
The Rt. Hon Alistair Darling MP
Chancellor of the Exchequer
HM Treasury
1 Horseguards Road
LONDON SW1A 2HQ

21 August 2008
Dear Alistair
I am writing to urge you to impose a one-off windfall tax on energy companies. Rising energy and fuel prices are affecting everyone, but it is the poorest and those on fixed incomes who are paying the heaviest price.
Since 2000 we have faced gas price rises of 100% and electricity rises of 61%, with further recent increases, including British Gas raising its gas bills by a record 35%. Simultaneously, the main energy providers have seen their profits rise from £557 million in 2003 to £3 billion today. BP is making £37 million per day, with a 23% increase in profits to £6.7 billion for the first six months of 2008.
I, therefore, believe that the moment is right for the Government to help redress the balance by levying a one-off windfall tax. Money from this tax should be used to help the most vulnerable with their energy bills this winter.
There are precedents for such a tax as in 1981 the Conservative Government levied one on the main clearing banks to counteract the increase in interest rates which led to substantial unearned profits; the Labour Government in 1997 tried such a tax on the unearned profits of the privatised utilities and raised £4.5 billion. In 2008, the spike in the price of oil has led to substantial unearned profits for the main oil and energy companies and I feel it is both appropriate, essential and just that the Government now takes similar action.
I hope for a positive reply.
Yours sincerely
ERIC MARTLEW MP
Member of Parliament for Carlisle
---
'No excuse not to pay up'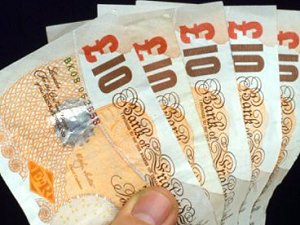 1 Aug 2008
Eric Martlew MP welcomes the announcement on fair tips and the minimum wage and calls for rogue employers who con staff to be exposed.
This July marks 10 years since the government voted to introduce the National Minimum Wage in 1998. Critics said the minimum wage would cost the country 2 million jobs and opposed it. The reality is totally different. An extra 2.3 million jobs have actually been created since then. Nearly one million low paid employees, two thirds of them women, have benefited from the National Minimum Wage.
Eric Martlew MP said:
"When families are struggling with rising fuel, energy and food prices it is more important than ever that there is a basic floor of decency underpinning the labour market.

"I became an MP to fight for the rights of working people in Carlisle. Looking back I think the minimum wage is one of Labour's proudest achievements in Government.

"The next step is today's announcement that the Government intends to change the current minimum wage rules on tipping, to ensure that in the future tips will be additional to the Minimum Wage.

"Dealing with this is a matter of fairness and common sense. When we go to a restaurant or to have our haircut and we leave a tip, we expect it to go to the staff member in addition to their pay, not to go through the payroll to make up the Minimum Wage.

"This move will benefit workers in service industries throughout Carlisle, people we all rely on, but who often don't have the strongest voice. Changing the rules will build on the success of the Minimum Wage and be a step forward for decency and fairness at work.

"With the National Minimum Wage there is no excuse not to pay up. If you think a rogue employer is not paying up then get in touch with me on 01228 511395 or call the national minimum wage helpline on 0845 6000 678."
---
Hospital's University Status
1 Aug 2008
Eric has welcomed news that North Cumbrian Hospital has achieved University Hospital Status.
He says it is a dream come true and that the additional training resources will show benefits in the care for patients.
Eric said,
"As a former Chairman of the Cumbria Health Authority this is a dream come true."

"It is recognition of the high calibre of staff in North Cumbrian hospitals. This has also been made possible by this Government's investment in the NHS and its creation of the University of Cumbria."

"I am sure we will soon reap the benefits of its enhanced training role which will add to the quality of care."
---
People before Profit
1 Aug 2008
Carlisle's MP, Eric Martlew, has launched a blistering attack on the giant water company, United Utilities, and has called for the water industry to be brought back into public ownership.
Speaking out after attending an event to commemorate the 100 years anniversary of Carlisle Sewage Works, now antiseptically referred to as the Waste Water Treatment Plant, Eric was highly critical of United Utilities.
"This sewage plant was paid for by the people of Carlisle when, one hundred years ago, the City Council spent £68,000 on what was then a massive investment for the future. It was built to such a high specification that little has had to be spent on it in the intervening years. But when it was privatised the City received no compensation at all."
Eric continued,
"This company is raking in vast profits while our water bills rocket sky-high. It seems more interested in its shareholders than its customers"

"The virtual give-away privatisation of our utility companies by the last Conservative government was very unpopular, but none more so than the water industry. By its very nature United Utilities has a monopoly, which is great for its profits but not the public."

"It is time to think again. The debate on taking it back for the people rather than for profit should start now."
---
Carlisle under Construction
18 Jul 2008
Carlisle MP, Eric Martlew, said today that the massive public building programme in Carlisle, over the next few years, will be a major boost not only to the construction industry but the local economy in general.
In outlining the proposals for the next two years he said,
"Carlisle will never have had such a comprehensive construction programme with major schemes being undertaken at the same time.

"The list is awesome. We'll see the construction of the Northern Development Route, 2 brand new Academy schools, a £20m refurbishment of Trinity School, 2 new fire stations and a new police station, major developments at the Carleton Clinic, the start of construction on the Headquarters for the University of Cumbria and further capital improvements to Carlisle College.

"Apart from this unprecedented Government investment I also welcome the news that a new GP surgery is to be built in the north of the City, while a similar scheme may go ahead serving the southern part.

"This is probably the largest amount of publicly funded works since the Second World War and I hope that the local businesses will embrace the challenge and that local construction workers will benefit."
---
Eric critical of Closed-Door Policy of NHS Trust
15 Jul 2008
Today, Carlisle's MP, Eric Martlew, hit out at the erosion of public access to NHS meetings.
He stressed,
"Cumbria has a good story to tell about the NHS so why are the North Cumbria Acute Hospitals NHS Trust, Cumbria Primary Care Trust & Cumbria Partnership NHS Trust abandoning their public monthly meetings?"

"Over recent months these quangos have decided to meet behind closed doors, with the North Cumbria Acute Trust & Cumbria PCT opting for bi-monthly public meetings, but worse still, with the Cumbria Partnership only having quarterly public meetings. While stressing they are bringing services closer to home they seem more determined to take decisions in private - decisions affecting us - the public."
He continued,
"White I accept that these meetings did not attract large numbers of the public at least there was the opportunity to attend and there was the all-important public scrutiny by the press."

"These quangos are not elected "he went on to say. "They spend hundreds of millions of tax-payers' money and they must be seen to be transparent and doing the job they are supposed to do. Going behind closed doors is not the way to do it. I urge them to reconsider their decisions and revert to monthly public meetings."
Eric shared these views at a recent meeting with Mike Farrar, Chief Executive of the N W Strategic Health Authority, who said that he also had similar concerns.
Is your organisation concerned about this change in public accessibility?
---
Local MP supports disabled young campaigners in Carlisle
15 Jul 2008
Carlisle MP, Eric Martlew, has signed a Parliamentary motion calling on the Government to support a new young campaigners network, Trailblazers, which aims to address the obstacles faced by young people with disabilities.
Trailblazers is the Muscular Dystrophy Campaign's new exciting volunteering opportunity which will turn the passions of young people into action.
The Trailblazers network will be open to anyone aged between 16 and 30 who would like to fight for the rights of disabled people. The young adults will have the chance to campaign on issues they feel strongly about, for example, better support at school and university, or increased access to transport and leisure facilities.
Commenting on the launch of Trailblazers, Eric said:
"I am delighted that the Muscular Dystrophy Campaign has set up this network which will provide an invaluable opportunity for local young adults living with muscle disease.

"Trailblazers is by young people for young people which is why I am calling on all young disabled people in the local area to fight for their independence by joining Trailblazers."

"It's fantastic that young people with muscle disease are being given the opportunity to see their ideas make a difference, gain extra qualifications and really make an impact in our local community."
Robert Meadowcroft, Director of Policy and Operations at Muscular Dystrophy Campaign, said:
"I'm delighted that we can count on the support of Carlisle MP, Eric Martlew, in the fight against muscle disease. He is a strong voice in Parliament for our Trailblazers network.

"We are delighted to get the young campaigners network in the region off the ground. The young volunteers will be empowered to campaign on issues that are important to them and will also have the tools to create and evaluate their own local resource in the form of an information service. This level of empowerment and involvement will ensure that the volunteers have a stake in the success of a project that reflects their interests."
Following the success of the charity's Bridging the Gap campaign, which focused on improving quality of life and independence through transition into adulthood for young people with muscle disease, the charity was awarded over £250,000, by v the youth volunteering charity, to set up a 'young campaigners network' across England.
Each regional network will have access to their own section of a dedicated Trailblazers' website and will be given training in organising their very own campaign. This might involve anything - being an undercover reporter, running an event in Parliament, organising fun social events or contacting local media.
Trailblazers will also give the young campaigners a chance to tap into their creative side - the name of the network was dreamed up by 17-year-old Michaela Hollywood who has spinal muscular atrophy and the concept for the unique Trailblazers flyers was created by young people attending the design studio at the Neuromuscular Centre in Cheshire.
To become a member of Trailblazers text 'muscle' to 84424 and they'll get in touch, or visit:
www.muscular-dystrophy.org/campaigns/young_campaigners_network_trailblazers
The young campaigners network, which will involve over 300 young adults for a period of three years, will culminate in the launch of a national Young Disabled Persons All Party Parliamentary Group set up and organised by the network.
For more information about the work of the Muscular Dystrophy Campaign contact Sal Lalji at the press office on 020 7803 4844, mobile: 07971 151910 or email: s.lalji@muscular-dystrophy.org
Jo Swinson MP has tabled a cross party Early Day Motion about Trailblazers and Bridging the Gap and its findings.
House of Commons Early Day Motion:
That this House welcomes the launch of 'Trailblazers', the Muscular Dystrophy Campaign's new exciting V-funded volunteering project which will turn the aspirations of young disabled people into action; notes that this follows the Muscular Dystrophy Campaign's 'Bridging the Gap' campaign, which highlighted the difficulties young people with muscle disease face in accessing education, employment and making their views heard; is concerned that disabled 16 year olds are twice as likely to be out of work, education or training as their non-disabled peers; recognises that people with impairments and long term health conditions form 40 per cent of all people out of work; expresses concern that disabled people form 35 per cent of the total number of people without any formal qualifications; recognises the vital contribution young disabled people can make to their local communities; acknowledges the positive role 'Trailblazers' will have in providing opportunities and experiences to young disabled people enabling them to make informed decisions about their future and their local communities; calls on the Government to support the work of Trailblazers' to ensure that the views of young disabled people are heard.
Dave Anderson MP has secured an Adjournment Debate in the House of Commons on Wednesday morning, 16 July, about young people with disabilities.
At the launch the Muscular Dystrophy Campaign's Trailblazers spoke about their experiences and aims for Trailblazers and asked the assembled MPs and Peers questions about issues that were important to them :
More than 60,000 people in the UK have muscle disease or a related condition. A further 300,000 people are affected indirectly as family, friends or carers.
Muscle diseases weaken and/or waste muscles. The conditions can be inherited or acquired and can affect people of all ages, backgrounds and nationalities. There are currently no cures.
---
Hilltop wrong place for Super Surgery
11 Jul 2008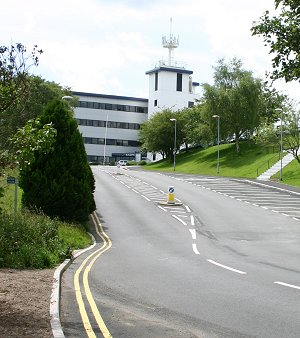 Carlisle MP Eric Martlew is concerned about the proposals to transfer a number of city centre surgeries to create a super surgery at Hilltop Heights in Harraby.
Eric said,
"My understanding is that the proposal is to close all the practices at Brunswick House, Spencer Street, Grosvenor House/ Warwick Square, the surgery at Currock and the one at Eastern Way, whilst maintaining the one at Morton".

"While not disagreeing with the principle of the super surgery, I believe Hilltop Heights is the wrong place for it to be based. It will mean for many people dependent on public transport, using two buses and for the majority of people who use taxis it will be increasingly expensive. The location on top of the highest hill in Carlisle is poor, especially for pedestrians".

"I would much prefer the super surgery to be based centrally, perhaps in the Rickergate area of Carlisle. However if this is not possible I would hope they seriously consider maintaining one of the surgeries in the City Centre."
---
Carlisle MP, Eric Martlew, welcomes Government action on Credit Unions
4 Jul 2008
Eric Martlew MP, who is a strong supporter and a member of the Carlisle & District Credit Union, has today welcomed a Government announcement that it is planning to make it easier for credit unions, like the one operating locally in Carlisle, to expand.
In an announcement made to the All Party Parliamentary Group on Credit Unions, Treasury Minister Kitty Ussher MP, announced that the Government plans to bring forward legislation to enable local credit unions to attract new members and help more people borrow at affordable rates.
The Government is going to change the rules to help people to save more with credit unions by allowing them to offer ISAs and Child Trust Funds. Credit Unions will also be allowed to pay interest on members' savings for the first time if they want to.
Local Credit Unions often lend money at a low interest rate to people who would otherwise have to borrow money from unregulated sources such as loan sharks or lenders who charge huge interest rates. This often puts people who can afford it least into even more serious financial difficulty. By allowing Credit Unions more freedom to expand the Government is ensuring financial inclusion for everyone in society and helping the most financially vulnerable people.
Eric Martlew said,
"I am glad the Government is making these changes and allowing more freedom for Credit unions to expand. Now more that ever, with families feeling the pinch due to tough conditions in the international economy, the Government wants to make sure people in areas such as Carlisle can access affordable credit in their local area, through Credit Unions rather than having to rely on more expensive lenders.

"Allowing for the expansion of Credit Unions means that if people do need to borrow money they can do so safely and reasonably without having to go to loan sharks. That can only be a good thing."
Credit Unions are financial co-operatives owned and controlled by their members. They often operate in communities were people can find it difficult to borrow from major lenders. They offer savings and great value loans plus they are local, ethical and know what their members want.
---
Super Surgery should be at Belah
25 Jun 2008
Carlisle MP Eric Martlew says the new super surgery for Stanwix should be on the Belah school site.
Eric said today that while welcoming the decision to bring together the three Carlisle surgeries north of the river, that will serve 11,000 patients, he believes that the ideal site for this would be the Belah school site. The school is due to close in September. He went on to say that the site will obviously be available and has good road access and also good pedestrian access from the Belah estate.
Eric said,
"I would hope that the County Council who own the site would be quite welcome to such a development which would put something back into the community following their decision to close Belah school."
---
MP congratulates crime-cutters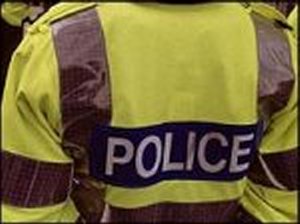 20 May 2008
Carlisle's MP, Eric Martlew, has warmly welcomed the recently released figures showing a cut in crime in the County.
"I fully congratulate Cumbria Constabulary, "
he said.
"Good policing is vital and these figures show that our local police force is doing its job and doing it very well."
"There have been significant improvements throughout the county",
he continued.
"The reduction in the number of robberies, car crimes, violent crime and anti-social behaviour, coupled with an increase in detection rates show that Cumbria has one of the best performing forces in the County and that it is one of the safest places to live."
"The police and their support staff must be congratulated".
---
Eric calls for ban on trade in seal products after seeing cruelty of Canadian hunt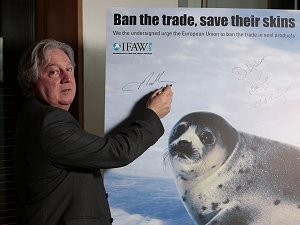 Eric at the IFAW event in the Commons

1 May 2008
Carlisle MP Eric Martlew is pushing for a ban on the trade in seal products after witnessing the cruelty of Canada's annual commercial seal hunt.
Eric joined the International Fund for Animal Welfare (IFAW) at Westminster on Wednesday (30) to view shocking footage of this year's hunt shot by IFAW monitors in recent weeks.
Contrary to claims by the Canadian government that new regulations would make this year's hunt the most humane ever, IFAW filmed numerous instances of seals suffering slow and painful deaths after being clubbed or shot, with many being hooked or skinned while still alive.
Eric said:
"I am horrified to see the level of suffering involved in the hunt, despite the Canadian government's claim that this year's hunt would be more humane. It is time for Europe to ban the unnecessary trade in seal products so that we play no further part in this cruelty."
Robbie Marsland, Director of IFAW UK, said:
"IFAW opposes this hunt because it is unacceptably cruel. The footage speaks for itself - the new regulations are a sham and the cruelty continues. I have been to the ice and witnessed the suffering first hand. It is time to ban the trade in seal products."
This year, the Canadian government issued a quota for 275,000 seals to be killed, with new regulations calling for the bleeding out of seals to be conducted at some point 'where possible'.
The hunt began on March 28 and is still going on. Seals are killed mainly so their fur can be used in the fashion industry, with most of the carcasses being left to rot on the ice.
IFAW and other animal welfare groups are campaigning for an EU-wide ban on the trade in seal products. Belgium, the Netherlands, Slovenia and Croatia already have national bans in place, along with the US and Mexico. Germany and Italy are working towards introducing similar legislation.
Members of the public who would like to see a trade ban can email European Commissioner Peter Mandelson by visiting www.stopthesealhunt.co.uk
Eric's letter to Peter Mandelson, which other MPs were also invited to sign:
Mr Peter Mandelson
Commissioner for Trade
European Commission
Rue de la Loi, 200
B-1049 Brussels
Belgium
30 April 2008
Dear Commissioner Mandelson,
We the undersigned are writing to urge you to ensure that the European Commission introduces a ban on the trade in seal products in the EU.
At an event today, we have witnessed firsthand the cruelty of Canada's commercial seal hunt in shocking footage taken by observers from the International Fund for Animal Welfare (IFAW).
As you will be aware, Canadian government officials, including those who came to Brussels recently to lobby EU representatives, had been claiming that new regulations would make this year's hunt the "most humane hunt ever". Yet the footage we have witnessed demonstrates that the new rules are a sham and that cruelty is continuing.
The footage illustrates what those of us who have grave concerns about this hunt have been saying all along; the environment in and speed at which this hunt takes place make it impossible to create a humane hunt, regardless of more standards and regulations.
For this reason, we believe Europe must close its borders to seal products. This will shut down markets and remove the incentive to hunt these seals, thus hastening the end of this cruel and unnecessary hunt.
Therefore, we urge you to act as requested by the European Parliament's resolution in September 2006, and ban the trade in seal products in the EU. Such a step would be in tune with the wishes of the UK Parliament and the British public and concerned citizens from across the EU. We urge you and your fellow Commissioners to respond appropriately.
Yours sincerely,
Eric Martlew MP The Rt. Hon Elliot Morley MP
Chairman, Associate Parliamentary Vice-Chair, APGAW
Group for Animal Welfare (APGAW)
---
Schools Minister to visit Carlisle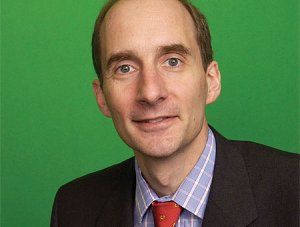 Andrew Adonis

24 Apr 2008
Andrew Adonis, Schools Minister, will be in Carlisle tomorrow (Friday, 25 April, 2008)
The Minister will be having talks with Cumbria County Council. He will then visit the two sites of the Richard Rose Academy. Eric will accompany Lord Adonis on his visit to the city.
He will first meet the local authority then visit the St Aidans site for a meeting with Martin Murphy, Headteacher of St Aidans School and tour the school then travel up to Morton to be met by Andy Abernethy and a tour of school.
---
MP Eric Martlew welcomes U-turn on Bed Reductions at the Cumberland Infirmary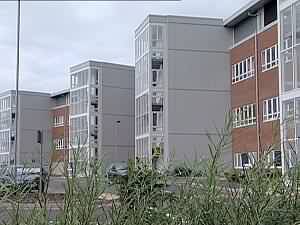 27 Mar 2008
Eric Martlew today received confirmation that there will not be a reduction in the number of acute beds at the Cumberland Infirmary to 415.
The Primary Care Trust have written to him to say that the acute numbers will remain 444 at the Cumberland Infirmary and that a further 20 step down care beds will be provided at Reiver House, Carlisle's cottage hospital.
This U-turn comes about following representations made to the Cumbria PCT and the Acute Trust. He also welcomed the decision of the PCT to embark on a programme of consultation with major stakeholders to explain how they misled the public on the matter of bed numbers in Carlisle.
Whilst welcoming this news Eric said,
"I will be scrutinising these proposals carefully to ensure that there is no backsliding on this pledge and that my constituents are not disadvantaged."

"I think there has been a subtle change in policy by the PCT since its meeting two weeks ago."
---
Eric Martlew MP welcomes a Budget for Stability and Opportunity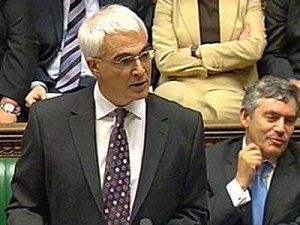 12 Mar 2008
Eric Martlew, Labour MP for Carlisle, today welcomed the Chancellor's Budget as a commitment to economic stability, opportunity and security for all.
The 2008 Budget set out key measures to help lift 250,000 children out of poverty, and an extra boost of £50 to over 60's households and £100 for over 80's households on top of the Winter Fuel Payment.
Eric said:
"Today's Budget is great news for pensioners, families and children.

"Over 9 million households nation-wide and over 13,000 in Carlisle will get extra cash to pay their heating bills this year.

"And over 9,000 families in this area will gain from the increases in Child Benefit.

"I welcome the Budget focus on tackling two of the big issues of today - child poverty and climate change. Under Labour, we have had 10 years of economic stability and growth - let's not put that at risk."
---
MP urges Residents to sign up for free National Bus Travel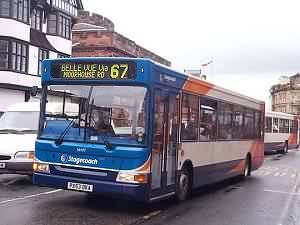 Bus in Carlisle
(Photo: Caroline Mathews)
11 Mar 2008
Carlisle Labour MP, Eric Martlew, wants everyone over the age of 60 or disabled to sign up for free bus travel in time for 1 April.
On 1 April 2008, everyone who is disabled or over the age of 60 will be entitled to free off-peak bus travel anywhere in the country.
Eric says;
"The Labour Government has listened to what older and disabled people want, and is extending free bus travel to those of 60 and those who are disabled in every area of the country.

"This means that pass-holders visiting Carlisle can use our buses too, and that people from Carlisle can use their pass if they are visiting relatives or on holiday in other areas of the country. You could use your pass to visit places like Keswick.

"I want to make sure that everyone eligible in Carlisle gets their new bus pass."
If you are over 60 or registered disabled, and want to find out how to get your new bus pass, contact Carlisle City Council
For further details on the scheme go to http://www.dft.gov.uk/pgr/regional/buses/concessionary/
---
Support for 'Council' Post Offices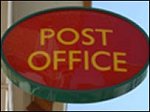 11 Mar 2008
Eric has given his backing to 'council' Post Offices for Cumbria.
Following the announcement by Essex County Council that they had negotiated with the Royal Mail to take over a number of Post Offices in their County, Eric Martlew has written to Peter Stybelski, Chief Executive of Cumbria County Council, asking him to immediately engage with the Royal Mail, to see if a similar arrangement can be agreed in Cumbria.
Eric said,
"This is a particularly exciting project. Essex County Council believe that if Post Offices are run in conjunction with Council services, they can be run at a profit"
---
Carlisle MP to meet Isle of Man Chief Minister in Border TV talks
18 Feb 2008
Carlisle MP Eric Martlew has organised a meeting with the Isle of Man Chief Minister, Tony Brown, to discuss the proposed demise of Border Television.
Mr Martlew will be accompanied by Managing Director of WA Developments, Andrew Tinkler and representatives from Border TV: Adam Powell, Fiona Armstrong, Jonathan Willoughby and BECTU representatives Peter Houdle and Tony Speer.
Eric said,
"It is important to bring home to the Manx Government the effect that the proposed changes will have on coverage of the Island. In the last 3 months Border has covered over 85 news stories from the Island and if they merge with Tyne Tees this will be dramatically reduced. If the Island goes over to Granada TV, they will hardly ever get a mention."
---
Better Blue Badge
30 Jan 2008
Carlisle MP, Eric Martlew, today welcomed the launch of a Public Consultation on The Disabled Person's Parking Badge Scheme.
The consultation, launched by the Government, will look at how the Scheme can better reflect the needs of the Blue Badge holder and also beef up its security to prevent abuse.
Eric welcomed the consultation saying,
"I believe that the Blue Badge Scheme should be fit for purpose. It must help those that need the Badge to improve their mobility and independence, but also be robust enough to prevent abuse of the scheme."

"I want those in Carlisle with experience of the Blue Badge Scheme to get involved in the consultation, tell us what you think and feed in any ideas and experiences you have had, to help us make the Blue Badge Scheme the best it can possibly be."
The Consultation runs until Thursday 17 April 2008 and members of the public are encouraged to submit their views on the consultation document.
The document can be found on the Department for Transport website, and includes a response form to the consultation: http://www.dft.gov.uk/consultations/open/bluebadgereformstrategy/.
For further information contact: The Accessibility and Equalities Unit Department for Transport, Great Minster House, 76 Marsham St, London SW1P 4DR tel: 0207 944 3533 bluebadgeconsultation@dft.gsi.gov.uk
---
School Huts could be there for Decades!
23 Jan 2008
Carlisle's MP, Eric Martlew, is still concerned about the changes in primary education in north Carlisle, following the decision by the Tory/Lib Dem controlled County Council, to close Belah School and transfer pupils to the Kingmoor schools.
He argued,
"Money from the sale of the Belah site should be used as a first priority for the necessary investment in the newly merged primary Kingmoor school to enable the transfer to be as painless as possible and to ensure that there is minimum disruption in educational terms."
He continued,
"For proper integration as a primary school there must be a school hall at Kingmoor School large enough to take all pupils. Also guarantees must be given by the County Council that additional classrooms will be properly constructed rather than relying on temporary ones. In my experience when temporary classrooms are provided as a short-term solution they end up being used for decades."
He had further concerns about nursery provision and said,
"The Belah nursery will be closed as part of these proposals but must be replaced as a matter or urgency. The present nursery is the only local authority one in the north of the city and does an excellent job."

"It's ironic as it seems likely that family houses will be built on the Belah site, bringing more children into the area at a time when a community school is to be closed, where will these children be educated?"
---
MP Eric to meet Isle of Man Chief Minister over threat to Border TV
18 Jan 2008
Chief Minister of the Isle of Man Tony Brown, MHK, has agreed to meet Carlisle MP, Eric Martlew to discuss the threat of closure to Border TV. It is likely the meeting will take place next month.
Eric said,
"The Chief Minister said in his letter that he would be delighted to meet me and was looking forward to discussing the issue which is important to both our communities"
Eric went on to say,
"It is vital that all 3 countries covered by the Border TV area make representations to Ofcom. I feel that if the Isle of Man is served from Newcastle then it will be forgotten about. In the last 3 months Border television has covered over 80 stories from the Isle of Man".
It is hoped that Eric will be accompanied by a number of the Border TV campaigners.
---
MP exposes Massive £600,000 Payment to Consultants by City Council
17 Jan 2008
Carlisle MP, Eric Martlew, has received information under the FOI Act, showing that Carlisle's Tory/Lib Dem controlled City Council, has spent a massive amount on consultants - more than £600,000 from January 2005 to the end of last year.
"No wonder the Council wanted to keep this secret", said an angry Mr Martlew. "Even at Tuesday's Council meeting the spokesman refused to come clean on the figures".

"Serious questions must be asked about the Council's profligate spending on consultants when there appears to be nothing tangible to show for it. There are plenty of glossy, reports and questionnaires - but no action."

"No wonder the Council's finances are in such a mess. They are so bad that they are considering drastic cuts to the pensioners' concessionary fares. £600,000 would have safeguarded the present scheme for the next four years. People are becoming tired of this Council's expensive habit of all talk but no action."
Mr Martlew continued,
"This is a real insult to Council staff who could have done probably a better job in-house than the consultants have done at no extra cost".
He then went on to demand,
"The Tory Council Leader, Mike Mitchelson, must come clean and give the public a detailed account of where their money has been spent and what they have to show for it".
---
MP asks Insurance Companies to reduce Premiums
9 Jan 2008
On the third anniversary of the floods, Carlisle MP, Eric Martlew, has today written to the Association of British Insurers asking them to contact the members of their Association to reduce the premiums for residents in the Warwick Road area.
Eric said,
"Now that the flood defences are constructed to a level which would protect against one in 200 year flood, Insurance Companies should recognise this when premiums are being renewed."

"Since the floods the insurance premiums have risen steeply and now is the time for Insurance Companies to adjust to the new situation."
Eric also went on to say that some new residents in the area were also having difficulties getting Insurance Companies, this should now not be a problem.
---
MP says give people of Carlisle a vote on Border TV future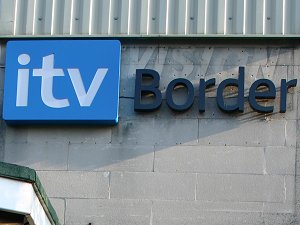 7 Jan 2008
Today, Carlisle MP, Eric Martlew, has written to the Leader of Carlisle City Council, Mike Mitchelson, asking if the City would consider having a referendum on the proposals to merge Border TV and Tyne Tees and get rid of the Lookaround news programme.
Eric said
"This should take place on the same day as the local Council elections in May 2008. I feel that public opinion will be totally opposed to such a change and a proper referendum would give legitimacy to the views expressed by the City Council and myself."

"If there was an overwhelming vote to maintain the status quo, I feel Ofcom would have great difficulty in ignoring such a public show of strength"
Eric is aware there will be around 10,000 electors who live in the rural area of the city and will not be going to the polls this May. He has therefore asked the City Council to allow them to have a postal ballot.
---
---
On behalf of Eric Martlew, 3 Chatsworth Square Carlisle Cumbria CA1 1HB