21/12/09 MP Eric Martlew calls for inquiry into Eurostar nightmare
16/12/09 Ambulance Control Under Scrutiny
08/12/09 Eric wins pledge over Warfarin Clinic
17/11/09 Carlisle City - not Tesco City
09/11/09 Planning applications should continue to be in Local Press
03/11/09 Parliamentary Group Investigation Confirms Problems with Dog Breeding
02/11/09 U turn on Warfarin Clinic
29/10/09 Selection process for new prison in North West begins
19/10/09 A decade of pressure pays off
14/10/09 MP visits treatment centre for veterans
08/10/09 MP Eric Martlew welcomes Sainsbury re-think
08/10/09 War over Warfarin Clinic
02/10/09 Super Surgery in wrong place says MP Eric
01/10/09 Adonis's encouraging response on High Speed Line
08/09/09 MP Eric fights for high-speed rail stop
24/08/09 Stagecoach under Scrutiny
12/08/09 Eric tells insurance companies to bring down premiums for flood victims
16/07/09 Red Letter Day for Carlisle - As Carlisle's Northern Development Route gets the go-ahead
15/07/09 Don't Bulldoze Belah School
13/07/09 Vigilance against DRS sell-off needed
01/07/09 Bring back Belah
19/06/09 Primark targets Carlisle
16/06/09 New Jobs at MOD Longtown
11/06/09 MP calls for urgent action on school places
08/06/09 New Prison in Carlisle would create 600 jobs - Minister Tells MP
12/05/09 Labour's Smart Meters will help people save money on fuel bills
11/05/09 Carlisle MP backs charity call for helmet law for children
01/05/09 MP Eric to retire
30/04/09 Former Ministers urge MEPs to do the right thing
22/04/09 Carlisle MP Welcomes New Support for Homeowners
01/04/09 MP takes up cause of Stead McAlpin Workers
24/03/09 Eric Martlew Claims Victory for Local Blind People
24/03/09 MP Eric Takes Super Surgery Battle To Barrow Meeting
20/03/09 A Hill Too Far!
18/03/09 Tory High Speed Rail Plan Misses Out Cumbria
12/03/09 Settle Line Anniversary
11/03/09 MP Eric appointed to new Regional Select Committee
17/02/09 MP Eric wins battle of Clarks Field
12/02/09 Eric Martlew backs plans for the Great British Refurb
05/02/09 MP calls for Inquiry call into hostel proposals
04/02/09 Council got it wrong over Belah School

---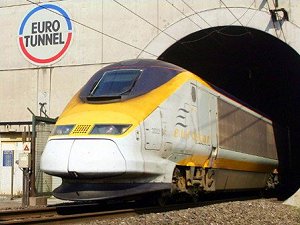 MP Eric Martlew calls for inquiry into Eurostar nightmare
21 Dec 2009
Carlisle's MP, Eric Martlew, a senior member of the Transport Select Committee, has today written to Louise Ellman MP, Chair of the Committee , requesting an inquiry into the disruption of the Eurostar service.
Eric said,
"Passengers found themselves in an horrific situation as they were trapped in the train in the Tunnel for up to 12 hours."
"Conditions were appalling,"
continued Eric,
"In high temperatures there was no air-conditioning, the sanitary conditions were totally inadequate and they had little food or water and scant information as to what was happening. It was a real nightmare journey."
The service has now been totally suspended for three days and has caused chaos for thousands of families and their Christmas holiday arrangements.
Eric went on to say "
"Whilst I understand the company is having its own internal investigate I think it is imperative that the Select Committee undertake its own.

"Our deliberations will be in public and we will be able to question all the key players in order to establish what went wrong and to make recommendations to help re-establish public confidence".
He concluded by saying,
"Eurostar has up to now, had enviable reputation and this inquiry is essential if confidence is to be restored.".
This request will be discussed at the Transport Select Committee meeting on Wednesday 6 January 2010.
---
Ambulance Control Under Scrutiny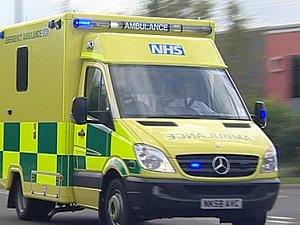 16 Dec 2009
Carlisle's MP, Eric Martlew, has called for an urgent investigation into the quality of service provided by the newly formed North West Ambulance Service NHS Trust.
Eric said,
"Recent operational changes have brought about the closure of our Cumbria Ambulance Control and calls are now taken by three control centres in Lancashire. I strongly objected to this but was given an assurance that the change would not adversely affect the quality of service to my constituents. Sadly, this is not the case and I have received a number of serious complaints about severe delays in ambulances called for very ill people."
Eric continued,
"These unacceptable delays have prompted me to write to the Care Quality Commission asking for an urgent investigation into the effectiveness of the new arrangements."
He concluded by saying,
"Cumbria Ambulance Control had an extremely good track record and the new service must be improved to ensure the public have confidence that the present service is as good - if not better. Improvements must be made and made quickly."

7 Jan 2010
The Care Quality Commission, the health and social care regulator, announced it was to look into the issue following Eric's raising of the problems.
---
Eric wins pledge over Warfarin Clinic
8 Dec 2009
The uncertain future of the Warfarin Clinic at the Cumberland Infirmary appears to have been, once and for all, resolved.
Carlisle's MP, Eric Martlew, has been battling away on behalf of patients who currently use the clinic and are worried about threats of closure.
"Despite conflicting letters flying about I have received a categorical assurance from the Chief Executive of the PCT which funds the clinic that those people wishing to continue their treatment at the Cumberland Infirmary will be able to do so,"
said a delighted Mr Martlew.
"Rumours have been circulated for some months now,"
he continued.
"I thought we had sorted things out but the waters were muddied again when a letter was sent to patients from Dr Peter Weaving and Mr Kevin Clarkson which seemed to contradict previous assurances. I contacted the Chief Executive to ascertain which statement was correct: hers, as Chief Executive of the PCT or that of Messrs Weaving & Clarkson. Her reply was unequivocal - patients will continue to use the Clinic at the Cumberland Infirmary unless they wish to do otherwise."

"I hope this is sorted once and for all,"
concluded Eric.
"It seems as though one hand didn't know what the other was doing. I have asked the Chief Executive to have Messrs Weaving and Clarkson write to patients they have previously contacted to undo the confusion and distress they have caused to many patients."
---
Carlisle City - not Tesco City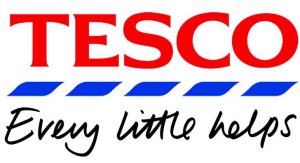 17 Nov 2009
Local MP, Eric Martlew, has launched a blistering attack on the Tory/Lib Dem controlled Carlisle City Council for their decision to earmark the store site at Morton for Tesco.
"This is an outrageous decision and not in best interest of the people of Carlisle,"
said an angry Mr Martlew.
"It will reduce choice and competition and could well mean that the city get less than the full value for the site."
Eric continued.
"Contrary to what has been printed in the local newspaper, I have never objected to the Sainsbury's proposals - only the issues on design and traffic."

"Following discussions I have had with Sainsbury's and the subsequent amendments to their scheme, I have written to the City Council supporting their applications, subject to the traffic problems being ironed out."

"I have urged the Planning Committee to approve this development as it will improve the area and give people more choice in their supermarket shopping."
---
Planning applications should continue to be in Local Press
9 Nov 2009
Carlisle's MP Eric Martlew, has objected to proposals to abolish the statutory requirement for planning applications to be advertised in local and regional newspapers.
Eric said,
"I've written to the Local Government Minister as I firmly believe that these proposals would not be in the interest of local democracy. The whole planning process would become more secretive and less open to public scrutiny."
He continued,
"This would also have financial implications for local newspapers which, over the last few years, have seen dramatic falls in advertising revenue. These proposals could affect the viability of the local press."
He concluded by saying,
"Many people would be unaware of development proposals and would miss the chance to comment on them. I really think this would be a backward step for open local government and democracy."
---
Parliamentary Group Investigation Confirms Problems with Dog Breeding
3 Nov 2009
Many pedigree dogs suffer serious health and welfare problems and more can be done to help them, according to a new all-party parliamentary group report published today
A Healthier Future For Pedigree Dogs, which highlights the problems the general public face when buying a puppy, makes a number of recommendations on how health and welfare can be improved, starting with good breeding practices such as more emphasis put on health screening, clear restrictions on the breeding of closely-related dogs and no dog being given the status of champion at a show unless it has been cleared for all potential diseases associated with that specific breed.
The Associate Parliamentary Group for Animal Welfare (APGAW) conducted an in-depth inquiry into the serious diseases and health problems suffered by pedigree dogs following approaches by welfare organisations and members of the public concerned about this issue. The Inquiry sought the views of breeders, welfarists, geneticists and individual pet owners to establish the extent of the problem and to present possible solutions to Defra who has informed the group that it is awaiting the final copy of the report alongside the Bateson investigation,[2] due next spring, before deciding what action to take.
Eric Martlew MP, chairman of the group said:
"We have had numerous examples given of the distress and suffering caused by poor breeding practice. Dog owners find themselves faced with huge vet bills and have to endure the emotional distress of seeing their pet in pain and sometimes even being put to sleep. Throughout the inquiry it has been apparent that both veterinary surgeons and welfarists believe that this is serious problem which cannot be ignored."

"The inquiry sets out ways in which key stakeholders like the Kennel Club, veterinary professionals and animal welfare organisations can work together to make improvements. Such as the recommendations to set up an independent body to monitor progress and offer advice, the need for better enforcement of Codes of Ethics and general breeding practice and more public information. Puppy farming also needs to be addressed as that adds to low welfare standards."

"We hope that this report will contribute towards measures being taken to improve the health and welfare of pedigree dogs and also that the impact on the public of low health and welfare standards in dog breeding is recognised by the government."
---
U turn on Warfarin Clinic
2 Nov 2009
Eric Martlew, MP for Carlisle, has welcomed the change of heart on the future of the Warfarin Clinic at the Cumberland Infirmary.
"I received dozens of letters from patients who were horrified by the Primary Care Trust's decision to close the clinic at the Cumberland Infirmary,"
said Eric.
"The service they presently receive is excellent and they did not believe they would receive as good a service elsewhere."
Eric continued,
"I raised these concerns with managers at the Cumberland Infirmary and was told that the closure of the Warfarin Clinic is part of the PCT's Closer to Home programme. However, I have since received a very encouraging reply from the Chief Executive of the PCT contradicting this view and saying,

'In Carlisle around 20% of the people receiving warfarin attend the hospital for their treatment, with the remainder being cared for by their GP. Those people who already attend the Warfarin Clinic at the Cumberland Infirmary at the moment will continue to do so unless they wish to change to a community service which they feel is more convenient.' "
Eric finished by saying,
"I am really pleased with the decision and I know that many of my constituents will be extremely relieved as they will continue to be cared for by the excellent staff at the clinic."
---
Selection process for new prison in North West begins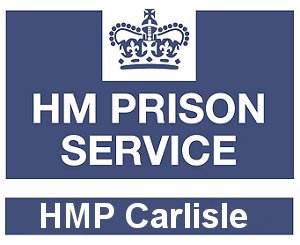 29 Oct 2009
This week, the Justice Department announced that they are looking for new prison sites in the UK, including one in North West.
Eric, who wrote to the Minister, Maria Eagle, asking that Kingmoor Park be placed on the list, received a reply this week from her giving an assurance that Kingmoor Park was one of the sites to be considered.
Eric said,
"Such a development would create 600 new jobs and many more in the supply chain of the local economy. This would be a tremendous boost for employment prospects in the area."
He went on to say,
"The process of selecting a site will take about 12 months and, obviously, the local authorities and local communities would be fully consulted prior to any definitive decision being taken."
---
A decade of pressure pays off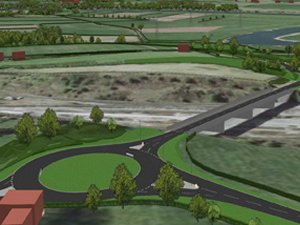 19 Oct 2009
Today marks the start of construction of the Carlisle Northern Development Route and local MP, Eric Martlew, a tireless campaigner, warmly welcomed the start.
"I have campaigned for the road for the past 10 years,"
a happy Mr Martlew said,
"and I am pleased to see that all that effort has paid off. I have consistently lobbied Transport and Treasury Ministers and was really delighted when the go-ahead was given. It will bring significant benefits to Carlisle and West Cumbria by, not only reducing congestion in the centre of the City, but also with the creation of excellent road access to the North and West."
Eric continued,
"This has greatly increased the potential for future job opportunities at Kingmoor Park and will greatly benefit our local economy."
Eric, who is retiring at the next election, concluded by saying,
"Having campaigned for so long, I am absolutely delighted that the construction started on my watch."
---
MP visits treatment centre for veterans
14 Oct 2009
Carlisle's MP, Eric Martlew, along with Mr Ian Winter, representing the Royal British Legion in Carlisle, recently visited Hollybush House in Ayrshire.
Mr Martlew said,
"I was really pleased to be invited to see, at first hand, the excellent facilities available for former members of the Armed Forces who are suffering from post traumatic stress disorder and clinical depression."
Eric continued,
"Hollybush House is run by the charity Combat Stress, and is funded by voluntary contributions and Government funding."

"The treatment for veterans of all ages is first class but I am concerned that there are still a large number of former service personnel who are unaware that such treatment is available. I hope by publicising this that more people will use the service and that more resources will be made available."
---
MP Eric Martlew welcomes Sainsbury re-think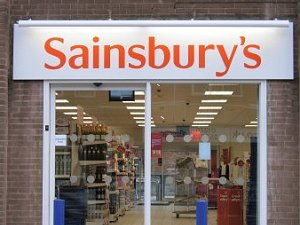 8 Oct 2009
Following further talks with representatives of Sainsbury's about their proposals in Caldewgate, Carlisle's MP, Eric Martlew, was pleased with the improvements of the new design.
Eric said,
"I was quite critical of their initial bog-standard scheme but I am very encouraged that they have listened to my concerns and their new proposals have gone a long way to address the problems."

"I am very pleased with their recent amendments but I asked them to also consider extending their new units round the corner into Bridge Lane as I think this would complement the buildings on the opposite side of Bridge Lane. Sainsbury's have agreed to look at this which I find very encouraging."
In conclusion Eric said,
"They have made significant alterations to their initial plans and if the traffic problems can be sorted out I would have no hesitation urging them to approve the scheme. The people of Carlisle want more choice in their supermarket shopping."
---
War over Warfarin Clinic
8 Oct 2009
Carlisle's MP, Eric Martlew, has reacted strongly to proposals by Cumbria Primary Care Trust to close the Warfarin Clinic at the Cumberland Infirmary and replace the service in GPs' surgeries.
An angry Mr Martlew said,
"Rumours have been circulating for some time about this service and I received an assurance from the PCT only in April 2008 that the clinic would continue at the Cumberland Infirmary to allow, and I quote, 'a choice for patients to attend their routine monitoring', it appears that the PCT have blatantly reneged on their promise."
Mr Martlew continued,
"This clinic is very efficient and patients are informed of their results, without fail, the following day of their appointment. My constituents also appreciate the very caring attitude of the staff and they are reluctant to forfeit this relationship. There is a general lack of confidence as to whether the same continuity of care can be provided at GPs' surgeries, along with added inconvenience for those whose GPs intend to relocate their premises."
Eric concluded by saying,
"These proposals are seemingly part of the PCT's Closer to Home strategy and will help patients in Wigton and Eden District who currently have to travel to Carlisle. I agree that services for these patients should be provided locally but this should not result in the closure of a most efficient service at the Cumberland Infirmary. Why spoil something that patently works and in which patients have great faith and confidence."

"The PCT are making a great mistake and I urge them to reconsider before further damage is done."
---
Super Surgery in wrong place says MP Eric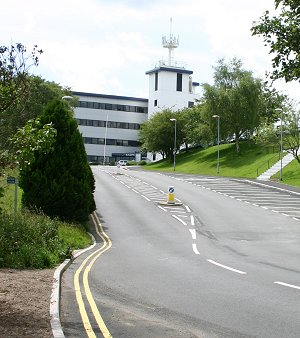 Hilltop Heights, the highest place in Carlisle
(Photo: )
2 Oct 2009
Carlisle's MP, Eric Martlew, has recently carried out a community services survey of constituents from all parts of Carlisle.
He asked if they would support a new super surgery to be built in the St Nicholas area of Carlisle, instead of at Hilltop Heights. 77% of people agreed whilst only 13% were against this.
Eric said,
"Whilst I still support the principle of the super surgery, this survey proves there is massive opposition amongst the Carlisle population to it being placed on top of the highest hill in Carlisle."
He continued,
"Whilst the Doctors have assured people that public transport will be available to take them to Hilltop Heights, I understand the cost of this subsidy will be in excess of £80,000 a year. I hope this is not going to be funded from NHS money. I am also concerned that once the surgery is built, the subsidy would be withdrawn, leaving many of the patients of the surgery to rely on an expensive taxi service."
---
Adonis's encouraging response on High Speed Line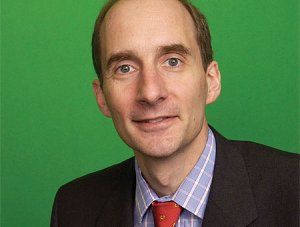 Lord Adonis

1 Oct 2009
Carlisle's MP, Eric Martlew, is delighted with the response from the Secretary of State for Transport, regarding the High Speed train proposals for the West Coast corridor.
"I wrote to Lord Adonis, Secretary of State, outlining my worry over Network Rail's plans, which had no proposals for the High Speed service to stop in Carlisle,"
said Eric.
"Bearing in mind the massive public investment required for this High Speed line, I sought an assurance that the ultimate decision would be taken by Government and not Network Rail. The Secretary of State has confirmed this and has said that a study he has personally commissioned will report at the end of the year and that he is mindful of the points I raise."
"I regard these as very positive comments"
concluded Mr Martlew,
"but we must maintain the pressure to ensure that the High Speed link in Carlisle becomes a reality".
---
MP Eric fights for high-speed rail stop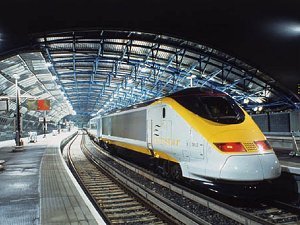 High speed train

8 Sep 2009
Whilst welcoming the recent proposal to bring the high-speed rail line up the west coast Carlisle's MP, Eric Martlew, was critical of the decision not to include Carlisle as a station. He has written a stinging letter to Ian Coucher, Chief Executive of Network Rail urging him to change the decision.
Mr Martlew said,
"I strongly believe that it makes no commercial sense to run a train from Preston to Glasgow, a distance of 200 miles, without picking up any paying passengers. In addition, this policy would wipe out the present service operated by the Pendolino; no one would use these trains if they have access to a much speedier service. We in Cumbria and SW Scotland would, in effect, be left with a commuter-type service, going south to Preston and north to Glasgow and Edinburgh. With no alternative airport provision we would be left in a much worse position than at the present time; indeed, it would take passengers longer to get to London from Carlisle than it would from Glasgow/Edinburgh."
Eric continued,
"This project will require substantial public funding, I understand in the region of £34 billion. I think it is somewhat arrogant to expect the taxpayer to invest £34 billion without having a major input into where the line should go and where the trains should stop."

"As Chair of the West Coast Main Line Group, Chair of the All-Party Rail Group and member of the Transport Select Committee there has been no stronger advocate than myself for the case of high-speed rail.

"It therefore saddens me to see these proposals that will severely disadvantage Cumbria and SW Scotland for no logical or commercial reasons."
Eric concluded by saying
"I have made strong representations to the Secretary of State for Transport as vast amounts of public money will be used and the final decision must be taken by Government."

"I have also written to key decision makers in Cumbria and SW Scotland urging them to unite in a campaign to ensure that Cumbria does not miss out."
The campaign has now been joined by Russell Brown MP , Steven Broomhead, Chief Executive of NWDA, Rob Johnson of Cumbria Chamber of Commerce, Lord Bragg of Wigton and Lord Inglewood.
---
Stagecoach under Scrutiny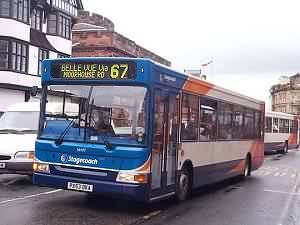 Stagecoach bus in Carlisle
(Photo: Caroline Mathews)
24 Aug 2009
Carlisle's MP, Eric Martlew, warmly welcomed the fact that local bus fares are to be investigated by the Competition Commission.
Mr Martlew said,
"The Office of Fair Trading have been investigating the local bus industry and have come up with evidence to suggest that it was not working as well as it should be . I'm really pleased that they have asked the Competition Commission to investigate in more detail.

"With Stagecoach having a monopoly in Carlisle there is a widespread belief that passengers are paying over the odds in bus fares and this investigation will shed light on this."
Eric continued,
"Due to the Government's generous concessionary fare scheme the bus companies receive over £1 billion of taxpayers money and we must ensure that passengers get value for money."
---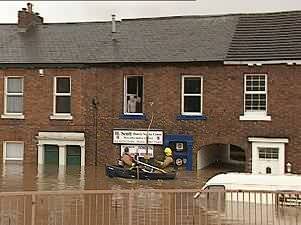 They way we were

Eric tells insurance companies to bring down premiums for flood victims
12 Aug 2009
Carlisle MP, Eric Martlew today met with representatives of the Association of British Insurers and the Environment Agency to discuss the failure of insurance companies to reduce the high insurance premiums in those areas of city which were flooded.
Eric said
"I can understand why premiums had to go up when there was a major flood risk but following the completion of the new flood defences, this has now been reduced to once every 200 years and insurance companies should recognise this and cut the premiums."
---
Red Letter Day for Carlisle - As Carlisle's Northern Development Route gets the go-ahead
16 Jul 2009
MP Eric Martlew said
"I am absolutely delighted that this scheme has been given the green light. I have been working with the County Council for 12 years for this day and with the support of the Government for this scheme."
He continued,
"It will totally revolutionise the way in which people travel in the city and will reduce congestion in the centre. It will open up both West Cumbria and North of the city and will give a further boost to the already successful business estate at Kingmoor Park, as well hopefully creating local jobs in the construction of the road."
Eric said,
"It is the latest example of this Labour Government's commitment to road transport. Delivering for the people of North Cumbria.

People should be reminded that we waited for decades for the Cumberland Gap to be built from the M6 to the Scottish Border and for the bypass around the village of Temple Sowerby. Both have now been completed."
---
Don't Bulldoze Belah School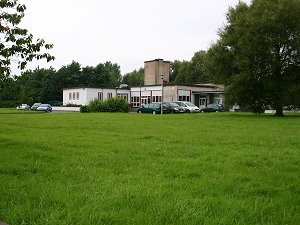 15 Jul 2009
Carlisle's MP, Eric Martlew, has urged Cumbria County Council not to demolish Belah School.
"I have written to the Portfolio Holder, Councillor Fairbairn, expressing concern over primary school provision in North Carlisle following the closure of Belah,"
he said
"I have also asked to meet him to press the case for stopping the demolition."
"A number of parents have won their appeals this year and this will result in overcrowding in both Stanwix and Kingmoor Schools,"
Eric continued,
"I have already suggested that in the short term part of the Belah School be used as a campus of either Stanwix or Kingmoor but this problem won't go away."

"With proposals for hundreds of houses in North Carlisle, I am urging the Council to take another look at Belah with a view to remodelling and refurbishing it to create a small primary school to cater for the projected increase in numbers of children coming to live in the area. If the Council doesn't grasp the nettle now it will be faced with a greater capital expenditure in the future when a new primary school will have to be built."
---
Vigilance against DRS sell-off needed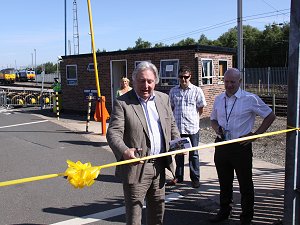 Eric cuts the ribbon

13 Jul 2009
Eric Martlew cut the ribbon at the DRS Open Day on Saturday, at their Kingmoor sheds in Carlisle.
Eric later said that the Company, which is owned by the Nuclear Decommissioning Authority, is the only Government owned rail operator in the country
"There is a possibility that it could be sold off in the not too distant future."
He continued,
"I do have great concerns about the possibility that DRS could be bought by a large freight company and Kingmoor sheds closed. We need to be vigilant to ensure that DRS continues to be independent and provides a safe and sure way of transporting nuclear fuels and maintains its Headquarters here in Carlisle where it provides good quality jobs."
---
Bring back Belah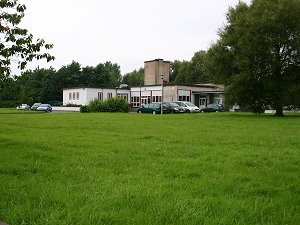 Belah School

1 Jul 2009
Carlisle's MP, Eric Martlew, today called on Cumbria County Council to take urgent action to refurbish part of Belah School.
"I welcome the fact that parents are now winning their appeals to get their children into Kingmoor School, similar to the situation at Stanwix School,"
he said.
"However, this is creating a problem of overcrowding in both schools and is untenable in the longer term."
He continued,
"The obvious and correct solution is to admit the mistake of closing Belah School and to immediately start to refurbish part of Belah School so it can be used from September."
He concluded by saying,
"I'm not advocating a new school to be established at the present time and this should be run as a campus of either Stanwix or Kingmoor. But in the longer term, with plans for hundreds of extra houses in north Carlisle, the County council should be planning for a new stand-alone primary school. This, in the short-term is not an ideal solution but is making the best of a bad job. I hope the new administration will put right the past mistakes."
---
Primark targets Carlisle
19 Jun 2009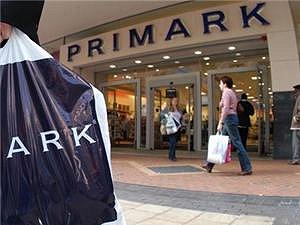 Eric welcomes Primark's interest in a store for Carlisle.
"I was contacted by two teenage girls who were disappointed that their favourite store, Primark, did not have a shop in the city and they had to travel miles to either Newcastle or Manchester to get the latest affordable fashions,"
Eric said.
"I wrote to the owners of Primark urging them to open a store in Carlisle and this week I have received a positive reply from Mr Seamus M Halford, Deputy Managing Director. He told me that Carlisle is one of their target locations for a major Primark store. But they have, as yet, been unable to locate premises large enough to meet their requirements. Their property agents are actively looking for sites in the city."

"This is great news for Carlisle,"
Eric continued.
"Hopefully, in the near future our youngsters will be able to shop locally for the Primark bargains. Also it will bring well-needed jobs into the area and be a magnet for other young shoppers in the region."

"I was delighted that Primark have written to my young constituents thanking them for their interest and have rewarded them with a gift voucher."
---
New Jobs at MOD Longtown
16 Jun 2009
Carlisle's MP, Eric Martlew, has welcomed the recent announcement that 9 extra jobs are to be created at MOD Longtown.
"Following a reorganisation by the MOD there will be an overall increase of 9 jobs,"
Eric said.
"This comes about as a result of a comprehensive improvement programme and Longtown has been identified as one of the sites where the processing of general munitions will be focused."

"The creation of the GM processing centre of excellence will create 19 new posts,"
he continued.
"But due to the improvements in other processes there will be a loss of 10 posts, resulting in the net increase of 9. No redundancies are envisaged.

"The staff deserve the biggest credit,"
Eric said.
"The high calibre of the workforce has been a key factor in this decision."
---
MP calls for urgent action on school places
11 Jun 2009
Carlisle's MP, Eric Martlew, is continuing to put pressure on Cumbria County Council in the wake of their disastrous decision to close Belah School without ensuring that adequate places are available for children within the Stanwix/Kingmoor catchment area.
He said,
"Parents are now having to go to appeal to try to get places for their children in either Stanwix or Kingmoor Schools and there is great anger and distress that children, as young as four years old, may have to be taxied across the city to find a school place."

"I'm highly critical of the County Council's failure to take any action despite the fact that I warned them last year this was bound to happen,"
Eric continued.
"The former Tory/Lib Dem Alliance had closed minds and were determined to proceed regardless of the consequences. They were deaf to any protests."
He went on to say,
"A solution must be found quickly and must involve employing extra teachers and the use of temporary classrooms. But the cost must not fall on the individual schools. This was a mistake by the County Council and they must pay for it."
---
New Prison in Carlisle would create 600 jobs - Minister Tells MP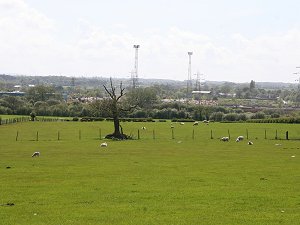 Possible site for a prison
(Photo: Elsie Martlew)
8 Jun 2009
Last week Carlisle's MP, Eric Martlew, met the Prisons' Minister David Hanson, to discuss the possibility of building a closed prison on Kingmoor Park in Carlisle
"The Prison Minister told me that they were looking for sites in the North-West to accommodate 1500 prisoners,"
Eric said
"Following my presentation the Minister agreed to put the site at Kingmoor Park on a shortlist,"
Eric continued.
"Such a development would create 600 new jobs and many more in the supply chain of the local economy. This would be a tremendous boost for employment prospects in the area."
He went on to say,
" The process of selecting a site would take about 12 months and obviously the local authorities and local communities would be fully consulted prior to any definitive decision being taken".
---
Labour's Smart Meters will help people save money on fuel bills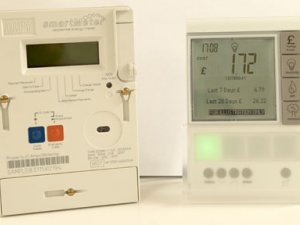 12 May 2009
Carlisle's MP, Eric Martlew, says thousands of people in Carlisle will benefit from the smart meter roll-out that comes a step closer this week.
The government has set out the options for installing the revolutionary kit in homes across Great Britain and on what the smart meters should be capable of doing.
Smart meters will mean:
No more estimated bills
No more waiting for the meter man
More info to help with cutting energy use, saving money and reducing your carbon footprint.
Smart meters enable meter readings to be taken remotely and together with a display device give householders real time information on their energy use. In trials some households estimate they have saved as much as 10% off their bills by changing the way they use energy and cutting back when rates are at their highest.
Mr Martlew said;
"Smart meters will offer real help to people looking to save energy and that means saving money too"

"The more information you have about the energy you use, the more chance you have to use it more wisely, cut back where you don't need to and switch to cheaper tariffs. Smart meters are good news for everyone who wants to save money and cut back on CO2 emissions which cause climate change. "
Other ways to save energy on offer:
As a major part of the Government's Home Energy Savings Package, every household in the UK is now entitled at least 50% off the cost of getting loft or cavity wall insulation installed in their home, and households over 70 can get insulated for free. To find out more about the offers available, contact the Energy Saving Trust on 0800 512 012
Warm Front grants are available to vulnerable and low income households. To find out if you qualify, call Eaga Partnership (the company that currently runs the Warm Front scheme) on freephone 0800 316 6011, textphone 0800 072 0156 (from 8.00 am to 6.00 p.m. Monday to Friday).1
Use the ACTonCO2 carbon calculator to find out how to save energy, save money and reduce your carbon footprint. http://actonco2.direct.gov.uk/index.html
---
Carlisle MP backs charity call for helmet law for children
11 May 2009
Carlisle MP, Eric Martlew, is backing a charity's call to make it compulsory for children under the age of 16 to wear helmets while cycling.
Eric is supporting a campaign by Headway - the brain injury association for the new law to be introduced in order to reduce the number of children killed or seriously injured on UK roads each year.
"It is a sad truth that a disproportionate number of cycling accidents involve children," said Mr Martlew. "According to statistics from the Transport Research Laboratory and the Department for Transport, children are nearly four times more likely to die in cycling-related road accidents than adults.

"It is essential we do as much as we can to protect vulnerable child cyclists. It is clear that cycle helmets can save lives. By introducing this new law we can start to reduce the number of children needlessly killed while cycling on UK roads each year."
Peter McCabe, Chief Executive of Headway - the brain injury association, said:
"The simple fact is that cycle helmets can save lives and prevent lifelong disability. We would like to see all cyclists wearing helmets, but children are particularly at risk when cycling on the roads as they do not have the insight, balance, strength or experience of adults.

"Evidence from countries that have already introduced compulsory helmet laws for children, including the USA, Australia and Canada, shows that they are successful in reducing the number of children killed or seriously injured in cycling accidents.

"To us, it is simple common sense. Surely, wearing a helmet has got to provide one's fragile skull with more protection than not wearing one. Adults have the ability to study the evidence and make informed choices about the risks involved with cycling without a helmet; children do not have that luxury and as a society we owe it to them to protect them as best we can."
Headway - the UK's leading brain injury charity - provides support, services and information to brain injury survivors, their families and carers, as well as to professionals in the health and legal fields. It has more than 110 groups and branches throughout the UK.
Key cycle helmet facts
It is estimated that 90,000 on-road and 100,000 off-road cycling accidents occur every year in the UK, of which 53% (100,000) involve children under 16. (Bicycle Helmets 1 - Does the dental profession have a role in promoting their use? Chapman HR, Curran ALM. British Dental Journal 2004;196(9):555-560)
The number of pedal cyclists killed or seriously injured (KSI) in road accidents in 2007 was 2,564. This included 136 deaths. 522 children were among the KSI total (Cycle Helmets, Lee AJ, Mann NP, Arch Dis Child 2003)
A Cochrane review considering five case-control studies from the UK, Australia and the USA illustrates a large and consistent protective effect from cycle helmets, reducing the risk of brain injury by up to 88% and injury to the upper and mid face by 65% (Helmets for preventing head and facial injuries in bicyclists, Thompson et al.. Cochrane Database Syst Rev. 2000)
After introducing a helmet law for children under 14, the US state of New Jersey reported that bicycle-related fatalities for that group fell by 60%. For riders over 14, who were not required to wear helmets, the reduction was a mere 5% in the same period. (Trends in Pediatric and Adult Bicycling Deaths Before and After Passage of a Bicycle Helmet Law, Wessen et al)
The incidence rate of bicycle-related head injuries in Canada declined 45% in provinces that adopted helmet laws compared with 27% reduction in provinces and territories not adopting laws. (Impact of Mandatory Helmet Legislation on Bicycle-Related Head Injuries in Children: A Population-Based Study, Macpherson et al)
In the Australian State of Victoria, cyclists' head injuries declined 41% following the introduction of the law to make cycle helmet compulsory. (Bicycle Helmet Safety Institute)
---
MP Eric to retire
1 May 2009
Last night, at a meeting of the Carlisle Labour Party, local MP, Eric Martlew, announced he was to retire at the next general election.
He told members that it now seemed likely that the election would not take place until next Summer which would mean that he would be over 66 at the end of the following Parliament.
"Having been elected as a Councillor in 1972 and then as the Member of Parliament in 1987 I feel it is time to step down from front-line politics,"
he said.
"They say a week is a long time in politics and I've done coming up 40 years!,"

"Over this time I have given total commitment to my responsibilities but now feel its time to take things easier",
he continued.
He assured members that there would be no let-up in his workload or efforts while he is still MP for Carlisle.
"I have given a commitment to the party that I will vote as member in the selection of a new parliamentary candidate but will not get actively involved. I am confident that given the good shape of the Carlisle Labour Party that we will return a Labour MP at the next election."
---
Former Ministers urge MEPs to do the right thing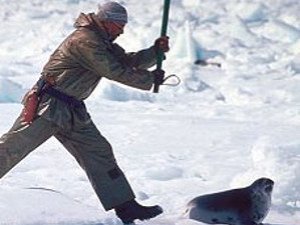 Seal Hunt

30 April 2009
Six leading MPs at Westminster have tabled a motion supporting MEP's on the Internal Market Committee in their decision to ban the trade in seal products.
The final vote is due to take place in the European Parliament in early May which could mark the end of Europe's involvement in the largest slaughter of marine mammals anywhere on the planet. The long awaited vote follows the decision this month, by the Internal Market Committee which rejected labelling in favour of a ban on seal product into Europe.
The leading group have been involved with this issue as Minister and as back bench campaigners - pushing the consistently strong UK position for an EU wide ban, making presentation to Canada and Europe.
In an effort to reflect the strong trade and cultural links the UK have with Canada, MPs hoped to persuade Canada to accept the reality of the moral and international opposition and take domestic steps to address the environmental, political and welfare concerns. Unfortunately, any actions have not been able to address the concerns leaving no option but to push ahead with a EU ban.
Carlisle MP, Eric Martlew, fully supports a European Union ban on the trade in all products derived from the commercial slaughter of seals, recognising the inherent cruelty involved in this hunt.
He believes that the British Government, Public and MPs can stand proud of its efforts in continually pressing the European Commission to introduce measures to ban the import of seal products and recognised the effort of the majority of MEPs, and particularly, the Labour Members of the Internal Market Committee in reaching an agreement that will harmonise the trade rules throughout Europe. Relieved that MEP's saw the labelling option for what it is - an unworkable cop-out.
If passed, this would prohibit the seal products being placed on the market in the EU. Bringing Europe in line with US who have had a ban all seal imports in place since 1972.
Eric said,
" There is major opportunity to close loopholes and stop this unacceptably cruel trade throughout the European Union once and for all - sending a clear message that Europe wants no further part in this cruel and unnecessary hunt."
The six MPs are former DEFRA Ministers, Rt Hon Alun Michael MP; RT Hon Elliot Morley MP; Former Foreign & Commonwealth Minister, Rt Hon Ian McCarthy; current Chair of The All Party Animal Welfare Group, Eric Martlew MP; Current, Vice Chair of the Labour Party, Ian Cawsey MP and former PPS to Leader of the House of Lords, Judy Mallaber MP
The Commons motion reads:
VOTE ON SEAL PRODUCTS IN EUROPE
EDM 1397
That this House applauds the members of the European Parliament Committee on Internal Market and Consumer Protection for their decision to vote in favour of a complete ban on the commercial trade and importation into the EU of seal products; recognises the Canadian seal hunt is the largest slaughter of marine mammals on earth; believes that the nature of the hunt is inherently inhumane; deplores the 1.7 million harp seal pups killed since 2003; further notes that Public opinion polls consistently show that over 70 per cent of British and European citizens are opposed to commercial seal hunting; recognises the UK Government's efforts in urging both the European Commission and European Member states to carry forth the wishes of British and European citizens and calls on all MEP's to vote for ban on seal products in Europe.

---
Carlisle MP Welcomes New Support for Homeowners
22 Apr 2009
Carlisle MP Eric Martlew, is joining forces with Labour's Housing Minister Margaret Beckett to highlight the help available to keep people in their own homes if they fall on difficult times.
The Homeowners Mortgage Support (HMS) will enable eligible borrowers who suffer a temporary loss of income to cut their mortgage interest payments for up to two years to help them get back on track with their finances.
Eric said:
"This excellent scheme will ensure repossession is always a last resort. I want everyone in Carlisle to be aware of what help is available.

"The Labour Government is committed to helping people through these difficult times. Losing your home is one of the most devastating things that can happen but Labour is determined that hard working people, who are facing difficulties such as temporary unemployment, are not left to fend for themselves.

"This stands in contrast to the Tory plan to slash £810 million from the communities' budget - a cut which could have a devastating impact on those people."
Margaret Beckett welcomed the support from Eric Martlew adding:
"We know that many families are worried about how to pay the mortgage right now, and we're determined to ensure there is real help available for them.

"Today's news is a result of excellent co-operation between Government, lenders, and money advice services.

"On top of the range of measures we've already put in place, this new support will help borrowers who just need a bit more time to get themselves back on their feet. This is in stark contrast to the early 1990s when there was nothing.

"The clear message to borrowers is to contact your lender straight away if you're concerned about how to pay the mortgage as often a solution can be found."
1. Borrowers who are interested in applying for Homeowners Mortgage Support or the equivalent offer, should contact their lender in their first instance to check their eligibility.
2. For lenders offering HMS with the Government guarantee, the borrower must:
* Have bought their home before 1st December 2008;
* Be an owner-occupier - the scheme is not open to buy-to-let or investment properties
* Have an outstanding mortgage of less than £400 000 and having savings of less than £16 000.
* Have a regular household income and should be able to make a minimum contribution of 30% of the total interest payment
* Have talked through other options with their lender and have been making regular payments for at least five months.
* Have sought independent money advice.
3. More information for consumers on Homeowners Mortgage Support can be found at www.direct.gov.uk/HMS.
4. The Government has put in place a comprehensive package of support to ensure that repossession is always a last resort.
This includes:
* Free legal and debt advice with £25 million invested to expand these services, including an additional £2.5 million to support HMS
* A new Pre-Action Protocol that requires lenders to prove that they have exhausted all options before seeking repossession through the courts.
* Agreeing with lenders a three month minimum waiting period before lenders seek to repossess.
* More help for people who lose their jobs by reducing the waiting time for Support for Mortgage interest from 39 weeks to 13 weeks.
* A £200 million Mortgage Rescue Scheme to help the most vulnerable households avoid repossession.
5. Money advisers that have been trained to deliver Homeowners Mortgage Support advice include: Citizens Advice, Shelter, CCCS, National DebtLine and Payplan.
6. To find out where you can get HMS advice in your area from Citizen's Advice or Shelter please follow the links below.
Shelter
http://england.shelter.org.uk/get_advice/advice_services_directory
Citizen's Advice
http://www.citizensadvice.org.uk/

---
MP takes up cause of Stead McAlpin Workers
1 Apr 2009
Eric Martlew today called on the John Lewis Partnership to honour its pledge to the workers at Cummersdale.
Eric said,
"I am saddened, but not surprised that Stead McAlpin have gone into Administration and will be having talks with the Unions, the workforce and the Administrator, to see if the factory can be sold as a going concern."
However, Eric then called upon the John Lewis Partnership to honour its pledge that within 2 years of selling the factory, those employees would be entitled to the full John Lewis redundancy package, which is far more generous than the one which the employees have been offered.
Eric continued,
"John Lewis has a reputation for treating both its customers and staff very well, it is a shame to see this destroyed for the sake of a relatively small amount of money".
---
Eric Martlew Claims Victory for Local Blind People
Labour proposals mean weekly cash boost on way for blind people.
24 Mar 2009
Carlisle MP, Eric Martlew, has claimed victory in his campaign to get more support to local blind people. Under the changes backed in the Welfare Reform Bill by Eric, 20,000 blind people nationally will be entitled to receive the higher rate mobility component of Disability Living Allowance.
The intention is to support some 20,000 visually impaired people with their additional mobility costs, allowing them greater freedom to get out and about either socially or to find work. At current rates this will mean an additional payment worth £29 a week to those who qualify (£1,508 per year).
Eric said:
"I am delighted that my campaign to get more help to blind people has been successful. When this is introduced this change will transform the lives of blind people and their families. It can mean people are able to go out to meet friends, to get a job and to live life the way most of us take for granted."
James Purnell, Secretary of State for Work and Pensions, said:
"I pay tribute to the campaign that Eric Martlew has led on behalf of blind people in Carlisle. He made a powerful case on behalf of local people and we are pleased to have been able to include the measure in our welfare bill."
The Government has always been supportive of this change so we are delighted that we have been able to include it in our Welfare Reform Bill.
Jonathan Shaw, Minister for Disabled People, said:
"I know many severely blind people have been waiting to hear this good news and will be very happy with the outcome. The Labour Government has been working closely with the RNIB to make this possible so I'd like to especially thank them for all their support."
The Welfare Reform Bill has passed third reading stage today in the face of opposition from Conservative, Liberal and Nationalist MPs. The Bill will provide the additional powers to ensure that people make use of the help made available to them and maximise their employment prospects for the future. After the legislation finishes going through parliament Ministers will decide on how to implement these changes for blind people.
To qualify for the Disability Living Allowance higher rate mobility component a person must have a physical disablement which renders them unable or virtually unable to walk.
£29 is the difference between the higher and lower rate mobility component.
Effective operational implementation of the higher rate mobility component of Disability Living Allowance for severely blind people will come into force once the detailed legislation and operational processes have been developed.
---
MP Eric Takes Super Surgery Battle To Barrow Meeting
24 Mar 2009
Carlisle's MP, Eric Martlew, is to question Cumbria PCT about their ill-conceived proposals to build a super surgery at Hilltop Heights.
"While I have no objections to the amalgamation of GP practices into a new surgery in the south of the city, this proposal is absolutely ludicrous" he said.

"If this goes ahead it will create major access problems for many people, especially those relying on buses."
He continued,
"I will be attending the PCT meeting in Barrow this Thursday to question them on this ridiculous proposal to develop a doctors' surgery, for 35,000 patients, at the top of the highest hill in Carlisle, with almost non-existent public transport."

"This certainly will create great problems for many of their patients and my constituents. I hope I can persuade them to look for a better site in the Botchergate/St Nicholas area."
Meeting of the PCT Trust Board will be held on Thursday, 26 March 2009 at 1.30 at Barrow Town Hall, Barrow in Furness.
---
A Hill Too Far!
20 Mar 2009
Carlisle's MP, Eric Martlew, fears that Cumbria's Primary Care Trust will press ahead with plans for a "super surgery" at Hilltop Heights despite not meeting its own criteria for extra buses to the new location.
Mr Martlew said,
"I am not against this amalgamation of GP practices for a super surgery in the south of the city as it will provide excellent services and will be very beneficial to areas where the health needs are greatest."

"But I am totally opposed to putting it at Hilltop Heights,"
he continued.
"Siting it there would place the surgery on the top of one of the steepest hills in Carlisle and this will create severe access difficulties for many of my constituents. The very first recommendation in the report to be considered by the PCT at their meeting on 26 March insists that there must be direct bus services to Hilltop Heights from Botcherby and Upperby."
Eric elaborated.
"I've recently received a letter from the Managing Director of Stagecoach North West where he states not only that the PCT has not consulted him about the need for extra buses, but that there would be serious practical and financial problems in providing these services and that there would probably be need of some subsidy which wouldn't be the best us of NHS resources!"
Eric has also received representations from the Carlisle Branch of Diabetes UK which endorse his views on the unsuitability of Hilltop Heights, where their numbers have had to use following the closure of the Central Clinic.
"I am extremely worried that the PCT will press on regardless of any objection,"
said Eric.
"They really seem to have a closed mind on this location.

"Last Autumn I wrote to the Director of Public Health suggesting alternative locations but these appear to have fallen on deaf ears. My suggestions were for sites in the Botchergate/St Nicholas area which is very well-served by public transport - 36 buses an hour!"

"Also, if a 'state of the art' super surgery were to be built there it would help to regenerate the area and would, perhaps, dove-tail into Carlisle Renaissance plans."
He concluded by saying,
"If the PCT are to put the needs of the patient first I urge them to abandon their support for Hilltop Heights and look for another - more easily and readily accessible alternative in the Botchergate area."
Copies of correspondene below: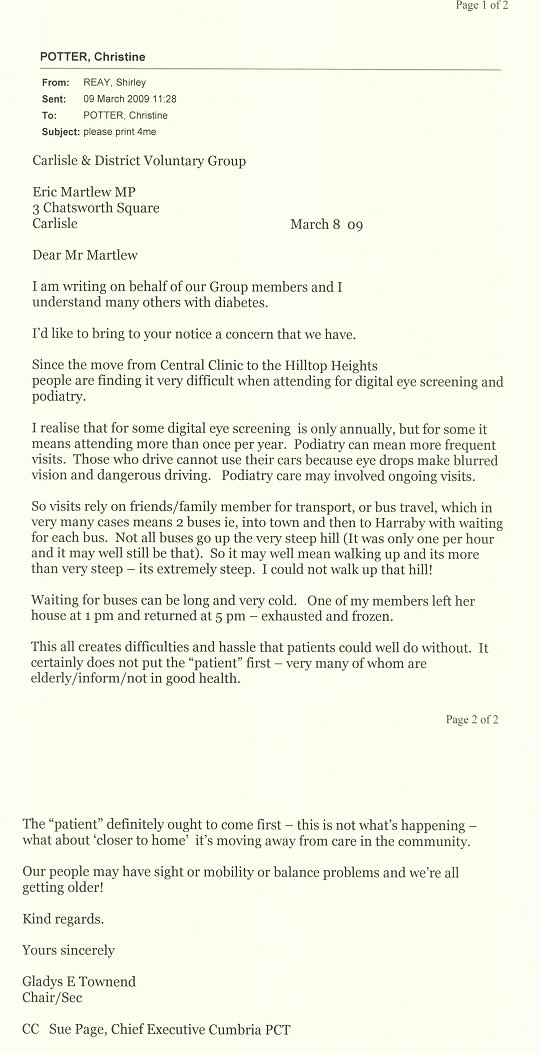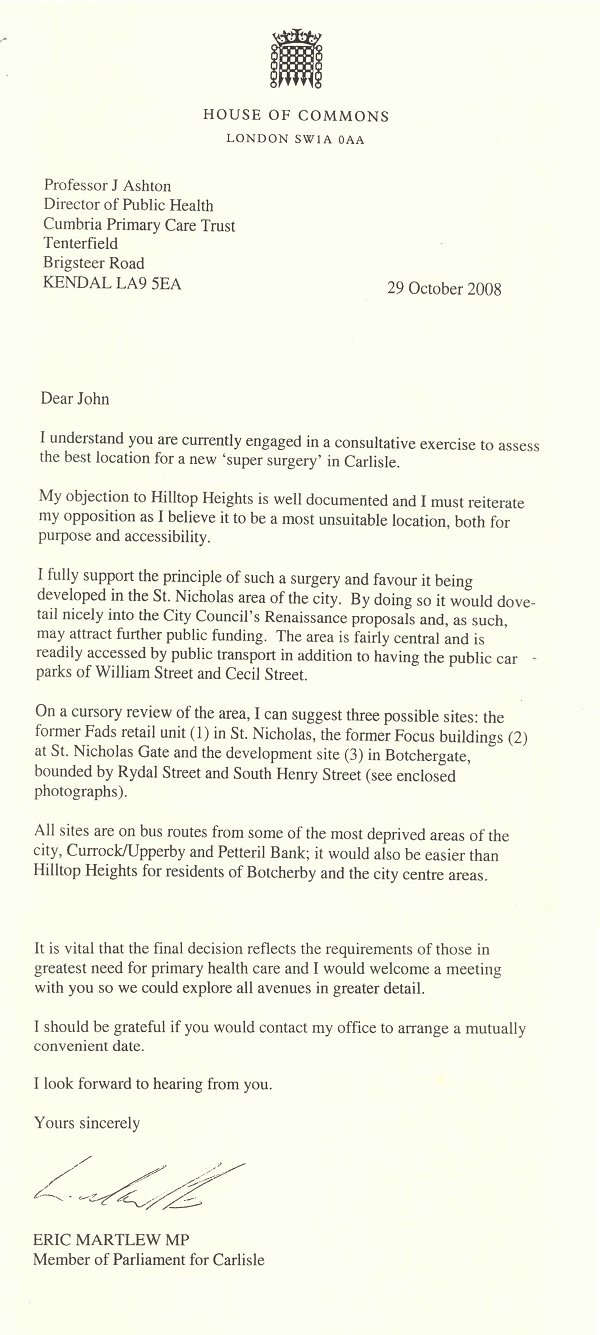 ---
Tory High Speed Rail Plan Misses Out Cumbria
18 Mar 2009
At a meeting, of the All Party Rail Group, this week in the House of Commons, the Shadow Transport Secretary Theresa Villiers, stated that the new High Speed line they are proposing would go from London to Manchester then up the East Coast to Newcastle and then on to Edinburgh. This was in response to a question by Eric Martlew the Carlisle MP who was Chairing the meeting.
Eric Martlew later said,
"It was obvious to me that the Conservative plan had been written on the back of envelope and that the Shadow Spokesman had no idea where the money was coming from, nor which station in London the line would use and obviously had no idea about the geography or logistics of the North of England."

"Such a proposal, to cut out Preston, Carlisle and the West Coast of Scotland, would have a serious effect on those economies".
---
Settle Line Anniversary
12 March 2009
Carlisle MP Eric Martlew, speaking in the House of Commons this week, referred to the fact that this April will be the 20th Anniversary of the "Save the Carlisle to Settle Railway Line".
He went on to say that this was the last attempt by any Government, of any colour, to close a major railway line. In many ways it was the beginning of the renaissance of the railways.
Eric said today,
" I think it is important that this Anniversary is not forgotten because of the efforts put in by the general public, the Councils and the Friends of the Carlisle to Settle Railway Line".

"Without this line today, because of the expansion of the traffic on the railways, we would have had major congestion problems. Closing this line would have been a disaster".
---
MP Eric appointed to new Regional Select Committee
11 Mar 2009
Carlisle MP, Eric Martlew, has been appointed to the new North West Regional Select Committee which has been set up to monitor the issues of the North West, including workings of the Quangos.
Eric is the only Cumbrian MP to be appointed to this Committee.
He said today,
"I am delighted to be on the Committee. It is important that Cumbria has a voice. Although only a small percentage of the population, we are 45% of the land mass and I look forward to working as part of the Committee to ensure the North West is not forgotten."
---
MP Eric wins battle of Clark's Field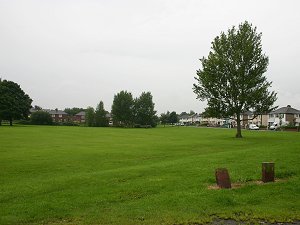 Clark's Field

17 Feb 2009
Eric Martlew said he was delighted that Cumbria NHS and the Consortium of GPs have decided not to build on the open space at Clark's field in North Carlisle, but instead are building on the brownfield site at the former Belah School.
Eric said,
"I have been campaigning from the start of the proposals for this. It was always a nonsense to suggest building on Clark's field, the Tory/Lib Dem City Council should never have considered it and the Belah School site is ideal. It provides plenty of room for expansion, is in the heart of the community and I am sure it will be an excellent facility."
However, as the Tory Lib./Dem City Council have shown their willingness to sell Clark's field, Eric is pressing ahead with his application to make this an urban village green, which will preserve it forever.
---
Eric Martlew backs plans for the Great British Refurb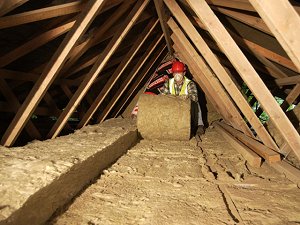 Laying loft insulation

12 Feb 2009
Carlisle MP, Eric Martlew, has today backed government plans for an energy saving revolution at home and work in Carlisle. Under the ambitious new long-term Heat and Energy Saving plan people will be able to receive expert, targeted help to cut fuel bills and access low-carbon heat and power in their homes.
People will be offered an energy audit, and the chance to have "whole house treatments" including insulation and low carbon heating supplies. This work could be paid for through a financial package that should mean overall savings on their energy bills. The Labour Government's ambition is that at least 7 million homes across the country could benefit from this.
Eric Martlew said:
"I welcome these proposals. We need an energy revolution to keep energy affordable, secure and reduce our carbon emissions. The government is offering real help now for people to cut their energy bills and reduce their carbon footprint.

"If we are to tackle climate change and reduce our emissions it will require a radical shift in the energy efficiency of our homes. Labour's ambition is to support and help people to do this."

"We can't leave fairness to chance. Labour will ensure the vulnerable get the extra help they need. We can't leave climate change to chance and to the enthusiasts. These plans will mean people can save money and the environment at the same time."
Ed Miliband, Labour's Secretary of State for Energy and Climate Change said:
"We need to move from incremental steps forward on household energy efficiency to a comprehensive national plan - the Great British refurb.

"We know the scale of the challenge: wasted energy is costing families on average £300 a year, and more than a quarter of all our emissions are from our homes.

"Energy efficiency and low-carbon energy are the fairest routes to curbing emissions, saving money for families, improving our energy security and insulating us from volatile fossil fuel prices.

"We cannot afford not to act. Back in the 1960s with the switch over to North Sea gas every home, every appliance was dealt with, house by house, street by street. That's the scale of the challenge facing us now and it reflects the size of our ambition.

"Every home must be able to access the help and technology it needs, whether it be the installation of a ground or air source heat pump, solar-heating, solid wall insulation, or access to a district heating scheme.

"Most importantly, I want to ensure that help to meet the costs is available to people and that lower-income families don't miss out."
The Heat and Energy Saving plan has three elements:
A street by street, house by house approach with offers of comprehensive advice - an "energy audit".
A financial package that will support "whole house" and in some places "whole area" makeovers. Pay-back is linked to the house not the individual, with people better off from day one
And a commitment to ensure fairness in what we deliver and the way we deliver it. A community-based approach will often be the way to ensure that we deliver these measures fairly.
---
MP calls for Inquiry call into hostel proposals
5 Feb 2009
Carlisle's MP, Eric Martlew, is still worried that past mistakes may be made again regarding a hostel for homeless women and children.
"The proposals to build this hostel adjacent to the men's hostel on John Street was a disaster waiting to happen", he said. "But despite many concerns being aired the local authorities seemed deaf and blind to the consequences. The proposals were only abandoned at the last minute due to the intervention of Cllr Barbara Cannon of the new Labour run County Council and a senior police officer. I am calling for an inquiry to ensure that such a catalogue of errors will not be repeated", said Mr Martlew. "It seems as though common sense was ignored and that there was a lack of co-ordination between the agencies".

"There is a need for a new hostel for these vulnerable women and children and I've written to the Chief Executives of the City and County Councils asking them both to hold an inquiry into what went wrong. We can't afford to make mistakes like this again."
---
Council got it wrong over Belah School
4 Feb 2009
Carlisle's MP, Eric Martlew, is still urging the County Council to improve primary school provision in the north of the city following the controversial closure of Belah School.
"During the consultation on the closure of Belah the former Tory LibDem controlled council misled parents by indicating there would be enough places for their children in Kingmoor and Stanwix School", he said.

"Even 2 months ago the Council were still claiming this to be so in a letter to me on 22 December 2008 where the Chief Executive re-iterated

"The consultation document and the report which led to the Council decision to reorganise provision did indicate, though, that there was likely to be a demand for places from within the area that could be met through the available places at the Stanwix and Kingmoor Schools."

"This is patently untrue", said an angry Mr Martlew. "Parents have contacted me having been unable to get their children into either Stanwix or Kingmoor Schools. They have been offered Houghton, Blackford, Caldewlea and Brook Street, which means for some parents being told to put their unaccompanied 4 year old into a taxi to take them over two miles to school."

"I am hoping that the new Labour controlled County Council will review the situation and introduce measures so that young children from the area can be educated in their communities and new people moving into the area can be assured that their children will be educated locally."
---
---
---
On behalf of Eric Martlew, 3 Chatsworth Square Carlisle Cumbria CA1 1HB