Freight Transport (HC 249-iii)

Transport Committee 27 Feb 2008
---
Evidence given by
2.45 Civil Aviation Authority Helen Watson, Head of Economic Policy and International Aviation, Economic Regulation Group Graham French, Manager, Air Transport Statistics, Economic Regulation Group Manchester Airports Group Dr Jonathan Bailey, Director of External Affairs Geoff Muirhead CBE, Group Chief Executive
3.20 Dover District Council Tim Ingleton, Head of Regeneration Councillor Paul Watkins, Leader of Dover District Council Central London Freight Quality Partnership David Sheppard, Deputy Head of Transport, John Lewis Partnership
3.55 Minister and Officials Jim Fitzpatrick MP, Parliamentary Under-Secretary of State Stephen Fidler, Divisional Manager Freight & Logistics: uploaded on 4 March 2008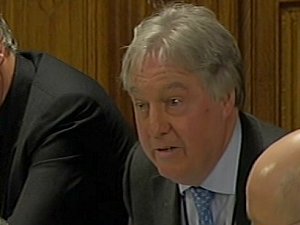 Q373 Mr. Eric Martlew (Carlisle): Just to follow up from Mr Hollobone, if you look at a map of Britain and you look at the airports, I suspect that the majority of them started off as military air strips and I am not sure that they are in the right place. I would like your comments on that and whether we should be actually building more airports in the relevant areas. The other thing is, Mr Bailey depressed me a little because my local airport has just been bought by what used to be the Stobart Group and basically is going to be used in the main for freight, and you are saying that is not viable. I just wonder whether that is the case. Firstly, have we got to be building any more new airports and are the existing ones in the right place?
Mr Muirhead: Are the existing ones in the right place? If I could take that first, they are where they are and they were located originally close to centres of population because they were built in order to protect centres of population. So fundamentally I think the airports are in the right place. East Midlands is very strategically centred for the freight industry with 90% of the UK population within reach of East Midlands Airport in four hours. Freight does travel further than people do without too many complaints because it does not have a big voice, but airports around the country are able, I think, to manage the freight business fairly effectively.
Q374 Mr. Eric Martlew (Carlisle): So we do not need any new ones?
Mr Muirhead: I don't think you need any new ones and I think if you did it would be very hard to actually bring that about. If I could turn to the other point about freight only, at Carlisle we were talking about, freight is competitive for high value added goods. It is not competitive when you put it against shipping or trucking generally for the heavier bulk goods, which is why air freight accounts for 1% by volume of goods and about 30% by value. I think that relationship needs not to be forgotten in the equation about whether air freight is good or bad. While there may be more pollution associated with it, there is a heck of a lot more value associated with it as well.
+++
Q418 Mr. Eric Martlew (Carlisle): You do not seem to accept that your authority or the neighbouring ones could be a special case, and I think they probably are if you look at the rest of the country, but is it not the fact that very often local authorities when they are dealing with freight, especially vehicles, are trying to restrict them entering an area, it is not for the advantage of the freight haulier or getting the goods to the customer, it is for, probably rightly, the benefit of the residents and the electorate in that area? So it is actually skewed towards making it better for the people who live in the area, but it does not facilitate helping to get freight from one part of the country to another?
Councillor Watkins: I can accept that viewpoint. In certain parts of the country if you are on major transport routes obviously from a local authority's point of view they will see the majority of freight wanting to pass through those areas in a quick, efficient, environmentally sensitive way.
+++
Q443 Mr. Eric Martlew (Carlisle): Following on to consolidation centres, obviously John Lewis owns Waitrose and I noticed that there is a lot of internet shopping going around in all these little vans which are flying about. How do you see that is going to develop in the future? How will that impact on freight?
Mr Sheppard: I think that providing it is done sensibly it can actually reduce emissions, but it has got to be done sensibly.
Q444 Mr. Eric Martlew (Carlisle): What is sensibly?
Mr Sheppard: Sensibly means that the customers do not go out of their house and they do it over the net and it is then delivered to them, but what in essence you find is that they tend to still go to the store, select certain things, and then perhaps go home and then get a delivery done as well.
Q445 Mr. Eric Martlew (Carlisle): So they drive to the store, decide what they want and give it to somebody else to deliver?
Mr Sheppard: Yes.
Q446 Chairman: Not all of us are as bad as that, Mr Sheppard! Some of us do not have the time.
Mr Sheppard: No, but it is one of these things and there have been many studies actually done on whether it does actually save emissions, but by and large if you do some rough calculations the amount of deliveries you can do on one van compared with the amount of fuel you would use in X number of cars to do the same journeys, then it does make sense, providing that car journey is not being undertaken as well.
Q447 Chairman: My friend, Mr Ocado, comes and visits me every weekend with a different driver and they manage to offer what they call "green slots", where obviously there are a lot of people in the same place. They do make a conscious effort to try and get some kind of structure into it, do they not? Is that something which could be further developed?
Mr Sheppard: I think so. When you talk about "green slots" it really means that you are going to dovetail -
Q448 Chairman: It really means some other mug is spending his money in the same place!
Mr Sheppard: Exactly, yes, and then you get a green slot if your neighbour has actually bought something, so it is part of the scheduling tool, but yes, it is good for the environment. It is when you start coming to timed deliveries where you go to one customer here and then you go down here because you have got to go back there an hour later, that is when the problems come in and that is why it needs to be co-ordinated and there needs to be some sort of curtail on the expectation of the customer and the service levels they want.
Chairman: I would like to see you sell that one!
Q449 Mr. Eric Martlew (Carlisle): In a way what we have been talking about is a consolidation centre, is it not? The supermarket is that.
Mr Sheppard: Yes.
Q450 Mr. Eric Martlew (Carlisle): What about a more general footprint? Why is the industry not building more of these freight consolidation centres? Apparently they are a great success.
Mr Sheppard: They are a great success. The John Lewis Partnership and most retailers have had consolidation centres since the sixties. We consolidate everything. If you take a stand at Waitrose store there will only be in essence about five deliveries go in there from our RDC, where everything is consolidated, where at one time you would have probably got 100 vehicles going in there in a day.
Q451 Mr. Eric Martlew (Carlisle): So you are probably the wrong industry to ask, but if you are talking about construction and things like that it does not happen very often, does it?
Mr Sheppard: No.
Q452 Chairman: Why is it then that John Lewis, Waitrose, have now, in the City of London anyway, started developing a parallel service to Ocado (with whom they are associated) doing exactly the same thing at different times? So we have Ocado and Waitrose both offering to deliver groceries. That is not terribly intelligent planning, is it?
Mr Sheppard: Ocado is a separate company to Waitrose. Ocado just sells Waitrose products.
Q453 Chairman: Oh, I see! So it is friendly rivalry?
Mr Sheppard: It is friendly rivalry and it helps to keep prices low.
Chairman: So long as we have established that.
Q454 Mr. Eric Martlew (Carlisle): I presume they are partners, though, in your organisation, the people who are employed there?
Mr Sheppard: No, they are not.
Q455 Mr. Eric Martlew (Carlisle): They are not partners?
Mr Sheppard: No, they are not partners.
Q456 Mr. Eric Martlew (Carlisle): Can we come back to the general benefit of consolidation depots?
Mr Sheppard: Consolidation depots are absolutely brilliant. It is how you actually get them to work with smaller companies, and you have obviously heard of the Bristol one, which works very well but it is on a small scale. We have looked at things and people have approached me from one of the Freight Quality Partnerships and asked could we actually supply all the shops in a certain road, like the restaurants and things, with our food. In that way we could take the stuff into our shop and then deliver to all of the shops in a particular street. The answer is, yes, it is possible. It is whether those restaurants would want to buy exclusively from us. But when you come back to the consolidation centre, if you can actually get all suppliers to put them in there and then deliver it into one shopping centre on a few vehicles, then you are winning, but it is actually getting the consensus of the individual shop.
Q457 Chairman: You would not be allowed to do that under the Competition Act, though, would you, because it would give you a very nice monopoly of particular roads and shopping areas?
Mr Sheppard: Absolutely. It is fraught with problems, but if you do it on an open basis, the same as the Broadmead Shopping Centre, where the shops are allowed to join this scheme but all their produce goes to an outside warehouse and it is then linked in from there. That works extremely well, but it is a very small population of the shops in the Broadmead Centre that actually use it.
Q458 Mr. Eric Martlew (Carlisle): Are you aware of whether the Government is encouraging this in any practical way?
Mr Sheppard: There is an initiative for people to look at it and it is certainly part of the Freight Quality Partnership's initiative. I think there are about four in London which are actually actively looking at this, and it is bringing it all together. I think in the end it will have to come if we are actually going to reduce CO2 emissions and vehicle movements within London.
Mr. Eric Martlew (Carlisle): Thank you.
+++
Q470 Mr. Eric Martlew (Carlisle): Could I ask you about the design of vehicles? I was recently talking to a haulier who was saying that weight is not the problem very often and you could actually design the vehicles to be longer, still moving in the same turning circle, and that would save a lot of journeys. Is there any sense in that, because it is not the weight?
Mr Sheppard: It is not the weight, but certainly with retailers access is a major problem, so we have got to be careful on length. Most of our trailers and the bigger vehicles are not maximum length now, but we do run double-deck trailers. We actually designed the double-deck trailer back in 1984. We were the first to actually pioneer it, and we have doubled capacity and we now use them throughout the whole of the country, so it is important. There is a lot of resentment to them because the general public think that this massive great vehicle is damaging the roads, but I put it to a seminar in Cambridge, where they asked could we not go in with smaller vehicles to protect their roads, and I actually pointed out that the axle weights of their local buses actually exceeded the weights of our maximum vehicles. It is a misunderstanding.
+++
Q509 Mr. Eric Martlew (Carlisle): Just on that last point, what has been telling on the railways is the heavy goods business, the coal, and we have the nonsense on the West Coast Main Line of the coal being brought into a port, a deep sea port in Scotland, and I think there are 38 of these trains every day which go to the power stations in Yorkshire. Surely we should be actually encouraging that coal to be landed at one of the ports in Yorkshire and then taken to the power stations? It does seem nonsensical, especially on a congested line like the West Coast Main Line. No doubt it helps your targets, Minister, but it does not help the railways and it does not make any sense.
Jim Fitzpatrick: We have grants available to try to encourage the conversion of road freight to rail freight. That money is certainly there for companies to come forward. We do everything we can to encourage that and that investment would obviously assist.
+++
Q515 Mr. Eric Martlew (Carlisle): On this issue, surely the real problem for the railways and why they can put the price up is the capacity problem. Passenger numbers are going up, there is limited track, and the other point, of course, if we are talking about the aggregates, is that I am still not convinced that they actually pay the amount in access charges to pay for the damage they actually create to the track, because there is considerable damage by these heavy trains, especially on the West Coast Line and the Settle lines. So really the problem is capacity and that is why they can put the price up?
Jim Fitzpatrick: In the past decade it is certainly our view that the Department has announced the most significant funding for rail freight for decades and the White Paper announced a commitment of £200 million for Network Rail funding up to 2014 for the development of a strategic freight network. The productivity of the schemes, I am sure you are familiar with the various moneys to enhance the gauge and capacity to deal very much with the pressures you described. In gauge clearance terms, Network Rail's Freight Utilisation Strategy identified the priority routes for gauge clearance, Mr Martlew, in terms of the particular priorities being the Southampton to West Coast Main Line, at Duneaton, Peterborough to Nuneaton, Liverpool to the West Coast Main Line, and Gospel Oak to Barking, and work will start in the Spring this year and all should be clear by 2011. There are other routes which are of lower priority, but the amount of money which has been contributed and the enhancement on these gauges demonstrates that we recognise there is a challenge to make sure that the weights and the volumes, and the rest of it, do not damage the network and that the network is sustainable both for freight and for passengers.
This is an uncorrected transcript of evidence taken in public and reported to the House. The transcript has been placed on the internet on the authority of the Committee. Neither witnesses nor Members have had the opportunity to correct the record. The transcript is not yet an approved formal record of these proceedings.
The full transcript may be read here.
Legislative Work page | Return to Homepage
On behalf of Eric Martlew, 3 Chatsworth Square Carlisle Cumbria CA1 1HB