Limebury Books is undertaking the on-line and paperback publication of a trilogy on behalf of Patrick C Notchtree.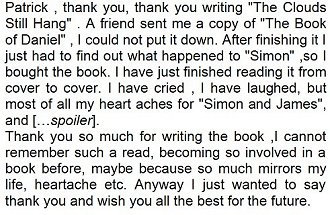 The Clouds Still Hang
is released by author Patrick C Notchtree
The Clouds Still Hang is a trilogy because it is written in three sequential parts, each long enough and able to stand alone; but it forms one long story.
"The Clouds Still Hang" is a trilogy telling the author's life story told through his avatar, Simon; a tale of love and loyalty, betrothal and betrayal, triumph and tragedy; novels that chart one man's attempts to rise above the legacy of a traumatic childhood.
The first book deals with Simon's childhood friendship and eventual love affair with an older boy, the second the trauma of his teenage years and early adulthood, the third his struggle to maintain equilibrium and the catastrophic consequences of his failure at one point to achieve that.
It is a biography, written because it tells a strong story which raises many issues over six decades, the post war baby boomer generation who in many ways never had it so good. Although it's the author's life, names and places are obfuscated to protect the innocent - and the guilty.
His own experience is probably unique, yet will strike a chord with many others who have been through similar things, as well as those with an interest in such matters, either personal or professional, such as police and probation officers, criminologists with an interest in this field or those investigating the developing 'queer theory'.
It's a varied, exciting, demanding, sometimes terrifying life story.

It is not pornographic but is sexually explicit in places. It is not suitable for those under 18 years or who find explicit gay sexuality, sexual narrative, including sexual violence, offensive.
The first part was originally published in March 2012 under the title "The Book of Daniel" which is still available separately in downloadable formats only.
About "The Clouds Still Hang":
Katy P:

Very powerful and thought provoking read, 23 November 2015
The twists and turns and ups and downs of Simon's life were addictive. I couldn't wait to resume reading every evening, but he was always on my mind when I went to sleep. I really felt I knew Simon well.
Steven Michael @stevenmichael0 1 Feb 2015
Awesome book :)
Jessie Ash @Ms_JessieAsh 11 December 2014
The cloud still hangs is definitely an emotional read. Must've been hard to write.
Lewis S. Horvitz:

An amazing book!!, September 24, 2013
This beautifully written story about the power of love, and the ability to forgive oneself is the most moving book I have read in a long time. Bravo!
Nancy (USA):

Tough to read but worth it, July 11, 2013
After reading the first book "The Book of Daniel" I felt such anguish at it's ending so I downloaded this trilogy "The Clouds Still Hang" which continues with the two additional books of the story. During the second book my stomach was a wreck, my guts were twisted. This story is tough to read but well worth it. I just wanted to fix all the problems Simon faced throughout the remaining story. So many people with their own agendas causing situations that Simon couldn't control. Even at the end of the book I feel like a good cry.
Alan Hardy: This is an honest and perceptive "account of one person's struggle with the demons within" ... by the end of the book, the stance is more decidedly positive: Simon achieves a measure of contentment through an acceptance of the duality of his nature, that he can love deeply his wife of many years at the same time as being unashamed of homosexual loves both in his past and present. There are no easy answers offered, but the struggle itself (which the book is an expression of) seems to be held up as achievement and accomplishment enough. Can any of us really hope for more from life?
Read full review
Brad Durham @tottness200: Finished the book earlier this week. A very emotional read. Your book was v enjoyable, emotional and sad. Tweets are not long enough to explain the roller coaster of emotions I felt. how I wished I could have been there to help so many times. Again ty for this book
Leland Hall: One of the more enjoyable reads I have had in some time …. I immediately went to the LULU site and bought the complete book in both the print and eBook versions. That attests to how eager I was to follow the story of Simon and Daniel, and how obligated I felt to the author for providing me with such a wonderful experience. Your book touched me deeply; it dealt with the subject of coming of age with a similar attitude to my own. Until lately, that was unknown in the published world, and it is still rare. You were able to engage me as a reader and as a person; that is special, and it would have been ungrateful and unforgivable of me to remain silent about what you have written.
Excerpts from reviews of Book 1:
The first book follows the protagonist Simon through childhood growing up with a distant father and his developing friendship and eventual love affair with an older boy.
Carol Powney writes: "It is about need, caring and love. There is something beautiful even nurturing about this growing friendship and love. Yet it is a well written story that shows the naturalness of these boys emotions and growing sexuality including their normal sexual orientation at their age for them.I look forward to reading more from Patrick Notchtree. English is very good and a well written tale so 5 stars."
Gerry Burnie writes: "Altogether, for me this is a breakthrough book for its sensitive portrayal of adolescent sexuality, and its ability to relate to most people's childhood experiences. There are some flaws, but I'm going to give it five bees, anyway."
Rob Bassindale writes:
"I have just finished reading this book, this beautifully written book. It's a story about 2 young boys that form a beautiful friendship, that goes into a tale of their sexual awakenings.
I could not put it down, I read many many books, and this hand on heart is the best thing I have read. the last view chapters I was in tears.
Follow anything this guy writes, this book is a classic."
P. J. Leeson writes:
"This is a wonderful little book about a slowly developing love story. The story of these two boys who are friends, then lovers, their family lives, their mutual admiration and friendship and the word that they never dare to say. It is a tender story, it is a loving story, at times funny, at times sad, at times sexy - a bit like life."
Tweets
Jose Miranda Jose Miranda @jmirandanyc
Finished and ABSOLUTELY LOVED IT!!! I can't stop thinking of Daniel's response in the end! <3 :'( when is the 2nd book!!!
Yu Xiu Wong @johnnywyx
Just used the whole night to finish the book! when will the next book be out?! Can't wait to know what's gonna happen