Election 2005
Election Addresses
David's election Address (PDF format, 878K)
Election Newsletter (Fairness and Opportunity for Families, Dignity for Pensioners; 405K)
Election News
06/05/05 David re-elected
29/04/05 Cabinet Minister visits David
27/04/05 Minister 'Rubb'ing the message home

---
David re-elected
David Clelland has be re-elected by the voters of Tyne Bridge to be their Member of Parliament for the next few years.
Although his majority was reduced in line with a national trend, this victory demonstrates the hard work and dedication that David has put into representing the people of these parts of Gateshead and Newcastle.

CANDIDATES
Name
Party
Votes
%
+/- %
David Clelland
Labour
16,151
61.2
-9.3
Chris Boyle
Liberal Democrat
5,751
21.8
+9.5
Tom Fairhead
Conservative
2,962
11.2
-2.1
Jill Russell
Respect-Unity Coalition
447
1.7
+1.7
Kevin Scott
British National Party
1,072
4.1
+4.1
Majority
10,400
39.4
Turnout
26,838
49.3
+5.1
6 May 2005
---
Cabinet Minister visits David
Patricia Hewitt visited Newcastle and David Clelland at the Vaisakhi in Gateshead on Friday 29th April.
| | |
| --- | --- |
| | |
| Patricia Hewitt with David | David speaks out |
David said, in welcome and wishing everyone a pleasant evening,
"Our political opponents want to make this a one issue election. They are too late. It has been a one issue election from the start. And the issue is welfare. The welfare of your self and your family now and into the future. If people vote to change the economic and political direction of the country because of a dislike of some individual person or policy, they will not only be throwing the baby out with the bathwater but the bath as well'."
29 Apr 2005
---
Minister 'Rubb'ing the message home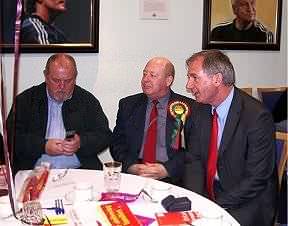 David (centre) iwth Geoff Hoon (right) discuss policy.
Defence Secretary Geoff Hoon was in Gateshead with David Clelland visiting the Rubb factory.
Rubb manufacture almost instantly erectable buildings for MoD & sports uses. One local claim to fame is that they made the 'tent' to cover the Newcastle United training pitch.
27 Apr2005
---
Promoted by Ken Childs on behalf of David Clelland, both of 19 Ravensworth Road, Dunston, Gateshead. NE11 9AB
Homepage