David's News Extras 2007
24/12/07 Pay the Police

28/12/07
17/12/07 Back Lanes don't count
04/12/07 NE Road Safety slammed
20/11/07 Lib Dems take umbrage
17/11/07 Praise for Journal's Jobs Campaign
12/11/07 Clarity Call on Mobility Scooters
06/11/07 Transport Money goes South
11/10/07 Outrage at 8 year A1 delay
08/10/07 PM 'had his reasons'
05/10/07 Support for the Rock
20/09/07 No to Road Pricing for Tax Cuts
14/09/07 Tory Road Plan 'disastrous'
11/09/07 Congratulations, Sharon
10/09/07 Call for Regional Transport Authority
25/08/07 A1 upgrade not dependent on Charging
03/08/07 Western Bypass 'urgent'
28/07/07 North East has slowest roads
26/07/07 Backing for High Speed link
24/07/07 Blocking powers may be scrapped
13/07/07 Challenge on Transport links
12/07/07 High Priced Improvements
12/07/07 Fares Fair
07/07/07 Backing for Bikes
21/06/07 Moving to Maglev
12/06/07 Rail Lessons to be Learned
06/06/07 Support for Carers' Week
06/06/07 Change Law on free Travel says David
22/05/07 Back on the Buses
16/05/07 Soldiers' mother can stay
16/05/07 Region's Road Recognition
12/05/07 Rail Meeting a Success
11/05/07 Travelcard Launch
10/05/07 On the right track?
08/05/07 David comes down to Earth
03/05/07 Region's Road Share down
25/04/07 College Travel Plan
30/03/07 Tyne Bridge MP to step off Tyne Bridge
24/03/07 Cautious Welcome for Rail Plans
17/03/07 Welcome for Junk mail opt out site
15/03/07 East Coast Rail Forum
13/03/07 Soldiers' mother earns Reprieve
09/03/07 "Grave concern" on Rail Service
03/03/07 Big Names back David's Lords' Plan
21/02/07 Free Travel for Young People
21/02/07 Clarity Call over Rail Franchise
19/02/07 Agency blocking Housing
15/02/07 North East let down over Transport
15/02/07 More efficient fuel needed
23/01/07 More Money for Metro
20/01/07 Climate Dome's stark Warning

Return to Homepage | Current News
---
Pay the Police
24 Dec 2007

28/12/07
David is backing calls for the police to receive the full amount of their pay award.
David said,
"I can understand the Government's decision in trying to control inflation and it has done that successfully since 1997 and the whole country has benefited. However, as far as police pay is concerned, it was an independent arbitration decision that came up with this and as both sides agreed to go to arbitration both sides agreed to abide by the decision. It is an old trade union principle I am applying."
He also said that rumours of a large pay rise to be recommended for MPs were "pure speculation".
David said,
"It's been said that MPs are demanding a rise, but I'd like these people to be named, because I don't know of anyone who is demanding anything."
An MP's salary is presently £60,675.
---
Back Lanes don't count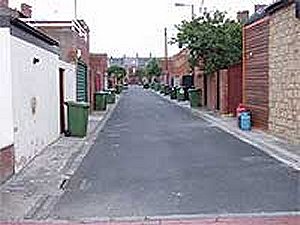 A typical back lane in the North East

17 Dec 2007
David has hit back at government criticism of North East roads.
The region has been rated worst in the country for its roads, yet the government spends less on the roads here than other areas, £300M compared to £2 billion for London and the South East.
One reason is that when measuring the road stock in an area, government figures do not include back lanes of which the North East has many, and they have to be maintained out of the same roads budget.
David said,
"Quite simply, better public transport and better roads lead to more successful businesses. And a healthy economy is essential for the North-East.

"One of the particular problems we face is that when the Government allocates grants to highways authorities they do not take into account back lanes, of which the Tyneside area has many extra miles which need looking after. So the money to care for these comes from the general fund, leaving residents short-changed, and that makes it even more difficult to keep roads up to an acceptable standard.

"We have been trying to get better funding for the region for a long time, but so have other MPs in other regions, so we will just have to keep on at it."
The region has the fewest main roads, all roads are maintained to a lower standard and the region gets least money from government for its roads.
---
NE Road Safety slammed
4 Dec 2007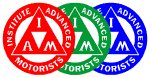 Roads in the North East are among the most dangerous, according to the Institute of Advanced Motorists.
David says this simply emphasises the need for improvements, especially the A1 in Northumberland which has a "terrible safety record"
.The IAM Trust has compiled a star rating for road safety. The A1 in Northumberland scored just 2 stars for its single carriageway sections and only three for the dualled sections. The A68 and the A69 west of Hexham only scored 2 stars.
David said.
"The A1 in Northumberland has a terrible safety record which obviously needs real improvements, including dualling throughout."
The Highway Agency, which supported the research, maintained that British roads were still among the safest in the world.
---
Lib Dems take umbrage
20 Nov 2007
On learning of the Lib Dem's complaint against him for speaking his mind, David has opted for free speech.
Lib Dem Councillor Jonathan Wallace complained to Parliament when David replied to comments on Cllr Wallace's website about David's commitment to the region.
David's reply:
"I see that Whickham Councillor Wallace has taken umbrage that I should respond to his criticisms of me and has descended to personal abuse. He also says he has reported me to the House authorities for allegedly financing my response to him from public funds. Oh dear! Actually I have not made a claim on public funds for the period covering November and my response to him was not therefore funded as he alleges.

"However, I am grateful to him for focusing my attention on this as I do find the rules relating to the communications allowance too restrictive in terms of political comment and I have decided to free myself from them by not using that method of financing my web-site.

"If Councillor Wallace thought he could silence me he is mistaken."
---
Praise for Journal's Jobs Campaign
17 Nov 2007

On the second anniversary of The Journal's Go for Jobs Campaign, David has praised the newspaper and the Chamber of Commerce for its successes.
A major victory concerns the Highways Agency's Article 14 notices which were blocking many potential developments on the grounds they would cause traffic congestion.
David said,
"This was a very important campaign to the region, which has had an incredible impact, not least of which on the Highways Agency. It was important not just to campaign against these Article 14 notices but to show the region just what was happening and I fully praise The Journal and the North-East Chamber of Commerce for their hard work in this.

"The issue does seem to have been resolved now but we still face many challenges in the North-East. Our transport infrastructure still needs investment and upgrading and we still have to push for this. But the Go for Jobs campaign, I think, showed what can be achieved if we all work together for the region's benefit."
There are now no Article 14 notices in the region and it is possible that the Agency's power to impose these will be restricted in future. David has raised the issue of these notices in Parliament including in sessions of the Transport Committee. David has long been a critic of the government's lack of action on North-East transport links, sticking up for the region although it means being critical of the Labour government on this issue.

19 Nov 2007
David has tabled a Commons Motion in support of the Journal's Campaign
The Early Day Motion reads:

EDM 313
NORTH EAST GO FOR JOBS CAMPAIGN
19.11.2007
Clelland, David
That this House congratulates the North East Chamber of Commerce, The Journal newspaper, local politicians and all involved in the successful Go for Jobs campaign; thanks those transport Ministers who listened to the campaign and acted to bring about an end to restrictions on economic growth in the region caused by Article 14 Orders; and calls upon the Government to recognise that the excellent economic progress in the North East over the past 10 years will only be sustained and improved with a clear and comprehensive plan for the improvement of the region's major road and transport infrastructure.

---
Clarity Call on Mobility Scooters
12 Nov 2007
David has called for more clarity on the legal position of mobility scooters.
There have been a number of incidents involving these as they have become more common, and David is concerned about their interaction with other road users.
A mobility scooter
(Photo: BBC)

David speaking on BBC Look North
(Photo: BBC)
Speaking on BBC Look North, David said,
"People find great benefit in using the scooters. However, as more and more are coming onto the roads, there is an issue as to how they interact with traffic and pedestrians"
David, an influential member of the Commons Transport Committee, points out that the scooters require no driving test and no compulsory insurance.
He said,
"Certainly we need to have some enhanced instruction for people and perhaps some rules as to where they can and cannot go. Users need better instruction on how to operate the scooters. Some people getting on them can't even drive a car, some have never even ridden a bike."
There have been a number of reported incidents recently involving mobility scooters, including the death of an elderly lady and damage to a Metro train causing disruption on the network.
---
Transport Money goes South
6 Nov 2007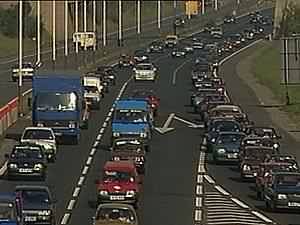 North East drivers must wait even longer for improvements

David is asking why the North-East has lost out on a £9Bn transport pot.
The government has decided that the money should be allocated according to how they would help the national economy. It seems the North-East has no potential schemes that fit.
Despite the pressing need for action on the A1 Western By Pass and dualling in Northumberland, and the desirability of improvements to the East Coast Main Line, it is likely that most of the money will be spent in the South East.
David said,
"There is a definite concern amongst North-East MPs that we may miss out on more transport funds, not just because of Crossrail, which will take a lot of money, but other London projects including the Olympics.

"We will want to examine Government spending and see just why cash is diverted away from the North-East and what effect this will have on us as a region."
The money, from the Transport Innovation Fund (TIF) could be the subject of further bids "in a few years". But the Department for Transport has said that the schemes in the North-East need more work before government cash would be available.
But David has welcomed some transport measures expected in today's Queen's Speech. Giving local authorities more power over bus companies is aimed at stemming the loss of important socially desirable bus routes which bus companies want to reduce or cut completely on financial grounds. David does not expect congestion charging in the region to increase except possibly for one or two small pilot schemes.
---
Outrage at 8 year A1 delay
11 Oct 2007
David has said it is outrageous that urgent upgrades to the A1 in the region will not start before 2015.
After the Chancellor's pre budget statement seemed to rule out improvements in the North, David wrote demanding clarification. The answer from the Highways Agency contained the bad news.
The M1, M6 and M25 are to be improved and widened and the Crossrail link across London has got the go ahead, but drivers stuck in queues on the Western By Pass or on the dangerous single carriageway A1 in Northumberland will have to wait.
David said,
"That is just not acceptable because everyone can see the urgency of the situation in the region. It is not only the question of congestion at peak times but also allowing people to get around the region and the rest of the country."
A report is due to be published in about two years on the roads situation in the North East, but no work would start for a further six years.
---
PM 'had his reasons'
8 Oct 2007
David has said he regrets not having the election now.
Had there been an election, David would have been contesting the new Gateshead constituency.
David said,
"Given all of the hype in the build up to this, then in my opinion I think we should have gone for it. It is Gordon's choice, it's up to him when we go and I'm sure he had his reasons."
Sometime in 2009 now looks most likely, and until then David will continue to serve all his constituents in Newcastle and Gateshead that make up the Tyne Bridge constituency.
---
Support for the Rock
5 Oct 2007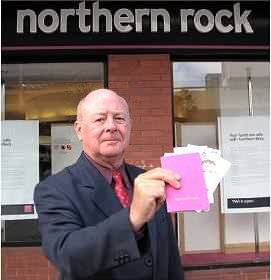 David is supporting Northern Rock as he has done for the last quarter century - by putting his savings there.
As the troubled bank's shares rallied with speculation of a take-over, David is anxious for the staff and the work of the Northern Rock Foundation.
The Foundation supports good causes and charities across the region and its loss would be felt across the North.
David said,
"Like all small and medium-sized savers, I am grateful that the Government is protecting our savings. But I am very concerned about the future of the bank and the future of the Foundation, which is very important to the region.

"And of most importance is the staff, they need to feel secure in their employment for the future and I would encourage people to show their support by continuing to put their money in and open new accounts."
It is now believed that Northern Rock has borrowed up to £11Bn from the Bank of England.
---
No to Road Pricing for Tax Cuts
20 Sep 2007
David has come out strongly against a suggestion from Gateshead Council to use cash raised by road pricing for things other than transport, including cutting council tax.
The Council has put forward a "flexible approach" which would involve using money raised from motorists on other services and as a way of reducing council tax.
David said,
"I agree that generally local authorities should have the maximum flexibility with their funds but here I think the money really should be ring-fenced. If we were to have road pricing, most motorists would prefer it if the money ended up benefiting them, used on transport and road schemes. Any money raised should be used to directly benefit other motorists and not be used as a way of introducing cheaper council tax."
Business leaders have joined David in their opposition. The North-East Chamber of Commerce has said that using money raised in this way to cut council tax would be unacceptable.
Gateshead Council says it has no immediate plans to bring in road pricing and would be very unlikely to act alone. Their comments came as part of a consultation on the Transport Bill and they simply wished to reserve their position.
---
Tory Road Plan 'disastrous'
14 Sep 2007
David has hit out at Tory plans to put the brake on road improvements in the region.
The Tory Quality of Life Review Group wants to place stringent environmental rules around any planned schemes which would threaten the dualling of the A1 and widening of the Western By Pass.
David says this would be disastrous for the region's economy and could set it back ten years. he also pointed out that the case for widening of the Western By Pass was already well established.
Support for David's stance has come from the North East Chamber of Commerce which wants the widening scheme implemented as soon as possible.
---
Congratulations, Sharon
11 Sep 2007
David has expressed his pleasure that Sharon Hodgson MP has won the fight for a new parliamentary seat.
Ms Hodgson, whose present constituency of Gateshead East and Washington West disappears under reorganisation at the next election, has won the Labour candidature to fight the new Washington and Sunderland West seat.
David said,
"I am very pleased for Sharon and I am quite sure the members will be as pleased as she is. She has already been an MP since 2005 so obviously she has got a bit of experience under her belt and she will do the best for the people of Washington and Sunderland West."
David and Sharon went head to head last year for the Labour nomination for the new Gateshead seat, as David's present Tyne Bridge seat will also go under the reorganisation. David was chosen by local party members to be their candidate in Gateshead at the next election.
---
Call for Regional Transport Authority
10 Sep 2007
David is backing calls for a single transport authority for the North East.
The authority would have "London style" powers and would co-ordinate road and rail.
The North-East Chamber of Commerce is making the call for a single body to have powers over roads and buses to make travel,. especially to and from work, much easier.
David said,
"There is no doubt that we need some regional authority to look at the trunk roads and railway system and tackle our transport problems."
There is concern that such a scheme could be confined to Tyne and Wear, leaving Northumberland and County Durham with a poorer service but a regional body should address this.
David has discussed this idea with Ministers and also in the Commons Transport Committee of which he is a prominent member.
---
A1 upgrade not dependent on Charging
25 Aug 2007
The Secretary of State for Transport, Ruth Kelly, has written to David about the A1 western by pass.
David wrote to her with concerns that congestion charging would be imposed as the price of improving the road, and he now has her reply.
Ms Kelly's letter says that any upgrade to the road would be dependent on the introduction of charging.
David said,
"It is good that there is no question of the Government imposing congestion charging and it is not the case that improvements on the A1 are being held up by TIF or depend on charging being introduced."
The letter says the government is still looking at ways of reducing traffic and easing traffic flow. A report is expected to go to Ministers in January.
---
Western Bypass 'urgent'
3 Aug 2007
David has said that urgent action is needed on the A1 Western Bypass.
He is also concerned that progress may be being delayed because improvements may be tied to "demand management", in other words, road pricing.
David has already written to the Transport Secretary, Ruth Kelly, and is waiting for a reply.
David said,
"We want urgent attention given to the A1 Western Bypass in particular, and I was very concerned this was being held up on the pretext of having to find demand management measures."
He also welcomed provisions in the Transport Bill which would help councils control threatened bus services.
---
North East has slowest roads
28 Jul 2007
Government research has shown that the region has some of the slowest main roads in the country.
This supports the campaign for action to improve the roads in the area, according to David.
The A1, A19 and A69 all feature in the list of congestion 'pinch points' where traffic is on the verge of grinding to a halt.
David said,
"As a region, we have the fastest-growing car ownership in the country and when you consider there have been no major improvements to our roads in the last 20 years, it's no surprise that the situation is getting worse and worse. It's urgent that the Government acknowledges the need to act. Demand management is only part of the process.

"The crux of the matter is that road transport is going to be the major method of transport in the North-East for the foreseeable future and it's important that our roads are brought up to standard."
---
Backing for High Speed link
26 Jul 2007
David is backing the North East Assembly in its challenge to the government over high speed rail links to the region.
The assembly prepared a plan for the region and high speed rail was a part of the strategy. But the government asked that the Assembly remove reference to the rail link because it is too costly.
The government also said that there was no evidence that the region needed a high speed rail link.
David said,
"I made similar comments at a meeting of back-bench Labour MPs on Tuesday night and I certainly support the assembly's changes. High speed rail is incredibly important to the North-East and they are right to stress that. We will be raising this again when my select committee cross examines transport ministers."
The Assembly also has the backing of the North-East Chamber of Commerce, David is bringing Transport Minister Rosie Winterton to the North East soon to see for herself the need for better road and rail links.
Nick Brown, the newly appointed Minister for the North East, has said he cannot back a high speed link because the region has higher priorities.
---
Blocking powers may be scrapped
24 Jul 2007
The power of the Highways Agency to block Article 14 orders which can block development may be scrapped.
David has welcomed the plans which are blamed for holding up economic development in the region.
The Article 14 orders are made by the Agency to halt development where it is felt there would be an adverse impact on the surrounding roads.
David said
"While I would say the Highways Agency has to be concerned about the effect of development on the surrounding roads, at the same time we have wanted improvements to the surrounding roads so you can see the developments go ahead."
There are currently no surviving Article 14 orders in the region.
---
Challenge on Transport links
13 Jul 2007
David has issued a challenge to new Secretary of State, Department for Transport, Ruth Kelly, to tackle to North East's transport problems.
The connection to the motorway system, congestion on the Western By-Pass and rail links are all issues that need her attention.
David said
"I challenge the new Secretary of State to recognise the special needs of the North-East, given our isolation from the rest of the motorway network."
David will continue to argue the case for the North East and has asked for an early meeting with the new Minister of State, Department for Transport, Rosie Winterton, who has replaced Dr Stephen Ladyman as Minister with responsibility or roads.
---
High Priced Improvements
12 Jul 2007
David has welcomed planned improvements to cross country train services.
But he said the price could be high after fare increases were also announced.
This follows the awarding of the franchise to Sunderland based Arriva which is promising massive investment in new trains and greater capacity to stop overcrowding.
David said,
"The improvements in the services are to be welcomed, but it seems at a high price for passengers."
---
Fares Fair
12 Jul 2007
Young campaigners from the North East have David's backing for fair bus fares for students.
The campaign calls for concessionary travel for ages 14 - 19 in education or training.
Five young people from the region delivered a petition to Downing Street yesterday, backing their 'Bus Buddy' campaign. They met with North East MPs to discuss their ideas.
David said,
"I think we can pull a huge part, if not all, the finances together ourselves. But what we want is the Government to support it so if funding does become a problem we will at least get a sympathetic ear."
---
Backing for Bikes
7 Jul 2007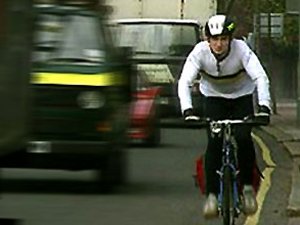 A cyclist in traffic

David has said there is a case for more cycle lanes.
His comments come in the wake of figures that show the North East is falling behind in cycle usage and ownership.
In the region, only about 20% of people cycle more than once a year, and only 10% cycle once a week. While cycle ownership has risen nationally, it has fallen in the North East.
David said,
"There is a case for introducing cycle lanes where that can be done safely and indeed the local authorities certainly in the Tyne and Wear area have been doing that. Work is being done but you cannot force people to cycle if they don't want to."
Sustrans said the government figures did not take enough account of usage of the national cycle network's traffic free routes.
---
Moving to Maglev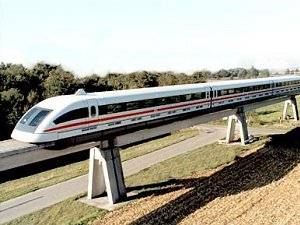 German Maglev train

Maglev train technology, long espoused by David, is now attracting much wider support.
Maglev, or magnetic levitation, is a system where trains do not run on rails but 'float' on a magnetic field enabling very fast, smooth journeys.
A new link is planned between Edinburgh and Glasgow, with a journey time of just 12 minutes! Newcastle to Edinburgh would be just 35 minutes, and Newcastle to London virtually halved to 1 hour 40 minutes. And that's with the present 300mph Maglev technology. A Tyne - Tees link is also being discussed.
David said,
"Improved links with other regions are vital for the North-East's economic development. And it would be more environmentally friendly than flying. But we need better east-west links as well."
Maglev now has the support of the Association of North-East Councils and the North-East Chamber of Commerce.
Maglev specialist UK Ultraspeed is developing the Scottish plans but envisions a North Britain 'super region' with the cities of Scotland the northern England linked by a high speed network.
A model for the idea is the new Malmo-Copenhagen bridge link between Sweden and Denmark, which is creating jobs and prosperity on both sides.
Commenting on the Scandinavian link, David said,
"It is a classic demonstration of how improving transport links between regions, and in this case countries, can transform their economies to the benefit of both sides. I am quite sure the South-East which is becoming congested and uncomfortable to live in would welcome some relief to the pressures they are having to suffer by making it easier for business and people to live in other parts of the country but still have easy access to the centre of the economy and Government,"
21 Jun 2007
---
Rail Lessons to be Learned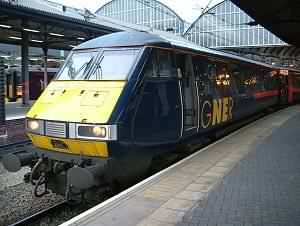 GNER at Newcastle - for how much longer?

David has said that the government should learn from the GNER collapse.
In response to a call for an inquiry into the East Coast Railway, David said he was sure that the government had not acted improperly, but the case held lessons for the future.
David said,
"GNER clearly overbid, but the Government had no idea it couldn't manage their payments. I am quite sure the experiences of the GNER collapse in terms of the East Coast service will have taught everyone a lesson and this will be taken on board by all those involved. There were lessons to be learned by the Government."
12 Jun 2007
---
Support for Carers' Week
David and former Miss Great Britain Preeti Desai are backing Carer's Week this June.
David has campaigned for a better deal for carers and Ms Desai has personal experience as a carer.
David said,
"On top of worrying about a loved one, many carers also feel they have nobody and nowhere to turn to. I hope this week shows there is help out there, but we also need an updated and improved National Carers' Strategy. I shall continue to press for a proper Carers' Allowance."

"The estimated 6 million people who provide unpaid care in the UK save the state a mind-boggling £57 billion a year. This would be equivalent to running a second NHS with a corresponding tax burden to pay for it. But the cost of caring can't be defined purely in financial terms. The stress and emotional toll on the carer can be immense. This is why I have been campaigning - and continue to campaign - to bring the working carers' allowance in line with other benefits to give these unsung heroes and heroines the chance to balance a working life with their caring responsibilities."
Preeti Desai said,
"I am thrilled to be supporting Carers Week. I wanted to get involved due to my own personal experience as a carer when my mother fell ill and I took time off to care for her full-time. I hope that my involvement will raise awareness about the vital role carers play in our society and help them achieve the recognition and support they deserve."
Carers' Week is 11-17 June 2007 with the theme, "My life as a carer ..."
6 Jun 2007
---
Change Law on free Travel says David
David is trying to change the law on free travel in time for the national scheme next April.
He is tabling amendments in the House that would mean that extra costs would be reimbursed.
Tyne and Wear lost £4.5M on the current scheme and David wants the government to meet any extra costs in excess of £500,000.
David said,
"I have put in two amendments, both of which are designed to protect authorities like Tyne and Wear from the kind of problems we had when the original scheme was introduced."
6 Jun 2007
---
Back on the Buses
David has welcomed the publication of the Government's Local Transport Bill today.
Bus usage in Tyne & Wear has fallen drastically since the Tories deregulated bus services, and the bill seeks to give local councils greater say over buses in their area.
The bill gives a clear indication of the government's thinking on the matter and it is likely that more powers would be returned to PTEs to control bus services.
David said,
"It is the only way we are going to get bus services to the state we need to get people out of their cars."
22 May 2007
---
Soldiers' mother can stay
The mother of two soldiers has been told she can stay in the UK "indefinitely".
Home Office Minister Liam Byrne, wrote to David, who had been campaigning on behalf of Joy Bowman, with the news.
Joy Bowman, whose two sons both served in the army, is an asylum seeker fleeing from domestic violence. She fled from Jamaica six years ago when she alleges that her husband threatened to kill her.
As well as her two soldier sons, one of whom served in Iraq, Mrs Bowman also has a daughter who is preparing to sit her GCSEs at All Saints College in West Denton. Mrs Bowman has worked as a volunteer at the Geoffrey Rhodes Centre in Gosforth and is also studying to become a nurse.
David said,
"It's been a long and traumatic wait for the family and I am so pleased we've finally managed to give this story a happy ending."
16 May 2007
---
Region's Road Recognition
David has led a delegation of MPs to push the case for road improvements.
Nine local Labour MPs joined David to argue case for the North-East and the A1 especially.
They met with Dr Stephen Ladyman, Minister of State, Department for Transport with responsibility for roads, who said he recognised the need for improvements. He also gave a pledge that local MPs would be better informed about road plans in the region and their progress.
David also raised the question of relatively low roads funding in the North-East, and the Minister promised to write to David.
David said,
"He has got the message. He cannot fail to do that with 10 Labour MPs turning up on his doorstep."
A further meeting is due next month for an update.
16 May 2007
---
Rail Meeting a Success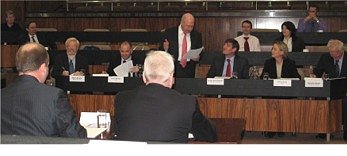 David with regional representatives and the rail bidders

Political, business and community representatives from the region said that a meeting with bidders for the East Coast Main Line was a success.
The meeting at Gateshead Civic Centre on Friday 11 May was organised and chaired by David to allow the representatives to question the bidders on the levels of service they would offer.
While details of their bids were subject to commercial confidentiality, matters such as levels of service, train frequency, catering, station modernisation and staffing policy were discussed.
David said,
"I thought it went very well. The important thing was that we wanted to impress upon the bidders the importance of the line to the North-East region. We hope to see the high standards we have become used to maintain and even improved upon.

"There was nothing that particularly alarmed us, but we are keen to ensure that any cost-cutting measures will not jeopardise the levels of service we have become used to. The bidders all seem to have thought deeply about the service they wish to provide. But we will be writing to the Secretary of State to ensure our views on what the North-East ought to be provided are known."
The current bidders are Arriva Trains, National Express Group, First Group and a partnership of Virgin, Stagecoach and GNER
12 May 2007
---
Travelcard Launch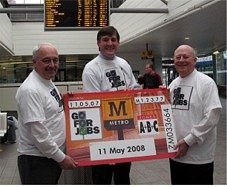 David (right) at the Travelcard launch

A new travelcard has been launched in the region.
Go for Jobs launched an employee travel scheme, jointly developed by North East Chamber of Commerce and Nexus in order to encourage people - especially employees from heavily congested Team valley Trading Estate - to use public transport.
David is an enthusiastic backer of the scheme and will be raising this initiative with the Roads Minister, Dr Stephen Ladyman, in a meeting shortly.
David said,
"This will be one of the things I raise next Tuesday with the Roads Minister as there is a need for improvement in the road infrastructure."
The card can be used to obtain discount travel in Tyne and Wear by employees of companies that are NECC members.
11 May 2007
---
On the right track?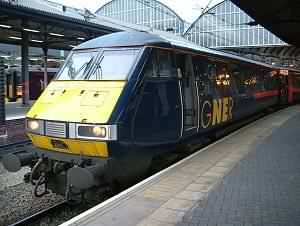 A GNER train at Newcastle

David has organised a meeting to quiz the bidders for the East Coast Main Line about their plans.
The meeting, to be held at Gateshead Civic Centre on Friday 11 May, will allow community groups and businesses in the region to question the bidders.
There are fears that than improvements and upgrades to the route could be dropped in a bid to maximise profit. GNER had to relinquish the franchise after getting into financial difficulties and being unable to pay a £1.3 billion bill to the government.
David said,
"This is a really important franchise for our region, bringing together employment opportunities, business links and tourism. I am looking forward to meeting the bidders and hearing their plans for the region.

"My priority is to ensure that whoever wins the bid, we get the best result possible for passengers and the region as a whole."
The current bidders are Arriva Trains, National Express Group, First Group and a partnership of Virgin, Stagecoach and GNER.
10 May 2007
---
David comes down to Earth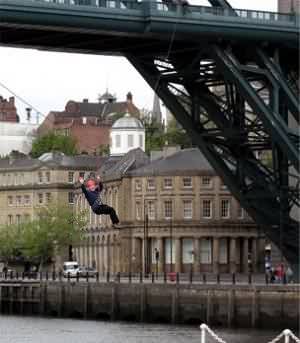 David coming down the zip slide

David came down to earth yesterday at Gateshead Quays, hurtling through the air from the Tyne Bridge.
The Tyne Bridge MP went on 'zip slide' 400 ft from the bridge across the water to the landing point of HMS Calliope to raise money and awareness for the Anthony Nolan Trust and in memory of teenager Josie Groves.
Josie made headlines when she decided to spend her last days with her family instead of undergoing more hospital treatment for her terminal leukaemia.
Harnessed and clipped to the steel cable, David stepped off the Tyne Bridge in Newcastle and hanging beneath the cable, rushed across the River Tyne to his Gateshead landing.
David said,
"It was absolutely fantastic. You're full of trepidation as you climb over the edge of the Tyne Bridge, but once you jump off it's breathtaking. Not only was it for an excellent cause, but it was a privilege to see the river from such a unique perspective and I felt completely in safe hands. Everyone was great.

"I think the Anthony Nolan Trust asked me because I'm the MP for Tyne Bridge, so there was an obvious link and I was more than happy to help out. It's incredibly important to get people signed up to the register as donors and fun events like this are a great way of raising awareness."
The event took place over the three days of the bank holiday weekend and raised over £45,000.
If you would like to make a donation in support of David's 'flight', please contact him at:
David Clelland M.P.
19 Ravensworth Road
Dunston
Gateshead
NE11 9AB
Tel: 0191 420 0300
Fax: 0191 420 0301

8 May 2007
---
Region's Road Share down
David has set up a meeting with a government minister to discuss the decline in the North-East's share of transport expenditure, and he is asking other North-East MPs to join him.
He is due to meet with Dr Stephen Ladyman, Minister of State, Department for Transport with responsibility for roads, in Westminster soon.
The North East receives 30% less than the national average spending per head of the population and the figure seems to be declining as this is less than in 2002. London and Scotland have received big increases.
David said,
"It does need to change. I'm inviting other Labour MPs to the meeting to raise our concerns about road infrastructure in the North-East and the need for investment."
David's move has the backing of the North-East Chamber of Commerce.
3 May 2007
---
College Travel Plan
Gateshead College is being congratulated for being the first organisation in Tyne & Wear to receive a Travel Plan Award.
David has tabled a Commons motion to this effect and calling more organisations and employers to develop their own travel plans and the government to scrap the taxation of travel benefits.
The full Early Day Motion reads:
EDM 1355
TRAVEL PLANS
25.04.2007
Clelland, David
That this House congratulates Gateshead College on being the first organisation in Tyne and Wear to receive a Travel Planning Award under the Travel Plan Accreditation Scheme promoted by Tyne and Wear Passenger Transport Executive Nexus; commends Nexus for encouraging travel planning as a means of reducing congestion in the county; and calls upon all organisations and employers in Tyne and Wear to set an example to the UK by developing their own travel plans and on the Government to support the introduction of travel plans by ending the taxation of travel concessions to employees.
25 Apr 2007
---
Tyne Bridge MP to step off Tyne Bridge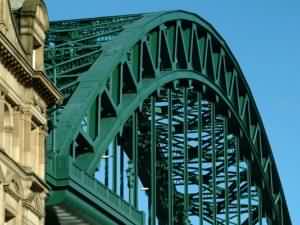 Tyne Bridge - a long way down

David will be launching himself into the air off the Tyne Bridge in May.
But he will have a rope or two, as he is abseiling from the famous bridge in aid of the Anthony Nolan Trust in memory of courageous teenager Josie Grove.
Josie died aged 16 last month from leukaemia after having decided that time with her family was a better way of spending her last months than having painful treatment. Two bone marrow transplants had already failed to help Josie.
Plucky David, aged 63, said,
"It didn't take a lot of persuading. I've abseiled before off the bridge for charity and I'm always up for a new experience. I thought I could kill two birds with one stone - I can help a good cause and have an exhilarating experience at the same time."

"The Tyne Bridge is obviously iconic and people sit up and listen when they hear people talking about something happening on it. I'm more than happy to do my bit to support what the Anthony Nolan Trust is doing."
A spokesman for the Anthony Nolan Trust welcomed David's participation as a high profile person who would raise awareness of the work of the Trust.
30 Mar 2007
---
Cautious Welcome for Rail Plans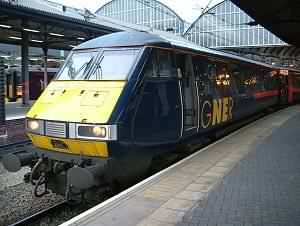 Fewer stops for East coast trains?

Proposals to reorganise rail services have met with a cautious welcome from David.
Plans to change the way the East Coast Main Line operates could mean fewer stops for some trains, but some smaller stations could lose out.
The aim is to free up slots on the line to accommodate growing passenger and freight services.
David said,
"It seems as though it has great potential but I would need to look at the detail. Anything that improves journey times and services for passengers has got to be welcomed."
24 Mar 2007
---
Welcome for Junk mail opt out site
A new website to help people control the junk mail they receive has been welcomed by David.
www.itsmypost.com provides an automated email or letter service that sends a request to stop processing your data to your chosen companies
David said,
"Findings from a recent YouGov survey stated that 75% of people would like the ability to choose which companies they receive direct mail from.

"Itsmypost.com provides the perfect mechanism for consumers to do just that by allowing them to hand-pick the brands and organisations from whom they receive mail. Through the on-line service, consumers can contact numerous companies at the same time to inform them they do not wish to hear from them in future.

"Companies who receive the 'no mail' notification are then obliged to comply with the consumer's request through Section 11 of the Data Protection Act 1998. The environmental contribution will be significant. By allowing consumers to choose exactly which mail they receive, itsmypost.com is helping to reduce up some of the billion items of direct mail sent out, a potential 137,000 tonnes of paper from landfill sites. The existence of an internet site in itself further reduces the pressure on the environment."
17 Mar 2007
---
East Coast Rail Forum
David has co-sponsored a Commons Motion on the future of the East Coast Rail franchise.
He welcomes the work of the East Coast Rail Forum and its aims of obtaining the best service and ensuring the views of rail users are heard.
The forum has been set up by MPs along the East Coast route to ensure future service levels. David wants North-East organisations to join the forum.
David said,
"We were concerned that the voices of the users of the line aren't really being heard sufficiently. It's a question of letting the potential franchisees know they've not only got to impress Government but the people using the service.

"This is a really important rail service to the region and we want to ensure that local community and passenger interests are top of the agenda. Whoever eventually runs the franchise, we want to see quality services, value for money and reliability. The franchise consultation will close shortly and it is essential that all users of the line ensure their voice is heard."
The full Early Day Motion, tabled by John Grogan MP with David as co-sponsor, reads:
EDM 1147
EAST COAST RAIL FORUM
15.03.2007
Grogan, John
That this House notes that the Inter City East Coast franchise has been handed back to the Government by GNER; further notes that a decision is expected during the summer on a new operator for the franchise; recognises the concerns being expressed by hon. Members regarding the future provision of services on this line; and therefore welcomes and supports the aims of the East Coast Rail Forum to influence and improve the bids of all operators for the franchise and ensure the views of community and regional groups and other users along this line are heard.

15 Mar 2007
---
Soldiers' mother earns Reprieve
The mother of two soldiers has been told she will not be sent back to Jamaica.
The reprieve, for which David had campaigned, is only temporary however while the case is considered.
Joy Bowman, whose two sons both served in the army, is an asylum seeker fleeing from domestic violence. She fled from Jamaica six years ago when she alleges that her husband threatened to kill her.
As well as her two soldier sons, one of whom served in Iraq, Mrs Bowman also has a daughter who is at school in Newcastle. Mrs Bowman has worked as a volunteer at the Geoffrey Rhodes Centre in Gosforth and is also studying to become a nurse. Under the asylum rules she is barred from paid work.
David said,
"She's claiming asylum on the basis of domestic violence but the police are supposed to deal with that. She hasn't got a legitimate claim but I have asked for special consideration of her case because she has been here a long time. It seems a bit cruel to send her back after all this time.

"Mrs Bowman came to me for help because she lives in my constituency. I raised the issue with the minister and gave him a number of points to consider.

"Mrs Bowman has been here a long time. She is settled in the community, well-liked and a good citizen. Her daughter is also doing her GCSEs at school and it seems particularly cruel to disrupt her education.

"There is also the whole question of her sons having served in the British Army. If you look at all these points it's clear to me there are grounds for looking at this as an individual case. "

"I am delighted. This is good news but Joy is not out of the woods yet. Mr Byrne's office told me he had agreed to hold the order to send Joy back to Jamaica."
Campaigners point to the positive contribution the family have made to Britain making the case for them to be allowed to stay.
13 Mar 2007
---
"Grave concern" on Rail Service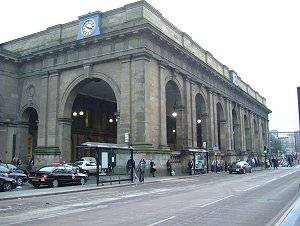 Newcastle Central Station - upgrade under threat?

David is concerned that planned upgrades to stations and catering services on the East Coast Main Line could be dropped.
The Department of Transport seems to be indicating that these could be dropped by a new operator who takes over from GNER.
David said,
"I have grave concerns that the standard and level of service which we have got used to with GNER may be very much under threat under the new franchisee."
Other companies have already shown interest in the route, but the DfT plan only says that the improvements are "recommended" rather than mandatory. The new operator must also plan for new trains to be fully operational by 2014
9 Mar 2007
---
Big Names back David's Lords' Plan
David's campaign to reform the House of Lords and avoid another batch of elections has drawn support from some well known names.
David Blunkett and Gerald Kaufmann in the Commons and Betty Boothroyd, David Clark and Derek Foster in the Lords have signed David's letter to members of the Parliamentary Labour Party urging an appointed upper chamber.
To members of the PLP
Dear Colleague
House of Lords Reform - An opportunity not a challenge
Option 1 for the reform of the House of Lords is for a 'reformed but non-elected' second chamber. We would urge you to vote for this option.
A hybrid second chamber would cause conflict between members, with one group of members claiming legitimacy over the other. Elected members would have a mandate and could legitimately challenge the primacy of the Commons. Elected members could carry out constituency duties and set up offices in MPs' constituencies to campaign from. An elected second chamber would lead to legislative gridlock and bad governance.
An elected chamber based on a list system would be an 'appointed' chamber in all but name, as members would be appointed by political parties and members serving a single 15 year term, as proposed, would be accountable to no one.
Below is an example of how a new non-elected second chamber could be composed that would be entirely in line with the 'Principles of Composition' set out in the government White Paper and the Labour Party Manifesto. It is not meant to be a firm proposition at this stage but merely an example of how the objectives of the Labour manifesto and the White paper can be met without elections.
Should the option for a reformed non-elected second chamber be carried then the government would have to bring forward a draft bill outlining how such a chamber should be constituted, at which stage these and other ideas could be explored in depth.
We are not arguing for the maintenance of the status-quo but see this as an opportunity to create a second chamber that will add value to our system of governance.
Proposals for a new second chamber need to be more than a knee-jerk reaction to current events.
Regards
Commons Members
Lords Members
David Clelland MP
Janet Anderson MP
David Blunkett MP
Ben Chapman MP
Ann Coffey MP
Mike Hall MP
David Hamilton M
Stephen Hepburn MP
Brian Jenkins MP
Gerald Kaufman MP

Ian Lucas MP
Siobhain McDonagh MP
John McFall MP
George Mudie MP
Bill Olner MP
Ken Purchase MP
Terry Rooney MP
Ian Stewart MP
Don Touhig MP
Alan Williams MP

Irene Adams
Betty Boothroyd
Keith Bradley
Tom Burlison
David Clark
Jean Corston
John Evans
Derek Foster
George Foulkes
Llin Golding

Barry Jones
Geoffrey Lofthouse
John Maxton
Jenny McIntosh
Lewis Moonie
Martin O'Neill
Peter Snape
Ann Taylor
Dennis Turner

A Non-elected Second Chamber
"Labour believes that a reformed Upper Chamber must be effective, legitimate and more representative without challenging the primacy of the House of Commons."
Labour Party Manifesto
"A Reformed Chamber:
Principles of Composition
6.1 The Government believes that there are certain principles that should underpin a reformed House of Lords, whatever its composition:
Primacy of the House of Commons
Complementarity of the House of Lords
A more legitimate House of Lords
No overall majority for any Party
A non-political element
A more representative House of Lords
Continuity of membership"
The White Paper - The House of Lords: Reform
How these principles can be achieved in a non-elected chamber;
Hereditary principle to be finally abolished.
Future representatives to be drawn from;
political Parties represented in the Commons
all parts of the UK
a range of classes, backgrounds, skills and experiences
both sides of industry, public sector, local government
ethnic minorities, religious organisations, voluntary sector
gender balance
Nominations to be made by organisations reflecting the above range.
New Statutory Appointments Commission (SAC) charged with a duty to appoint from nominations submitted, ensuring above principles are adhered to and that nominees have demonstrable merit and experience.
No direct appointments by SAC.
Present non-statutory appointments commission to be disbanded
3 Mar 2007
---
Free Travel for Young People
MPs from the region are backing a call by David for free travel for young people in full-time education or accredited training.
A campaign is being mounted by the North East Regional Youth Assembly and in a Commons motion, David is urging the government to back the campaign and work towards such a scheme.
David's full Early Day Motion reads:
EDM 949
REGIONAL CONCESSIONARY TRAVEL FOR YOUNG PEOPLE
21.02.2007
Clelland, David
That this House congratulates the North East Regional Youth Assembly on its campaign for regional concessionary fare bus travel for young people aged 14 to 19 years in full-time education or accredited training; believes such provision should be approved and supported by regional agencies and local authorities as it would contribute to the improvements in education and skills the region needs by assisting young people to have full access to the excellent educational and training opportunities in the region; and calls upon the Government actively and enthusiastically to endorse the campaign and encourage the Government Office North East and the regional development agency ONE North East to work towards the introduction of such a scheme.

21 Feb 2007
---
Clarity Call over Rail Franchise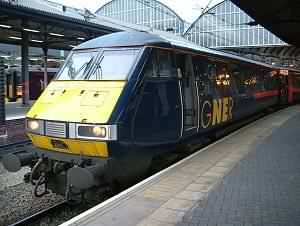 A GNER train

David has called for more clarity and openness over bidding for the East Coast Main Line.
This follows the release by the Department for Transport (DfT) of a list of potential bidders to take over the service from GNER.
GNER had to relinquish the franchise - although continuing to run trains until a new operator is found - because of financial problems with its parent company. Interested companies include Arriva, First Group, National Express and a combined bid by Virgin and Stagecoach, But the waters are muddied by reports that GNER is also in discussions with one or more of the likely bidders.
David said,
"What we could do with is a bit more clarity and a bit more openness, rather than all this behind the scenes situation. It will be a great relief to everyone once this gets sorted out, particularly if we are assured that the level of service is maintained."
The DfT has said that the new operator must maintain and extend present high levels of service offered by GNER.
21 Feb 2007
---
Agency blocking Housing
David has hit out at the Highways Agency for possibly blocking development in Newcastle's West End.
The agency is saying that the planned housing projects for Scotswood and Benwell would place too much strain on the road network, especially the A1 western bypass.
Despite predictions of increasing congestion on the A1 even with out development, the agency has so far not produced any plans for upgrading the western bypass.
David said,
"This is unnecessary bureaucracy and a waste of public money. I am quite certain these developments will go ahead - all they're doing is unnecessarily delaying them."
The highways Agency is calling for greater co-ordination between councils to plan developments.
19 Feb 2007
---
North East let down over Transport
David has criticised the government for not doing enough for the region's transport needs.
His comments came after publication of a select committee report that the government was missing most of its own targets for transport.
The government had also greatly underestimated the costs of free travel for pensioners which had created real problems for Tyne and Wear, which David said was an "absolute disaster".
David went on to say,
"They are not doing enough in the North-East. We have been very critical of the poor road infrastructure and the fact we are not linked up to the national motorway network."
David has also put forward to the Minister ideas to increase competition on the east coast main line by allowing train companies to bid for individual services rather than hand over a monopoly of the line to one company.
15 Feb 2007
---
More efficient fuel needed
David has called for a more efficient fuel for air travel.
He has called for a "technological solution" to reduce carbon emissions by aircraft.
David was speaking after figures were released showing that he was top of the list of the region's MPs for using air travel in 2005-6.
David said,
"Expenses are expenses. I fly quite a lot because I live near the airport and it saves me an hour every time. I probably fly more than some people and probably should use the train more.

"Air travel can be cut out but I find it takes an hour off my journey which can be valuable time. The answer to the problems of air travel is to find more efficient fuel. You can't expect people to give up their cheap holidays - you have to find a technological answer."
All air travel by MPs is carbon offset.
15 Feb 2007
---
More Money for Metro
David is urging the government to fund major improvements to the Tyne & Wear Metro.
Nexus is asking for £600M to upgrade the system with everything from new ticket machines to a new fleet of trains over the coming years.
David said,
"This is about reducing congestion, climate change, economic development of the region, social mobility - it hits all the right buttons for Government.

"Metro has provided over the last 20 years the kind of transport system the Government would like to see, but it won't be able to do so over the next 20 years without substantial investment."
The bid was taken to Downing Street and the government is expected to respond by the end of 2007.
David later added,
"The aim is to prepare the Metro for the future over the next 20 years. This is vital for the economy of the region, its environment and for the people who live and work in the North East.

"The £600m over 20 years will provide new track, new rolling stock, new signalling and new station improvements. This is good for the economy and will cut traffic congestion and pollution, helping to battle climate change.

"We have already given it to Mr Pearce, Tony Blair's special adviser on transport issues at No 10 Downing Street. I shall raise this at every opportunity with the Prime Minister, the Chancellor of the Exchequer Gordon Brown and Transport Ministers."
26 Jan 2007
---
Climate Dome's stark Warning
David attended the launch of a new and innovative project at Newcastle's Centre for Life on 19 January.
The dome, which will travel round the region to show people the effects of climate change, is run by CarbonNeutral North East with grants from government and Scottish Power. The recent weather is just one aspect of how climate change is affecting us, one example being David's nine hour train journey.
David said,
"It took me more than 9 hours to travel from London to Newcastle by train on Thursday because of the extreme weather so I can testify to the problems which may lie ahead with climate change.

"We need to explain climate change, how we can see effects like gales, droughts and flooding and how our actions are changing the world in which we live and how it can lead to destruction and famine. We have a window of as little as 10 years to reduce emissions. This is not a battle which can be won by Government alone and we all have a part to play."
Paul Younger, Professor of Energy and Environment at Newcastle University, said those who were considered 'looney' in the 1990s have been proved right. And he warned that the rise in CO2 levels was rising more sharply than predicted. We may have as little as ten years to take any useful action.
David's speech at the launch event:
I was delighted to be invited to be involved in the Climate Dome Project. Professor Paul Younger has already spoken about climate change, why we need to act, and why we need to act now.

The amazing thing for me is that we need to explain climate change, and its consequences, when all around us we can see the evidence - the high winds, the droughts, the floods - that our actions are changing the world in which we live. Its probably true that the UK may well be able to take action to mitigate the worst effects of climate change - although the cost of flood defences and irrigation plants will be high, and their effect relatively temporary. But for much of the world, the effect of climate change spells destruction, famine and death.

We have a small window, perhaps as little as 10 years, in which to take action to reduce carbon emissions. I've said, on more occasions than I care to remember, whilst government must play a leading role, this is not a battle that can be won by government action alone. The era of 'not me gov' has gone, and we all have to play our part.

We cannot afford gesture politics and I am profoundly grateful that we have an Environment Minister in David Miliband who understands the urgency of the situation. Yes, government will help - by legislation like the Climate Change Bill, and yes, the proposed Carbon Committee will help. I am more sceptical, frankly, about plans to somehow magic away the carbon emissions that we have produced. It seems to me that we have got to move to a low-carbon economy, no ifs, no buts.

Recycling isn't just a nice idea, something that people who wear sandals and hand-knitted woollies do. We have to do it too - landfill is the worst environment option for much of the waste produced in this country - the methane it produces is a potent greenhouse gas, 21 times more potent that CO2. So anyone who claims to be at all serious about climate change should be working flat out to increase recycling. Already recycling saves the equivalent in greenhouse gas emissions of taking 3.5 million cars off our roads. So lets disregard the rubbish in the media about innocent rate payers being fined for putting stuff in the wrong bin - recycling matters!

The Climate Dome has the potential to energise and inspire people everywhere. Lets hope it turns them on to turning off the stand-by, turning to energy saving lightbulbs, and turning to recycling. I congratulate all who are involved and wish the project well.
20 Jan 2007
---
Return to Homepage | Contents | Current News
Promoted by Ken Childs on behalf of David Clelland, both of 19 Ravensworth Road, Dunston, Gateshead. NE11 9AB
Homepage