Eric's News Extras 2004-5
17/12/05 Eric acts on Lonsdale
15/12/05 Backing for Trains
12/12/05 Help for Fire Victims
08/12/05 Tribute to an old friend
03/12/05 Longtown could retain 32 more jobs
01/12/05 Bid to save Longtown jobs
28/11/05 Fischer 'n' Chips
25/11/05 Opening wide the Dental debate
24/11/05 Trade ban does not go Fur enough
23/11/05 Fan Trust has "bunker mentality"
21/11/05 KORBR Secretary "should consider his position".
16/11/05 Switch off to opportunity
15/11/05 MP blames Council for school failure
12/11/05 Eric sinks teeth into dentists
02/11/05 Eric backs Trades Union rights
24/10/05 MP dogged by mechanics
26/08/05 Deputy PM in Carlisle
11/07/05 Eric backs publicly-owned Royal Mail
06/06/05 Eric leads Primates Campaign
00/03/05 Party Visit
09/01/05 DEFRA Minister Visits Carlisle
29/11/04 Cycle Helmets
25/06/04 New Surgery
00/01/04 Health Secretary in Carlisle

---
Eric acts on Lonsdale
Eric has written to English Heritage asking that the Lonsdale Cinema be listed.
This follows the Council's decision not to put a preservation order on the building.
The proposal is to demolish the city landmark, built by Newcastle based architect Percy Browne and opened in the 1930s. Instead a block of flats would be built.
The preservation notice was needed to prevent demolition before listed status could be achieved. But councillors decided not to protect the building and meantime the developer has applied for an immunity notice which would prevent the building listed for five years - by which time it would be gone forever.
17 Dec 2005
---
Backing for Trains
Eric has backed a Commons motion calling for more rather than fewer local train services.
The motion expresses concern at the threat to rail services in the north and asks government to block any closures or reductions until the Transport Committee, on which he sits, has had its say.
The full Early Day Motion reads:
EDM 1248
PASSENGER RAIL SERVICES IN NORTH EAST ENGLAND
13.12.2005
Murphy, Denis
That this House is deeply concerned at the threat to passenger rail services in the North East of England despite the enormous growth in rail patronage; requests that the House of Commons Transport Select Committee re-open its inquiry into railways in the North of England; calls upon the Government to prevent any station closures or service reductions until that committee reports; and believes that the Government should promote the expansion of regional railways, an example of which would be the re-introduction of passenger services on the Ashington, Blyth and Tyne line, which would reduce car use substantially and assist in the regeneration of a former mining area.

19 Dec 2005
---
Help for Fire Victims
Eric is meeting with those left homeless by a serious fire close to his own office to help them contact their families and embassies.
Most of the affected are South African or Slovakian workers.
The building has been left in a dangerous state. Fire Chiefs are sure the cause was accidental.
Eric said,
"After seeing the scale of the damage myself we are very lucky there were no deaths."
The case has highlighted the need for those with poor or no English to be made aware of fire risks and what to do ion case of fire in their own languages.
12 Dec 2005
---
Tribute to an old friend
Eric made a special trip to Durham to see an old friend honoured.
Gerry Steinberg, the former MP for Durham City who retired at the last election, was created a Freeman of the City Durham on 8 December.
Gerry's forthright and combative style, especially in Public Accounts Committee, had not endeared him to some, but his fierce principles and loyalty brought him many good friends, Eric among them.
| | | |
| --- | --- | --- |
| | | |
| Former MPs Keith Bradley, Gerry and Eric Martlew MP | | Gerry Steinberg and Eric in discussion |
The ceremony, carried out with due pomp and pageantry in Durham's packed, historic Town Hall, saw Gerry admitted to this rare honour, the previous one being Archbishop Desmond Tutu in 1987.
Gerry pointed out that Eric, like him, was passionate about animal welfare and his efforts had been instrumental in achieving the ban on hunting with dogs.
A full report of the ceremony is on Gerry Steinberg's website.
8 Dec 2005
---
Longtown could retain 32 more jobs
Eric is more confident of saving some of the threatened jobs at DM Longtown since his meeting with the Armed Forces Minister Adam Ingram on Thursday.
One of the threatened roles of the depot may be retained at Longtown, saving 32 of the job sunder threat.
Eric said,
"The unions put up an excellent case. The minister took note of what he was told and said he would look into the issues. He was not aware of some facts, but said he had to find efficiency savings and was committed to finding these and driving them through. There is a crucial timescale of probably four or five years.

"There are concerns because there is a need for massive investment, but the local authorities on both sides of the border and the management are going to be looking at what extra work they can bring to Longtown and Eastriggs. If we just sit back and do nothing, a lot more jobs will be lost."
He said that a lot of work would have to be done if Longtown were to remain viable in the long term. The MoD wants to cut 140 of the 290 jobs at DM Longtown.
Eric met the Minister with other local MPs and union representatives.
3 Dec 2005
---
Bid to save Longtown jobs
Adam Ingram MP

Eric is to meet Adam Ingram, the Armed Forces Minister, in a bid to save some of the threatened jobs at Defence Munitions Longtown.
Along with David Maclean MP, David Mundell MP and union representatives Neil Scott and Bob Allison, he will meet the Minister to discus the future of Longtown and also the depot at Eastriggs.
For those jobs that are to be lost, fair redundancy and where appropriate, relocation fund will be available
1 Dec 2005
---
Fischer 'n' Chips
Eric has helped Foreign Secretary Jack Straw find a retirement gift for the German Foreign Minister and Vice-Chancellor under Gerhard Schroeder.
Joschka Fischer has filled the post since 1998, but a little known fact is that he got married (for the first time) at Gretna Green in 1967. He had mentioned this Jack Straw and also that he and his new wife had eaten at the Eden Restaurant which used to be above Woolworth's, and was one of the few eating places open in Carlisle open in the evenings in those days with a rather traditional menu.
Eric said,
"Jack Straw approached me and asked if I could find a photograph of the Eden Restaurant, which used to be above Woolworth's. It turns out that Joschka Fischer got married at Gretna Green in the 1960s. On their honeymoon he and his wife ate out several times at the Eden Restaurant. Joschka had told Jack about this and he has very fond memories of the place."
And who better for the Foreign Secretary to call on than the city's MP.
So the one time taxi driver, who started out as a radical and is now one of Europe's most respected politicians, Herr Fischer now has a picture of Woolworth's in Carlisle to place on his mantelpiece.
28 Nov 2005
---
Fan Trust has "bunker mentality"
Eric has responded to Carlisle United Fans Trust threat to prevent him rejoining.
The MP's membership lapsed when he inadvertently failed to renew it. But, despite being a fan for forty years, the Trust says there is a "question mark" over his application.
Last year Eric decided he could not continue to act as a cheque signatory. The Trust accuses him of announcing this to the press first, but Eric denies this.
Mr Martlew, says he announced his resignation first to a trust official, rather than the press.
He said,
"They're getting a bunker mentality. It looks as if there is going to be some sort of show trial. I was a founder member of the trust, and have been a fan for 40 years.

"But because I have criticised them, they're threatening not to renew my membership. They're losing sight of the ideals they had and are becoming a laughing stock.

"I originally criticised the trust board because I didn't think they were getting behind the club. This is another example of what's going wrong."
23 Nov 2005
---
KORBR Secretary "should consider his position".
Eric says that Colonel Simon Strickland, Secretary of the King's Own Royal Border Regiment, has lost all credibility.
This forms part of a long running fight to preserve the Border identity of the regiment after amalgamation. By April 2007, the regiment is to be amalgamated with the King's Regiment and Queen's Lancashire Regiment.
Eric was assured that the new name would be the King's Lancashire and Border Regiment, but now the Army Board has decided to call it the Duke of Lancaster's Regiment (King's, Lancashire and Border).
Eric says Colonel Strickland is now saying something different from his earlier statement, when he supported Eric's view in December 2004, according to letters released by the MP this week. Now he says few are happy with the name and it will be changed so the Border reference only follows in brackets.
Eric said,
"The Border name will be lost. It will always be known as the Duke of Lancaster's. The bit in brackets will never get used. If you look at what he said then and what he's saying now, unfortunately and regrettably he has lost all credibility. He should consider his position."
KORBR is currently on active service in Iraq.
21 Nov 2005
---
Switch off to opportunity
Eric has said the switch off of analogue TV, likely to happen first in the Border area, is an opportunity.
The switch off, due in 2008, could leave many homes without TV, unless they have got digital TV before then.
But Eric says this is an opportunity local businesses should seize.
"As Cumbrian firms gain expertise in the switch over to digital, they can become market leaders and sell that expertise across the UK as the switch over rolls out across the UK."
A conference to offer advice to local viewers is due to be held in Cumbria next year.
16 Nov 2005
---
MP blames Council for school failure
Eric has blamed the Tory/LibDem County Council for negligence in letting down a 'failing school'.
He wrote in a letter to the Council:
"Morton Park Primary School has been in special measure for two years, which in itself is unacceptable. The county council have failed to make significant progress probably due to a lack of the will to give the necessary commitment and resources to turn the school around. Parents are now voting with their feet as indicated by the falling pupil numbers."
Mr Martlew said that when it went into special measures it did not get the support it needed and that the Education Authority was not committed.
He demanded immediate action to safeguard the children who remain at the school.
15 Nov 2005
---
Eric sinks teeth into dentists
Eric Martlew has attacked dentists for taking advantage of patients.
He said,
"More dentists are going private because they realise that patients have no choice. Even those patients who are going private have told me that they are resentful."
He says that dentists from abroad may be the answer. He said:
"Because we pay dentists so well in this country we are able to attract them from Europe."
He said dentists earn £65,000 a year and said they were treating patients badly.
12 Nov 2005
---
Eric backs Trades Union rights
A Commons motions on employee representation in the workplace is being co-sponsored by Eric Martlew.
The motion calls for the record of companies that discriminate against unions to be taken into account when government and councils award contracts.
The full Early Day Motion reads:
EDM 938
TRADE UNIONS, COMPANIES AND PUBLIC PROCUREMENT
02.11.2005
Donohoe, Brian H
That this House believes that employee representation in the workplace is an individual and collective right; and believes that in acknowledgement of this, and as an encouragement to industry to promote harmonious employee relations, companies that breach accepted international labour standards and Department of Trade and Industry guidance by refusing to recognise trade unions or actively campaigning against them, whether in the UK or in subsidiaries abroad, should have their track record in this area taken into account when deciding rail franchises, bus quality contracts and school bus contracts or procurement agreements by central or local government or their agencies.

2 Nov 2005
---
MP dogged by mechanics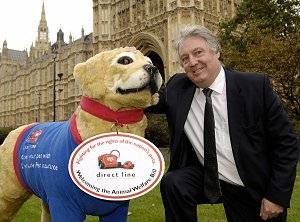 Eric with the Mechanical Dog

An attempt to gain publicity for animal welfare bit back at Eric.
He is Chair of the All Party Animal Welfare Group and it was decided that a photo opportunity with a giant mechanical dog would be a good idea. It was - at the time.
Outside the Commons, the huge hound attracted the unwelcome attention of a passer-by's dog which attacked it.
It was then thwarted in an attempt to enter Parliament because police feared the internal electronics that made it work. Eric left it outside - tied neatly to a rail we hope!
24 Oct 2005
---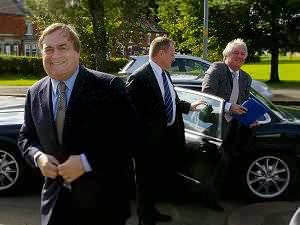 Mr Prescott is followed by Mr Martlew out of the - er - Jag.

Deputy PM in Carlisle
The Deputy Prime Minister, John Prescott, kept his promise to visit Carlisle.
Mr Prescott was concerned about the plight of people after the floods and wanted to ensure that all that could be done for people still affected was being done.
During his visit on Friday 26 August with local MP Eric Martlew, Mr Prescott visited two elderly Carlisle residents who had recently completely restored their home following the January floods.
Mr Martlew said that is was a recognition that Carlisle was not being forgotten in the highest echelons of government.
26 Aug 2005
---
Eric backs publicly-owned Royal Mail
Eric Martlew has backed a Commons motion calling for "a publicly-owned Royal Mail fully restored to good health".
The motion calls on the government to take measures to ensure that Royal Mail can continue to meet the Universal Service Obligation.
The full Early Day Motion reads:
EDM 548
PUBLIC OWNERSHIP OF ROYAL MAIL
11.07.2005
That this House welcomes the commitment from the Government in its General Election manifesto that '...we have given the Royal Mail greater commercial freedom and have no plans to privatise it. Our ambition is to see a publicly-owned Royal Mail fully restored to good health, providing customers with an excellent service and its employees with rewarding employment. We will review the impact on the Royal Mail of market liberalisation, which is being progressively introduced under the Postal Services Act 2000 and which allows alternative carriers to the Royal Mail to offer postal services'; notes that the industry's regulator, Postcomm, has proposed to initiate a complete liberalisation of the postal market in advance of EU liberalisation and that the regulator has further proposed to introduce an extremely restrictive price control; expresses concern that these two initiatives are being pursued with no reference to the anticipated review of the impact of the Postal Services Act 2000 on the Royal Mail; calls upon the Secretary of State for Trade and Industry to initiate the review as soon as possible with the aim of strengthening the ability of Royal Mail to retain the Universal Service Obligation; and urges the Royal Mail and the Government to agree a business plan which is in line with the commitment given in the General Election manifesto and provides for a successful publicly-owned Royal Mail with all shares continuing to be owned by the Government.
11 Jul 20052005
---
Eric leads Primates Campaign
The keeping of primates as pets should be illegal, says Eric.
Primates, animals in the same species group as humans such as chimpanzees, apes, monkeys etc., are unsuitable to be kept in the home and Eric has put down a Commons motion calling for this to be banned.
The full motion reads:
EDM 257
PRIMATES AS PETS
06.06.2005
Martlew, Eric
That this House notes with concern the continuing trade in primates as pets in the UK; believes that the intelligence, sensitivity and wild nature of monkeys and apes make them unsuitable to be kept in the home; recognises that illegal trade in wild caught monkeys for the international pet market is one of the major threats to many primate populations and species; further notes that the results of the recent IFAW investigation into this trade exposed 146 primates advertised for sale on the Internet in just one week, including chimpanzees, lemurs, a gibbon and a gorilla; is alarmed that pet shops in the UK offered to source endangered primates as pets; is concerned that the proposed delisting of primates under the Dangerous Wild Animals Act 1976 will lead to a significant increase in the trade; and calls on the Government immediately to implement Article 8.2 of Commission Regulation (EU) 338/97 to phase out the keeping of primates in private ownership and to prohibit any future ownership of primates as pets.

The motion has attracted wide support from other MPs.
6 Jun 2005
---
Party Visit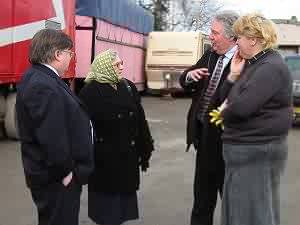 Labour Party Chair Ian McCartney was in Carlisle to meet residents, and Eric.

Labour Party Chair Ian McCartney was in Carlisle to meet residents, and Eric.
Mar 2005
---
DEFRA Minister Visits Carlisle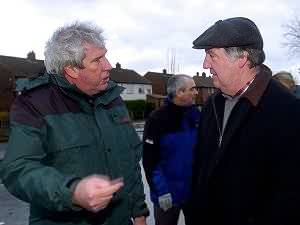 Elliot Morley MP talks to Eric in Carlisle

The Environment Minister came hot foot to Carlisle when disaster struck.
The day after the floods Elliot Morley MP, Minister at DEFRA, visited Carlisle to see the flood damage for himself.
He toured the area with local MP Eric Martlew to assess the damage.
Read Eric's account of the floods here.
9 Jan 2005
---
Cycle Helmets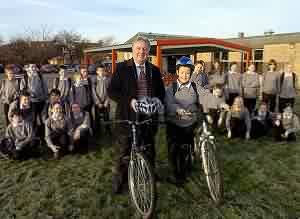 Eric Martlew with some of the pupils of Newman School, Carlisle.

Eric is campaigning hard on the issue of compulsory wearing of cycle helmets.
He won the ballot for Private Members Bills and decided that this issue was worth taking up, trying to change the law to save lives, those of children especially.
He says this was a major catalyst for change in attitudes and many who were previously opposed are now in favour of mandatory helmets for children.
Read Eric's article on cycle helmets here
29 Nov 2004
---
New Surgery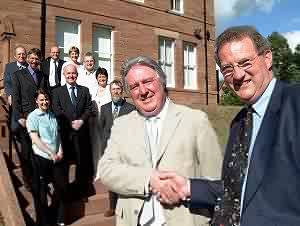 Eric Martlew was invited to open the new surgery

It's always good to be able to advance health care, and so when the new St Paul's Surgery was opened, Eric was delighted to perform the official opening.
25 Jun 2004
---
Health Secretary in Carlisle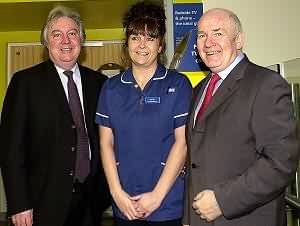 Eric shows John Reid round and meets NHS staff

The Rt. Hon John Reid MP, Secretary of State for Health, visited Carlisle and was shown around by local MP Eric Martlew.
Jan 2004
---
Contents  Current News  Return to Homepage
On behalf of Eric Martlew, 3 Chatsworth Square Carlisle Cumbria CA1 1HB