Eric's News Extras 2006
17/12/06 Council should buy homes
14/12/06 PO still gets massive Subsidy
12/12/06 Welcome for Flood Plain Advice
07/12/06 Young drivers
06/15/06 Backing for Trident
04/12/06 Eric goes to the Dogs
28/11/06 Battery Hens
25/11/06 New Hope for Lonsdale
23/11/06 Backing for new Dog Owners' Group
23/11/06 Minister congratulates Eric
22/11/06 West Coast Line too successful
22/11/06 Some Longtown jobs saved
18/11/06 School Trip
17/11/06 Store in wrong place
16/11/06 Approval for new road
16/11/06 NHS filling the Gap
09/11/06 A Day's Pay for Farepak
08/11/06 Saving Young Drivers
07/11/06 Lonsdale Setback
06/11/06 County blamed for school failure
02/11/06 Support for Unitary Council
02/11/06 Digital TV
02/11/06 Kabir is to blame
01/11/06 PFI was the only way
18/10/06 Westminster Top Dog
07/10/06 Town against Gown
27/09/06 Anger at Ambulance Abolition Plan
09/09/06 No idle threat
17/08/06 MP calls for Temporary Classrooms at Caldew Lea School
16/08/06 Support for Macmillan Cancer Support
12/08/06 Vigilance needed against Terrorism
10/08/06 Call Centre Job Threat
09/08/06 60th birthday present for children
25/07/06 Time to simplify Child Support
25/07/06 Dead Birds on way out
17/07/06 End Greyhound Slaughter
11/07/06 UK needs Energy
23/06/06 Eric in bid to save jobs
20/06/06 End suffering of Calves
08/06/06 Tax Credits help most
07/06/06 Tesco would add to pollution
02/06/06 West Cumbria Rape Crisis
25/05/06 NHS Trust shows little foresight
17/05/06 New NHS Dentist serves 12,000
10/05/06 Carlisle By-Pass Threat
09/05/06 Eric right on Blair
06/05/06 UK Pet Event
06/05/06 Carlisle Renaissance to continue
05/05/06 Labour should control
05/05/06 Backing for Cummersdale Head
04/05/06 Welcome for Cumbria Uni
02/05/06 MP assured Organ is OK
28/04/06 Satisfied tums, empty postbag
24/04/06 Freight Route on the right lines
19/04/06 Financial accounts of Carlisle City Council
10/04/06 Clogged Carlisle
07/04/06 Court Square Chaos
04/04/06 Praise for St Martin's
01/04/06 Support for respite care
31/03/06 Digital Disadvantage
15/03/06 Support for Education Reforms
09/03/06 Backing for Badgers
08/03/06 Police driving training
08/03/06 Mini-motorcycles
06/03/06 Eric backs free Cash
04/03/06 Eric backs safer Parking
26/02/06 Action now as deadline looms (Lonsdale)
23/02/06 Council should keep its Promise to Youth
16/02/06 Dental School bid confirmed
16/02/06 Eric in the Chair
13/02/06 Tory/Lib Dem Council "short-sighted and callous"
09/02/06 Eric backs Blood Bins
07/02/06 Animal law "is a mess"
06/02/06 School debt should be written off
01/02/06 Eric Chairs Commons debates
27/01/06 Deputy PM launches City Renaissance Consultation
26/01/06 Welcome for Dental School
23/01/06 Battery Ban must stay
23/01/06 Eric writes to MPs about Tony Banks
20/01/06 Backing for By Pass
18/01/06 Tribute to Tony Banks and End to Seal Trade urged
17/01/06 Total smoke ban
11/01/06 Eric backs votes for young people
07/01/06 Lib Dems not nice

---
Council should buy homes
Eric has spoken up for houseowners in the Rickergate area.
The area is suffering "planning blight" because of the uncertainty about the Carlisle Renaissance plans.
Eric says the council should offer to buy the houses at full market value, if that's what the residents want.
Eric said,
"Those living in the area have suffered enough stress through the floods and refurbishment and really need to know what the council's intentions are. The council should be prepared to buy properties, if the owners so wish, at the full market value."
The council simply says that if any houses are knocked down, compensation will be payable.
17 Dec 2006
---
PO still gets massive Subsidy
Eric has said that the cutbacks in the Post Office network are not as bad as he feared.
The government has announced that nationally 2500 Post Offices will close, mainly underused rural ones.
Eric said,
"Everyone knows that post offices are making a loss but the announcement is not as bad as we thought it was going to be.

"Five years ago I campaigned to keep mobile post offices as they are a local focal point. They are in the same village at the same time every week, it allows people to continue socialising.

"When I speak to people about how often they use a post office compared with 10 years ago, usage has declined considerably - therefore something had to be done. Massive subsidies are still being put into the post offices."
14 Dec 2006
---
Welcome for Flood Plain Advice
Eric has welcomed new guidance for councils on building on flood plains.
From 2007, councils will have to consult the Environment Agency if they want to build on a flood plain to prevent building work on areas of risk from flooding.
Eric said,
"When you have a city which was as badly flooded as Carlisle was, the local authority is never likely to build on flood plains.

"But in other areas of the country the new guidance could save a lot of misery. People think the area will never flood but Carlisle is proof and because of the awful experience in Carlisle and Boscastle any local authority which already chooses to ignore recommendations by the Environment Agency is very irresponsible."
12 Dec 2006
---
Young drivers
Eric is continuing his campaign to save young drivers.
Cumbria's Chief Constable Michael Baxter has written to Eric disclosing that over a fifth of all road deaths in the county are of drivers below age 25.
Eric has procured an inquiry on the issue by the Commons Transport Committee of which he is a member.
Eric said,
"We have had some tragic deaths over the last year in Cumbria and it is time the government looked at it, and the police think the same. I will be putting forward the evidence and I hope it will be taken on board. Much of the evidence I support, but coming from the chief constable it will hold weight as he has first-hand experience."
One possible outcome is that there will be restrictions placed on new drivers after they pass their 'L' test.
7 Dec 2006
---
Backing for Trident
Eric has backed Topny Blair's decision to retain the UK's nuclear deterrent.
The system is expected to cost £24 billion and take seventeen years to develop.
Eric said,
"When we are in a world which has nuclear weapons it does seem a good time to give them up. But we must be very careful about the cost of making and preserving the warheads. The fact is it needs to be replaced."

"In an ideal world if everyone was giving up their nuclear weapons we could too. But as this is not the case. it would be unwise for the UK to give ours up."
6 Dec 2006
---
Eric goes to the Dogs
Eric is soon going to the dogs, at Gretna.
He is scheduled to visit the Gretna Dog Track as part of his enquiries into the greyhound industry.
After revelations concerning the alleged slaughter of healthy dogs who had ended their racing career, Eric set up a Parliamentary Inquiry and is gathering evidence.
Eric said,
"The time is ripe for a parliamentary inquiry into the welfare issues surrounding British greyhound racing. Recent allegations about healthy greyhounds being put down by unscrupulous individuals are appalling.

"But this is not a witch-hunt - we hope to identify realistic and achievable measures to improve welfare at all stages of greyhound's lives. I hope we can all work together and people from all parts of the industry will come forward with as much information as possible."
Eric also wants to receive written evidence which may be sent to his office. Eric is Chair of the Commons All Party Group on Animal Welfare.
4 Dec 2006
---
Battery Hens
Eric is egging the government on to maintain its stance on the prohibition of conventional battery cages by 2012.
He has tabled a Commons motion urging the UK to take the lead in the EU on this.
The full early Day Motion reads:
EDM 325
PROHIBITION OF BATTERY CAGES FOR EGG-LAYING HENS
28.11.2006
Martlew, Eric
That this House notes that the European Union prohibition of conventional battery cages for egg-laying hens that is due to come into force in 2012 under Council Directive 1999/74 is to be reviewed during 2007; firmly believes that the prohibition should not be repealed or postponed; notes that the report of the Scientific Panel for Animal Health and Welfare of the European Food Safety Authority concludes that the inability of battery hens to perform their natural behaviours poses a particularly severe threat to their welfare; further notes that the LayWel report prepared for the European Commission concludes that the welfare of hens is severely compromised in conventional battery cages; further believes that many members of the public would be dismayed if the prohibition were to be postponed; and urges the Government to take the lead in persuading the UK's EU partners that the prohibition of conventional battery cages should not be postponed but should come into force in 2012 as enacted by Council Directive 1999/74.
28 Nov 2006
---
New Hope for Lonsdale
Eric's persistence has led to new hope for the Lonsdale.
In his aim to have the building listed and therefore saved from demolition, he has found facts that were not taken into consideration before.
Eric said,
"I believe the decision to deny the Lonsdale listed status places undue importance on later alterations. Most of these have not made substantive changes to the original fabric. Renovation work carried out by Carlisle builder Bob McKnight found that many original features are obscured but remain intact."

"English Heritage failed to note an Italian marble floor. In addition, there are other surviving features including:

the original mechanism for the revolving stage
lift doors decorated with stained glass lozenges set in brass fittings
gas lamps
art-deco lighting fixtures
leaded windows."
Eric also says the inspectors did not take account of the Lonsdale's setting and the 19030s frontage, which could be restored.
25 Nov 2006
---
Backing for new Dog Owners' Group
Eric has welcomed the establishment of a new Dog Owners Group by the Kennel Club.
He has tabled a Commons motion to this effect, noting its aims include keeping owners and councils up to date with the law affecting dogs.
The full Early day Motion reads:
EDM 278
KENNEL CLUB DOG OWNERS GROUP
23.11.2006
Martlew, Eric
That this House welcomes the Kennel Club Dog Owners Group established by the Kennel Club to keep dog owners and local authorities up to date about dog control orders being introduced across the country as part of the Clean Neighbourhoods and Environment Act 2005; wishes the group every success; and thanks the Kennel Club for keeping dog owners in England abreast of laws that affect them and their dogs.
23 Nov 2006
---
Minister congratulates Eric
Eric today received congratulations from Gillian Merron, Parliamentary Under-Secretary, Department for Transport, for his work on helping to secure the Carlisle Northern Development Route.
Transport Ministers recently approved the Private Finance Initiative funding for Cumbria County Council to build the road.
Eric said today,
"This is something the people of Carlisle have waited for for many, many years."
Construction is planned to start in the Spring of 2009 using £142M in PFI credits which will pay for the build and thirty year maintenance contract. The route is just over five miles long and will greatly enhance Kingmoor Park as an area for job creation. It will go from the A595 at Newby West cross-roads, passing to the west of the outskirts of Carlisle, crossing the River Eden and passing west of Stainton and joining the M6 at junction 44.
23 Nov 2006
---
West Coast Line too successful
Eric has said that the West Coast Main Line is a victim of its own success.
This comes after a National Audit Office report said that despite an £8.6 billion upgrade the line would soon not be able to cope.
More people are using the route than expected and by 2015, it would not have sufficient capacity.
Eric said,
"More people are travelling on it and more will in the future. What we need to do is get extra capacity out of the existing track.

"I have already had discussions with Virgin, the line operator, about having extra capacity on the new Pendolino trains and an improved signalling system so that trains can run closer together."
A new line, which may be built in the future will not solve the problem,
"Even if we started it tomorrow, it would not be finished for 10 years,"
Eric is Chair of the All Party West Coast Main Line Parliamentary Group.
22 Nov 2006
---
Some Longtown jobs saved
Of the 140 jobs under threat at the Longtown munitions depot 36 have been saved.
Those remaining will work on used ammunition boxes which have to be checked an upgraded.
Eric said,
"I am pleased to see that our views have been accepted and that the work is to remain at Longtown, securing 36 jobs."
The government says the site is vulnerable to flooding requiring over £4M spending, but Eric points out that there has never been flooding there in a letter to Armed Forces Minister Adam Ingram,
"This expenditure should be questioned as there has never been any flooding on site."
But Eric is pleased that the 36 jobs have been saved, saying,
"I fully support this option as it would not only preserve some of the jobs in an area of some deprivation but it would also seem sensible not to store all the ammunition on one site."
22 Nov 2006
---
School Trip
Eric has been visiting Caldew Lea School in Carlisle where he has helped obtain temporary classrooms.
A series of fires over the summer left the children without rooms, but they seem very pleased with their new ones, even if temporary.
Eric said,
"It was great to see the children being so enthusiastic about their temporary classrooms. Some of them even said they preferred them to the permanent ones."
Headteacher Ian Johnston praised Eric for his help in getting the classrooms. Repair work to the school should be finished by the Spring.
18 Nov 2006
---
Store in wrong place
Eric has said that the new Sainsbury's is planned for the wrong part of the city.
The store is to be sited in Currock Road, but concerns have been expressed about traffic levels.
Eric said,
"I welcome the fact that they're talking about opening in Carlisle. A Sainsbury's will create more competition and is long overdue.

"But I have doubts about the site. It could create traffic problems. The store should be on the west side of the city."
Eric has had the same worries about Tesco's plans for the Viaduct Estate.
17 Nov 2006
---
Approval for new road
Eric has welcomed government approval for the Carlisle Northern Relief Road.
Work is due to start in early 2009, delays having been caused by the city's floods and the Romans, but Eric's lobbying on behalf of the city has eventually paid off.
Eric said,
"I am delighted that all my lobbying has succeeded and obviously aided by the recent visit to Carlisle of Transport Minister, Gillian Merron.

"Not only will the new road be a boon in reducing traffic congestion in the City, it will enhance opportunities in the Kingmoor Park area, making it much easier to attract development and jobs."
A hitherto unknown part of Hadrian's Wall was found on the route and revised planning due to the floods contributed to the delay.
The route is expected to ease congestion in the city and allow greater job creation at Kingmoor Park.
16 Nov 2006
---
A Day's Pay for Farepak
Eric has risen to the challenge made by Trade and Industry minister Ian McCartney yesterday.
In the Commons, Mr McCartney suggested MPs give a day's pay to help those whose Christmas savings had been lost in the Farepak scandal.
The Government is putting into the pot, along with some companies and individual well wishers. It is thought that a hundred thousand families are affected.
Eric said,
"It is no problem at all donating a day's money. I just think what has happened is absolutely disgusting and disgraceful."
9 Nov 2006
---
Saving Young Drivers
Eric is taking action to curb the number of road users, especially young drivers, who are killed and injured.
He has persuaded the Commons Transport Committee, of which he is a member, to hold an inquiry into measures that could be taken to reduce the toll. Possible measures could be restrictions placed on drivers in the period after taking the test, such as reduced speed limits, additional training and passenger restrictions.
But Eric and the committee are open to ideas and want to hear from people.
He said,
"I have been pushing for such measures and I hope people will feel strongly enough to give evidence to the committee - I would think the emergency services would have a lot of experience dealing with crashes.

"The number of young people killed on rural roads has gone up by 20 per cent and this inquiry could be the start of a change in the law. If people want to give evidence but do not want to come forward, they should speak with me. I want to be as well informed about how best things should change and I want to hear from people."
8 Nov 2006
---
Lonsdale Setback
Eric's attempt to get the Lonsdale listed has been refused.
David Lammy, Minister at the Department for Culture, Media and Sport, has said the building will not be listed.
The government's view, based on what English Heritage said, is that the building has been altered too much over the years. There is a twenty eight day appeal period against the refusal to list.
The owners want to knock it down and build flats but Carlisle City Council says it could become a new arts centre.
7 Nov 2006
---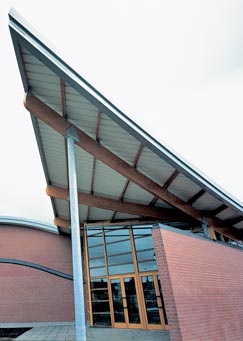 County blamed for school failure
Eric has attacked Cumbria County council for failing to do more to help North Cumbria Technology College.
The school, under threat of closure anyway in secondary education reorganisation, was inspected by Ofsted, who found the school required "special measures".
Eric said,
"Once more the council has stood back and allowed a school to fail. Urgent action needs to be taken to address the situation at NCTC. I know they are very busy with the schools reorganisation, but the situation in Harraby is one that can't wait."

"I don't think it's fair to criticise the Headteacher. It would be very harsh to blame Mark [Headteacher Mark Yearsley] for the problems at the school when he has only been there for a very short time. It does take a while to turn things around."
6 Nov 2006
---
NHS filling the Gap
Eric has praised the NHS for providing more dentists.
In the last year almost 30,000 people in North Cumbria have been allocated an NHS dentist, and there are five new NHS dentists in Carlisle.
Eric said,
"I'm delighted the efforts the PCT has put in. Every week that goes by there are more people able to get an NHS dentist.

"The reality is that we have more dentists in Cumbria now than we have ever had."
The waiting list is still long, but the Primary Care Trust is treating dentistry as a priority.
16 Nov 2006
---
Support for Unitary Council
Eric is backing a single local council.
The present system of district and county councils isn't working, says Eric. He favours a single unitary council based on the old Cumberland.
Eric said,
"Two-tier doesn't work any more. Local authorities don't have the same responsibilities as when the system was set up. A lot of Carlisle City Council's functions have been farmed off. The Sands Centre and the Pools are run by Carlisle Leisure, council houses are the responsibility of Carlisle Housing Association. With things like the Carlisle Renaissance plans, if we had a unitary authority it would make representation much easier. Working together between the county and district councils just doesn't happen. It doesn't matter about the politics; it's the system."
Eric continued,
"I was speaking to the Secretary of State this week. She said there had to be economies of scale but that doesn't rule out having two authorities for Cumbria. Four districts working together gives you economies of scale but it doesn't have a remoteness that the whole of Cumbria would give you. She didn't say there had to be unanimous agreement. If one local council has a veto then nothing would change. If they didn't all agree she might impose a solution."
2 Nov 2006
---
Digital TV
Eric is acting on his concern about the switch to digital TV.
He is setting up a Parliamentary Group to monitor the switchover.
Eric said,
"The switchover is something that could easily go wrong and we need the group in place for when the move starts."
The new technology is likely to be confusing for some people, especially the elderly and other vulnerable groups.
Date 2006
---
Kabir is to blame
Eric has said that despite failings by the various agencies, the person to blame for the murder of Hassan Martin is Shahajan Kabir.
Kabir slit his own son's throat in front of his mother in October 2003. The child was just ten months old.
Kabir was an illegal immigrant but who had been living and working in Cumbria for a number of years. A series of errors described in a report from Cumbria Child Protection Committee committed by Social Services, police and immigration services meant that he was not deported when she should have been.
Eric said,
"The reality is that if the immigration people had deported Kabir this would never have happened. I've yet to read the report in full, but we shouldn't forget that we should not put the blame on other people when the blame really lies with the perpetrator. Nobody knew that Kabir was going to murder his child."
2 Nov 2006
---
PFI was the only way
Eric has defended the government's PFI project for the Cumberland Infirmary.
Answering critics who say it is costing too much, he said that without PFI, there would be no new hospital.
Eric attacked Tories who, having started PFI when in government, now call the idea "lunacy".
Eric said,
"It was either getting a hospital under a PFI scheme or not getting one for many years. Negotiations started under the Tory government so I do not understand how they can be criticising it."

"Our PFI hospital was built. It has delivered, my constituents are benefiting from it and have been for a number of years. What we have done is build more new hospitals than ever before."
1 Nov 2006
---
Westminster Top Dog
Top dog at Westminster these days is Tag, a German Shepherd owned by Eric Martlew.
The canine from Carlisle scooped the annual Westminster Dog of the Year award amid strong competition.
The award is based on temperament, their behaviour and past record. Tag scored well when she had to share her home, flooded in the Carlisle floods last year, with a succession of workmen over a period of months.
Eric said,
"Tag never growled at any of them and succeeded in being a pal to them all. I am delighted she won and very pleased she was so well behaved for the judges.

"But even if she had not won, she would have still been my dog of the year. The event is all about raising awareness of dogs and responsible dog ownership."
The family remained in the flooded home, living upstairs while the damage was repaired over almost a year.
All MPs, Peers, and political journalists could enter their dogs for the contest.
18 Oct 2006
---
Town against Gown
Eric has warned of "conflict for years to come" between Carlisle residents and Cumbria University.
The university is proposing to build its new headquarters on car parks in the city centre, depriving the city of much needed car parking.
The plan is build on the William Street and Cecil Street car parks losing 384 places. When it comes into being next year, the university would also include St Martin's College campus in Fusehill Street, Cumbria Institute of the Arts in Brampton Road and the University of Central Lancashire in Paternoster Row.
However, if the new headquarters plan goes ahead, the campus in Paternoster Row would not be required and the site would return to the City Council.
Eric said,
"The problem with the Botchergate site is that it could become landlocked. To bring more people into the area and take away the only major car park is a recipe for conflict between residents and the university for years to come."
Eric's preference for the new HQ would be the Viaduct Estate. Business leaders in the city have also voiced concerns and say the lost parking must be replaced.
7 Oct 2006
---
Anger at Ambulance Abolition Plan
Eric has expressed his anger and concern at plans to close the Carlisle control room of the ambulance service.
This would mean calls would be handled from Lancashire where operators would lack local knowledge.
Eric said,
"I just don't believe it would be efficient. If we were going to have an efficient system, then they would go for one or possibly two control rooms. This idea seems like a cop-out and to decide that the one control room to go should be the one in Cumbria is an insult to the area."

"I was told that everything would be done to assist staff if they wanted to move jobs and I hope there would be no compulsory redundancies. I shall be taking the matter up with the Minister of State."
Eric closing the Cumbrian control centre was an insult to the county.
Date 2006
---
No idle threat
Terrorism is no idle threat and could happen anywhere, says Eric.
He was recalling 9/11 and also his visit to the site in New York.
Eric said,
"I was sitting at home and I got a phone call from the office saying "Put the television on". It was compulsive watching. It seemed like a film but it was horribly real.

"I visited Ground Zero this summer as part of a transport select committee inquiry into terrorism on transport. We saw the aftermath. It's basically a big hole in the ground now. To some extent it's a place where people can remember. Some of the people from the police department who were showing us around had been on duty that day. Some of them had lost colleagues.

"It makes you very conscious that the threat of terrorism is not an idle threat. You get people in Cumbria who don't think it applies to them but it could happen anywhere and that's why we need to be vigilant."
9 Sep 2006
---
MP calls for Temporary Classrooms at Caldew Lea School
Yesterday Carlisle MP, Eric Martlew visited Caldew Lea School to see the damage caused by the latest fire.
Eric said,
"This is no doubt that the damaged caused is by far and away the most extensive of any of the three recent arson attacks and it will be impossible to get the school back to normal for the start of the new term in 3 weeks time. I have, therefore, contacted the Director Children's Services at the County Council, to ask that mobile classrooms be provided as a matter of urgency to ensure the school term can commence as normal."
Eric also paid tribute to retiring Headteacher, Neil Tucker, who he met on site yesterday. Neil was doing everything possible to ensure the disruption was kept to a minimum.
17 Aug 2006
---
Support for Macmillan Cancer Support
Carlisle MP, Eric Martlew, will show his support for Macmillan Cancer Support by visiting the mobile cancer information centre in Carlisle's Greenmarket on Wednesday, 16 August at 10.00 am.
Eric said
" I know how important Macmillan Cancer Support is to people who are living with cancer".

I am delighted to be able to support the Mobile Cancer Information Centre, which is an accessible information resource, whilst it is in Carlisle. I hope that people will come and take advantage of the information it provides."
16 Aug 2006
---
Vigilance needed against Terrorism
Eric has warned that there may be future attacks on the transport system and that everybody must remain vigilant.
He was speaking in support of the government's decision to maintain the security critical level. As a member of the Commons Transport Committee, he is contact with security experts.
Eric said,
"We will have to live with this threat for the foreseeable future. The only way to deal with it is by gathering intelligence and for the public to play their part by reporting anything suspicious."

"We have got to be vigilant. The security services have intercepted this terrorist cell, but we have got to be aware that there may be more than one."
12 Aug 2006
---
Call Centre Job Threat
Eric is keeping a close eye on moves by NHS Direct to cut staff.
The Carlisle centre at Hilltop Heights on London Road is not believed to be affected by the proposed cuts, but Eric has promised to watch the situation closely. At present no Cumbrian jobs are scheduled for cuts, although there could be closures elsewhere in the North West. Staff have threatened a national strike if cuts go ahead. NHS Direct have promised full consultations.
10 Aug 2006
---
60th birthday present for children
Eric is asking for a 60th birthday present for families with more than one child.
Under present child benefit rules, parents are paid more for the first child than later children. Eric is asking that all children be paid the same rate, in the sixtieth year of the Child Benefit scheme.
The Child Poverty Action Group calling for all children to be paid the same amount and Eric is backing their campaign.
First children currently get £17.45 per week and later children get £11.70. There are nearly 5000 families in Carlisle who are claiming for more than one child and who Eric's scheme would benefit.
9 Aug 2006
---
Time to simplify Child Support
Eric has welcomed the scrapping of the Child Support Agency.
He says that this has caused more complaints than any other service.
Eric said,
"Since I became an MP I've had more complaints about the CSA than any other service, under this or any previous government. It's never been right, although the idea behind it was a good one. I get an average of two or three complaints every week.

"But in reality, the people who pay the most are the people who don't try to avoid it, while those who have tried to avoid payment often succeeded. It's time to simplify the system, which was far too complex."
25 Jul 2006
---
Dead Birds on way out
After calls by Eric to remove dead birds from Carlisle's rail station, work has now begun.
Virgin Trains have started the work and expect to complete it in August.
Eric said,
"It is distressing for passengers to see the birds, which have become infested by maggots."
Eric had tried for some time to get Virgin to take action but after raising the problem in the Commons, action followed swiftly.
25 Jul 2006
---
End Greyhound Slaughter
Eric is calling for an inquiry into the greyhound racing industry after reports that the animals were shot and buried as soon as their useful racing life was over.
Eric, who chairs the All Party Group on Animal Welfare in Parliament, will be urging his colleagues to set up the inquiry. The allegations came to light after a Sunday paper exposed the activities of a County Durham builders merchant who is alleged to have shot and buried 10,000 dogs.
Eric said,
"It's time the industry cleaned up its act. There must have been hundreds, if not thousands, of people in the industry that knew what this man was doing.

"I also suspect this isn't the only canine killing field like this. I think the industry is in denial about it."
Eric is hoping for agreement before Parliament's summer recess.
17 Jul 2006
---
UK needs Energy
Eric has backed the broad thrust of the government's Energy Review.
Replacing the present nuclear power stations, including a new station in Cumbria is "acceptable". But large wind farms in the Lake District is not.
On the issue of nuclear power, Eric said,
"This would lead to nuclear power stations that are being decommissioned being replaced. What is crucial for the government is that the country produces enough for the people's needs.

"Nobody would forgive a government that lets the lights go out.

"If a new nuclear power station were built in Cumbria I would have no objections."
But plans for new wind farm schemes, currently being looked at by county planners are not acceptable. Eric said,
"I don't think we should say that the only way forward is for large, unsightly wind turbines to be built. There are other alternatives such as smaller individual wind masts for houses or harnessing wave power."
11 Jul 2006
---
Eric in bid to save jobs
Eric is taking up the case of sixty workers whose jobs are under threat.
Custom Fleet car leasing in Carlisle is being taken over by a American company GE Commercial Finance, and the workers are unsure if they will still have jobs.
The American firm already has car leasing interests in the UK, and the fear is that the Carlisle business will be closed.
Eric is contacting the company to get the facts about the take-over the future of the Carlisle firm and its workers.
23 Jun 2006
---
End suffering of Calves
Eric is co-sponsoring a Commons motion to end the suffering inflicted on calves during export to Europe.
The motion highlights the lower standards of care and nutrition required in other countries compared with the UK, and urges government and farmers to work to end the trade in live calves.
The full Early Day Motion reads:
EDM 2401
THE EXPORT OF LIVE CALVES
19.06.2006
Prosser, Gwyn
That this House deplores the fact that thousands of young calves have been exported to the continent to be reared for veal since the resumption of this inhumane trade in May; notes that scientific research shows that young calves are not well adapted to cope with transport; believes that calves suffer considerably during journeys to the continent whether those journeys are by road and sea or by road and air; further notes that once they reach the continent, calves can be kept on concrete or slatted floors without any straw or other bedding; notes that such barren systems are illegal under UK legislation which requires calves to be provided with bedding; further notes that on the continent calves can be given less space and less fibrous food than is required by UK legislation; urges dairy farmers to end the export of calves; urges the dairy and beef sectors and the Government to work together to develop welfare-friendly and economically viable uses for male dairy calves; and calls on the Government to encourage dairy farmers to end the export of live calves.

20 Jun 2006
---
Tax Credits help most
Eric has defended the tax credit system, saying it helps many of his constituents.
There are some problems but for the vast majority, it is of great benefit. He warns the Tories would scrap the system altogether.
Eric said,
"I don't deny there's a problem with a minority of cases and I'm dealing with a few of these myself. The problem with the system is that when it goes wrong it's very difficult to put right, which creates anxiety for the affected families. But for the vast majority of families the system is of great benefit."

"What we have to remember is that the Conservatives have pledged to get rid of the system and Cumbrian families would lose out on hundreds of thousands of pounds each year if this happened."
8 Jun 2006
---
Tesco would add to pollution
As pollution in Carlisle hits unsafe levels, Eric has hit out at Tesco's plans for a Viaduct Estate superstore which would make the problem worse.
The high levels of nitrogen dioxide, produced by vehicle exhausts, have been detected in Currock Street, one of the routes to the planned Tesco site.
Eric said,
"Tesco say they care about the environment. Putting a store in Viaduct Estate is going to have an adverse effect on people's health, especially those with breathing difficulties. I hope they will decide now not to go ahead."
People with breathing problems could be at risk from the fumes. Other parts of Carlisle are also very close to the safe limit.
Tesco say they will discuss the problem with their advisors.
7 Jun 2006
---
West Cumbria Rape Crisis
Eric has joined with other local Labour MPs to try to save a rape crisis centre.
The charity is struggling for cash after lottery funding ran out. Despite economies, it may have to stop altogether in the autumn.
The charity offers support to victims of rape and sexual assault, and offers this to both female and male victims, which few others do.
Eric is backing the plea for more funds, saying.
"In the past Carlisle Rape Crisis was based in the same building as my constituency office and I was able to gauge the commitment of the staff concerned."
The charity is now based near Cockermouth and covers an area from south west Scotland to south Cumbria. It has about 30 volunteers.
2 Jun 2006
---
NHS Trust shows little foresight
Eric has slammed a local NHS Trust for its lack of foresight in dealing with elderly, vulnerable patients.
Only six months after moving its HQ into a former ward, it has had to move eleven vulnerable patients from their ward because it poses a fire risk, although it was upgraded with new fire precautions only a few years ago.
Eric said,
"You have to question the logic of the trust moving the trust's HQ into what was a ward when these patients would obviously have benefited from that accommodation."
Eric will taking up the plight of the patients with the North Cumbria Mental Health and Learning Disability Trust. The Trust claims that to convert their HQ back into a ward would take too long and they needed to move the patients quickly.
25 May 2006
---
New NHS Dentist serves 12,000
Patients forced to pay for private dentistry when their dentist abandoned the NHS will have no loyalty and will return to NHS dentists, says Eric.
Speaking after a new NHS dentist opened in Victoria Place, Carlisle with space for 12,000 patients, Eric said the private dentists would find it hard to fill the hole left as patients went back to the NHS.
Eric said,
"I had more correspondence on this topic than I've had on any subject for four or five years. More than 100 people wrote to me. People felt angry with the dentists who went private, and angry with the Government for not providing an NHS alternative.

"This new practice in Carlisle will take a further 12,000 people off the NHS register of those waiting for a dentist and a lot will be people who were forced to register with a private dentist.

"Over time, there are going to be fewer and fewer people staying with private practices and there's likely to be an exodus of patients back to the NHS. Why should people who were thrown out of a practice and forced to queue from 5 a.m. to register for a private practice feel any loyalty to their dentist? There are now more dentists in Carlisle and Cumbrian than ever before."
North Cumbria Primary Care Trust says there are 14,000 people waiting on the Dental Direct Register for an NHS dentist, so the new dentist will make a big difference.
17 May 2006
---
Carlisle By-Pass Threat
Proposals for a new high speed rail link from London to Scotland have been backed by Network Rail. But Carlisle could miss out, which makes no sense, according to Eric.
The plan, put forward by the Institute of Civil Engineers, says the time savings and economic benefits would be great, but Network Rail have said it should by pass Carlisle.
The planned route, according to Ian Coucher of Network Rail, would be London, Birmingham, Manchester, Glasgow, Edinburgh. There would be no stops between Manchester and Glasgow.
Eric said,
"It makes no sense not to stop at Carlisle. To go 200 miles without stopping doesn't make economic sense at all."

"The high-speed link would be tremendous if it could happen. It would solve capacity problems on the West Coast Main Line and create more room for freight."
The ICE document is not specific on the route, but Network Rail want to leave Carlisle out.
10 May 2006
---
Eric right on Blair
Eric has played down media reports of an anti Blair revolt among Labour MPs and his forecast has been proven right.
Reports that there would be open warfare within the Labour Party if the Prime Minister failed to set a date to go were unfounded.
A letter demanding a departure date has been circulating among Labour backbenchers but Eric says its support is limited, and over hyped by the media.
Eric commented, on Monday,
"The reality is that the vast majority of MPs want him to carry on. I would be very surprised if he takes the decision to go early."
Subsequent events following a meeting of Labour MPs on Monday night showed that Eric had been quite right.
9 May 2006
---
UK Pet Event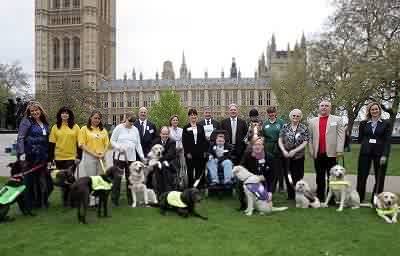 Eric in the centre, with pets

A UK Pet Event was held in the House of Commons in May 2006. Those attending were National Office of Animal Health (NOAH), Assistance Dogs (UK), National Equine Welfare Council, Riding for the Disabled Asscn., Pets as Therapy, Personal Assistance Dogs, Dogs Trust.
The message was "Animals are Good for You - be good to them"
Objective: To emphasise to MPs, Peers and others the positive role that animals play in society and specifically to draw attention to the valuable work of assistance animals and other examples of how animals help people.
Speaking at the event Eric Martlew, who chairs the All Party Group on Animal Welfare said,
"I am pleased to host this event which has been co-ordinated by the National Office for Animal Health. Our aim is to highlight the ways in which animals are good for us - animals help to keep people well - and its important that we in turn look after them responsibly and keep them healthy."
Several assistance animal charities and organisations displayed at the event and shared information. MPs, Lords and guests had the opportunity to meet some animals and their human handlers in order to gain an insight into their work.
The photo was taken in Victoria Gardens.
May 2006
---
Carlisle Renaissance to continue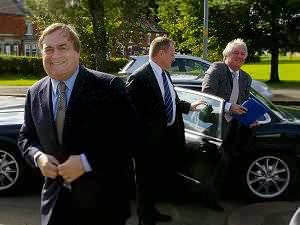 Mr Prescott with Eric on a previous visit to the city

The Government reshuffle and the dropping of the ODPM means that Deputy Prime Minister John Prescott is no longer directly involved.
Concern has been expressed because Mr Prescott was personally committed to the revitalisation of Carlisle.
Eric said,
"It's obviously a concern because John Prescott was totally committed to the Carlisle Renaissance. But it's worth remembering that while John took the lead in this, the commitment was a government commitment and I expect that commitment to continue.

"What we've got to do is ensure that the new post holder continues to be engaged in the work that John Prescott was doing. I'm totally committed to it and I'm sure the government is too."
Ruth Kelly takes over the affected ODPM responsibilities and efforts are being made to get her to visit the city soon.
6 May 2006
---
Labour should control
Eric has said that as by far the largest party on Carlisle's new city council, Labour should run the city.
The Labour vote held firm across the north and in Carlisle, with 24 seats compared to the Tories' 19, Labour has a clear mandate, but the Lib Dems could still fail to recognise the democratic verdict and continue to back the minority Tories with their eight seats.
Eric said,
"Labour is the largest party and, by rights, should be the administration. Whether the Liberal Democrats will take any notice or continue to support the Tories, we'll have to wait and see."
The important vote to elect a Council Leader takes place on 22 May, and the Lib Dems will have to come off the fence before then.
5 May 2006
---
Backing for Cummersdale Head
Eric has given his support to a sick Headteacher who is now facing possible disciplinary action for criticising the County Council.
Shaun Halfpenny, head of Cummersdale School, is alleged to have made "outrageous, unprofessional remarks". This centres on a controversy over whether the school should admit a child, aged seven, with behaviour problems. Mr Halfpenny is off work ill having had a heart attack last year, but the Tory/Lib Dem County Council is still pursuing the case. They are also investigating a leak of confidential information to the media. Eric believes that this is a "witch hunt" driven by political rather than professional motives. He said,
"The leak should be investigated and cannot be condoned. But I think it's an absolute disgrace that Shaun Halfpenny is subjected to this. He has done a brilliant job at Cummersdale School and has been a thorn in the side of Cumbria County Council for many years. It seems an act of pure vindictiveness to be taking this course of action at present. They should drop it."
5 May 2006
---
Welcome for Cumbria Uni
Eric has welcomed further moves to establish a University of Cumbria next year.
Uncertainty over the future of sites in Cumbria currently part of University of Central Lancashire (UClan) has been removed with the news that these will transfer to the new university.
Eric said,
"I'm delighted. There was uncertainty with regard to Carlisle Campus and Newton Rigg and this has removed that uncertainty."
4 May 2006
---
MP assured Organ is OK
Eric has received an assurance that the organ in Carlisle Cathedral is safe from Eurocrats.
The EU is introducing new regulations to prevent lead poisoning, but there were fears this could affect the repair and replacement of traditional pipe organs.
Lead is used in the manufacture of organ pipes and in their assembly, but all lead is recycled and never becomes airborne, so both the environment and workers are safe.
Eric said,
"There was consternation at the cathedral. You've got a fine old organ there and the idea that it might have to be stopped or not repaired did not appeal."
Eric has now been told by the Minister for energy that the repair and refurbishment of existing pipe organs will not be affected.
2 May 2006
---
Satisfied tums, empty postbag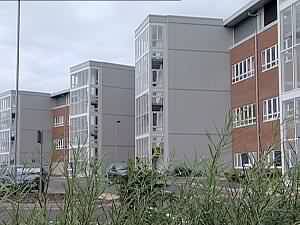 A view of Cumberland Infirmary


Eric has sampled the food at Cumberland Infirmary's new restaurant.

He was there to open the new facility which replaces the old style canteen. The new restaurant, which is run by Interserve, the company which is responsible for non medical aspect of the hospital, offers healthy food options as well as round the clock vending machines.

Eric welcomed the improvements and commented on the improved patient and visitor satisfaction, saying,
"There's no doubt that when the hospital opened, there was a problem. But what has happened is that Interserve have accepted that was the case and put it right. I measure the service being provided by the number of letters of complaint I receive. I used to get a large number but now my postbag is empty."
28 Apr 2006
---
Freight Route on the right lines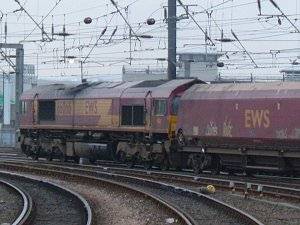 Freight sharing passenger track

Plans for a new rail freight route through Cumbria have received backing from Eric Martlew.
The scheme for a freight route from the Channel Tunnel to Scotland aims to reduce congestion both on existing rail routes and on the roads.
The route would make as much use of existing or re-opened track away from the west coast line as possible, for example using the Settle-Carlisle line. Because freight trains run slower and less often than passenger trains, upkeep would be less making the project economically more attractive.
Eric said,
"Congestion on the West Coast Main Line is only going to get worse and there will be less freight capacity as passenger numbers rise. The plan now needs to be moved on and the government needs to decide whether the cash to fund it will come from the private or public sector."
The plan has the support of rail and road haulage associations and of other MPs.
24 Apr 2006
---
Financial accounts of Carlisle City Council
Council Leader should accept responsibility
The "poor management of the financial accounts of Carlisle City Council" is the subject of a Commons motion.
The Early Day Motion, tabled by city MP Eric Martlew, slams the council for its poor financial management and lack of political leadership. It calls on the council leader to accept the District Auditor's verdict of "justified criticism of the failing of his administration".
The full Early Day Motion reads:
EDM 1993
CARLISLE CITY COUNCIL
19.04.2006
Martlew, Eric
That this House expresses great concern over the poor management of the financial accounts of Carlisle City Council and the lack of political leadership by the Conservative-controlled group; urges that transparency in governance be adopted and that all necessary steps be taken to enable the district auditor to sign off the accounts; fears that the poor management of the Council's finances will adversely affect the reputation of Carlisle City Council; acknowledges that the political leadership of the Council has not taken appropriate actions to address this problem; and calls on the Leader of the Council to accept fully the district auditor's justified criticism of the failing of his administration in addition to accepting full responsibility for the situation.

19 Apr 2006
---
Clogged Carlisle
Immediate action is needed to unclog Carlisle's worsening traffic situation, says Eric.
After a week of even worse disruption than usual with a series of roadworks and water repairs combining to create jams, Eric has accused the local councils of reneging on a promise to manage roadworks better.
Eric said,
"Why have they not learned their lessons? The council has the right to delay United Utilities' work. I acknowledge that work has to be done, but there is still nobody co-ordinating it in the city. Because our roads are already so congested, it only takes a little disruption to create gridlock. This is one of the main problems affecting Carlisle.

"Somebody has got to take immediate action. Something needs to be done to improve the traffic flow. There are plans for the future, but nothing seems to be being done at present."
Cumbria County Council said it was doing its best, and United Utilities said it would be worth it when the work was done.
A few months ago, Eric warned that traffic congestion could lead to a tragedy with emergency vehicles getting caught in gridlock. (Read here)
10 Apr 2006
---
Court Square Chaos
Eric is advocating changes to traffic management in and around Court Square.
The square beside Carlisle Station is increasingly congested, not helped by nearby roadworks. He says the traffic lights should be reprogrammed and he wants to see an extra lane of traffic introduced.
He believes that these relatively simple measures would greatly improve traffic flow away from the railway station and reduce congestion.
Eric is a member of the Commons Transport Select Committee.
7 Apr 2006
---
Praise for St Martin's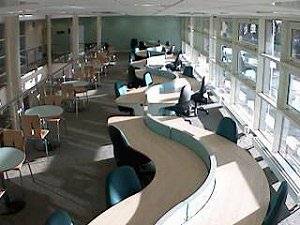 St Martin's College

Eric has praised St Martin's College for their new centre in the Fusehill Street hospital site.
He has toured the new centre, dubbed the Learning Gateway, with campus principal Greg Lodge and was impressed with the conversion and the facilities.
Eric said,
"It's a learning centre like I've never seen before with an amazing lecture theatre and state-of-the-art video conferencing facilities. St. Martin's have done tremendously to turn the former hospital into a place of learning and things can only get better."
The official opening is later in the year, but the centre is already open to students, the first of whom have started their courses. St Martin's College has three campuses in the North West, at Fusehill Street in Carlisle, Ambleside and Lancaster.
4 Apr 2006
---
Support for respite care
Eric is backing a call to save a local respite centre.
Orton Lea is threatened with closure but is a lifeline to families caring for disabled children. Eric received a 700 strong petition yesterday.
He will take the petition to the NHS Trust responsible for the centre. Speaking of the strain such caring puts on families and other carers, Eric said,
"Life is hard enough without this kind of uncertainty. We should be talking about expanding respite care, not closing something down."
A decision on the centre's future is expected soon.
1 Apr 2006
---
Digital Disadvantage
Eric has voiced concerns that the most disadvantaged could lose out with the switch to digital TV.
Plans to switch off analogue TV (the "old" way of getting BBC1 & 2, ITV, C4 and C5) in favour of an all digital system could start to be implemented in two years. Eric is urging help for disadvantaged groups.
Although over 70% of the population already has digital TV, a quarter cannot yet receive it through their aerial. The elderly, disabled and isolated need extra help so they can join the digital revolution, according to a committee of MPs.
Eric said,
"I believe we still don't know the full scale of the problem and need to keep a close eye on matters. We don't want more vulnerable members of society to lose the use of their TV. I would not disregard what the select committee have said."
He wants the Minister responsible to visit Carlisle.
31 Mar 2006
---
Support for Education Reforms
Eric voted with the government last night on the Education Bill.
He said that the bill will help with some secondary school problems.
Eric said:
"I have looked at the bill and in reality I'm not convinced that there are any major changes that will be detrimental to the education of people in Carlisle. I think if you look at the secondary school situation there are obviously problems and I think the bill will help."
Eric did not join the Labour 'rebels' in voting against the bill's second reading which was carried.
15 Mar 2006
---
Backing for Badgers
Eric has backed the cause of badgers in the battle against bovine tuberculosis.
He has tabled a motion in the House of Commons calling on the government to use pre- and post-cattle movement measures rather than "inhumane" methods of killing badgers, the vast majority of which are not infected.
The full Early Day Motion reads:
EDM 1788
BOVINE TUBERCULOSIS AND BADGERS
09.03.2006
Martlew, Eric
That this House notes that tuberculosis in cattle is increasing by 18 per cent. per year and over 20,000 cattle are slaughtered annually following tuberculosis tests; calls on the Government to note the robust scientific evidence presented by Professor John Bourne, the Chairman of the Independent Scientific Group on bovine tuberculosis that a badger cull will almost certainly make the situation worse; is concerned that the proposed methods of culling badgers by snaring, or gassing are inhumane and that the available scientific evidence indicates that the vast majority of badgers are not infected with tuberculosis; and urges the Government to act on the clear scientific conclusion that pre- and post-cattle movement measures should be implemented as soon as possible in order to tackle tuberculosis in cattle.

9 Mar 2006
---
Police driving training "quite derisory"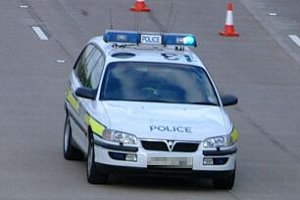 How well trained is this driver?

The Chairman of the Police Federation has said that some police driver training is "quite derisory in many respects".
Facing probing questions from Eric in the Commons Transport Select Committee, Chief Inspector Jan Berry of Kent Police said that while advanced police driver training was "reasonable", training for other police drivers is not.
This was followed by a comment from Chief Superintendent Derek Barnett of Cheshire Constabulary from the Police Superintendents' Association that while it used to be the case that to be on specialist traffic patrol officers had to be advanced drivers and then receive further training on top of that, now the situation is that because so many traffic officers have been removed, "these skills have lapsed" and untrained officers are dealing with traffic situations for which they are not properly equipped.
8 Mar 2006
---
Mini-motorcycles
Eric is backing a plan to curb the nuisance of mini-motorcycles
He has co-sponsored a Commons motion calling for the introduction of a registration scheme for the machines.
The Early Day Motion reads in full:
EDM 1761
MINI-MOTORCYCLES
07.03.2006
Stringer, Graham
That this House is concerned at the increasing amount of noise nuisance and risks to people's safety caused by the use of mini-motorcycles; and believes that the first step to improving this situation is for the Government to introduce a registration scheme for them.

8 Mar 2006
---
Eric backs free Cash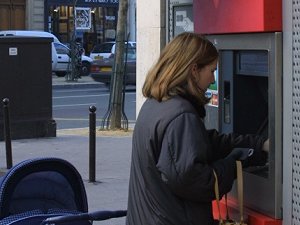 The poorest being over charged?

Eric has called for the abolition of charges for people using cash machines to get their own money.
He is particularly concerned that it is the poorest and most vulnerable who lose the most. He feels they are being unfairly targeted because they have no real choice over which cash machine they use.
He said,
"If you take someone on a low income or a pension then a charge is a large proportion of that income. If someone has only got £10 in their account they can't even use some machines because they'd have to pay a charge. It is exploiting the situation and often at the expense of the poorest people.

"If you can afford to go into the centre of town or live in Stanwix then you'll get your cash for free. They could either reduce the charges or do away with them unless where it would be uneconomical to take the machine out or where there would be no service at all."
Eric chaired a debate on the Treasury Select Committee's report (of which he is not a member) in Westminster Hall in February.
6 Mar 2006
---
Eric backs safer Parking
Safer parking in Carlisle has been welcomed by Eric.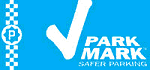 But although car crime has fallen by 19% since 1997, now the scheme the Park Mark scheme, an initiative of the Association of Chief Police Officers (ACPO) is to be widened with more car park operators being encouraged to join in a bid to cut car crime even further.
The scheme sets standards for secure car parks. Already nineteen Carlisle car parks hold the award. The government initiative starts next week to broaden the scope of the plan.
The Park Mark® Safer Parking award is granted to parking areas that have achieved the requirements of a risk assessment as conducted by the Police. These requirements mean the parking operator has put in place measures that help to deter criminal activity and anti-social behaviour, thereby doing everything they can to prevent crime and reduce the fear of crime in their parking area.
For customers, using a Park Mark® Safer Parking area, means that the area has been vetted by the Police and has measures in place in order to create a safe environment.
Details of the scheme, with the opportunity to find which car parks are in the scheme are at http://www.securedcarparks.com/default.aspx
4 Mar 2006
---
Action now as deadline looms
If the Lonsdale is not to be rubble action is needed now, Eric warned a mass demonstration in Carlisle on Saturday 25 February.
Several hundred marched through the city to try to save the 1930s building.
Eric said his planned visit that evening to watch Walking the Line, the Johnny Cash biopic, could well be his last unless demolition is stopped quickly.
He continued,
"Unless we do something we will not have a decent cinema or place to put a theatre in the city. We do not want the Lonsdale to become a memory. It has got to be there for our children and grandchildren."
He also said that Carlisle should have a theatre and cinema and that the development which included the Lonsdale was the right course to take.
26 Feb 2006
---
Council should keep its Promise to Youth
Eric has written to Maggie Mooney, the Council Chief Executive, to ask when the council will keep its 2003 promise for a community centre.
The letter was prompted by the need for tougher police action against youths in parts of Carlisle.
A Dispersal Order has been obtained affecting Belah where the community was supposed to be.
Eric said to Maggie Mooney,
"I am sure you are aware that the police have recently taken out a dispersal order for the estate following the problems caused by large numbers of young people congregating together.

"While not condoning the behaviour of some of these youngsters, I believe that lack of provision of new facilities could well be a contributory factor to this problem. Surely there is now an urgency for the council to keep its promises to residents of the area to provide the necessary new community facilities."
Eric wants action and feels that this police action was caused by the lack of progress on the provision of community facilities.
23 Feb 2006
---
Dental School bid confirmed
Eric has expressed his delight that a new Dental School will be opened at Carlisle's Cumberland Infirmary.
He had campaigned to bring the school, funded by Cumbria and Lancashire Strategic Health Authority, the Department of Health and the Higher Education Funding Council for England, to Carlisle.
He said,
"I am delighted. This is good news for the area. All the evidence shows that when dentists and doctors train in an area, they tend to stay, set down roots and practice there."
The government is tackling the problem of dentists leaving the NHS to go private by bringing in dentists from other countries and in the longer term by training more dentists in the UK.
16 Feb 2006
---
Eric in the Chair
As a senior MP, Eric was called on again to Chair an important Commons debate on 16 February.
The debate was in Westminster Hall in the House of Commons used for debates on more specialised subjects. The debate, in which government ministers are held to account by members (and Eric) was on Cash Machines.
As Chairman, Eric said nothing himself on the subject but was responsible for controlling the debate, keeping to time but allowing members to have their say.
Full debate

16 Feb 2006
---
Tory/Lib Dem Council "short-sighted and callous"
Eric has hit out at Cumbria County Council for closing four children's literacy centres.
He has put down a motion in the House of Commons urging the Council to reconsider, calling the Council's decision "short-sighted and callous" and depriving children of an invaluable service.
The Early day Motion reads:
EDM 1630
CLOSURE OF CHILDREN'S LITERACY CENTRES IN CUMBRIA
13.02.2006
Martlew, Eric
That this House totally condemns the short-sighted and callous decision by the Conservative and Liberal Democrat controlled Cumbria County Council to close the county's four children's literacy centres in Carlisle, Whitehaven, Kendal and Barrow; urges immediate reconsideration of the decision in light of the invaluable service these centres provide to children who have not made the necessary progress in their school reading programmes and require this essential additional help with the vital life skills of reading and writing; and calls on Cumbria County Council to continue to finance these special units and to show that it values the work they do to accelerate the development of children's early literacy skills by linking reading with speech, sound and pronunciation and helping to equip children with literacy difficulties with the necessary tools to unlock their individual potential.

13 Feb 2006
---
Eric backs Blood Bins
Eric is backing a move by Carlisle United's doctor to have "blood bins" at football matches.
He has tabled a Commons motion calling on the FA to introduce this.
Eric said,
"I condemn the FA for not taking this matter seriously. It is a matter about the health of footballers and obviously that should be paramount."
The full Early Day Motion reads:
EDM 1610
FOOTBALL SUBSTITUTIONS FOR BLOOD INJURIES
09.02.2006
Martlew, Eric
That this House supports the initiative by Doctor John Haworth, club doctor to Carlisle United FC, to persuade the Football Association to accept temporary substitutions of players to allow the treatment of open wounds, similar to the successful blood bin scheme introduced some years ago in the Rugby Football League; and urges the Football Association to accept this policy which is supported by the Professional Footballers' Association on the grounds of health and duty of care.

9 Feb 2006
---
Animal law "is a mess"
In an interview with the influential magazine "Parliamentary Brief", Eric has said that existing animal law is a mess.
He says the world "has moved on since the 1911 Act" and it's time to update animal welfare legislation.
He welcomes the Animal Welfare Bill, but regrets there is no provision for "the regulation of the sale of animals over the internet". He welcomes to promised code of practice on tethering.
He looks forward to the 'docking' of dogs' tails being banned on a free vote in the House.
The bill does not ban the keeping of wild animals in circuses, and Eric remains sceptical of the government's view that existing protection is enough. "and we will have to see", he says.
View original article (PDF 341K)
7 Feb 2006
---
School debt should be written off
Eric has called on Cumbria County Council to clear the debts of a Carlisle School.
Morton School in Carlisle has a debt of £806,656, the highest in the county. Eric thinks that such debts can hamper a school in its efforts to make progress. He said:
"Morton's debt is historical from many years ago when the school went into special measures."
The head teacher, Heather Sargeson, claims the debt is under control.
6 Feb 2006
---
Eric Chairs Commons debates
As a senior MP, Eric was in the Chair for a series of important Commons debate on 1st February.
The debates were in Westminster Hall in the House of Commons used for debates on more specialised subjects. The debates, in which government ministers are held to account by members (and Eric) were on Iran's nuclear programme, East Timor (Indonesian Invasion), Urbanisation (Developing Countries), RAF Stafford and Public Administration Review (Northern Ireland).
As Chairman, Eric could say little himself on the subjects but was responsible for controlling the debate, keeping to time but allowing members to have their say, and of course, occasionally saying, "Order!"
1 Feb 2006
---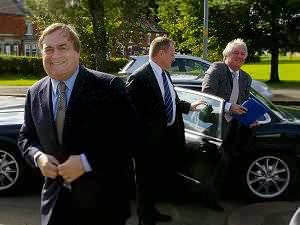 John Prescott with Eric on an earlier visit to Carlisle

Deputy PM launches City Renaissance Consultation
John Prescott is back in Carlisle to launch a programme of consultation on the city's Renaissance Plans.
Eric will be guiding Mr Prescott on his tour of the city along with civic leaders. Maggie Mooney, Carlisle's Chief Executive, thanked Mr Prescott for the interest he had taken in Carlisle.
The plans were given extra impetus by the city's flooding and the need to revitalise the city for the future.
Eric, who is backing the plans, said,
"My worry is that the Carlisle mentality will be, 'there's nothing wrong and things should be left as they are'. We need to shake ourselves a little and do something special."
The ambitious plans include a new Courts Building, a shopping centre on the site of the Lonsdale Street bus station, a new link road from Kingmoor Park to London Road and a University Library on Botchergate which would be open to the public. A new development on the site of the Civic Centre would have shops, offices, a hotel and a theatre which could act as a conference venue, bringing money into the city.
27 Jan 2006
---
Welcome for Dental School
Eric has welcomed the government's approval for more dental training for Carlisle.
The Minister for Higher Education and Lifelong Learning, Bill Rammell, made the announcement in the Commons this week.
The Higher Education Funding Council for England announced approval for several new schemes, one of which was for students in Lancashire and Cumbria. Part of the training will be at a new dental centre in Carlisle.
In recent months several local dentists have opted out of the NHS to go private only.
Eric said,
"An independent dentist with an average NHS workload will make about £80,000 pa. But on top of this they will also receive a further £60,000 towards their practice costs. An experienced salaried dentist working for the NHS will receive around £65,000 and has no practice costs."
From April, the Primary care Trust will assume full control of the budget for Primary Care Dental Services and will have a clear responsibility to secure or provide dental services.
26 Jan 2006
---
Battery Ban must stay
Better conditions for battery hens could be under threat and Eric is taking measures to safeguard them.
EU rules which will ban battery cages are to be reviewed so Eric has tabled a Commons motion urging the government to argue the case in the EU that the ban should stay.
The text of the motion reads:
EDM 1448
PROHIBITION OF BATTERY CAGES FOR EGG LAYING HENS
23.01.2006
Martlew, Eric
That this House notes that the prohibition of conventional battery cages for egg-laying hens that is due to come into force in 2012 under Council Directive 1999/74 is to be reviewed during 2006; firmly believes that the prohibition should remain in place and should not be repealed or postponed; further notes that the report of the Scientific Panel for Animal Health and Welfare of the European Food Safety Authority concludes that the inability of battery hens to perform their natural behaviours poses a particularly severe threat to their welfare; and urges Her Majesty's Government to take the lead in persuading EU partners that the prohibition of conventional battery cages should neither be repealed nor postponed but should come into force in 2012 as enacted by Council Directive 1999/74.
23 Jan 2006
---
Eric writes to MPs about Tony Banks
Eric has written to MPs requesting they sign Early Day Motion 1416 in honour of Tony Banks.
Dear Colleague

I'm writing to ask you to sign EDM 1416 in honour of the late Tony Banks. The EDM plays tribute to Tony's animal welfare work and highlights his commitment to ending the Canadian seal hunt. Ann Widdecombe, Mike Hancock and I have tabled the EDM. If you would like to add your name, please contact the Table office. The text is as follows:

That this House notes with great sadness the sudden death of Tony Banks (Lord Stratford); recognises his tremendous work in the field of animal welfare and pays tribute to his efforts and dedication; further notes his commitment to end the cruel slaughter of hundreds of thousands of seal pups for their fur each spring in Canada and his wish that the UK end its trade in seal products in line with public opinion, and calls upon the Government to prohibit the trade in all harp and hooded seal products in the UK as soon as possible.

I hope as many of you as possible will feel able to support this EDM in tribute to Tony Banks, who will be sorely missed.

With best wishes

Eric Martlew MP

Member of Parliament for Carlisle

Chair, APG for Animal Welfare
23 Jan 2006
---
Backing for By Pass
Eric is backing the threatened Carlisle by pass, the Northern Development Route.
The project is under threat because of rising costs and delays caused by the floods and new discoveries of part of the Roman Wall.
But Eric is keen the road is built. He said,
"I have offered to meet with council officers and ministers to discuss the project and I'm very happy to support any application. The road is key to the development of the city - from unlocking the potential of Kingmoor Park to alleviating traffic congestion in the city."
The route would enable traffic to and from west Cumbria to avoid Carlisle city centre when using the M6 south, M74 north or A69 east.
20 Jan 2006
---
Tribute to Tony Banks
End to Seal Trade urged
Eric has sponsored a Commons motion paying tribute to the work of the late Tony Banks in animal welfare.
The motion also calls on the government to outlaw the trade in seal products as a means of pressuring Canada to end its annual seal hunts
The full Early Day Motion reads:
EDM 1416

TONY BANKS AND THE CANADIAN SEAL HUNT

18.01.2006

That this House notes with great sadness the sudden death of Tony Banks (Lord Stratford); recognises his tremendous work in the field of animal welfare and pays tribute to his efforts and dedication; further notes his commitment to end the cruel slaughter of hundreds of thousands of seal pups for their fur each spring in Canada and his wish that the UK end its trade in seal products in line with public opinion; and calls on the Government to prohibit the trade in all harp and hooded seal products in the UK as soon as possible.
The motion has cross party support.
18 Jan 2006
---
Total smoke ban
Eric supports a total ban on smoking in pubs.
He said,
"This is essential on the grounds of health and safety. People who work in pubs should not be at risk from passive smoking."
MPs have won a free vote on the issue when it comes before the Commons soon.
17 Jan 2006
---
Eric backs votes for young people
Eric is one of a number of MPs who are backing the right to vote at 16.
He said,
"Young people aged 16 and 17 can work and they can get married. If we want them to make a contribution to society, we ought to allow them to vote. Young people are much more mature now than they were when I was 16."
The Commons debated the Electoral system on 11 January, but much of the debate was taken up with security and the prevention of fraud in elections, especially with regard to postal voting, finance and other matters.
11 Jan 2006
---
Lib Dems not nice
Eric has hit out at Lib Dems who took the knife to Charles Kennedy's back.
Speaking of how the Lib Dem MPs had plotted behind their leader's back, Eric remarked,
"I am glad they are not colleagues of mine. I do not think it was obvious he had a drink problem, but there has been a lot of sniping going on that has forced his hand to make the statement. I just hope one of these MPs has the courage to go up against him. This has not surprised me with the Liberal Democrats. They always pretend to be nicer than everyone else, but then prove to be nastier."
7 Jan 2006
---
Contents | Current News | Return to Homepage
On behalf of Eric Martlew, 3 Chatsworth Square Carlisle Cumbria CA1 1HB