Eric's News Extras 2007
31/12/07 Eric gets Bridge Assurance
29/12/07 Airport Opportunity should not be lost
18/12/07 Festive Greetings for our Troops overseas
14/12/07 Where is the City Council's Civic Pride?
12/12/07 City Council responds to Eric's Concern
11/12/07 Publish Farepak Report
06/12/07 Defences now 'watertight'
06/12/07 Call for more Affordable Homes
06/12/07 Stronger, Safer Communities
05/12/07 Chink of Light in Lookaround Battle
04/12/07 Safety Barrier Call for Dalston
01/12/07 Migrant Workers' vital contribution
01/12/07 Plans for 'fine building' welcomed
30/11/07 Belah Parents need Answers
22/11/07 Saving Carlisle's Rail Jobs
20/11/07 Win-Win for Benefit reforms
19/11/07 Saving Lookaround
16/11/07 Bid to save pub
14/11/07 Backing for Hunt Monitors
12/11/07 We shall remember them
09/11/07 Jap Sham Whalehunt Condemned
06/11/07 Under cover, thanks to Eric
02/11/07 Action over Currock Rail Depot
02/11/07 Battle for Plaque Sufferers goes on
30/10/07 Abortion an emotive issue
29/10/07 3,155 Children get Child Trust Fund Vouchers in Carlisle
29/10/07 Carlisle Students shun Sixth Form
29/10/07 Plea on Pleural Plaques
25/10/07 Eric to meet Minister for Rail about overcrowding
24/10/07 France and back for £92
23/10/07 Battle for Border TV
23/10/07 Inquest delays 'unsatisfactory'
22/10/07 Tag steps down, Eric steps up
19/10/07 Eric Martlew MP says "Keep Warm this Winter in Carlisle"
19/10/07 200 more Parking Places at Hospital
17/10/07 O Canada!
16/10/07 Backing for Bike Helmets Bill
13/10/07 'Quality Workforce' to benefit from £10M
12/10/07 Concern over Victoria Place Clinic closure
12/10/07 MPs to meet ITV Chief
08/10/07 Better Training for Learners
05/10/07 Council 'No Vision' over Belah
05/10/07 Carlisle growth figures 'farcical'
04/10/07 Ready whenever
27/09/07 Write in to save Lookaround
27/09/07 MPs meet Digital Bosses
22/09/07 I am ready says Eric
19/09/07 Cost Caution on High Speed Rail
13/09/07 Eric in talks on Stead McAlpin
13/09/07 Eric backing Border
31/08/07 Six hours to Paris
20/08/07 Rail Jobs on the Line
16/08/07 John Prescott visits Carlisle
16/08/07 Council deaf to Uniform Plea
16/08/07 Insurers too quick to write off goods
16/08/07 Why don't some pay?
10/08/07 Curfew Call for young Drivers
07/08/07 It's your Cash
03/08/07 University of Cumbria
30/07/07 Pass Plus Positive
27/07/07 Carlisle misses out
24/07/07 Guess what? Horses can kick and bite.
22/07/07 £3.7M to tackle Crime
20/07/07 End the Carnage
19/07/07 Post Office Pressure
18/07/07 Lib Dems should be open about Child Bonds
14/07/07 Border should get Beeb's Cash
13/07/07 Agency to meet Wildlife Campaigners
13/07/07 Time for more homes
11/07/07 Huge rise in Child Cycle Deaths
06/07/07 Rise in Road Deaths not a Surprise
03/07/07 Sponsor setback for second Academy
29/06/07 Flood Guru?
28/06/07 Councils, Housing and Iraq
27/06/07 Honour for Caring Volunteers
25/06/07 Support for Wildlife in flood defences
23/06/07 Limit for Killer Road
22/06/07 Blair's Legacy is Jobs
21/06/07 More Jobs for Blind
21/06/07 Battle over Badgers
20/06/07 Carlisle MP presents his "Local Heroes" with Certificates
19/06/07 Schools Consultation "a Sham"
18/06/07 Boundary Change no Threat
16/06/07 Lower Limit saves Lives
13/06/07 Reject Unitary Call
04/06/07 Bye Bye Belah?
02/06/07 Council shake-up slammed
02/06/07 Bigger Fines for uninsured Drivers
01/06/07 Money for Home - School Links
28/05/07 Deeds not Breeds
28/05/07 Protecting Constituents' Privacy
21/05/07 Eric backs pensioners
19/05/07 Border Crossing
04/05/07 Welcome for By Pass
04/05/07 Boycott WH Smith
01/05/07 Welcome for Motorbikes
25/04/07 Save PO Building
24/04/07 MP attacks Tesco Plans
20/04/07 PO to WHS wrong move
19/04/07 Welcome for Supermarket League Table
17/04/07 Putting the Brake on Eric
14/04/07 MP slams Sell off
14/04/07 Former Student to open new College
07/04/07 Welcome for new Animal Act
06/04/07 Patientline "desperate"
06/04/07 MP wants light shed on Botcherby
04/04/07 Keep free travel and save Lives
04/04/07 The Loneliness of the Long Distance Window Cleaner
30/03/07 Referendum Call on new Council
30/03/07 Text a Truant
30/03/07 "Heart Attack Hill" not the place for Health Centre
24/03/07 Keep Kingmoor two Schools
21/03/07 Eric on the Ball
20/03/07 Eric's Plan for Schools
20/03/07 Traffic Wardens under fire
20/03/07 Welcome for Mobile Review
20/03/07 Lib Dem 'green tax' plans neither liberal nor fair
15/03/07 Education Secretary to be called in
15/03/07 Angola Success
14/03/07 MP backs new Trident
10/03/07 Angola Plea
09/03/07 Wall beats Floods
09/03/07 Leading on Digital Switchover
01/03/07 Pan's People
01/03/07 Eric Martlew speaks at Make Space Roadshow in Carlisle
27/02/07 Bid to save Ambulance Control Centre
26/02/07 Seat Belts for High Speed trains?
23/02/07 Use it or lose it
22/02/07 Tory Negativity slammed
22/02/07 More Coaches Wanted
21/02/07 Support for CATS
21/02/07 Keep both Schools open
21/02/07 Air Weapons need to be licensed
19/02/07 Tesco under the lens
16/02/07 Backing for Belah
15/02/07 Motorbike Menace
13/02/07 Problems with easy Credit
10/02/07 Virgin to be probed
08/02/07 Hunters Praised
06/02/07 Mobiles in Hospitals
03/02/07 Welcome for Jobs Boost
02/02/07 More Cops welcomed
26/01/07 Time Zones
21/01/07 MP shocked at Orton Lea Plans
21/01/07 MP slams Council for Road Delay
18/01/07 Beat the Clock
17/01/07 Ministerial Meeting on Carlisle Coroner
11/01/07 Threat to local Health Budget
11/01/07 County Council neglected Morton School
09/01/07 Welcome for Longtown jobs news
09/01/07 Praise on Flood Defences
05/01/07 Rail Rip-off
03/01/07 Hunting ban a success
02/01/07 Keeping the Coroner

---
Eric gets Bridge Assurance
31 Dec 2007
Eric has been told that safety measures will be taken at a local railway bridge.
Eric called for safety barriers to be erected at the Dalston rail bridge where a car plunged onto the line recently. Chief Executive for Cumbria County Council, Peter Stybelski, has written to Eric promising action.
The accident at Dalston recalled a similar incident at Selby in Yorkshire when a vehicle crashed down to the tracks, tragically just as trains were coming from both directions. Ten people were killed.
At the time of the Dalston incident, where mercifully nobody was killed or seriously injured, Eric said,
"We got away with it this time, I think we've been very fortunate. It's a warning. That bridge takes lots of petrol tankers from the nearby depot and we could have been looking at a combination of a petrol tanker and a passenger train colliding which would be horrendous.

"Coming from Cardewlees to Dalston, there's a rickety old fence that wouldn't stop a cyclist. The bridge was built before motorised vehicles and it is now used by hundreds of vehicles a day.

"Now we know what could happen, something needs to be done. I am writing to Network Rail and the county council asking for safety barriers to be put up immediately."
---
Airport Opportunity should not be lost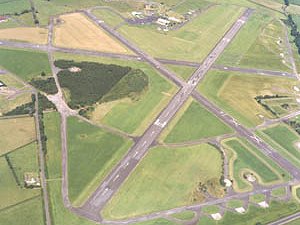 Carlisle Airport, aerial view

29 Dec 2007
Eric has said that the chance to develop Carlisle Airport should not be lost because of red tape.
There are ambitious plans for a new terminal and runway, along with relocating Eddie Stobart to the airport, but time is running out while the authorities decide.
Andrew Tinkler, Chairman of the company that owns the airport, says that he must move Eddie Stobart, of which he is Chief Executive, out of its Kingstown base by 2009, and he wants to make the airport viable by locating the transport company there, to the benefit of both. Eddie Stobart employs 300 people, and the alternative could mean the company leaving Carlisle.
Eric said,
"We should not allow red tape to stop this opportunity. The city council should deal with this as speedily as possible, bearing in mind they have got to have all the facts with them to take a planning decision on this.

"I would like to see this get approval. It is a big development, but it does seem to have been dragging on a while. It is complex, but I would like to think they will be able to meet his deadline of February."
---
Festive Greetings for our Troops overseas
18 Dec 2007
Eric has sent a Christmas message to local soldiers on active service overseas.
Service men and women in the Army, RAF and Royal Navy from Carlisle and around are involved in the conflicts in Afghanistan and Iraq, and Eric says it is important at this time of year especially that they know they are valued.
Eric said,
"At a time when British forces are serving in the most dangerous and hard-fought conflicts in the world it is important for them to know how much we value their courage and sacrifice and I wish them all a very Happy Christmas."
---
Where is the City Council's Civic Pride?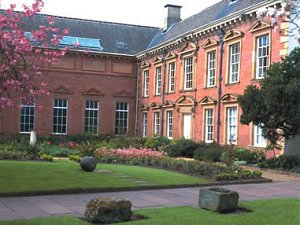 Tullie House

14 Dec 2007
Eric has hit out at the Carlisle City Council's plans to move the tourist information centre.
The Council want to move it from its present site in the Old Town Hall in Greenmarket to Tullie House. But space there is limited and it is further from public transport and lacks 'visibility'.
Eric said,
"Where is the civic pride of the council? The Old Town Hall is the most important historical building that the city council has responsibility for and they're talking about changing it to an estate agency. Are they giving up on tourism in Carlisle?"
A report by the Council says that work is needed to improve disabled access at the current, which gets 140,000 enquires a year.
---
City Council responds to Eric's Concern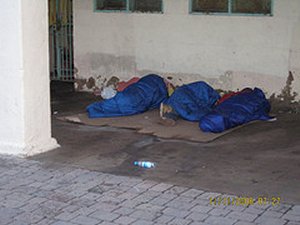 Rough Sleepers
(Photo: Henry Law)
12 Dec 2007
Carlisle City Council have confirmed they will open an emergency night shelter for the homeless.
This follows concern from Eric, backed by church leaders, that rough sleepers could die of the cold this winter.
The shelter will probably in a church hall near the present London Road hostel, and should be open for Christmas.
Eric, welcoming the Council's action said,
"The problem is manageable and we should be able to come up with a solution."
---
Publish Farepak Report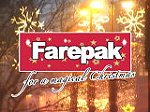 11 Dec 2007
Eric has joined those making the case for the report into the collapse of Farepak to be published.
The government has announced that it will be withheld for 'legal reasons', but Eric is hoping that a court case will result which will then expose what really happened. Families lost almost £40M when the Christmas savings club folded, and there is still no news of when any repayments may be made.
Eric said,
"I would hope that someone will take this to court and that the report then would be made public, as it needs to become public.

"It is apparent that the government is prohibited by their own laws but I am sure it will come out. And people should get their money back as quickly as possible."
---
Defences now 'watertight'
6 Dec 2007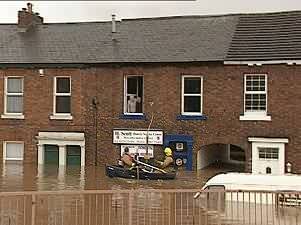 Flooding in 2005

The Environment Agency has announced that new flood defences for Warwick Road and Greystoke areas of the city are now watertight.
Although the £12M scheme was planned for completion next May, residents can sleep easier as the work is ahead of schedule. Eric is contacting insurance companies to reduce premiums for householders in those areas.
Over 1400 homes and businesses are now protected against another flood even one as severe as 2005.
Eric said
"I gave a commitment on the day of the floods that new flood defences would be built. They are ahead of schedule and on budget. The people of the Warwick Road area will be able to sleep soundly in their beds this winter.

"I will be contacting insurance companies. Now the defences are in place, insurance premiums should be reduced."
Denton Holme, Caldewgate and the city centre will benefit from a £24M scheme due to start in Spring 2008.
---
Stronger, Safer Communities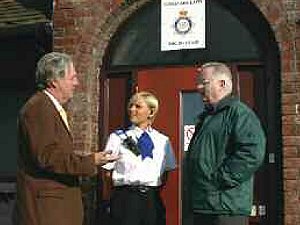 Eric with a PC and Cllr Reg Watson, Chairman of the Police Authority

6 Dec2007
Eric has welcomed news that Cumbria now has more police than ever.
The Chairman of Cumbria Police Authority has confirmed that Cumbria Police have the highest number of officers - ever. There is also highest number of Police support staff - ever, along with 105 newly appointed Police Community Support Officers.
Other improvements include better community policing with a named officer for each area, a new £4m Custody Suite in Durranhill, approval for an £8m Police Headquarters and 2 satellite police stations at Petteril Bank and Morton.
---
Call for more Affordable Homes
6 Dec 2007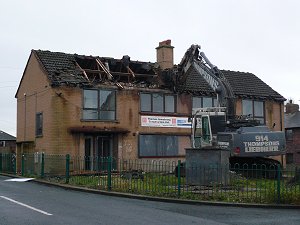 Demolition of Henderson Gardens

Eric has called on Carlisle Housing Association to build more affordable homes.
This came as demolition started of Henderson Gardens, and Eric said that the CHA waiting list was getting longer.
Commenting on the demolition of Henderson Gardens, whilst not against this decision, Eric said,
"Carlisle Housing Association must build more affordable houses. There is already an increasing number of people on the CHA waiting list"
---
Chink of Light in Lookaround Battle
5 Dec 2007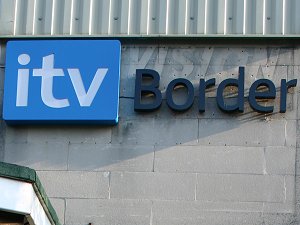 The campaign to save Lookaround is having some impact, according to Eric.
ITV Chief Executive Michael Grade has told Eric that the Border News opt out bulletin from Tyne Tees, originally just 7-10 minutes long, could now be 12 minutes.
Eric says this is a sign that ITV has begun to realise the strength of the opposition to their plans to axe Lookaround.
Eric said,
"I think the campaign is starting to have some impact, especially with ITV. If they are talking about a longer opt-out time, they are not as well on with their proposal.

"I would say to people that there is plenty of time to fight this. People from Border are doing a brilliant job, taking their campaign to all parts of the region. I suspect this is the most vigorous campaign in the country. Some areas will probably just accept this. It is obvious that Border will not."
Eric has been campaigning against the loss of Lookaround ever since ITV announced its cost cutting plans, and the campaign has gathered momentum.
The local "News & Star" has a petition that people can sign at www.newsandstar.co.uk/border
---
Safety Barrier Call for Dalston
4 Dec 2007
Eric is calling safety barriers to be erected at the Dalston rail bridge where a car plunged onto the line last week.
A car went off the road and thirty feet down to the tracks. Luckily, unlike the Selby tragedy, no train was coming and there was time to stop them before a more serious crash.
Eric said,
"We got away with it this time, I think we've been very fortunate. It's a warning. That bridge takes lots of petrol tankers from the nearby depot and we could have been looking at a combination of a petrol tanker and a passenger train colliding which would be horrendous.

"Coming from Cardewlees to Dalston, there's a rickety old fence that wouldn't stop a cyclist. The bridge was built before motorised vehicles and it is now used by hundreds of vehicles a day.

"Now we know what could happen, something needs to be done. I am writing to Network Rail and the county council asking for safety barriers to be put up immediately."
Trains were diverted to the other track while the car was removed and repairs carried out.
---
Migrant Workers' "vital contribution"
1 Dec 2007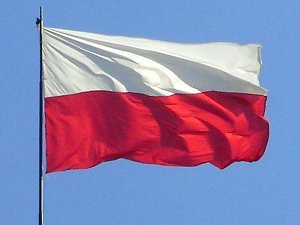 Flag of the Republic of Poland

Eric has said that for Carlisle, migrants make sense.
Following figures that show 810 migrant workers came to Carlisle, Eric has said they make a vital contribution to the local economy.
The majority have come from Poland in the period April 2006 to March 2007, but others have come from various places around the world.
Eric said,
"Unemployment is about 1.6 per cent in my constituency but lower in other areas in Cumbria, so the figures make sense. Without these workers factories would be talking about re-location because they could not find staff. The influx of workers from Eastern Europe is good for Cumbria's economy and we would be finding companies not expanding but relocating if this was not happening.

"There are no dissenting voices in the country about this, whether MPs, trade unions or businesses. Migrants are making a vital contribution to our economy."
These workers are all here legally and have National Insurance numbers, pay their contributions and tax on their earnings.
---
Plans for 'fine building' welcomed
1 Dec 2007
Eric has endorsed plans to redevelop the former Thurnams print works.
The site in Lonsdale Street may be turned into six apartments with secure parking and strong security measures.
Eric said,
"It's a fine building and I'm glad it's found an appropriate use."
The plans have been submitted by Allan Builders and a decision is expected early in the New Year.
Thurnams is now located on the Kingstown Industrial Estate.
---
Belah Parents need Answers
30 Nov 2007
Now that Cumbria County Council have decided to close Belah School, Eric Martlew is writing to Moira Swan Head of Children's Services, asking her to spell out what effect this closure will have on Stanwix and Kingmoor Schools.
Will it mean a return to temporary classrooms, what is happening to the Belah nursery and will this mean mixed aged classes?
The parents have a right to know.
---
Saving Carlisle's Rail Jobs
22 Nov 2007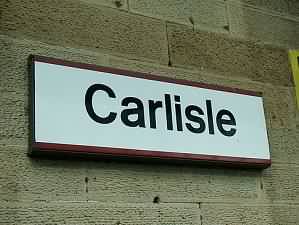 Eric is fighting to save jobs in Carlisle put at risk by the change in cross country rail services.
The change could mean cross country trains no longer come through Carlisle and ten cleaning jobs are under threat.
Cleaning is supplied by a support company, ISS Transport, for the rail operator. The rail unions have expressed concern over the loss of service to passengers and the threat to local jobs.
Eric said,
"I, too, share these concerns and have raised the matter in Parliament and also at a private meeting with the Rail Minister Tom Harris.

"Unfortunately, the decision to cut services still stands and has been reinforced by the new franchise. However, with regard to potential job losses, I certainly will make strong representations to ISS Transport services seeking to safeguard the jobs in Carlisle."
---
Win-Win for Benefit reforms
20 Nov 2007
Eric has welcomed plans to reform incapacity benefit as "win-win".
The government is introducing new tests for the Employment Support Allowance which will target what people can do rather than what they can't. ESA will replace Incapacity Benefit (IB). Over 4,500 people in Carlisle claim incapacity benefit at the moment, the majority for mental health reasons.
Eric said
"The vast majority of people who are on IB want to work. They may not be able to do the same job as before but with help they can re-train. It is a win-win situation, as people who want to and can work will be helped and it will benefit the economy."
New claimants will face the revised tests as from next October. Existing claimants may be brought into the ESA scheme later.
---
Saving Lookaround
19 Nov 2007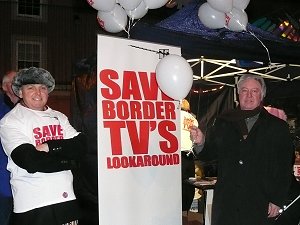 Eric joined campaigners in Carlisle on Sunday to save Lookaround.
The occasion was the switching on of the Christmas Lights, and the chance was taken to create more publicity and support for the Lookaround Campaign.
Border TV's regional news programme is under threat from cost cutting measures planned by Michael Grade, the Chief Executive of ITV. He wants to cut the programme and Cumbrian news would be done from Tyne Tees HQ in Gateshead.
Eric says that this is the thin end of a wedge that could lead to Border TV disappearing completely into a larger ITV company.
---
Bid to save pub
16 Nov 2007
Eric is launching a campaign tonight to save an historic pub in Carlisle.
The Crescent Inn in Warwick Road, formerly The White House, was part of the Carlisle State Management Scheme, and retains many original features. Eric's campaign gets underway at The Bookcase in Castle Street when a book about the State Management Scheme is to be launched.
| | | |
| --- | --- | --- |
| | | |
| Eric with brewers from the Derwent Brewery, who brew the old State Management beer to the original recipe. | | The Whitehouse, originally called The Crescent Inn - A 'Redfern' pub of the State Management Scheme |
Eric said,
"I grew up with the State Management Scheme like everyone else of my generation. It is something that is unique to the city and worth commemorating. In fact one of my first political acts was trying to save it. I think it would be wonderful for the Crescent Inn to be reopened looking the way it was in the 1920s. I was in there last week and things like the minstrel galley and panelling remain intact.

"The Crescent was built by Harry Redfern, who was the architect of the scheme, and sits right in the heart of the city. It is also a listed building which means it is ideal for the purpose. I know it is for sale and I'm sure it could operate commercially as a pub, selling state management ale which is still brewed in Silloth, and various artefacts while a part of it acts as a museum. Obviously some things would have to change like allowing people to buy rounds and letting women in the public bar. But this could be a great addition to the Carlisle tourist trail.

"I'm floating the idea tonight and I'm hoping that people like the Campaign for Real Ale will be keen to get involved. The State Management Scheme is part of our heritage and it must not be forgotten."
Eric believes that the pub's location would place it firmly on the Carlisle tourist trail and be as added attraction to the city.
---
Backing for Hunt Monitors
14 Nov 2007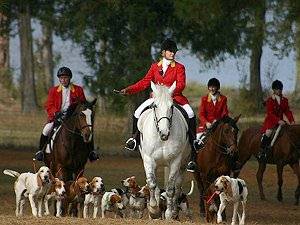 Fox hunting with hounds
(Photo: Dana Kamp)
Eric has called for the hunting ban to be enforced.
In a Commons motion he is co-sponsoring, he applauds the work of hunt monitors who challenge illegal hunting and gather evidence for use in prosecutions.
The full Early Day Motion reads:

EDM 228
HUNT MONITORS
13.11.2007
Flynn, Paul
That this House applauds the hunt monitors who courageously challenge the extreme violence and intimidation of hunt extremists to ensure that the law is obeyed and to gather evidence to present to the authorities; thanks and congratulates the Protect Our Wild Animals group for providing video proof that the law is being flouted; and calls on the police and Crown Prosecution Service to ensure that the Hunting Act 2004 is properly enforced.

---
We shall remember them
12 Nov 2007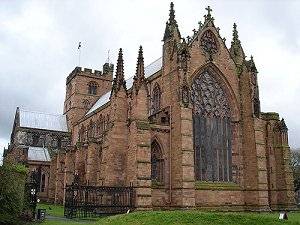 Carlisle Cathedral

Eric was among those who joined in the ceremonies at Carlisle's Cenotaph in the Greenmarket following a service at Carlisle Cathedral.
City Mayor Liz Mallinson laid the first wreath and was followed by representatives of the armed forces, police and local politicians, including Eric.
The two minute silence was observed at 11 a.m., the time when the guns fell silent in Europe on 11 November 1918. The service carried extra force this year because of those serving in Afghanistan and Iraq, and that this year, Remembrance Day and Remembrance Sunday coincide.
---
Jap Sham Whalehunt Condemned
9 Nov 2007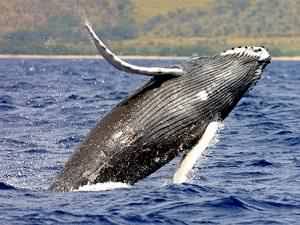 Japan is about to slaughter over 1000 whales in what is meant to be a whale sanctuary.
Eric has joined other MPs in condemning this in a Commons motion calling on the government to take action to end this so-called 'scientific' research. Japan wants to kill 50 endangered humpback whales, as well as 935 minke whales and 50 endangered fin whales.
The Early Day Motion reads:

EDM 164
JAPAN'S HUMPBACK WHALE HUNT
08.11.2007
Morley, Elliot
That this House condemns the imminent slaughter under the guise of science of 50 endangered humpback whales, as well as 935 minke whales and 50 endangered fin whales, by Japanese whalers in the internationally designated Southern Ocean whale sanctuary; expresses deep concern that the humpbacks to be targeted by Japan form part of an endangered population of whales that is vitally important for whale watching industries in Australia, New Zealand and the Pacific Islands, countries which treasure these whales alive, both culturally and economically; notes that a Resolution was adopted at this year's International Whaling Commission meeting in Anchorage which strongly criticised Japan's scientific whaling, exposing it as a sham designed to disguise commercial whaling; further notes that whaling in any form is inherently cruel and that there is no humane way to kill whales; further notes that these whales can be studied using non-lethal research methods; and calls on the Government to unequivocally condemn Japan's cruel, unnecessary and unlawful whaling activities and engage in increased diplomatic action at the highest levels to bring an end to commercial and scientific whaling.

---
Under cover, thanks to Eric
6 Nov 2007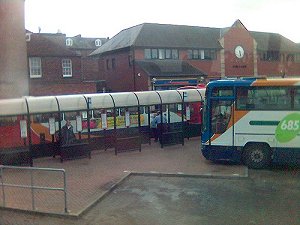 Carlisle Bus Station
(Photo: Neil Boothman)
Passengers at Carlisle's bus station will soon be under cover again.
After a bus collided with a shelter leading to its demolition, Eric argued for its quick replacement, which has now been agreed by National Express.
The delay was caused by arguments over who should pay for the new shelter, in the meantime passengers were left out in the cold. But after pressure for Eric putting the passengers' case, National Express have agreed to put up the new shelter sooner rather than later.
Eric first contacted Stagecoach and National Express almost 3 years ago asking that the problem be resolved - constituents complained of standing in the rain. After lengthy correspondence and years of inaction, Eric finally asked Richard Bowker, Chief Executive of National Express Group to intervene.
Mr Bowker replied quickly to Eric's plea stating, "Please be assured will resolve as quickly as possible and let Eric know timescale for doing so in due course"
---
Action over Currock Rail Depot
2 Nov 2007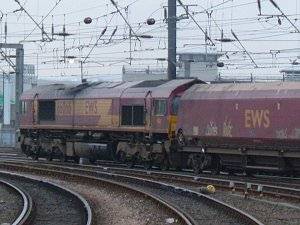 EWS freight train

Increasing theft and vandalism at the now disused Currock Rail Depot has prompted Eric to take action.
Following up on complaints from residents, he took the matter up and EWS have agreed to step up security. Police have already arrested one person.
Eric said,
"I had complaints from people in the area that there were all sorts of problems going on with people breaking into the depot and stealing metal.

"Residents can hear people climbing over the fence. Others have been driving cars down there."
Wagon repairs by English Welsh and Scottish Railways (EWS) have been moved to its depot at Kingmoor Park industrial estate. Talks are in progress on the future of the Currock depot.
---
Battle for Plaque Sufferers goes on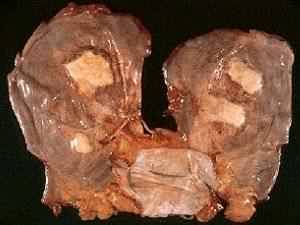 The white areas are pleural plaques in the lungs

2 Nov 2007
Eric has pledged to carry on the fight for compensation for pleural plaque sufferers.
The government has announced it will not change the law to overturn a Law Lords ruling that compensation need not be paid for the asbestos related condition because it is not 'life threatening'.
Eric said,
"I am very disappointed in this but we will be taking it up further with government ministers when parliament reconvenes."
Eric is among MPs who have been campaigning for the ruling to overturned since it was made last month.
---
Abortion an emotive issue
30 Oct 2007
Eric has said he will weigh the evidence before casting his vote on any proposal to change the threshold for abortion.
MPs should have a free vote when the Human Tissue and Embryos Bill come before Parliament in the next session. The bill is expected to be announced in the Queen's Speech at the State Opening of Parliament next Tuesday.
Medical advances man that some premature births can survive from an earlier date that previously and campaigners want to lower the limit because of this.
Eric said,
"This is an issue that generates a lot of emotion, but I will carefully consider all information from the medical profession and evidence which shows when exactly a baby can feasibly survive."
The current limit is 24 weeks and has been unchanged for nearly twenty years.
---
3,155 Children get Child Trust Fund Vouchers in Carlisle
29 Oct 2007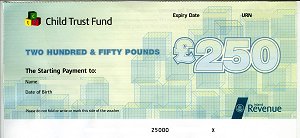 The second annual Child Trust Fund (CTF) statistical report shows that 3,155 children in Carlisle have received £250 to start saving for their future.
The report shows that three quarters of parents have already set up their child's account and a quarter of children have had additional money saved into their accounts. In Carlisle, 2,380 parents and guardians are already topping up their children's savings.
Carlisle MP, Eric Martlew said,
"The Labour Government is helping children save for their future through the Child Trust Fund - £250 for children at birth, and an additional £250 at age 7."

"Already 2,380 parents in Carlisle are topping up the government investment. Every contribution helps build real savings for children to invest in their aspirations when they reach 18 and I hope that all parents, grandparents, friends and family will contribute if they possibly can."
The CTF was introduced by the Labour Government for all children born in the UK on or after 1 September 2002, with a £250 voucher from the Government to start off each child's account, and a further £250 paid into the account at age 7. Children from lower-income households receive an extra £250 top-up at birth and at age 7.
The latest figures show that for vouchers issued to 15 September 2007, a total of 3.02 million accounts were opened: 2.36 million by the parents themselves and the remainder opened by HMRC on behalf of eligible children. HMRC are targeting marketing at areas that have shown low take-up and are furthering their work with voluntary and community organisations to reach parents who are less financially confident.
---
Carlisle Students shun Sixth Form
29 Oct 2007
Figures announced in the Commons reveal that two Carlisle schools are among the worst in the country for students staying into the Sixth Form.
Eric says the situation is worrying and threatens the future of a skilled workforce in Carlisle.
Morton School and North Cumbria Technology College (NCTC) were in the bottom twenty five nationally, with just 12 and 15 students staying on respectively.
Eric said,
"It is very worrying that two of the major schools in the city have such a low-level of people staying on. There may well be a culture in schools for people not to stay on - or it may be that there is no tradition of carrying on studying in families.

"Carlisle has always had a tradition of people leaving at 16 and walking into jobs. There will always be people who leave, but we do need some to stay on and give the city the skilled workforce that it needs."
Head teachers believe that this will change when the new city academy opens in 2009.
---
Plea on Pleural Plaques
29 Oct 2007
Eric is backing a move by MPs to overturn a Lords' ruling on pleural plaques.
The plaques are caused by exposure to asbestos but the Law Lords have ruled that because the condition is not 'life threatening', insurance companies do not have to pay out.
A former Carlisle mayor and friend of Eric's, Alfred Brumwell, died from asbestos exposure, and Eric is angry about the legal ruling. He is supporting a Commons motion to get the law changed.
Eric said,
"Alfred was a friend of mine. I have dealt with cases and I support this motion. It is a very sad situation and there are many families and widows and many will feel very aggrieved by this. I hope the Government will look at this again."
The plaques cause scarring of the lung tissue which makes breathing hard and they are often associated with the later development of more serious conditions such as mesothelioma and cancer of the lungs.
The Early Day Motion reads:
EDM 2182
LORDS RULING ON PLEURAL PLAQUES
23.10.2007
Clapham, Michael
That this House is disappointed by the Lords of Appeal Judgment in the pleural plaque cases given on 17th October; believes that pleural plaques caused by exposure to asbestos result in physiological damage which constitutes a loss of faculty which has an effect on the individual's wellbeing and may cause anxiety about further complications; and thus calls on the Secretary of State for Justice to introduce legislation to overturn the Lords' judgment because it is now clear that workers suffering the condition will not get justice in the courts.

---
Eric to meet Minister for Rail about overcrowding
25 Oct 2007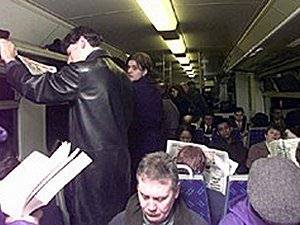 Train overcrowding
(Photo: RMT)
Eric is to meet up with the Minister responsible for railways.
Following his exchange in the Commons with Transport Secretary Ruth Kelly about train overcrowding, Eric has now secured a meting with the Minister responsible, Tom Harris, Parliamentary Under-Secretary of State, Department for Transport.
Eric is particularly concerned that this will be made worse by a new service from London the Glasgow which will stop only at Preston, passing straight through Carlisle.
Eric said,
"The trains will have to slow down to go through stations and by not stopping at Carlisle it is not only damaging the city economy but west Cumbria and South West Scotland. I have contacted the county council and Carlisle City Council for them to lobby the ministers as well. Three minutes is no time at all. We need to get the plan changed before a final decision is taken. We are already suffering from overcrowding and it will only get worse."
Eric is asking people and organisations to lobby the government before this decision becomes set in stone.
The address to write to is:
Rt. Hon Ruth Kelly MP
Secretary of State
Department for Transport
Great Minster House
76 Marsham Street
London SW1P 4DR
---
France and back for £92
24 Oct 2007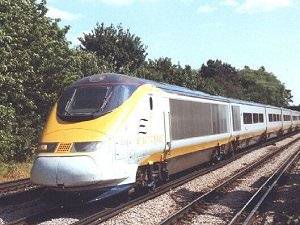 Rail travel from Carlisle to Europe and back from £92 has been welcomed by Eric.
Virgin are launching the service next month when St Pancras opens as the Euro rail link instead of Waterloo. Its closeness to Euston makes a journey time to Paris city centre to city centre of under seven hours possible.
Eric said,
"Rail travel is so much easier than travelling by plane - you don't have to turn up two hours before the flight leaves for a start. It is much more comfortable and a lot less hassle.

"There are advantages. Euston and St Pancras stations are just a stone's throw from one another so that means passengers won't have to travel across London to Waterloo. And passengers from the continent might use the faster rail link to visit Cumbria."
The service starts from November 14th and will save Cumbrians the need to travel to Newcastle Airport and wait for check in times. And Virgin say that all such journeys will be carbon neutral.
---
Battle for Border TV
23 Oct 2007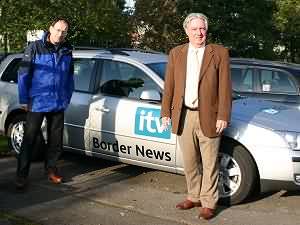 Paul Atkinson (BECTU rep) and Eric with a Border News car
(Photo: Elsie Martlew)
Eric is calling on everyone top lobby Ofcom to keep Border TV and its regional news programme, Lookaround.
Cumbrian MPs, including Eric, met with ITV Chief Executive Michael Grade last week, following which Eric was convinced that the battle for Border could still be won. He is calling on people to write to Ofcom, the address is below.
Following his meeting with Michael Grade, Carlisle MP Eric Martlew said,
"If it were left to ITV, then Border will disappear, but as they have signed a contract with Ofcom and, as the case for keeping Border is a good one, I would hope that everyone who wants to keep Border will lobby Ofcom to keep the status quo."
ITV want to dump Lookaround in favour of a news summary from Tyne Tees TV on Tyneside, with a loss of jobs in Carlisle, quite likely leading to the loss of Border TV and part of the region's identity.
Write to Ofcom with your concerns:
Ofcom
Riverside House
2a Southwark Bridge Road
London
SE1 9HA
---
Inquest delays 'unsatisfactory'
23 Oct 2007
Lengthening delays to inquests and the hurt caused to bereaved families has been castigated by Eric.
He campaigned hard to keep the Carlisle Coroner earlier this year, so the longer waits come as no surprise.
Eric said,
"This is totally unsatisfactory. I have been aware for a while there has been a problem with waits and the length of time does not surprise me at all. It must be reduced in line with other areas in the country to 24 weeks."
Coroners often have to wait for police enquiries and laboratory tests but the excess delays are caused by the workload placed on the Cumbria coroners, reduced from three to two in April.
---
Tag steps down, Eric steps up
22 Oct 2007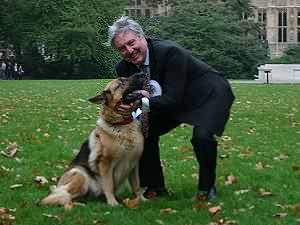 Tag with Eric

Eric's German Shepherd dog, Tag, 2006 Westminster dog of the year, steps down for 2007.
Eric has been asked to take part in the judging for the award for 2007, so Tag must take a back seat.
The competition doesn't look only at turnout but temperament and achievement as well.
Eric said,
"It is not Crufts so we are not looking for the best turned out dog but one that has done something special. It is about the character of the dog more than anything else."
The award is based on temperament, their behaviour and past record. Tag scored well in 2006 when she had to share her home, flooded in the Carlisle floods last year, with a succession of workmen over a period of months.
All MPs, Peers, and political journalists can enter their dogs for the contest, run by the Kennel Club in conjunction with the Dogs Trust, a charity.
Eric is an active supporter of animal welfare.

27 Oct 2007
Eric has helped to choose the 2007 Westminster Dog of the Year.
And the winner is....
Max, owned by Labour MP Mike Hall.
Eric said,
"Max is a rescue dog and he was in a terrible state when Mike got him. But now he is a friendly dog in really good condition."
---
Eric Martlew MP says "Keep Warm this Winter in Carlisle"
19 Oct 2007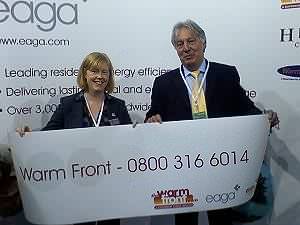 Anne Toms of Warmfront has been to Eric's office in Carlisle and he keeps in regular contact with Warm Front, on behalf of constituents.

Eric is celebrating the work the Warm Front scheme does in Carlisle to help the most vulnerable in the community to keep warm and stay healthy.
Warm Front, which combats fuel poverty by installing central heating and heat saving insulation work into the homes of vulnerable people, has so far assisted 3903 households in Carlisle - a total spend of £2,209,169.66 in the area.
Eric said:
"The Warm Front scheme provides heating and insulation to the homes of some of my most vulnerable constituents, and it has my total support. Affordable heat is a basic need that all should be able to benefit from, as a warm home is a healthy, happy home."
The scheme manager, eaga plc, has reported that 657 households have benefited from a brand new central heating system or repair to their current central heating system in Carlisle and 2701 have benefited from energy saving insulation measures since they have operated the scheme (1 June 2000 to 30 June 2007) .
Householders applying for the Warm Front scheme also have the opportunity to undergo a comprehensive check to see if they are in receipt of all the benefits they are entitled to. Benefit Entitlement Checks (BEC) have been operating as part of Warm Front since June 2003, with the average weekly increase per client in Carlisle being found as £16.05.
In terms of vulnerable groups of people who have been helped by Warm Front grants, eaga has reported that 526 households with children under the age of four, 1171 households on DLA, and 1682 households over the age of 60 in Carlisle have benefited from improvements to their homes.
To qualify, householders need to own their own home or rent from a private landlord, and they also need to be in receipt of an income or disability related benefit. Local residents can contact the Warm Front team on 0800 316 6014 to apply for a grant.
---
200 more Parking Places at Hospital
19 Oct 2007
Cumberland Infirmary is to provide 200 extra parking places after representations from Eric.
Patients, Visitors and residents near the hospital raised the issue with Eric who then wrote to the Trust.
Eric said,
"Over the last couple of years I've been made aware of two areas of concern over parking at the Cumberland Infirmary. Firstly, the people who live in the terraced streets near the hospital have told me that they're bringing their cars home and finding that they can't get parked because of the number of cars being left on their streets by hospital visitors. The second part of this problem is that more and more people are getting stressed about whether they can get parked when they visit the hospital, whether they are going there as patients or as visitors."

"The extra parking is welcome, but it may not be enough in the longer term as services at the hospital expand and pressure on parking gets greater. More may well be needed in future."
---
O Canada!
17 Oct 2007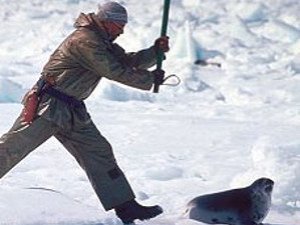 Eric has condemned Canada for permitting commercial seal hunting.
He has co-sponsored a Commons motion saying that the hunt is cruel and unnecessary and accusing the Canadian Authorities of mounting a cover up operation.
Eric has been a long time opponent of the commercial seal hunts by Canada, particularly the cruel way the seals are clubbed. It has also been alleged that some seal pups are skinned while still alive.
The full Early Day motion reads:
EDM 2147
CANADIAN COMMERCIAL SEAL HUNT
17.10.2007
Mallaber, Judy
That this House notes that the UK Government has condemned the Canadian commercial seal hunt; believes that the hunt is cruel and unnecessary; resasserts the democratic right of independent observers from animal welfare groups to film the hunt in the interests of public scrutiny; is concerned that the Canadian government is attempting to obstruct and hinder future observation through proposed amendments to the law; is further concerned that the Canadian authorities have arrested and put on trial five observers of the 2006 hunt, including a UK citizen, Mark Glover, from Respect for Animals; and calls on the UK Government to register its protest over Canada's conduct in this matter.
---
Backing for Bike Helmets Bill
16 Oct 2007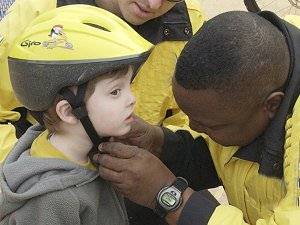 Fitting a cycle helmet

Eric is giving his backing to a private members' bill to enforce the wearing of cycle helmets for the under 14s.
Tory MP Peter Bone is bringing in the bill to try to end the deaths and serious injuries caused each to children from cycling accidents.
Eric has campaigned on this issue for years and has brought his private members' bill to the House before, but like most such bills, it failed to become law.
Eric is more than happy to support this bill, saying:
"I am delighted the Transport Minister is prepared to look at this issue again. Every year the equivalent of a primary school class is killed in cycle accidents which may have been prevented if helmets were compulsory. I welcome today's Bill and hope it succeeds."
Eric was one of those MPs seconding the bill when it was put and agreed to by the House this afternoon, but that is just the first hurdle it must pass on its way to becoming law.
---
'Quality Workforce' to benefit from £10M
13 Oct 2007
Eric has revisited his old workplace to see how £10 million will be spent.
Nestlé is investing in its Dalston factory, where Eric started work aged 17 working his way up to Personnel Manager before becoming MP for Carlisle in 1987.
The money will be spent over the next two years to upgrade its cappuccino and creamer plant at Dalston, securing 250 jobs.
Eric said:
"I am delighted to see that Nestlé is investing so heavily in its Dalston factory. This gives a clear indication of the importance that the factory has within Nestlé and is a tribute to the commitment of the workforce. It also reinforces the company's commitment to the local area.

"It is a compliment to the workforce. There has always been a quality workforce here.

"The creamers they make used to be produced in Thailand, so it's great to see work coming back from the far east to Cumbria for a change. It's not increasing jobs, but it is securing jobs. It is heartening because once a company stops investing in a factory, it is not long before closure."
---
Concern over Victoria Place Clinic closure
12 Oct 2007
Eric has voiced his concerns that some services from the Central Clinic in Victoria Place might be moved to Hilltop Heights.
The Central Clinic is earmarked for closure because it is "not fit for purpose", but Eric says the CueDoc facility at Hilltop Heights is not accessible enough.
Eric said:
"The Central Clinic is dated and not fit for purpose. I've had discussions with the PCT about the provision centrally of a number of clinical services and would be interested to know exactly what they plan to move to CueDoc.

"I'm happy for admin to move there but am concerned about access for patients. It is a problem because the building is at the top of a steep hill with no public transport. I'm glad that they've reconsidered, particularly with the under-20s contraceptive service - it would have been a nonsense to move this out of the centre. Also in the case of chiropody, you can't expect people with bad feet to walk up there."
The Primary Care NHS Trust says the centre is out of date and no longer suitable and they wish to move services to a more patient centred basis.
---
MPs to meet ITV Chief
12 Oct 2007
Eric and other MPs from the Border TV region will be meeting the ITV executive chairman on Tuesday.
Eric has already hosted a meeting for MPs of all parties who are united in their opposition to plans to end the region's Lookaround news programme.
Eric said:
"There were eight MPs there from various parties. All were united in their opposition to the proposals."
ITV want to save £40M by closing Lookaround and combining it with Tyne Tees coverage based on Tyneside, But ITV Chief Michael Grade will face the anger of the MPs who feel that the Border region needs its own local news, and also that this could be the death knell of Border TV itself.
Border TV, which covers southern Scotland, Cumbria and the Isle of Man, employs around eighty people in its Carlisle office.
---
Better Training for Learners
8 Oct 2007
Eric has called for better training for learner drivers, especially the young ones.
He has campaigned on the issue of the high death toll among young people through poor driving for some time.
Eric said,
"Young men driving are the biggest killers of women in the UK."

"I think they should do a certain amount of hours with a professional and get experience driving in different seasons and on rural roads. Learners should not be able to take a test for at least after starting to learn."

"I also think there should be zero tolerance for alcohol in the blood in the first year. I think there should be a curfew at a certain time of night that new drivers should not be able to carry young passengers in the car.

"My feeling is that some parents want the driving lessons to be quick as possible so they don't have to pay out as much. You can't educate youngsters at 17 - it's too late. It's got to be done in school when they are 13 or 14 - or even earlier. One of the dangers we face in making the test too difficult and too expensive is we will get youngsters who won't bother at all. We have to get the balance right."
Eric is a member of the Commons Transport Committee where he has raised this problem on several occasions, tackling Ministers about this earlier this year.
---
Council 'No Vision' over Belah
5 Oct 2007
Eric has expressed his disappointment at the planned closure of Belah School.
The County Council is moving to close the school from August 2008.
Numbers at the school have fallen drastically over recent years, but Eric has said that even so there was room for all three school in the north to remain open.
Regarding the planned closure, Eric said,
"There was a viable alternative but they are after a capital receipt from selling the Belah site. They have no vision. I am very disappointed."
Parent groups campaigned hard to save Belah, and the county council admits that the majority of replies to its consultation exercise came from parents of children a Stanwix school which "skewed" the result.
A final decision will be taken in December by the County Council.
---
Carlisle growth figures 'farcical'
5 Oct 2007
Eric has said that projections that the population of Carlisle could increase 50% by 2029 are farcical.
The plan released by the City Council's Carlisle Partnership in its economic strategy, envisions a growth from the current 100,000 to 150,000 by that date.
Eric said,
"That figure can't be taken seriously. I would like to see the population increase but the idea that you're going to increase it by 50 per cent is farcical. It will only create concern about major building on greenfield sites."
Eric foresees a much steadier growth of between 500 and 1000 per year which the city could absorb. The plan would involve massive housebuilding mostly on green land, and new roads through the city.
---
Ready whenever
4 Oct 2007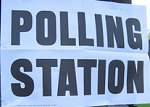 Eric is ready for an election whenever it is called.
He is on record as saying he never regards Carlisle as "safe", but boundary changes which will come into effect at the next election make it more marginal.
Eric said,
"My view has always been that Carlisle is a marginal seat. I've always fought it as a marginal and will continue to do so. New boundaries make it slightly more difficult but if you look at the local election results the Tories are nowhere near."
The inclusion of Wetherall ward could have the effect of reducing Eric's majority according to polling experts, but Eric is confident on his record as a hard working local MP when the time comes.
---
Write in to save Lookaround
27 Sep 2007
Eric is urging people to write in to save Border TV's Lookaround regional news programme.
He has had meetings with Ian Hargreaves of Ofcom who say they will listen carefully to people's views.
Eric said
"It is clear from the discussions with Ian Hargreaves that the loss of ITV border is not a done deal and that Ofcom will listen very carefully to the views of the community."
ITV plan to incorporate Cumbrian news into the regional news programme broadcast from Tyneside by Tyne Tees Television, but Eric says this is inadequate and a poor service for Carlisle and Cumbria. He says that Border TV's existence is threatened by the downgrading of local news service, although Michael Grade of ITV says there will be a short 'opt out' news summary for the Border region in the Tyne Tees programme. It could mean redundancies at Border's Carlisle offices.
Eric is holding a meeting next week of Border region MPs to further the campaign, before meeting with Michael Grade on October 16th.
You can write to Mr Grade at:
Michael Grade
ITV
200 Gray's Inn Road,
London
WC1V 8HF
and to Ofcom at:
Ofcom
Riverside House
2a Southwark Bridge Road
London
SE1 9HA
---
MPs meet Digital Bosses
27 Sep 2007
Eric and other Labour MPs have met with Digital UK representatives at the Labour Party Conference at Bournemouth
The briefing meeting was to discuss the upcoming digital switchover in Whitehaven.
Digital UK's Simon Crine said Whitehaven was ideal to be first because its location meant that the signal would not interfere with any where else.
Eric said
"It is right it is being carried out in Whitehaven. Any problems spotted will be dealt with before Border television switches over."
From October, all TV sets in the Whitehaven area will need to have Freeview, satellite, cable or a broadband TV connection to receive programmes. All services will have moved by November.
There is charge of £40 for set up assistance but financial help is available for those of limited means. Some eight thousand homes are affected.
---
I am ready says Eric
22 Sep 2007
Eric has said he is ready for an election if the Prime Minister calls one.
There has been mounting speculation that Prime Minister Gordon Brown would ask the Queen to dissolve Parliament this autumn.
While Mr Brown remains tight lipped, Eric said,
"I never say Carlisle is a safe Labour seat, but I am ready to go. The party is geared up whenever Gordon calls it. I will be on the streets with the team the day he does."
Autumn is not a favoured time for elections, but Labour is leading in the polls and Mr Brown's rating is well ahead of David Cameron's, and there have been suggestions that the Prime Minister would consider this a good time to seek his own mandate from the electorate. The last General election was in May 2005, so Mr Brown could in theory carry on until May 2010.
But Labour's annual conference starts this week, so all eyes will be on Bournemouth for any hints of the Prime Minister's thinking.
---
Cost Caution on High Speed Rail
19 Sep 2007
Eric has urged a note of caution over plans for two high speed rail links serving the north.
Northern Regional Development Agencies, collectively Northern Way, want high speed rail for both the east and west coast routes.
The cost would be huge, estimated at £45 billion, and Transport Secretary Ruth Kelly is known to believe that such a scheme is too risky.
Eric believes the cost would count against the scheme. He said,
"At the present time we should be concentrating on expanding the high-speed line that we have got, up to Birmingham, then Manchester then further up north. It is a massive costing and it will be easy for opponents to say we cannot afford it. The proposals are an aspiration but am not sure how do-able it all is."
The recent Eddington report said a much cheaper £14 billion scheme for a single route was not certain to deliver economic benefits, and instead called of existing routes to be improved with better signalling and station enhancements to allow longer trains.
---
Eric in talks on Stead McAlpin
13 Sep 2007
Eric has held talks with bosses at John Lewis, owners of Stead McAlpin, about the upcoming sale of the factory.
Two hundred workers at the Cummersdale plant feel under threat from the planned sale to Apex Textiles.
Eric met with Andrew Street, CEO of the John Lewis Partnership, in an attempt to get assurances and a better deal for the plant's workforce.
Eric said,
"They are saying the sale will go ahead, but because I accused them of being mean, they have said they will go back and look at their financial package again. This is a company which can afford to pay more and they have treated their staff badly. It is obvious through my conversations that there was no threat of Stead's closing. This is not a situation where if the factory had not been sold then it would have closed.

"I believe they have gone against the ethos of the John Lewis Partnership, which is a workers' co-operative. They have kept people in the dark and behaved shabbily."

"I am confident that because of the meeting, people will be financially better off than before, but I still feel they have done nothing to stop the feeling of betrayal that staff feel at this time."
Because John Lewis is a co-operative, the workers could lose out on bonuses they receive as part owners of the company. Eric says that a better financial package should be offered to the workers to compensate them for this loss. John Lewis have refused to pull out of the sale.
---
Eric backing Border
13 Sep 2007
Eric has launched a campaign to save Border TV's Lookaround news programme.
The programme is threatened by ITV's plans to slash local news to save money.
Lookaround would be replaced by a Tyne Tees programme broadcast from Gateshead with some Cumbrian content, but how much is not known.
Eric says that not only is Lookaround under threat but possibly the future of Border TV as a station. He is now drumming up support to save Lookaround from other politicians across the Border TV area.
ITV hopes to save up to £40 million a year with cuts to local news across the country.
The National Union of Journalists is also fighting the changes.
---
Six hours to Paris
31 Aug 2007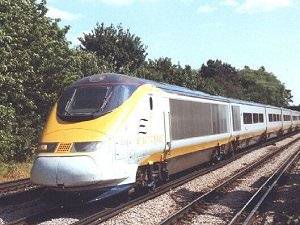 When the new St Pancras International rail terminal opens in November, travel from the centre of Carlisle to the centre of Paris could take just six hours.
EuroStar is switching its services from Waterloo to St Pancras in November enabling passengers from Carlisle arriving at Euston to make the short transit to St Pancras and be on their way.
Eric said,
"Rail travel is so much easier than travelling by plane - you don't have to turn up two hours before the flight leaves for a start. It is much more comfortable and a lot less hassle. Euston and St Pancras stations are just a stone's throw from one another so that means passengers won't have to travel across London to Waterloo. And passengers from the Continent might use the faster rail link to visit Cumbria. There is an environmental issue to consider also."
Cumbrians would no longer have to travel to Newcastle Airport to fly to Paris, the train would be quicker and easier overall.
---
Rail Jobs on the Line
20 Aug 2007
Eric is giving his backing to workers threatened by the change in cross country rail routes.
From December, Carlisle passengers bound for the West Country will have to change at Birmingham, and this threatens some cleaning jobs based in the city.
Eric said,
"I, too, share these concerns and have raised the matter in Parliament and also at a private meeting with the Rail Minister Tom Harris. Unfortunately, the decision to cut services still stands and has been reinforced by the new franchise. However with regard to potential job losses, I certainly will make strong representations to ISS Transport services seeking to safeguard the jobs in Carlisle."
---
John Prescott visits Carlisle
16 Aug 2007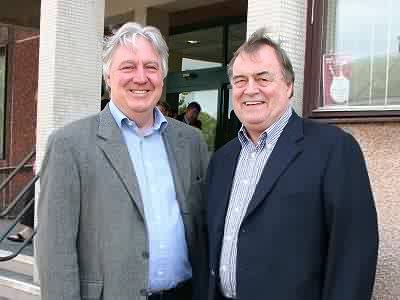 Eric with John Prescott

John Prescott MP, former Deputy Prime Minister, paid a surprise visit to Carlisle this week.
John, who when he was Deputy Prime Minister, was instrumental in launching Carlisle's Renaissance Scheme following the devastating floods of January 2005.
He met with local MP, Eric Martlew and Maggie Mooney, Chief Executive of Carlisle City Council, to discuss progress on the scheme and how the City had recovered in the aftermath because, of course, John's constituency in Hull has also recently suffered serious flooding.
Eric said,
" John had taken a short break from his holiday in the Lake District to visit the City,was in his usual buoyant mood and was looking forward to his role as an active back bench MP".
---
Council deaf to Uniform Plea
Try Charities, says Council
16 Aug 2007
Cumbria County Council has tuned a deaf ear to calls to reinstate school uniform grants.
The Tory/Lib Dem controlled council has cut the grants which will affect the poorest families, who now have to pay full price for school uniform.
Eric had written to the council asking them to change their mind, but they remain adamant.
Eric said,
"When these proposals were made public I wrote to the county council urging them to reconsider but I have received a negative response. Stopping these grants hits the poorest families in our communities and although the government's initiatives to tackle poverty have helped, there are still a small number of families who need this extra help.

"Parents who would have qualified for this grant have no extra cash available to buy the uniform. Apart from causing considerable worry to many parents, the children arriving at a new school looking different from their peers will find it an ordeal.

"I am urging the council to change its mind on this matter. It is really cruel to penalise the least well-off families and I hope they will reconsider."
The council say this brings them into line with other councils. They say poor parents should try to get funds from charities, the Benefits Agency and other organisations.
---
Insurers too quick to write off goods
16 Aug 2007
Eric has asked insurance companies to be more "green" and be less ready to write off goods which may still be serviceable.
He says that many items written off after the floods could be salvaged rather than ending up in landfill.
Eric said,
"I had a car that was written off because it was submerged in water for so long, but it may have worked. It is the same for belongings. People with insurance will have it written off meaning it will end up in landfill and some rightly so, but not all of it may need to."
With landfill sites filling up and running out, he says insurance companies should take more account of environmental factors.
Insurers will often write off goods instead of salvaging in case they face further complications later. Eric says there are times when that risk should be run.
---
Why don't some pay?
16 Aug 2007
With the news that millions in council tax go uncollected, Eric is asking why.
Carlisle City Council has failed to collect well over £1M according to the GMB union.
Eric said,
"It is worrying as this is money which could go into improving services. There will be the majority of people who pay and will be wanting to know why others are not. It is something the council should look at as a matter of urgency."
The figures relate to the end of the financial year and the councils argue that they are still collecting arrears which will reduce the uncollected amount.

---
Curfew Call for young Drivers
10 Aug 2007
Eric is calling for a night time ban on young drivers.
Nearly half of those drivers killed at night is under twenty-five. Eric is disappointed the curfew is not among a series of measures announced by the government.
The Commons Transport Committee, of which Eric is a prominent member, outlined a series of proposals, but the idea of a curfew was denounced by the then Transport Minister Stephen Ladyman as a knee-jerk reaction.
Eric believes it could save a lot of lives. He said,
"If the government are going to go forwards that's good news because it will help to reduce the devastating deaths, but I'm disappointed they are not going to put the late night curfew on novice drivers because I believe that could save a lot of lives. I will be pressing the government to look again at the night curfew."
A range of measures is due to go to consultation in the autumn, but at present, the curfew is not one of them.

---
It's your Cash
7 Aug 2007
Eric is urging people to claim money left in dormant bank accounts.
Just one bank, HBOS, have told Eric that there are 140 unused accounts in Carlisle alone, totalling almost £9000.
Eric said,
"The bank is right to be drawing attention and as I do not imagine this bank has a great many customers in Carlisle there could be many more in other banks. We are talking about a lot of money and people to claim their money and other banks to highlight the problem they may have with dormant accounts."
---
University of Cumbria

3 Aug 2007
Cumbria's new university is now officially open.
To mark the occasion, a tree planting ceremony was carried out by the Rt. Hon James Purnell, Secretary of State for Culture, Media and Sport and Eric, a long time campaigner for the university, was there.
Eric said,
"Carlisle first tried to get a university in 1645 but we didn't get it because the Scots kept crossing the border to fight us. Someone once told me that Cumbria and south west Scotland was one of the most deprived areas in western Europe in terms of higher education. This new university changes all that."
The new university is formed by uniting St Martin's College, the University of Central Lancashire and Cumbria Institute of the Arts.
Eric added,
"These young people are what the university is all about. They are the future of Cumbria and I am delighted that they are going to have the opportunity to continue higher education in the county. We have been waiting for this for hundreds of years.

"There are going to be millions of pounds invested over the next few years, so we must be patient and let the university grow. This is by far the most important day for the future of the county."
Staff and students from these institutions are now part of the university. Local students now have the option of doing their university courses nearer home if they wish.
---
Pass Plus Positive
30 Jul 2007
Eric has welcomed the news that an increasing number of newly qualified young drivers are signing up for Pass Plus.
The scheme teaches new drivers about motorway and night driving and coping with a wide range of road and weather conditions, none of which are covered in the basic driving test.
Eric said,
"Pass Plus is a good scheme and I would recommend it to novice and young drivers. It is one of the ways we can hopefully reduce the terrible toll of deaths and serious injuries to new drivers."
Eric, a prominent member of the Commons Transport Committee, has been campaigning for better road safety for young drivers in particular.
---
Carlisle misses out
27 Jul 2007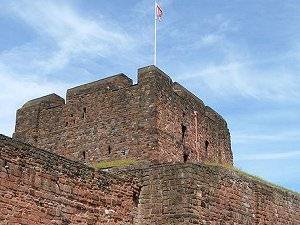 Castle Keep - iconic symbol of Carlisle

By failing to apply for unitary status as a city authority, Carlisle has lost out, according to Eric.
Government announcements that some other smaller cities of similar size to Carlisle have succeeded, proves the point.
Had Carlisle City Council made a bid, it would have been a single authority controlling every local government function. Places like Exeter and Chester will now be able to do this if plans go ahead.
Eric said,
"They are similar-sized places to Carlisle. So had the city council made a bid for unitary status there's every reason to believe it might have succeeded."
But Eric welcomed the failure of Cumbria County Council's bid for unitary status, saying the county is too large to be run as single council for all functions.
Eric said the county and district councils must now look to the future.
"What we have not got to do now is go back to rivalry we have seen in the past. There should be co-operation. There are massive savings to be made in bureaucracy."
Eric's preferred option of two unitary authorities covering present Cumbria, one for the south, and another - effectively the old Cumberland - in the north, was not included in the draft plans and so could not be considered.
---
Guess what? Horses can kick and bite.
24 Jul 2007
Eric has written to the Ministry of Defence to remove an 'insulting' sign.
The sign, in Horseguards Parade in Whitehall, warns people that horses kick and bite.
Eric said,
"I couldn't believe it. Is there anybody who doesn't know that horses can kick and bite? It's as stupid as the sign next to a tree outside Tullie House warning of a low bough. If you can't see the tree, how are you going to see the sign?"
Eric says the signs are patronising and insult the intelligence of the public.
---
£3.7M to tackle Crime
22 Jul 2007
The government is giving Cumbria £3.7 million to help reduce crime yet more in the county.
Eric says it is important the money is used wisely, to keep crime in Cumbria dropping. Crime in the county has fallen across the board, greater than the downward national trend.
Eric said,
"It is a good amount of money and everyone has to make sure it is used wisely and that the communities are consulted about what they want. It is about crime prevention, cutting crime and coming up with ways to make this happen, especially in more deprived areas.

"This money can only build on the reduction of crime in Cumbria and I am sure we will continue to see reductions. The partnership works very well in the community with police, councils and other bodies."
---
End the Carnage
20 Jul 2007
Police have praised Eric for his influence in drawing up plans to save lives on the roads.
A report from the Commons Transport Committee is calling for changes in the law to protect young drivers especially from their inexperience.
After being approached by local campaigners, Eric took up the cause and has campaigned both in and out of Parliament for ways to increase safety for young drivers.
Eric said,
"When I looked into the problem I started to realise how big the problem was. Any life lost is a tragedy but a young life is appalling. The report has come up with proposals which will reduce road deaths and accidents. I hope the Government quickly come up with proposals to make this law so we can end the carnage on our roads."
The Committee is calling for changes that will make young drivers learn for at least a year ensuring that nobody under 18 drives unsupervised, banning new drives from carrying young passengers at certain times at night, ensuring that young drivers do not drink and drive by lowering the blood alcohol level to zero for them and making sure that learners experience a range of driving conditions before qualifying.
---
Post Office Pressure
19 Jul 2007
Eric is keeping up the pressure in his campaign against the relocation of the Post Office to WH Smith.
A minister side-stepped Eric's question in the House about opposition to the plans, and Eric remains concerned about access to the proposed first floor location for the Post Office in WH Smith.
Eric said,
"I am still concerned about access to the post office and although they say there will be a lift, I have great reservations. This will not be adequate especially in peak times like Christmas. I have been told that the first floor will be difficult for disabled people and parents with pushchairs, and we cannot have this.

"I will keep pushing the government until I get some answers. I am not opposed to moving the Post Office to the town centre but it should not be in WH Smith as it is not the right design to accommodate it."
The number of cashier points will drop from seven to five, plus two for foreign currency.
---
Lib Dems should be open about Child Bonds
18 Jul 2007
Eric has challenged the Lib Dems to say whether they would scrap Child Trust Funds, known as 'baby bonds'.
This follows remarks by a Lib Dem spokesperson that the scheme was wasteful and benefited the rich more than the poor.
Child Trust Funds were set up by the government to provide every child with a capital asset at the age of eighteen. Children get £250 at birth and a further £250 at seven and later. The figures are doubled for the poorest families.
Eric said,
"Lib Dem policy is probably to scrap the bonds - they should come out and say it. It really helps children and every child gets it in the end."
But many parents had failed to take their bonds, with less than three quarters of parents taking advantage of the scheme in Carlisle. The scheme can be topped up by families and friends, but the money cannot be withdrawn until the child reaches eighteen.
The fund is opened automatically for a child after a year if the parent has not made the claim.
---
Border should get Beeb's Cash
14 Jul 2007
Eric has said that some of the TV licence fee should go to fund Border TV.
Ofcom has warned that ITV's local news could be under threat because it doesn't generate sufficient advertising revenue.
But Eric's plan would mean that some of the licence money, which at present all goes to the BBC, would be used to maintain high quality local news programmes on ITV, including Border.
Eric said,
"I think part of that money should go to regional news programmes - whatever channel they are on. The reality is that Border Television does a lot. It reaches more people than BBC regional news and I see no reason why it could not be supported by the licence fee.

"It is a very different world to the one Border came into. We now have the internet and multi-channels. There are pressures on ITV."
---
Agency to meet Wildlife Campaigners
13 Jul 2007
The Environment Agency officer responsible for flood defence has said he will meet with campaigners for wildlife along the Caldew.
Eric wrote to the Agency asking for the meeting. The group is in favour of flood defences but is concerned about the effect on the habitat of wildlife.
The Project Manager, Jonathan Griffin, has said he will meet with the group to discuss their concerns on one of his fortnightly visits to Carlisle to oversee the work.
Responding the group's concerns earlier, Eric said,
"The flood defence wall is vital and I think it can be built in a way that is sympathetic to wildlife. After all the Environment Agency are as concerned as anyone with the river and its surroundings."
---
Time for more homes
13 Jul 2007
Eric has welcomed the government's plans for more homes.
The announcement was made this week by the Prime Minister of a massive increase in house building.
Eric said,
"It is becoming a problem. Increasingly I am getting people coming to my surgeries with serious housing problems and I think the time is right to start to build more houses."
Some projections are of a 20% increase in the population of Carlisle by 2030.
---
Huge rise in Child Cycle Deaths
11 Jul 2007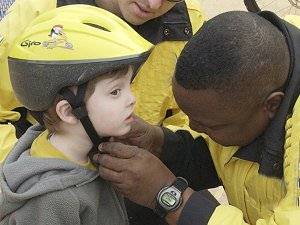 Helmets must be fitted correctly

Eric is still campaigning for child cycle safety.
He has proposed an amendment to a Commons motion calling for legislation for the wearing of helmets for under 16s.
The original Early Day Motion deplored the 55% rise in child cycle deaths but simply called on the government to increase its safety campaigns. Eric has made a more specific proposal by urging a legal requirement for children to wear protective headgear.
Eric has previously introduced a private members bill for this, but such bills rarely become law. He has also written about the issue and is not giving up, as this latest amendment shows.
---
Rise in Road Deaths not a Surprise
Eric has said that the rise in Cumbria's road death toll is not a surprise.
Road deaths in the county have risen by 31% from 2005 to 2006.
Eric said,
"The increase does not come as a surprise. We have seen some horrendous crashes last year involving young people. But you can read too much into one year of figures. What we need to do now is ensure numbers are reduced."
But the number of injured on the county's roads fell slightly in the same period which could be refection of the deadly nature of some the accidents there have been involving young people.
Eric, who is a prominent member of the Commons Transport Committee, has campaigned hard to save young lives especially from being lost on our roads.
6 Jul 2007
---
Sponsor setback for second Academy
Eric is continuing to seek a sponsor for Carlisle's planned second City Academy School.
The school due to replace Morton, is still without a sponsor after the Church of England said it already had enough commitments in the city.
But Eric is optimistic that a sponsor for the second academy can be found.
Eric said,
"Negotiations are going on with various groups to try and come up with a sponsor. I am confident that we can achieve this soon. I am working closely with the Department for Education and Skills and with the local authority in order to speed the process along.

"I appreciate that it would be difficult for the Church of England to become involved in the academy as they already have Trinity School in the city."
The city's first academy, replacing North Cumbria Technology College and St Aidan's School, has sponsors already.
3 Jul 2007
---
Flood Guru?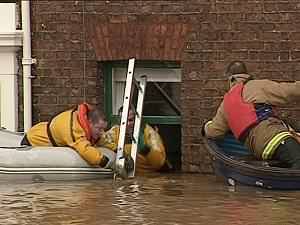 The way it was, now others hope to learn from Carlisle's experience.

Eric has been deluged with calls from MPs about dealing with floods.
Members from across England whose constituencies are experiencing flooding now remembered how well Carlisle dealt with the floods, and seek advice.
But Eric says the real expertise lies with the County and city council, and he has advised colleagues to contact Cumbria County Council and Carlisle City Council.
Eric said,
"There is a great deal of expertise in the councils. Looking at the pictures on television, it brings it back home, and I am sure the people of Carlisle who were flooded will understand what others are going through.

"We in Carlisle recovered well. In the first few days it is obvious what needs to be done. People want to get the water out of their homes. But it is after that it is a long recovery process and the county and city councils worked well and there is so much expertise there that people can learn from. We made a few mistakes I am sure but the councils now experiencing flooding can also learn from that."
29 Jun 2007
---
Councils, Housing and Iraq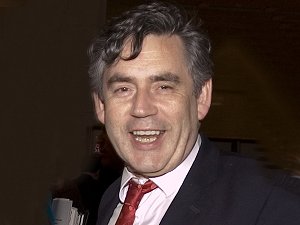 Gordon Brown

Eric has laid out what he wants from the first three months of a Gordon Brown government.
He said the new Prime Minister should halt plans to create a single council for Cumbria.
Eric continued,
"Obviously I want him to look at the future of local government. We also need more social housing as there is no doubt it has become an increasing problem in Carlisle and the Government has to make a commitment to build more houses. And the number of troops in Iraq should be reduced."
28 Jun 2007
---
Honour for Caring Volunteers
Eric has presented certificates to a Carlisle couple.
John and Joyce Hine have both worked tirelessly for sufferers of cerebral palsy and between them have totalled 95 years of selfless care.
The two were nominated as part of the MPs' Heroes celebrations today at the House of Commons, but because the couple were unable to travel to London Eric presented their certificates at the Old Town Hall when their charity was holding a fund raising event.
Ex Carlisle City Councillor, Trudy Whalley, who is President of Cumbria Cerebral Palsy was also there.
27 Jun 2007
---
Support for Wildlife in flood defences
Eric has written to the Environment Agency about protecting wildlife along the Rive Caldew.
Protesters want to ensure that while flood defences are built, care is taken not to endanger wildlife in that area.
They met with Eric at his surgery and were concerned that whilst in favour of the flood defences along the River Caldew, they would greatly affect the many different species of wildlife.
Elsa Armstrong said,
"The habitat is an important breeding and feeding ground for many birds, insects and small mammals. It is home to three different species of bats and we see kingfishers every week. There are also otters."
She explained that petitions had been put in many of the shops in the Denton Holme/Millbourne St areas of the City and everyone was keen to sign the petition.
Eric listened and agreed with them.
Eric said,
"The flood defence wall is vital and I think it can be built in a way that is sympathetic to wildlife. After all the Environment Agency are as concerned as anyone with the river and its surroundings."
25 Jun 2007
---
Limit for Killer Road
A speed limit is to be introduced on a dangerous stretch of the A6.
Eric has campaigned for the action after three young lives were lost on the road near Carleton.
A 50 mph limit is to be brought in between the current 30 mph limit and the motorway junction 42. Three youngsters, two aged 18 and one aged 17 have been killed in the last 18 months.
Eric said,
"There have been too many deaths on Cumbrian roads already and we must act to stop this."
Eric is a member of the Commons Transport Committee and has been campaigning for greater road safety measures on Cumbrian roads.
23 Jun 2007
---
Blair's Legacy is Jobs
Eric has said that Tony Blair's legacy for the north is the drop in unemployment.
This week figures showed the huge drop in unemployment in Carlisle during the Labour government.
Eric said,
"The reduction has changed and transformed so many lives. I remember the march for jobs in the 1980s because of the unacceptable level of unemployment. I took part for some of the way. It is so different today.

"Unemployment is still so high and we still need to continue to work towards reducing it even further.

"Tony Blair's legacy in the north is this - if anyone wants to know what he should be remembered for it is getting people into work."
22 Jun 2007
---
More Jobs for Blind
Eric is urging businesses in Cumbria to employ more blind people.
He is soon to address a business meeting organised by Action for Blind People to make to point.
Eric said,
"I believe it is vital that blind and partially sighted people are given every opportunity to develop their talents. It is only through government and employers working with organisations such as Action for Blind People, that we shall start to tackle the unacceptable level of unemployment among visually impaired people."
The meeting is from 9:00 - 11:30 am at Carlisle Racecourse next Friday. Those wishing to attend the business breakfast should call 01228 595121.
21 Jun 2007
---
Battle over Badgers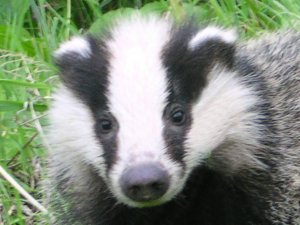 Badger cub

Eric has met with David Miliband, Secretary of State, Department for Environment, Food and Rural Affairs, to discuss the threat of Bovine TB carried by badgers
Eric, who is chairman of the Parliamentary All Party Group for Animal Welfare, wants a vaccine to be used to protect cattle, but farmers are seeking a mass cull of the badger population.
A new report which Eric discussed with the Secretary of State, says that culling is too expensive and to be at all effective, would have to be so widespread as to be impractical. Farmers argue that badgers are killing the cattle industry and demand the cull.
Eric said,
"The Government has spent £5 million but they should spend more as each year about £80 million is paid out in compensation. This is an issue in Cumbria. Farmers in the area have been affected as it was believed the disease was transmitted after untested cattle from the South-West came to Cumbria after the Foot and Mouth crisis. A vaccine could save farmers from much hardship."

"We have waited ten years for this report. It is very complex. We needed to clarify with Mr Miliband what he was thinking as we feared a massive cull would take place which is not in the interest of the countryside. It would create resentment."
21 Jun 2007
---
Carlisle MP presents his "Local Heroes" with Certificates
Friday 22 June 2007 10.00 am, Old Town Hall, Carlisle
Carlisle MP, Eric Martlew will present special certificates to two long standing volunteers on Friday, 22 June 2007.
He was asked to nominate a volunteer as part of the "MPs Heroes Tea Party" which is taking place in London on 27 June 2007. After reading through the many worthwhile nominees from his Constituency, he selected two volunteers from the Cumbria Cerebral Palsy Association, who have a joint volunteer service of 95 years! They will receive their certificates from Eric in Carlisle, as London is too far for them to travel.
In order that the presentation may be kept secret from the 2 winners, Cumbria Cerebral Palsy Association are organising a fund raising and flag day in the centre of Carlisle to which friends and volunteers will be mingling with the Carlisle shoppers.
Ex Carlisle City Councillor, Trudy Whalley, who is President of Cumbria Cerebral Palsy will also be there.
20 Jun 2007
---
Schools Consultation "a Sham"
Eric has written to Cumbria County Council about school reorganisation in north Carlisle.
He is proposing an extra option which involves retaining all three schools, with Belah becoming a community school, but says that the consultation is a sham.
The county council's school organisation team is inviting views on the future of Belah, Kingmoor and Stanwix schools.
Eric wrote,
"The most important aspect of any such reorganisation must be based on education value and achievement. If I thought that any of the council's proposals addressed these issues, I would support the one I considered to be of most benefit to the children of the area.

"Unfortunately, I think that this consultative procedure is a sham and that decisions will be taken on other considerations. All these schools have a future. The pupil numbers of Stanwix and Kingmoor should remain the same. Belah should be reduced in size to take out the surplus places and those buildings not required for educational use be converted for community use, similar to Petteril Bank Primary School.
Read Eric's letter in full (10K PDF)
19 Jun 2007
---
Boundary Change no Threat
Eric has dismissed Tory claims that boundary changes mean they could take the seat.
Neighbouring areas currently in the Penrith and the Borders constituency are to be brought into the Carlisle Parliamentary constituency at the next election.
But Eric is not worried by Tory claims that the seat will fall to them.
"Every Tory leader since Alec Douglas-Home, has said the same and they have all been wrong. Cameron is wrong too. The changes may affect the majority but that's all."
David Cameron visited Carlisle in April and said that the city would fall to the Tories.
Constituency boundaries are reviewed regularly to take account of population changes and to keep the number of electors in each one at an optimum level.
18 Jun 2007
---
Lower Limit saves Lives
Eric is backing plans to lower the drink drive limit.
The Roads Minister Stephen Ladyman wants to lower the limit from 80mg per 100ml of blood to 50mg.
Eric said,
"There is evidence to show it would reduce the number of deaths and it would bring us into line with European levels. But we need to ensure that the current level is being enforced."
The government is planning a consultation on the idea later this year, but if it's introduced, Eric says it will need a huge amount of publicity - and enforcement.
16 Jun 2007
---
Reject Unitary Call
Eric has taken his campaign against a unitary Cumbria council into Parliament again.
Following last week's debate on Cumbria, Eric has now tabled a Commons motion calling on the government to reject the plans.
The full Early Day Motion reads:
EDM 1691
LOCAL GOVERNMENT REFORM IN CUMBRIA
13.06.2007
Martlew, Eric
That this House notes that in the debate on Local Government Reform in Cumbria, held in Westminster Hall on 5th June 2007, the four backbench hon. Members, representing the three main political parties in the county were unanimous in their opposition to the formation of a new unitary council for the whole of Cumbria; calls on the Secretary of State to reject these proposals; and demands that the county and district councils work together in a more efficient and effective way for the benefit of the people of Cumbria.
13 Jun 2007
---
Bye Bye Belah?
Eric has said the County Council is not listening to north Carlisle parents and accuses the council of asset stripping.
The Council has put forward a number of proposals for primary education in the north of the city, but all of their options include the closure of Belah School.
Eric has said that there is room for three schools in the area, and he is supported by the City Council and local members of the county council, as well as thousands of people in Belah and Stanwix.
Eric said,
"They are not listening to reason. It is just another example of the shambolic way that the council have approached primary reorganisation. The option that people want to see is quite straightforward. Leave Stanwix and the two Kingmoor schools alone.

"Belah would be ideal for moving the community centre into, as well as maybe a health centre. I know the police would be very keen to use some of the extra space as well, as a kind of sub-station. There is no good reason not to consider this option.

"This is the first step in a campaign of asset stripping by the council. It starts here in Carlisle, but will carry on in the villages. They are going to be looking at the schools they can make most money from selling."
4 Jun 2007
---
Council shake-up slammed
Eric has spoken out again against a single unitary council for all Cumbria.
He has obtained a Commons debate on the issue next week when MPs of all parties will argue against the plans.
Eric said,
"There are two centres of population and they are Carlisle and Barrow. They are 90 miles apart and the communities do not mix.

"I am not saying how the councils are organised at the moment is right but to make it unitary is ridiculous. From my own experience of being on the county council for 18 years there are too many diverse communities. It will not make the savings the county council claims it will."

"Three different parties are coming together to speak on this issue - it is a first. We all agree."

"The councillor roles will be full time but poorly paid and so it could mean all retired people which would not get a vibrant mix. The county council is not a great council now and does not achieve services and that is because of the size of Cumbria and different needs of communities."
Eric has previously suggested two councils for Cumbria, one in the north and another for the south.
2 Jun2007
---
Bigger Fines for uninsured Drivers
Eric has called for a reversal in the downward trend of fines for uninsured drivers.
The level of fines in Cumbria has dropped by a third between 2000 and 2004. Eric says this gives drivers the wrong message with an estimated one in twenty drivers without insurance.
Eric said,
"At a time when deaths among young drivers is going up it seems to me that magistrates should really look at the level of fines they are handing out, and they should certainly be going up not down.

"People are paying higher insurance because of the numbers of uninsured drivers on the roads. It is completely the wrong message. People think they can get away with driving uninsured."

"It appears some young drivers, obviously not all, are taking out policies by direct debit and paying over 12 months, but are cancelling after the first month. They have the certificate so the car can be taxed."
Eric is writing to Roads minister Stephen Ladyman asking for tougher action.
2 Jun 2007
---
Money for Home - School Links
Eric has welcomed a government package to help improve children's education in Carlisle.
£150,000 has been allotted to Cumbria for a scheme that will provide home school diaries and involve parents in their child's schooling.
Eric said,
"I think it is acceptable that Cumbria has been targeted as one of the most deprived areas and I am sure that we will benefit from the spending.

"We already have an unprecedented level of spending across the area. Carlisle is an example of this, with money for secondary schools and the new university."
1 Jun 2007
---
Deeds not Breeds
Eric has said the Dangerous Dogs Act has the wrong emphasis.
In an article for House magazine, the Palace of Westminster Journal, he argues that too much emphasis is placed on the breed of the dogs rather than it's deeds.
Read Eric's article here... (65K, PDF)
28 May 2007
---
Protecting Constituents' Privacy
Eric is backing Tory MP David Maclean in his attempt to change Freedom of Information laws.
Eric says it is not about secrecy but about confidentiality for constituents. Letters between constituents and an MP are protected, but if the MP then needs to write to a public body, a local council for instance, that correspondence could be revealed under the Freedom of Information Act.
Eric said,
"There are two important issues: firstly, I believe that MPs' expenses should continue to be published and I've no problem with that. But under the Freedom of Information Act confidential correspondence from me to, say, the city council on behalf of a constituent could be released. That's not right. I believe it should be put into law that such confidential information resulting from a constituent speaking to an MP in confidence which is then included in a letter to a public authority should be protected.

"There was an example in the north east where a constituent complained to an MP about a neighbour, who then applied to the public body for the information which was then released. MPs can't break that bond of confidentiality. That is my prime and only concern, to protect that confidentiality between me as an MP and my constituents."
28 May 2007
---
Eric backs pensioners
Eric has promised to take up the cause of pensioners faced with charges for care.
Cumbria County Council wants to introduce charges from October.
Some pensioners attending the likes of Elizabeth Welsh Care Home in Harraby, which Eric visited last week, face paying a £10 daily fee on top of the £3.40 lunch charge.
The new charge, which is means tested, is being opposed by the service users and they have collected a 150 name petition. Eric has pledge to raise the matter in the Commons. Up to 70% of pensioners receiving the service in Cumbria will be affected.
21 May 2007
Update:
Eric has tabled a Commons motion deploring the County Council's actions.
The full Early day Motion reads:
EDM 1541
DAY CARE CHARGES OF CUMBRIA COUNTY COUNCIL
22.05.2007
Martlew, Eric
That this House condemns the decisions of the Tory/Liberal Democrat controlled Cumbria County Council to increase charges for day care from £3.40 to £13.40; notes that this policy will affect the elderly and infirm and will increase their vulnerability; and calls on Cumbria County Council to scrap this iniquitous policy prior to its proposed implementation in October 2007.

22 May 2007
---
Border Crossing
Eric is taking up the case for cross border arrangements when the national travel scheme comes into effect next April.
The scheme will allow pensioners and disabled people to travel throughout England but the plans would not allow travel into Scotland.
In a border area, this creates disadvantages for many who cross into Scotland and back frequently.
Eric said,
"The government will bring out the national scheme in 2008, and I think it would be ridiculous if people with passes from Carlisle and surrounding areas could not travel into Scotland on the buses for free. We are just building a new motorway so even more people will be travelling into and out of Cumbria across the border. People want to go across to Scotland and people want to come into Cumbria to shop.

"It is a great scheme but people have to be able to travel across the border. There would be great advantages to this."
Transport Secretary Douglas Alexander, responding to the pressure, said that the bill included enabling powers so that this could be added, but it would need the agreement of the Scottish Executive in Edinburgh.
19 May 2007
---
Welcome for By Pass
Eric has welcomed the government's decision to go ahead with the Carlisle Northern Development Road.
The new road will be five miles long and run from the M6 at J44 to the A595 at Newby West.
Eric said,
"It is crucial in the short- term to alleviate congestion problems in the city. We have been waiting too long for it. Hopefully, now there will be no more hiccups. Not only will it reduce congestion, it will open up Kingmoor Park and bring even more jobs there."

"I hope now that the county council get on with it as quickly as possible. If we are going to have any relief from congestion, this road is the solution."
The route will give better access to West Cumbria and the M6 for businesses at Kingmoor Park, allowing further expansion and job creation.
Scotland Road and Castle Way should feel the benefit as through traffic can then by pass the city. Work should start in 2008 and should be open in 2010.
4 May 2007
---
Boycott WH Smith
Eric has called on all those who don't want the Post Office in WH Smith to boycott the shop.
Plans have been announced to close the Warwick Road Post Office and move it to inside WH Smith.
Eric says the layout of the WH Smith shop is too cramped to accommodate the post office and will cause congestion at busy time.
Eric said,
"Really this is no different to any other take-over. If WH Smith think it is not going be a successful commercial venture then it won't happen.

"It is all about consumer power. If the general public do not want it then do not shop there. It's no good signing a petition and then going there to buy your magazines."
Eric also urged people to write to the company's head office.
Eric said that people wanted to save their Post Office, they should use it. The figure of £5 or £10 a week has been suggested.
4 May 2007
---
Welcome for Motorbikes
Eric has welcomed a government announcement that a motorcycle test centre track is to be built in Carlisle.
Forty-seven are being built round the country and the motorcyclists' test is being toughened up in a bid to save lives.
Eric said,
"The test for motorcycles is being tightened up and that is a great thing. I am really pleased there will be a test centre track in Carlisle and I am sure that a suitable track and premises will be found."
Transport Minister Dr Stephen Ladyman confirmed that Carlisle was on the list. The Driving Standards Agency is currently looking for a site in Carlisle for the new facility.
1 May 2007
---
Save PO Building
The Warwick Road Post Office building should saved says Eric.
The building, which dates from 1916, could be put to other uses, and its future should be decided along with the Lonsdale and The White House.
Eric said,
"We still do not know what the future is for the Lonsdale. I would like to see the city council buy that and use part of it as a theatre and part of it as a cinema.

"The White House - or The Crescent as I will always know it - is a fine example of a former state management pub, which I think is listed. That needs to be used to its full potential, which is up to the breweries.

"Whether the post office moves to WH Smith, which I do not support in its present site, or whether they move somewhere else, there is massive potential for that building. It is a massive building and goes right to Mary Street. It could well be used by the magistrates' court when they move out of Rickergate, because it is opposite the crown court. If, for example, the city council were to move out of the Civic Centre and centralise some services, it could even be used as a new town hall.

"Hopefully the decision makers of the city will realise this and maybe come up with some sensible alternative uses. I do not want to see it knocked down."
25 Apr 2007
---
MP attacks Tesco Plans
Eric has given a lengthy and detailed submission to the Tesco Planning Appeal.
He outlined his concerns for the city in terms of the effect on local shopping, the squashing of any other supermarket to compete, traffic congestion possibly leading to a city congestion charge, the effect on the historic nature of the city and on redevelopment at Caldew.
Eric's full submission to the hearing can be read here.
Responding to criticism that his objection was at odds with government policy for town centre supermarkets, Eric said,
"I don't always agree with what the government does. There's an issue of traffic congestion, which will be appalling. If this inquiry gets it wrong, you will leave us with a massive problem. It will mean congestion charging and I don't think my constituents want that for a minute."
24 Apr 2007
---
PO to WHS wrong move
Plans to close Warwick Road Post Office and move the business to inside the WH Smith shop on English Street is the wrong move.
Eric says the layout of the WH Smith store is wrong for the inclusion of the Post Office and would lead to congestion, especially at busy times.
Eric said,
"I hope that no jobs will have to be lost as a result of this and I will be talking to the workers and the union. I would like to see a post office in the centre of town as it is convenient for people.

"I think there is an issue with the current building where there is a lot of surplus space there and that is one of the reasons for the move. I have a reservation about the size of the WH Smith store as it is not very user-friendly. Ideally, I'd like to see the new post office and WH Smith move to a new site. What we don't want is a worse service for the public."

"I hope that no jobs will have to be lost as a result of this and I will be talking to the workers and the union."
The Warwick Road site would then be redeveloped. A consultation process is due to start soon.
20 Apr 2007
---
Welcome for Supermarket League Table
Eric has co-sponsored Commons motion welcoming the establishment of a league table for supermarkets.
The Marine Conservation Society is organising this which will test the retailers against sustainability and animal welfare criteria, especially with regard to seal and whale hunts.
The full Early Day Motion reads:
EDM 1309
SUSTAINABLE AND RESPONSIBLE FISH SOURCING
19.04.2007
Morley, Elliot
That this House applauds the Marine Conservation Society for organising the Sustainable Supermarket League Table, designed to assist consumers in making informed choices about the seafood they buy and whether it comes from sustainably managed sources; congratulates Waitrose and Marks and Spencer who share joint place at the top of the league table; urges other retailers to follow their strong commitment to sustainable and responsible fish sourcing; gives particular praise to the commendable stance taken by Marks and Spencer in only sourcing seafood from companies that are neither involved in the cruel and unnecessary commercial seal hunt in Canada nor the unjustified and nonsensical Icelandic whale hunt which takes place in defiance of the International Whaling Commission; recognises the support the Marks and Spencer position has from British consumers who are overwhelmingly opposed to these hunts; calls on the UK Government now to prohibit the import of all seal products into the UK; and urges all British retailers to follow Marks and Spencer's policy in relation to seafood sourcing.

19 Apr 2007
---
Putting the Brake on Eric
Road safety charity Brake has declared Eric their parliamentarian of the month.
This is recognition of Eric's work, especially on the Commons Transport Committee, in pressuring the government to act on new drivers.
Eric said,
"It is obvious we have a problem in Cumbria and across the country. There are too many people being killed but I am hopeful the government has listened to representations and will change the procedure for learning to drive and this will have a definite impact. The Government ought to be tackling this problem and I believe they will."
Brake writes:
The Parliamentarian for the month of March is Eric Martlew. Eric has worked to raise awareness about the growing problem of young driver deaths and injuries on the road.

As a member of the Transport Select Committee, Eric Martlew questioned the road safety Minister Stephen Ladyman and other witnesses about the horrifying number of young people dying on our roads, and how we can tackle this problem. He put it to the Minister that young driver fatalities are a serious and growing problem, and questioned the Minister on his views on Graduated Licensing. Click here to read these questions and answers.

Eric Martlew also put a question to the Prime Minister Tony Blair about the rising numbers of young driver deaths on the road, and called for the Government to announce proposals to stem the rising death toll. Click here to read this question and the Prime Minister's response.

To find out more about graduated licensing or for information on Brake's campaign to reduce young driver deaths and injuries on the road, click here.

For more information on our Parliamentarian of the month awards, click here.
17 Apr 2007
---
MP slams Sell off
Eric has slammed plans by Carlisle City Council to sell of the city's industrial estates.
The council wants to offload the estates but businesses on the estates say this would lead to economic stagnation.
Some businesses have tried to buy the freehold for their sites but have been refused by the council. The council says the money would be used for Carlisle Renaissance. Businesses fear rent rises under a private developer.
Eric said,
"I have total sympathy for these small businesses. Put together, small businesses are the major employer in the city and we should be encouraging them to grow.

"These people have developed their businesses and would develop them more if they were allowed to take the freeholds, rather than selling to a third party."
14 Apr 2007
---
Former Student to open new College
Carlisle College's new building will be officially opened by a former student next month.
Eric Martlew studied at the college in the 1960s and is looking forward to returning to the college to perform the opening and to look round the college's new facilities.
Eric said,
"I left school and went to college when I was 16, in 1965. It was quite a daunting place to go to after the discipline of school. You had to have self-discipline and there was a much more adult atmosphere.

"I studied milk technology and at the same time I was working for Nestlé in the laboratory. I remember that the woman who taught us was called Peggy Davidson. When people talk about inspirational teachers that was what Peggy was like. She wanted me to go to agricultural college - and she was prepared to pay out of her own pocket. I didn't go in the end but she was an amazing woman and we kept in touch even after I left to go into politics.

"Without the college we would have a major skills shortage in the city. We saw in the 1980s - when the college lost its way a little - the effect this had on business. This is the first tangible new build in education in Carlisle in the last 10 years. It is a sign that the college is sweeping away the old and looking to the future. It has new direction and purpose."
14 Apr 2007
---
Welcome for new Animal Act
Eric has welcomed the new Animal Welfare Act.
The new law gives greater protection to animals and allows intervention to prevent cruelty happening. Previously, RSPCA and police could only take action after an animal had been cruelly treated.
Eric, who is Chairman of the Parliamentary All Party Group on Animal Welfare, said,
"This is the most important piece of animal welfare legislation in 100 years and puts us at the forefront of animal welfare throughout the world. At the present time, cruelty has to be done to an animal before anything can be done about it. The new laws mean the RSPCA and police can intervene before it happens.

"This is not about prosecuting more people, it is about intervention. Too often when you speak to the RSPCA inspectors or police officers and they say they knew something was happening, but could not do anything about it. Now they can.

"If you are looking after an animal, you have to provide for it properly. We will see a major improvement."
7 Apr 2007
---
Patientline "desperate"
Eric has hit out at new charges for patients in hospital.
The company that runs the bedside telephone service at the Cumberland Infirmary in Carlisle plans to hike the cost of calls by almost three times.
Eric said
"I think what we've got here is a company that is becoming increasingly desperate. It's only a matter of time before people are allowed to use mobiles in hospitals and they are trying to cash in before that happens.

"Hospitals have got to make sure there are alternative telephones, that there isn't a monopoly. I think people will increasingly secretly use mobile phones."
The local patient watchdog, the Patient and public Involvement Forum, has called the rise extortionate.
6 Apr 2007
---
MP wants light shed on Botcherby
Eric has spoken out on behalf of the residents of Botcherby estate.
At a meeting of Botcherby residents, Eric listened to their concerns about Carlisle Housing Association's plans for the estate.
There have been rumours about demolition and redevelopment but residents are kept in the dark. Eric has called in the CHA to shed some light on the estate's future.
Eric said,
"I think it is vital that the Carlisle Housing Association organises a meeting with the people of Botcherby as soon as possible to gather their views. I think that consultation should be carried out before they draw up their plans for the estate. That is the correct way to do things. There are a number of things which need to be clarified - one of them being whether the CHA has held talks with Lovells over the future of Botcherby. I think the Botcherby estate is better than it used to be. But people living there have issues over antisocial behaviour, the placement of tenants and parking.

"It may be that the CHA is trying to soften up the people of Botcherby to the idea of demolition - but I don't think so. I do believe they have failed to heed the lessons of the past and have handled this badly. I believe it is vital that senior staff from the CHA organise and attend a public meeting in Botcherby and make their position clear."
CHA's Patrick Leonard has told tenants in a letter that a consultation process will start this summer.
6 Apr 2007
---
Keep free travel and save Lives
Eric says that plans by the county council to scrap free student travel could endanger young lives.
Cumbria County Council wants to bring in travel charges for students and Sixth formers, but Eric argues that this will mean more students driving.
Eric said,
"We are desperately trying to reduce the number of young people dying in car crashes. This would encourage more to drive and no doubt they would give their mates a lift to and from college."
Students currently get free travel if they live more than three miles from their school or college.
4 Apr 2007
---
The Loneliness of the Long Distance Window Cleaner
Eric has questioned the use of a window cleaner from Preston to clean windows in Carlisle.
A Preston company has the contract for cleaning the windows for Cumbria Probation Service.
The cleaners have to make a 180 mile return journey to do the work. It had been alleged that only one small window was cleaned, but the company involved said the cleaners did other work while in Carlisle. The problem came to light when a Preston window cleaner asked for directions in Carlisle.
Eric said,
"I can only assume that the tender for this work was decided on price but it seems to make no sense for the company that got the work to subcontract to somebody in Preston. The sensible thing to do would be to subcontract to somebody in Carlisle. One wonders whether the company that has got the contract is as efficient as it could be."
The company says the Carlisle job is part of a larger contract and they benefit from economies of scale.
4 Apr 2007
---
Referendum Call on new Council
Eric has called for a referendum to be held on a unitary council for Cumbria.
He opposes the current proposal to abolish the county's district councils and hand all functions to the county council.
He said,
"Let the people decide. There's is only one option, it's either the county unitary or nothing."
Eric favours a new Cumberland Council in the north, with a new council for the south of Cumbria as outlined in a Commons speech in January.
30 Mar2007
---
Text a Truant
Eric has welcomed a plan for text messages to be sent to parents when their child is truanting.
The scheme will be introduced into schools with high truancy rates.
In Cumbria, Morton School, Newman School , North Cumbria Technology College and St Aidan's County High School are earmarked for the scheme. There are over 2000 persistent truants in Cumbria's schools.
Eric said,
"It is a great idea. I think the figures for Carlisle are a terrible indictment of the county council. If children are not at schools they are not learning."
While parents will not have to supply a mobile number, the scheme is expected to be popular.
30 Mar 2007
---
"Heart Attack Hill" not the place for Health Centre
Eric has said that Hilltop Heights is unsuitable for a new Health Centre.
Carlisle's proposed Clinical Assessment, Treat and Support (CATS) centre is planned for the CueDoc centre.
But Eric's view that this is unwise, and could even be dangerous.
Eric said,
"If you were thinking of the most appropriate place to put an emergency GP service, why would you put it on the highest hill in Carlisle? It's all right for those of us who have cars but for others it's just unacceptable."
Cumbria is due to get three CATS, one of which would be in Carlisle.
30 Mar 2007
---
Keep Kingmoor two Schools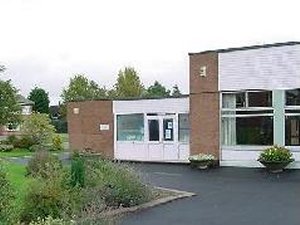 Kingmoor Infant School

Eric has come out against plans to amalgamate two successful schools.
The County Council wants to join Kingmoor and Kingmoor Junior and Infant schools into a single primary school.
Eric has written to the County Council's cabinet member for Children's Services, Philip Chappelhow, setting out his views.
Eric wrote in his letter,
"I firmly believe there is no need to make Kingmoor into a primary school. Whilst there would be some staff savings, there would be considerable capital costs in joining the two schools together, for example the provision of a new assembly hall.

"Also, these are two very successful schools so why risk the change?"
His letter forms part of a campaign against what Eric sees as unnecessary and expensive plans for schooling in the north of the city. About Belah school Eric wrote to Cllr Chappelhow,
"Belah hosts the only council-run nursery in the north of the city and it is exceptionally well attended. If you go ahead with the closure of this school, what plans do you have to replace this essential facility?"
Cllr Chappelhow says that all through primary schools are the County Council's policy.
24 Mar 2007
---
Eric on the Ball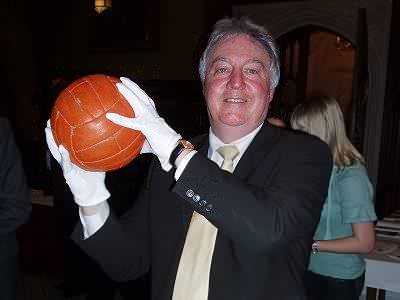 Eric holding the precious 1966 World Cup football

As a long standing football fan, Eric wanted to hold the actual 1996 World Cup football.
Well, he has now!. The National Football Museum were visiting the Commons and brought the famous ball with them.
Eric said,
"I was delighted to attend a briefing and meet representatives from the National Football Museum at the House of Commons recently" (in February 2007 )

"The Museum is going from strength to strength attracting over 100,000 visitors each year is the greatest success story for the Government's policy of free access to national museums.
The National Football Museum in Preston hosts the world's finest collect of football-related historical material and collects, preserves and interprets the history of football, not only for England but for the world.
21 Mar 2007
---
Eric's Plan for Schools
Eric has outlined his ideas for primary schools in the north of Carlisle.
On Friday he visited all three schools, Stanwix, Kingmoor and Belah, to find out for himself the real facts.
"I enjoyed visiting the three schools and am building up a more detailed picture of the problems that they are facing. Through talking to people I have found that they believe this whole situation should have been handled differently. Both Stanwix and Kingmoor didn't look like they needed any money spending on them. So if there is money to be raised from the sale, one wonders where it would be spent. And why, when the council has just raised £2m from the sale of Kingmoor Park, do they need another capital receipt?"

"The 10,000 people north of the river rely on the nursery at Belah to serve them. It is very popular, and the county council have a duty to make sure it stays open. Stanwix has a long waiting list and Kingmoor is an effective school."

"A community school at Belah would work really well. It would address the problem of surplus places and secure the long-term future of the site. It would also mean that Stanwix and Kingmoor could continue as they are."
20 Mar 2007
---
Traffic Wardens under fire
Eric has attacked the way Traffic Wardens operate in Carlisle.
He believes that certain streets are unfairly targeted, when the emphasis should be on keeping traffic moving rather than handing out tickets to gain revenue.
Eric said,
"I believe the city council targets motorists to get revenue. On the roads where traffic has to be kept flowing, people park on double-yellow lines, but only on rare occurrences do they get a ticket. We should be targeting these areas where people park badly.

"In the squares, you do get people who deliberately overstay, but often people just forget to put their disk on. The council targets parking in these areas, but what they should be looking at is keeping the traffic flowing in the city. I have seen traffic wardens in Chatsworth Square on a match day. They know people will not be able to park there for two hours and get to the match."
20 Mar 2007
---
Welcome for Mobile Review
Eric has welcomed a review of the use of mobile phones in Hospitals.
North Cumbria Acute Hospitals NHS Trust is reviewing its policy in the light of new advice from the government.
Eric said,
"Obviously if there is no risk to patient health then the ban on mobiles should not be there but we need to ensure there is no annoyance to other patients and I am sure that can be done. People now are so used to having their mobiles with them they find it very difficult to understand why they can't have them in hospitals. It's part of every day life and if mobiles could be a part of every day life in hospitals I think people would be very happy."
It is now known that modern phones do not affect medical equipment as much as thought. Hospitals may choose to retain the ban in certain areas though and to ensure their use does not disturb other patients.
20 Mar 2007
---
Lib Dem 'green tax' plans neither liberal nor fair
Eric has tabled an amendment to a Commons motion pointing out the flaws in Lib Dem tax plans.
His amendment points out the progress made in alleviating fuel poverty and backing the government's plans for carbon allowances, but says that all Lib Dem plans would do would be to allow the wealthy to continue polluting.
Eric's Early Day Motion amendment reads:
EDM 1085A2
PERSONAL CARBON TRADING
19.03.2007
Martlew, Eric
at end add `expresses surprise at the failure of some Liberal Democrats to notice the increases the Chancellor has provided to the Warm Front Programme, the success of the Energy Efficiency Commitment in providing Home Insulation and Green Landlords Scheme and Decent Homes Standard all taking millions out of fuel poverty; notes that the wealthy have higher overall energy consumption than the poor and that personal carbon allowances offers an equitable approach to carbon budgeting, applying an overall cap on emissions in a way taxation does not; calls for a more progressive and sophisticated approach to the urgent need to reduce emissions, utilising all measures including regulation, tax and incentives, but within a framework of carbon budgeting as introduced in the Climate Change Bill; and further notes that simply relying on taxes without careful thought can be regressive, ineffective and allow the wealthy to pay to pollute, which is neither liberal nor fair'.

20 Mar 2007
---
Education Secretary to be called in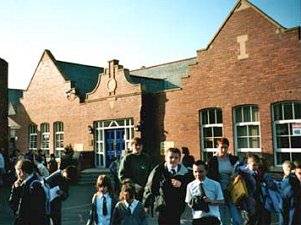 Stanwix School

Eric is referring the matter of school reorganisation in the north of Carlisle to Alan Johnson, the Education Secretary.
He accused the county council of deciding to sell off Stanwix school for purely financial gain, not for educational reasons.
The county council has voted to sell the Stanwix School site and move the children and teachers to the Belah site.
Eric said,
"I am very angry about this. It is the first time in my public life that I have ever known a school being sold off not for educational reasons, but as a capital receipt."

"This county council has received massive amounts from this government so I fail to see the need to start selling off schools to raise money. [County Councillor] Philip Chappelhow is acting as an asset stripper. Any school on a valuable site should be wary of Philip Chappelhow, the asset stripper, coming and selling their land from under them.

"I can assure the local authority I will be taking this matter up with the Secretary of State."
Eric also accused the county council of attempting to manage the timetable to avoid problems for the Tories in the local elections, saying,
"I am sure the delay is designed to avoid embarrassment for the Conservative councillors north of the river."
Eric has previously argued that all three schools, Stanwix, Kingmoor and Belah, in the north of the city should be retained. He is due to visit the schools on Friday (16 March).
15 Mar 2007
---
Angola Success
After pressure from Eric and others, the Angolan government has relented and is allowing Dr Sarah Wykes to return home.
A deal has been struck with the government in Luanda which allows Dr Wykes to come back to Cumbria, provided she returns to Angola if there is a trial for her alleged spying.
Eric said,
"It is tremendous news. I am sure the family will be relieved. It has helped to save the Angolan government considerable embarrassment but we have to be thankful the president has listened to representations made by myself and others. I hope it will not be long before she is back, safe and well in Cumbria."
See also the previous item on this.
15 Mar 2007
---
MP backs new Trident
Eric voted in favour of the replacement of the UK's nuclear deterrent.
He says there is too much uncertainty about the future to risk letting go of Britain's nuclear weapons. The government says it's time to act now to order a new system so that it will be ready by the time Trident comes to the end of its life.
Eric said,
"No one knows what the world is going to be like in 50 years time. I am not prepared to take the risk - I do not believe if we said we will not replace the weapons, North Korea and Iran will get rid of theirs. There is no alternative."
14 Mar 2007
---
Angola Plea
Eric has written to the President of Angola and the Angolan Ambassador in London.
He is supporting the case of Dr Sarah Wykes from Broadwath, who has been arrested in Angola on spying charges.
Dr Wykes was working with a humanitarian group campaigning against corruption, Global Witness. Friends are mounting a local campaign for her release which ash attracted wide support.
Dr Wykes is currently on bail in the capita city Luanda, but cannot leave Angola.
10 Mar 2007
---
Wall beats Floods
Residents have expressed opposition to the Environment Agency's plans for erect flood walls to protect Denton Holme, Caldewgate and Carlisle city centre.
Eric, while sympathetic, says that a wall is better than being flooded again.
Residents say the high walls and embankments will restrict their views and lower property values. The Agency has opted for this plan as being cheaper than one that would have retained floodwater upstream in reservoirs.
Eric said,
"I'm not surprised there are objections and I hope the Environment Agency will bend over backwards to alleviate the concerns of people who are genuinely worried. But if it's a question of having a wall or a devastating flood, it's got to be the wall."
9 Mar 2007
---
Leading on Digital Switchover
Ministers have said that people should not be left without television when digital TV replaces analogue.
Whitehaven will be leading the way, but the All Party Parliamentary group for digital switchover, started by Eric, still has concerns.
One of the matters raised was that some private landlords would not ensure that tenants had the right equipment, but Ministers assured the group in a Westminster meeting that problems would be few.
Eric said,
"One thing of concern is that people will get rid of old videos and televisions and will not connect them. We need to monitor Whitehaven and see if it could become a national problem."
9 Mar 2007
---
Pan's People
A Roman artefact from Carlisle has been on display at the House of Commons.
An enamelled pan inscribed with the names of Roman forts along Hadrian's Wall was among the items on show.
The exhibition was of valuable and rare finds from the North West, but the rare pan will be going on display at Tullie House in Carlisle. It is one of only three similar objects known and dates from the early second century.
Eric, who was at the Commons display to show the Carlisle treasure, said,
"The thing that is really great is that it is a national treasure going to be displayed in Tullie House in Carlisle. Too often we have lost important pieces to London museums. I understand this is the first time there has been co-operation between the British Museum, local museum and a third party.

"Although it will be on national display it will be locally too. We should try to get some of our treasures back from the Victoria and Albert museum as well."
You can find out more at the Tullie House website
1 Mar 2007
---
Eric Martlew speaks at Make Space Roadshow in Carlisle
Carlisle MP, Eric Martlew has invited the 4Children and Make Space Roadshow which is currently touring the UK, to visit Caldew School in Dalston on Friday, 2 March 2007.
Eric will speak at 1.15 p.m. to an assembly of Year 10 pupils at the school, discuss his role as an MP and areas of Government policy.
There will then be a session of focus groups, not just of Year 10 pupils but representatives from classes of all years.
Eric said,
"I am very pleased to welcome the Make Space Roadshow to Caldew School and my thanks to Headteacher, Andy Abernethy for helping to organise the days events."

"It is important to keep the contact between policy makers and schools to enable consultation and discussion to take place, I am looking forward to a lively afternoon!"
What Is Make Space?
Make Space's vision is for every young person in every community to have the opportunities to realise their potential - to learn, develop and be with their friends outside school - and for every parent to access the support they need to build a better future for their family. Make Space is the strategic implementation of both the
EVERY CHILD MATTERS and YOUTH MATTERS agendas.
Overarching this are clear strategic objectives to improve outcomes for young people and to improve the efficiency of service provision.
The Make Space model aims to incorporate youth services, Connexions, PAYP YOT, specialist referrals, childcare and extended schools.
Supported by the Nestle Trust in partnership with 4Children.
1 Mar 2007
---
Bid to save Ambulance Control Centre
The Minister of State, Department of Health, Rt. Hon Rosie Winterton, was in Carlisle to open the Victoria Place NHS Dentist this week.
But Eric took the opportunity to lobby hard for the retention of Carlisle's ambulance control centre.
The North West Ambulance Service wants to close Carlisle's centre and route 999 calls to Preston. Eric says it is wrong to leave such a large area without its own control room and the local knowledge that it brings.
Eric said,
"I've taken the opportunity to lobby the minister quite hard about this. I was bending her ear in the car on the way up. She is well aware of our concerns. There is a consultation under way and these authorities are not elected bodies - they are answerable to ministers."
Eric hopes that quick response of the emergency services to the Grayrigg train crash will help persuade the Minister that Carlisle should retain its own centre. The Minister visited the Carlisle Control Centre to thank the staff for their good work for the Grayrigg crash,
She also praised efforts made to tackle the dental crisis caused by dentists who deserted NHS patients.
27 Feb 2007
---
Seat Belts for High Speed Trains?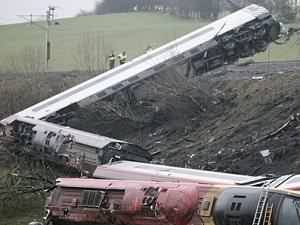 Grayrigg Rail Crash

Eric has raised the issue of seat belts on long distance trains.
He said it was a "miracle of modern engineering" that the casualty rate at the Grayrigg crash was so low, but the fitting of seat belts should be looked at, although rail travel is very safe.
Eric said,
"We should look again at whether seatbelts should be fitted on long-distance trains. I suspect the injuries might be less, although seatbelts wouldn't be appropriate on commuter trains where not everybody has a seat. But the thing that goes against making seatbelts compulsory is that train travel is very safe. Look at the number of people killed on the M6 every year compared with the number who die on trains."
26 Feb 2007
---
Use it or lose it
Post Office closures are the result of falling usage, not government policy, says Eric.
His remarks come in the wake of protests against Post Office closures which are not financially viable.
Eric has been looking at alternative models for local Post Offices, even including siteing one in a pub. But it is changes in the way people receive benefits, pensions etc. and changing lifestyles that are causing smaller post offices to become unsound financially.
Eric said.
"The government has put extra money into protecting rural post offices but the reality is that if people want to save them they have to use them. Some rural post offices get so little business there's a subsidy of £14 for every transaction.

"We need to keep the basic structure of the post offices but the idea that we can stop them closing without spending massive amounts of tax payers' money is misleading."
23 Feb 2007
---
Tory Negativity slammed
Eric has hit out at a Tory MP's negative comments about Cumbria.
The Tory MP for Penrith and the Borders, David Maclean, said that Cumbria is going "down the pan".
Mr Maclean also said that Cumbria was not getting its fair share of EU money and was having to share it with the rest of the North West. But Eric hit back saying that Cumbria was getting what it was due to, and said Mr Maclean's negative comments about the county would only deter inventors.
Eric said,
"We will get our fair share of north west funding and I am fed up with Tory politicians talking down Cumbria. We have a very buoyant economy. If people keep saying it is not, others will think it is not a good place to invest."
22 Feb 2007
---
More Coaches Wanted
The need for extra carriages on West Coast Main Line trains has been highlighted.
Eric has tabled a Commons motion calling for current negotiations to approve extra coaches.
The full Early Day Motion reads:
EDM 952
NEW CARRIAGES FOR WEST COAST MAINLINE TRAIN SERVICES
22.02.2007
Martlew, Eric
That this House is aware of the desperate need to provide extra passenger capacity on West Coast Mainline services; notes the protracted negotiations that are currently underway; and urges all parties to these negotiations to expedite a decision that will provide an extra two carriages on each Pendolino train as soon as possible.

22 Feb 2007
---
Support for CATS
Not animals this time, but the proposed new Clinical Assessment, Treat and Support centres.
Following a meeting with Andy Burnham, Minister of State, Department of Health, Eric received assurances about how the centres would be run.
Eric said,
"When I met with the PCT they said there are some specialisms where CATS would be very helpful, but others where it would be in competition and could damage some of the existing services in the long term.

"CATS will provide a better service as it is a one-stop-shop for patients. From a situation where we thought we would have a regime imposed on us, what we are likely to get is a tailored-made scheme that will suit our needs. We got the impression that everything is still up for negotiation."
Jamie Reed MP, the member for Copeland, was also present at the meeting.
21 Feb 2007
---
Keep both Schools open
Both Belah and Stanwix schools should be kept open, Eric says.
Cumbria County Council has announced plans to close Stanwix school and move it to the Belah site. A petition against this plan has already attracted a large number of signatures.
But Eric feels that all three schools in north Carlisle have a future.
He said,
"The three schools to the north of the river, Stanwix, Kingmoor and Belah, all have a future. Pupil numbers at Stanwix and Kingmoor should remain the same. Belah should be reduced in size and the surplus buildings converted to create a new community facility, similar to what is provided at Petteril Bank in Harraby."
21 Feb 2007
---
Air Weapons need to be licensed
Eric has issued a further call for air weapons to be more tightly controlled.
This follows a spate air gun attacks around Carlisle recently with pets being the vandals' targets, although in one incident an elderly woman nearly lost an eye.
Eric said
"They are powerful and they need to be licensed. Used in the wrong hands they can kill. We need to be careful whose hands they get in to. Each year people are killed or seriously injured and people with warped minds think it fun to fire at a dog or cat. I think the vast majority of people would want stricter rules as, if they fall into the wrong hands, it can be tragic. Locally we have had some very serious incidents.

"You can't really relate what's happening here to what's happening in London. They are two different issues but we do need tighter control on these air guns. We need to stop youngsters getting hold of them. It is worrying."
21 Feb 2007
---
Tesco under the lens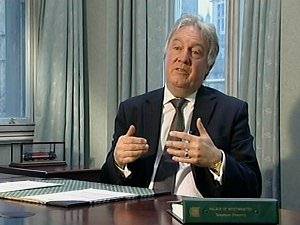 Eric on the Dispatches programme

Eric has been interviewed for Channel 4's Dispatches programme about Tesco.
The programme entitled "The Supermarket That's Eating Britain" will be shown tonight at 8 p.m. Eric was asked to contribute after comments in the Commons about Tesco.
Tesco is nearly twice the size of the next supermarket and has 15 million customers a week in its 2000 stores. The programme looks at Tesco's growth and poses the question of whether the company is abusing its strength.
Carlisle may or may not feature in the programme.
Eric said,
"I am not sure how much will be shown, if any, but the programme is looking at Tesco and its links to corporate affairs."
19 Feb 2007
---
Backing for Belah
Eric is backing plans to save Belah Primary School put forward by former mayor Tommy Johnson.
He wants the school to become a community school with activities for local people out of school hours. Cumbria County Council wants to close the school because of falling pupil numbers.
But Eric does not know how much the council would save because they have not supplied the financial information.
Eric said,
"I was promised those figures back in December and I've heard nothing. The proposal to close Belah school might save £1m, it might save £25,000. We just don't know."
Eric is also critical of the county's plans to house the displaced children. He said,
"It is ridiculous to talk about closing Belah and then putting huts into the playground at Stanwix and Kingmoor. They have just got rid of the huts at Stanwix. It is up to the councils to work together and explore Mr Johnson's ideas and come up with a solution that saves Belah."
16 Feb 2007
---
Motorbike Menace
Eric has called for the public to help more to crack down on dangerous motorcyclists.
Two sixteen year olds were seriously injured recently when their trial bike collided with a coach.
Eric said,
"It is not a question of trying to get these youngsters into trouble, it is a question of trying to save them from killing themselves. I came through Dalston yesterday and saw two motor scooters, each with three young lads on with no helmets, riding up the main road. Someone will know where these bikes are being stored and it is easier to get them when they are stationary.

"I have great sympathy with the police. It is very difficult for them. What if they chase these youngsters and they have an accident? Catching them safely is so difficult. Sometimes it might appear the police don't really try, but that is a misconception.

"I don't think we need new laws. There are laws that are there. What is needed more often is intelligence about where these bikes are."
Police have warned illegal riders that their machines could be crushed.
15 Feb 2007
---
Problems with easy Credit
Eric has called for more caution from lenders when considering loans.
His comments come after the release of figures that show while voluntary bankruptcies in Carlisle have fallen, those forced by creditors have increased.
Eric said,
"What we have here and have had for a number of years is a case of often easy credit. Lots of people have found themselves in a situation where they are struggling and have been encouraged by banks to take out money.

"We have changed the law so it is easier for people to go bankrupt and have a fresh start and people are taking advantage of it. We need a more careful approach."
13 Feb 2007
---
Virgin to be probed
Eric is calling for an investigation of Virgin Rail's pricing policy.
He says the cheap tickets are removed from sale thirty-five days before the travel date if even cheap seats still remain.
Eric said,
"They are taking the cheaper tickets off - they are being withdrawn at an early stage even if they have got them left. It is becoming more and more difficult to get cheaper tickets. They claim it is because of overcrowding.

"This is a deliberate ploy and it's another example of the franchise system not working. What we have is a private franchise system where they are exploiting their monopoly position. Not only are they getting subsidies, they are fleecing the public."
Eric is a member of the Commons Transport Committee whom he will be asking to examine the problem. Virgin Trains say they need to make sure that some space is left for 'walk on' passengers.
10 Feb 2007
---
Hunters Praised
Eric has praised the hunting community for ending cruel practices and adapting successfully to legal hunting.
On the second anniversary of the Hunting Act, he has tabled a Commons motion to this effect, but calling for rigorous enforcement against the few extremists who continue to hunt animals using now illegal methods.
The full Early Day Motion reads:
EDM 875
SECOND ANNIVERSARY OF THE IMPLEMENTATION OF THE HUNTING ACT 2004
08.02.2007
Martlew, Eric
That this House celebrates the second anniversary of the implementation of the Hunting Act 2004 and the end of the gratuitous cruelty of traditional hare-coursing, stag hunting and foxhunting; congratulates the hunts who have changed to drag hunting, eliminating the prolonged pursuit and barbaric deaths of defenceless animals; is delighted that the Act did not destroy 35,000 jobs or the economy of the countryside nor lead to the putting down of thousands of hounds and horses; is concerned at suggestions in the media that some illegal hunting is taking place; is disturbed that some extreme elements of the hunting fraternity believe themselves to be above the law and claim to break the law with impunity; is further concerned at the use of intimidatory tactics by some hunt supporters to prevent peaceful and legal monitoring of hunts; welcomes the three prosecutions in 2005 and further prosecutions in 2006 which demonstrate the effectiveness of the Hunting Act in targeting illegal hunting; notes that hunts have had adequate time to adjust; and now calls for rigorous vigilance and prosecutions of organised and systematic breaches of the Act.



Eric said,
"I wanted to lay the motion down to congratulate the second anniversary. Thousands of people are not out of work and animals have not had to be put down. But there are hunts, including some in Cumbria, which are ignoring the law still. We are congratulating the police for their work but we must continue to make sure people do not flout the law and get away with it."
8 Feb 2007
---
Mobiles in Hospitals
Eric is calling for a new review of the use of mobile phones by patients in hospitals.
A review some ten years ago found the then phones could interfere with some equipment, but technology has advanced and should be looked at again. Eric condemned the high charges made by the Patientline system for phone calls, saying contact with relatives and friends was important for patients.
Eric said,
"We have this problem in Carlisle and it has been going on since the new hospital opened in 2000. It has not been resolved. There is a convenience of having a phone by a bedside but the problem is when people ring it they are charged about 50p per minute.

"I think we are getting to the point where the NHS seriously have to look at the use of mobile telephones in hospitals. There is the issue of equipment and another one about peace for the rest of the patients, but I think within 10 years mobile phones will be allowed."
North Cumbria Acute Hospitals NHS Trust say they are reviewing the use of mobiles in hospital.
6 Feb 2007
---
Welcome for Jobs Boost
Eric has welcomed ninety new jobs for Carlisle.
Northern Foods is transferring ready meals production from its Nottingham site to Carlisle.
Cavaghan & Gray, which is owned by Northern Foods will benefit with significant new investment to fulfil am major new contract.
Eric praised Carlisle workers, saying,
"It is another example of a company that was local being taken over nationally and then we have some job losses and then the company realises the work of the workforce. The reason for coming to Carlisle is the quality of the workforce here. That is always one of our advantages.

"It is excellent news, because not only is it the 90 jobs, it is the fact they are putting in a large amount of capital investment which shows that Carlisle features in their long-term future. The same happened at United Biscuits when the McVities site was taken over."
The move is expected to start in May, and be completed by July.
3 Feb 2007
---
More Cops welcomed
Eric has welcomed the news that there are more police officers in Cumbria.
While the national figures show a drop, figures released for Cumbria show an increase, and at the same time, crime is falling.
Eric said,
"We have record numbers of police in Cumbria and crime has fallen. I am glad to see resources are being put into community policing as it makes a difference to reassure people."
2 Feb 2007
---
Time Zones
Eric helped to defeat a plan for lighter evenings in England although he agrees lighter evenings would be better.
But he voted against Tory MP Tim Yeo's idea because he was told by First Minister of Scotland Jack McConnell that there was no support north of the border for the plan. This would have meant Scotland and England being in different time zones.
Eric said,
"Taking into account the reply I had from Jack saying there was no support for the objectives of the Bill in Scotland, I voted against.

"On principle lighter evenings are a good idea if they will cut road deaths, but you cannot have people travelling from Carlisle across the border and changing their clocks."
26 Jan 2007
---
MP shocked at Orton Lea Plans
Eric has accused Cumbria's new Primary Care Trust of breaking its commitment. The PCT wants to close Orton Lea respite care centre in Carlisle.
Eric says he was given commitments by the previous North Cumbria PCT which the new Trust has failed to honour. He says the new PCT is too large and his opposition to its establishment on these very grounds has now been justified.
Eric said,
"I'm shocked. I presented a petition on behalf of the families and had a meeting with bosses last year. I was told they would provide me with the full proposals before they went out to consultation, yet the first thing I knew about this was when I read it in the paper.

"I'm very disappointed. This is an issue that could have been talked through. I've been giving commitments on this yet I'm the last to know."

"I just think what we have now got is a Cumbria-wide PCT that is far too remote and, I suspect, indifferent. Have we now got a Cumbria-wide authority where the members do not believe in consultation with elected members of parliament? I actually opposed the creation of a Cumbria-wide PCT because I thought it was too large. This just proves it."
21 Jan 2007
---
MP slams Council for Road Delay
Eric has laid the blame for further delays to the Carlisle Northern By Pass squarely at the door of Cumbria County Council.
The Treasury say the information supplied by the council is incomplete and as a result, there could be a delay is starting work.
Eric said,
"We've been waiting years for this road. We've had the transport minister come up and the Department for Transport pass it. Now, due to the inefficiency of the county council, we still haven't got a decision. I will be seeking an urgent meeting with the council to ensure that they give the information required."
The council says it can still meet the deadline for a start in March 2009. The new road would link the M6 at junction 44 to the A595.
21 Jan 2007
---
Beat the Clock
Eric is fighting moves to have England and Scotland on separate times.
Tory MP Tim Yeo wants England to be an hour ahead of Scotland for lighter evenings.
Eric said,
"It would be incongruous, especially for someone representing a constituency such as Carlisle, to support a Bill which would create different time zones between England and Scotland.

"We have an ammunition depot in the area with two sites one in Cumbria and one across the border - Longtown and Eastriggs. They are only nine miles apart and workers obviously can work between the two sites and we cannot have them having to change their watches to go from one site to another. It would create so many problems. It is vital we know what Scotland thinks about this and do the right thing."
To this end Eric has written to the Scottish First Minister asking what Scotland's intentions are. Eric says he would support a trial but only for the whole UK. Mr Yeo's bill returns to the Commons on 26 January.
18 Jan 2007
---
Ministerial Meeting on Carlisle Coroner
Eric has held a top level meeting with the Minister of State at Department for Constitutional Affairs, the Rt. Hon Harriet Harman QC MP, urging the retention of the Carlisle Coroner.
The final decision will be made by Ms Harman along with the Secretary of State for Constitutional Affairs and Lord Chancellor, Lord Falconer. But Eric wants no quick decision and for the Minister to consider all the issues.
Eric said,
"Carlisle is the at the centre of the area and a reduction would mean a coroner from Whitehaven travelling more than an hour to Carlisle, which has more inquests, which could result in a back log. The inconvenience could also disrupt funeral arrangements."
The plan by the County Council to axe the Carlisle Corner has drawn widespread criticism, including other MPs, registrars, Carlisle City Council and the police.
17 Jan 2007
---
Threat to local Health Budget
Eric and other Labour MPs are fighting to protect north Cumbria's health budget.
They are meeting soon with Andy Burnham, the Health Minister, to discuss Capture, Assess, Treat and Support (CATS) centres proposed for Carlisle and Workington.
They are worried that these private centres providing treatment for NHS patients could pull money away from other NHS services in the area.
Eric said,
"We need some clarity about what exactly is being talked about. We need to impress upon Mr Burnham the effect CATS could have on a sparsely populated area like North Cumbria and for acute services.

"If the CATS services are complementary and money is not taken out of existing budgets then I would welcome it. However, if current services would be unsustainable then it must be looked at again."
11 Jan 2007
---
County Council neglected Morton School
Eric has slammed Cumbria County Council for failing to support children at Morton School.
The school is due to close this summer and reopen as a new school with a new head in September. It has been harshly criticised by Ofsted and has a large financial deficit.
Eric said,
"I think it's a disgrace what has happened at the school but I think that closing it and starting again is probably the best option at the moment. It's been neglected. The county council, as the local education authority, has its own team of inspectors and I'd like to know what they found. I'd like to know why more support wasn't given to the school.

"I do feel a bit sorry for the governors because governing positions are hard to fill and the governing body has been criticised.

"I'm pleased that the school will be working closely with Caldew as they've had a very successful collaboration with their sixth forms. I believe that's the right thing to do. But we have to remember that Morton is not the only school in the city in special measures. There are three (Morton, Newman and North Cumbria Technology College) out of the five in the urban area struggling and in special measures. It surprises me to see that in a city of Carlisle's size. We do have some deprivation but it's not as bad as other areas in the country.

"In Carlisle you've always been able to leave school at 16 and get a job so there's been something of a lack of aspiration for higher education."
But Eric did have some praise for the council for the progress so far towards reforms and the building of the city academy.
"I dread to think what would have happened if there wasn't government investment and money from the flood to spend. I have to give credit to the county council for their work so far but I beg them not just to pass these reforms and then forget about them."
Date 2007
---
Welcome for Longtown jobs news
Eric has welcomed the news that the MoD sees a future for Longtown and Eastriggs.
He has received a letter from Defence Minister Adam Ingram in response to his lobbying on behalf of the munitions depots.
Mr Ingram's letter says that a northern depot will be required, either at Longtown or Eastriggs or a combination of the two. He also says there will be new flood defences for the Longtown depot.
Eric said,
"The fact they are saying there should be a northern depot is good news. I suspect it will be at Longtown. Unless there is massive investment, it's future is limited. It has been neglected since World War II."
9 Jan 2007
---
Praise on Flood Defences
Eric has welcomed news that flood defences in the Warwick Road and Greystone Road area of Carlisle will be finished early.
They are expected to be complete four months ahead of schedule and should be in place by January 2008.
Eric said,
"I'd like to pay tribute to the Environment Agency. Since the flood of 2005 they have worked tremendously hard to get flood defences in as soon as possible."
Further defences for other areas will follow.
9 Jan 2007
---
Rail Rip-off
Eric has hit out at the above inflation rail price increases.
He says that Virgin Rail is in a monopoly position and has exploited this to bring in large fare increases.
Eric said,
"The increase is a disgrace. It is another reason for getting rid of privatised franchises. Virgin gets £200m of tax payers' money every year, which is exploiting its monopoly on the West Coast Main Line. The rail companies are taking the public and the government to the cleaners."

"Virgin argues there are cheap tickets available but they are more and more difficult to get hold of."
5 Jan 2007
---
Hunting ban a success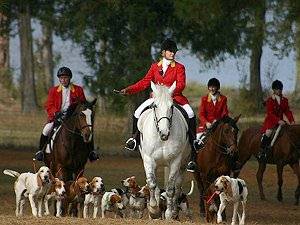 Fox Hunt
(Photo: Dana Kamp)
Increased crowds at hunts shows that the hunting ban is good for hunts and spectators alike.
Far from the dire predictions for the future of hunts, they are thriving with many turning out to view the legal, bloodless hunt and see the hounds follow the scent.
Eric said,
"It's good to see the Cumbrian tradition of a festive meeting continuing without cruelty. Maybe the turnout at these hunts is so high because people are coming along for the day and the atmosphere rather to see anything killed."

"The ban seems to be working for everyone. Despite concerns that thousands of jobs would be lost in the countryside it looks like being the opposite."
3 Jan 2007
---
Keeping the Coroner
Eric is campaigning to keep the Carlisle Coroner.
His latest move is to lobby the Minister of State, Department for Constitutional Affairs, Harriet Harman. Eric hopes to have a meeting with her soon.
Eric said,
"This will give me the chance to tell the minister that the present proposals simply don't make any sense. I cannot think of any other area in the country where you have a crown court but not a coroner's office.

"Cumbria County Council have used expediency to do away with the coroner in Carlisle. They should have waited until new legislation came through and taken a decision on what was best for the whole county."
2 Jan 2007
---
Current News | Home Page

On behalf of Eric Martlew, 3 Chatsworth Square Carlisle Cumbria CA1 1HB