Eric's News Extras 2009
23/11/09 Environment CEO visit to city
21/11/09 Flood money well spent
30/10/09 High Speed might stop at Carlisle
22/10/09 Dolphins in danger
20/10/09 Really Good School Dinner
20/10/09 Are British farm animal welfare standards up to scratch?
16/10/09 MP Eric's expenses in order
15/10/09 Big Ben's 150th
29/09/09 Cross Party support received for High Speed Rail stop
28/09/09 Eric Robson backs High Speed stop
24/09/09 Saving the Turkish Baths
18/09/09 Backing for High Speed stop
09/09/09 Sainsbury's to meet with Carlisle MP to discuss new plans for superstore
03/09/09 No confidence in County Council
31/08/09 No Bog standard Sainsbury's
21/08/09 Hostel Campaign vindicated
07/08/09 Local Government Association deny Daily Mail story that pensioners bus passes are to be means tested.
06/08/09 Swine flu reassurance
06/08/09 Primark continues to search for Carlisle store
01/08/09 North West first report published
30/06/09 It's never the end of the line
17/06/09 Parents' victory raises funding issues
09/06/09 West Coast doubts
05/06/09 Local Election Results mean Labour would have held at a General Election
05/06/09 Hope for Stead McAlpin
05/06/09 Thumbs down to Hilltop Heights
23/05/09 'Sad dilemma' of Stead McAlpin workers
21/05/09 Private Investment Royal Mail's best chance
21/05/09 Break Pub chains
21/05/09 Expenses transparent
18/05/09 Sheep at risk
16/05/09 Eric to reveal all
15/05/09 'Why was Belah closed?' Eric asks Tory
15/05/09 Prison could bring 400 Jobs
12/05/09 Call to ban snares
09/05/09 Labour has taken the right decisions
08/05/09 CHA merger opposed
02/05/09 Tributes to Eric
01/05/09 Stead McAlpin interest 'good news'
01/05/09 Harraby School in top 100
29/04/09 Parents urged to appeal school decisions
29/04/09 Lib Dem says Sorry and quits
28/04/09 Prison Plan for Kingmoor
25/04/09  Close Shave for Ethanís Grandma
25/04/09 Back to Belah?
22/04/09 John Lewis has moral obligation
20/04/09 Flag To Fly For Armed Forces
15/04/09 Lib Dems Exposed
14/04/09 Saving Settle Line was 'turning point'
11/04/09 Jayne Prewitt
10/04/09 Prime Minister goes from G20 to Carlisle
09/04/09 'Crumb of Comfort' in Pirelli Job Cuts
02/04/09 Tory Rates stance 'hypocritical'
02/04/09 John Lewis must keep its Promise
01/04/09 Saving the Settle Line
31/03/09 Rail fare Reversal
30/03/09 Hilltop Buses not viable
26/03/09 Praise for Four Year Campaign
24/03/09 Doubts about Assisted Suicide
20/03/09 MP to present Housing Petition
18/03/09 Tackling Binge Drinking
13/03/09 Tory claims now Ďsuspectí
11/03/09 Carlisle and the Minersí Strike
09/03/09 Pirelli still looking to the future
06/03/09 Backing for Road Freight
06/03/09 City Council Ďin denialí
03/03/09 Cycle Coup for Eric
02/03/09 Super Surgery Site
06/02/09 Cumbrian Dentists will fill the Gap
25/02/09 MP opposes Royal Mail Privatisation
16/02/09 City of Opportunity
13/02/09 Lifeboat Lifeline
13/02/09 Remembering the State Management Scheme
12/02/09 Passengers should get a refund
12/02/09 Letís build now
07/02/09 Morton Academy Plans
06/02/09 London could learn from Carlisle
06/02/09 Itís Snow way to be a role model
05/02/09 MP attacks Virgin in Commons
04/02/09 Pirelli Hours Cut
29/01/09 Welcome for Rose Action
24/01/09 Richard Rose meeting positive
23/01/09 Pennine Way Primary to stay
23/01/09 Homes for Heroes
19/01/09 Bedsit Plan impacts social housing needs
17/01/09 Caldewgate Superstore
16/01/09 200mph trains coming
16/01/09 Up 20 kids lack local school
14/01/09 West Coast Rail back on track
09/01/09 Net Release
08/01/09 Bail hostel doubt
08/01/09 Eric wants answers from Network Rail
07/01/09 Turn up the Heat
02/01/09 A Year of Opportunity
02/01/09 Virgin Unfare

---
Environment CEO visit to city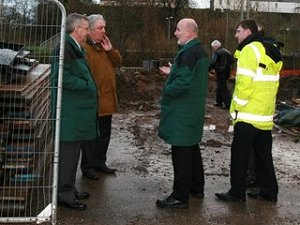 Eric with Mr Leinster

23 Nov 2009
The Chief Executive of the Environment Agency, Dr Paul Leinster, visited Caldew Maltings with Eric.
On Thursday night, local residents, Environment Agency and Volker Stevin staff worked through the night to sandbag the area to prevent their homes and Caldewgate from flooding.
Glyn Vaughan, Environment Agency, North Area Flood Risk Manager, said,
"It was a very close thing - 1.5 inches away from disaster."
---
Flood money well spent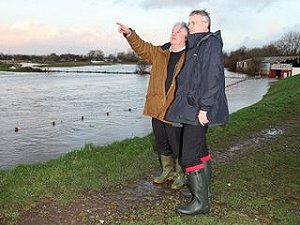 Eric with Hilary Benn at the flood defences on Warwick Road
(Photo: Elsie Martlew)
21 Nov 2009
Eric has said that the money spent on defending Carlisle from flooding after 2005 was well spent.
While towns such as Cockermouth and Workington suffered, the city escaped relatively lightly. Eric was showing the Environment secretary Hilary Benn the new defences during a visit to see the flood hit county.
Eric said,
"The defences have been tried and tested and found to have worked. If we hadn't had these defences we'd be back where we were in 2005, which would have been horrible. The money has been well spent."
Eric lobbied hard to get Carlisle's new flood defences, talking to Ministers and making many calls in the Commons for action, a campaign which has now been vindicated.
---
High Speed might stop at Carlisle
30 Oct 2009
Eric has been told that future High Speed trains might stop in Carlisle.
This came under questioning by Eric in the Commons Transport Committee of Prof David Begg, who chairs the transport group Northern Way. He said that that a west coast route would 'put a 90 mile scar' through Cumbria, and would not rule out stopping the train at Carlisle.
Eric urged caution though, saying,
"There have been issues with capacity on the West Coast mainline and it will run out before the high-speed line is built. Surely what we must do first is, we must get the new signalling on the West Coast mainline right so we can run trains closer together and we need to improve rail lines north of Preston so they can run 135mph. The worry is we are all talking about high speed rail but we are going to forget what we have to do in the meantime."
---
Dolphins in danger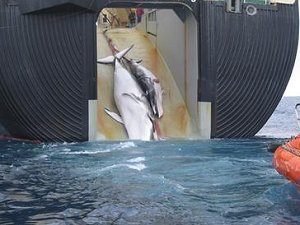 Japanese whaling

22 Oct 2009
Eric has tabled a Commons motion deploring the Japanese slaughter of dolphins and other cetaceans.
He says the Japanese have given the go ahead 20,000 dolphins to be killed, along with porpoises and whales despite an international ban on whaling. He also raises the concern about the high levels of toxins in whale meat being fed to Japanese children in their school lunches, and call on the government to demand Japan stop this practice.
Eric's Early day Motion reads:
EDM 2087
DOLPHIN HUNTING
19.10.2009
Martlew, Eric
That this House notes with concern that the Japanese government continues to issue quotas for the slaughter of around 20,000 dolphins, porpoises and whales in its coastal waters each year despite the International Whaling Commission's ban on commercial whaling; is appalled that almost half a million dolphins, porpoises and whales have been cruelly slaughtered in Japanese waters since implementation of the international whaling ban in 1986; is further concerned that the dolphin hunts are driving some populations to extinction; is alarmed at the considerable health concerns arising from high levels of mercury and other toxins found in whale, dolphin and porpoise products that are sold for public consumption, and even included in school lunches in Japan; and urges the Prime Minister to make the strongest possible representations to the new Japanese government calling on it to stop all whale, dolphin and porpoise hunts immediately.

---
Really Good School Dinner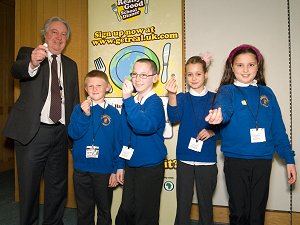 Eric with children from Upperby School
(Photo: Upperby School)
20 Oct 2009
Eric was delighted to receive a lovely "thank you" letter from the four pupils of Upperby School, Carlisle, who had attended the launch in Parliament of the Really Good School Dinners.
He said,
"The children should be congratulated on such a magnificent effort of coming 6th nationally, in the amount of money raised".
Following the reception, which Eric attended with the pupils and 2 of the teachers, he took them on a tour of the House of Commons.
---
MP Eric's expenses in order
16 Oct 2009
Eric Martlew has responded to the letter he received from Sir Thomas Legge about his Parliamentary expenses.
Eric said,
"I was pleased to receive notification that my expenses had been scrutinised and found to be in order. I have not been asked to pay any money back.

"Initially I was asked to provide 3 months statement on mortgage payments, which I had already sent to the Inquiry. I have now been informed that this information has been found. I had provided it on time and that no further action is needed."
---
Big Ben's 150th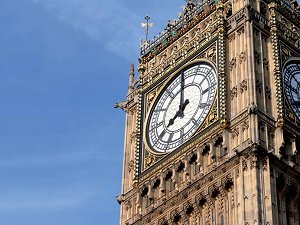 15 Oct 2009
Schools in Carlisle are learning about Big Ben on its 150th anniversary.
Eric was sent a large poster about this and thought it would be good for all schools in Carlisle to have one. He has ordered them and written to every school about this.
Eric's letter to schools reads:
Dear Headteacher

As Parliament is celebrating Big Ben's 150th Anniversary through 2009 I thought that your pupils may like to have this poster to celebrate the event.

Construction on the Clock Tower started in 1843 and was completed in 1859. The Great Clock was started on 31 May and the Great Bell itself was struck on 11 July.

With best wishes.

Yours sincerely

ERIC MARTLEW MP

Member of Parliament for Carlisle
---
Cross Party support received for High Speed Rail stop
29 Sep 2009
Following a reply to Eric's letter, Hexham MP, Peter Atkinson agrees that the High Speed Rail line should stop in Carlisle.
He states he was,
"surprised that Carlisle was not included as a stopping point for a high speed line between London and Scotland. Carlisle is an extremely important rail centre for a large area of Cumbria and South West Scotland and also part of my constituency."
Eric said
"I am pleased to receive Peter's support and to read in his letter that he will happily do anything he can to support the campaign."
---
Eric Robson backs High Speed stop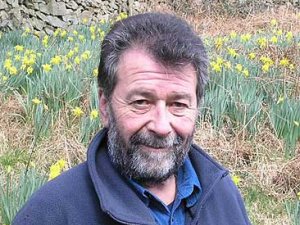 Eric Robson

28 Sep 2009
The Campaign has received further boost from Eric Robson, Chairman of Cumbria Tourism and renowned broadcaster.
In his letter Eric Robson said he
"shared the concerns about a service which will effectively deliver more visitors and business from the South East to our competitors in Scotland whilst reducing the quality of rail services into Carlisle and Cumbria."
He added he was happy to add Cumbria Tourism's weight to the cause and believed a strong case could be made for Carlisle based on the needs of the City.
---
Saving the Turkish Baths
24 Sep 2009
Eric Martlew has written to English Heritage requesting that the City Council's Turkish Baths in James Street, be awarded listed states to protect it against any future development. He has received a reply from English Heritage stating that they are investigating this.
Eric said,
"There are very few Victorian Turkish baths left in the UK and Carlisle's is a great example of the architecture of the time. The tiles are of national renown."

"There are persistent rumours that the City Council are considering relocating the swimming pools and, whilst I would support this, there has to be guarantee and safeguards that the Turkish suite would not be demolished".
---
Backing for High Speed stop
18 Sep 2009

Eric is now receiving mounting support for his campaign to get the high speed train to stop in Carlisle.


Amongst those supporting him are:

Russell Brown, MP for Dumfries and Galloway
Lord Melvin Bragg of Wigton
Lord Inglewood, Chairman of Cumbria Newspapers
Sue Page, Chief Executive of NHS Cumbria
Tim Farron, MP for Westmorland & Lonsdale
Richard Leafe, Chief Executive of the Lake District National Park Authority
Bill Lowther, Chair of Cumbria Strategic Partnership
Stewart Young, Deputy Leader of Cumbria County Council
Mike Boaden, Labour Leader of Carlisle City Council
Harry Dyke, Chief Executive of Allerdale Borough Council
Steven Broomhead, Chief Executive of the Northwest Regional Development Agency
Carlisle City Council
Carlisle Renaissance
Eric Robson, Broadcaster
Peter Atkinson MP for Hexham
Bob Pointing, Barrow Regeneration
Cllr Jim Buchanan, Leader of Cumbria County Council
Elaine Woodburn, Leader of Copeland Borough Council
Tony Cunningham MP
Jamie Reed MP
Eden District Council
Barrow Borough Council
The Rt Hon John Hutton MP
Nuclear Decommissiong Authority
The Rt Hon David Maclean MP
Professor Peter McCaffrey, Vice Chancellor and Chief Executive of University of Cumbria


---
Sainsbury's to meet with Carlisle MP to discuss new plans for superstore
9 Sep 2009
Following the controversy on recent proposals to build a supermarket in Caldewgate, Sainsbury's have contacted Carlisle MP to discuss changes to their original proposals.
Eric said,
"I welcome this and am not opposed to Sainsbury's building a supermarket in Caldewgate but I do believe it should be of good design. There have been a lot of comments from people saying that because of planning mistakes made in this area in the past, then it doesn't really matter about the quality of the design of the Sainsbury's store. What we need is a store which will, not only uplift Caldewgate but will be sympathetic to the surrounding area, including Carlisle Castle".
---
No confidence in County Council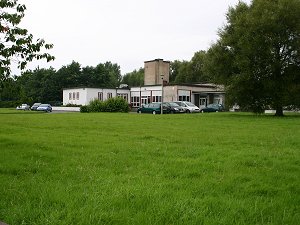 3 Sep 2009
Eric Martlew recently met with the Director of Children's Services, Moira Swann along with the Education Portfolio holder, Duncan Fairbairn, to press for extra primary provision in North Carlisle.
Eric said,
"The closure of Belah school has been a disaster, it has led to overcrowding in both Stanwix and Kingmoor schools, and yet there are still young children having to be taxied to schools over 2 miles away"
Eric said that he came away from the meeting having no confidence that the County Council understood the gravity of the situation and certainly had no plans to do anything to alleviate it.
---
No Bog standard Sainsbury's
31 Aug 2009
Sainsbury's plans for a store in Caldewgate have been condemned by Eric.
He says that the plans should be revised as existing ones will create a vista of a massive car park close to the castle, the city's most prestigious building.
Eric said,
"These proposals just create a vista of a massive car park and petrol station, with the superstore in the distance. The work of art is an acknowledgement of the problem, but not a solution. Bearing in mind that this site is less than 1/4 mile from the Castle - the most prestigious building in the city - I feel the bog standard design is inappropriate.

"There is also the impact of increased traffic on residents of the area, including myself. Personally, I expect I would be benefited and inconvenienced in equal measure."
---
Hostel Campaign vindicated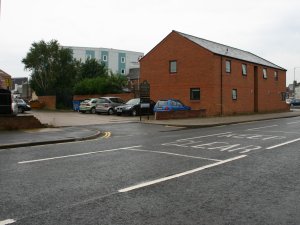 21 Aug 2009
Eric has said that recent events have vindicated his campaign against siting a Women & Children's hostel next to a men's hostel.
Following the conviction yesterday of three of the residents of John Street Hostel, for physically and mentally torturing a fellow resident, Eric said his campaign was justified.
He commented,
"This justifies my persistent criticism of the initial decision to build a Women and Children's hostel next door to this facility. I just wonder what those Councillors were thinking about contemplating such a proposal."
It was only by the persistent criticism by Eric and the late intervention by a Senior Police Officer that the scheme to relocate the Women and Children's hostel was finally scrapped.
---
Local Government Association deny Daily Mail story that pensioners bus passes are to be means tested.
7 Aug 2009
Jeremy Beecham, Vice Chair of the Local Government Association, said yesterday,
"I would like to reassure you that the LGA and councils are emphatically not in favour of means testing free bus fares".

"Means testing for concessionary fares is not the solution. Take up of the scheme would fall drastically, the benefits it delivers greatly reduced and administrative burdens significantly increased."
Eric said,
"Another lie by the Daily Mail"
---
Swine flu reassurance
6 Aug 2009
Carlisle MP, Eric Martlew, was reassured yesterday about the extent of the swine flu outbreak in North Cumbria.
He met Carole Heatly, Chief Executive of North Cumbria University Hospitals NHS Trust and was told that up to now it has not been necessary to admit anyone suffering from swine flu into the Cumberland Infirmary.
Eric said,
"This is very encouraging. If you take notice of the media hype, you would have thought that dozens, if not more, would be needing hospital treatment."
He did say, however, that we must stay vigilant as the real problem time is likely to be the Autumn.
---
Primark continues to search for Carlisle store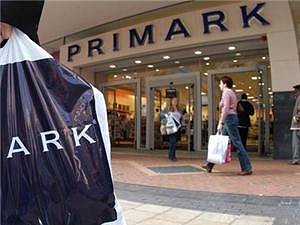 6 Aug 2009
Eric Martlew has recently received a letter from Thomas Meager, Director of Property for Primark, thanking him for his support in trying to get a store in the city.
He writes they are very frustrated that they cannot find right site but they are urgently looking for a site either in the high street or a very good secondary location.
Eric said,
"I continue to get questions asked about when Primark will be opening. I hope a satisfactory solution can be found soon so that people don't have to travel out of the city to shop."
---
North West first report published
1 Aug 2009
The first report of the Commons North West Committee, on which Eric sits for Cumbria, has been published.
The report, of which Eric is a co-author, reflects the concerns for Carlisle and Cumbria he expressed through his questioning in the committee's sessions, on redundancy, apprenticeships, Train to Gain and Business Link among others.
The full report may be obtained here, and Eric's contributions to the Committee's deliberations may be read here.
---
It's never the end of the line
30 Jun 2009
Eric has written about his lifelong involvement with the Settle-Carlisle line.
He says that the battle to save that line allowed the development of the West Coast line, and the next battle will be to ensure the high speed line continues from Manchester through Cumbria to Scotland, rather than Leeds and the North-East.
The article, published in The Way, is reproduced here:
It seemed as though fate played a hand in my involvement in the campaign to save the Carlisle to Settle Railway.

When I was an infant my father took a decision to move his large family from Wigan to Carlisle as he was to become an engine driver on the West Cost Main Line. My mother's reason for moving was to get a decent house for her family.

The house was a railway cottage in Petteril Terrace formerly known as Midland Cottages as they were built to house the workers on the Midland Railway, which built the Carlisle to Settle Railway.

I spent my early years looking out over the line.

Later, as Chairman of Cumbria County Council, the line was under threat of closure by British Rail and along with John Gunnell, Leader of West Yorkshire Council, we launched the campaign in December 1983 - significantly in front of the steam train "The Cumbrian Mountain Express" at Garsdale Station.

The campaign was then lead by the local authorities along the line, a Joint Action Committee and the Friends of the Carlisle to Settle Railway.

It was a long and arduous campaign but one that needed to be won, not only to save this individual line and the economic well-being of the communities along it but to herald an end to the closure programme of railway lines.

In 1987 I became MP for Carlisle and took the debate to the House of Commons. The next two years saw more scaremongering by BR and failed attempts to privatise the line by Thatcher's Government.

However, on 11 April 1989, victory was ours. The line was saved. Not only was it victory - it was the right decision. Without it the West Coast Main Line could probably not have been upgraded and the increase in freight traffic would not have been possible.

Most importantly it was a victory for communities. To quote Michael Palin it was "The triumph of sense over nonsense, of local commitment and enthusiasm over distant policy-makers and absentee accountants."

Last month I was privileged to attend another ceremony at Garsdale Station to commemorate the 20th anniversary of the saving of the Line. It was an opportunity to meet up with old friends and fellow campaigners.

My old friend, Councillor Bill Cameron did more than any other Cumbrian to save the Line and Ron Cotton, who was given the task by BR to close the Line and who ended up doing everything he could to save it.

The saving of the Line was a watershed. It was the last attempt by any government to close a major line and it heralded a renaissance in the rail industry.

We have now just recently seen the completion of the £9 billion upgrade of the West Coast Main Line, so important to our Cumbrian economy that it is hard to overstate its importance. We now have a regular journey time from Carlisle to London of just over 3 hours in comfortable, modern trains.

Nationally, we recently completed the first high speed line from the beautifully renovated St Pancreas Station to the Channel Tunnel; unfortunately decades behind our European neighbour but better late than never. Globally there is a general recognition that high speed trains are the future, being more economical and environmentally friendly than air travel for journeys up to 500 miles. Even the US, with years of neglect of its railways and reliance on domestic air travel is now, under President Obama, starting to build high speed lines.

In the UK, political parties are now committed to building more high speed lines; High Speed 2 is likely to go from London/Birmingham/Manchester and then its path is undecided. It is essential to Cumbria that this is extended to Glasgow, up the West Coast, stopping in Carlisle.

To achieve this we must launch a campaign which will be prolonged and costly, but one we cannot afford to lose. There is a strong lobby to get this new high speed link going from Manchester via Leeds/Newcastle to Edinburgh and we in Cumbria must resuscitate the spirit and determination of those who fought and won the battle to save the Carlisle to Settle Line.
---
Parents' victory raises funding issues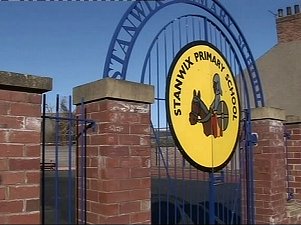 17 Jun 2009
While parents celebrate their victory in obtaining places at Stanwix School for their children, Eric has called on the County Council for some answers.
The appeal may have been won, but the school is already full with little room for expansion. Eric wants to know how the school will manage and demands assurances that the extra costs do not come from the school's current budget.
Eric said,
"This does create serious questions. Stanwix is a school that is full, on a restricted site. Does it means they will be taking over the former temporary classroom across the road or does it mean if there should be more than 30 pupils in a class that an extra teacher will be provided?

"The other issue is that guarantees must be given that none of the extra costs associated with the parents winning appeals to Stanwix School will fall on the existing budget of the school itself. Extra money must be made available from the county council."
The families whose appeals have been successful so far are thought to be six in number and where there are already sibling links with the school.
The headteacher has promised the school do its best and he too is calling for extra expenses to be met by the county council.
---
West Coast doubts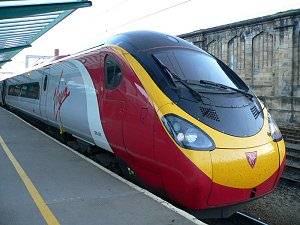 9 Jun 2009
Eric has said that the West Coast Main line still lacks reliability.
This comes after a signal failure and a substitute bus doubled his journey time to London.
Eric said,
"The work has been done and it has improved the quality of the service, but there's still a question mark about the reliability of the infrastructure."

"When it works it works very well - and it works very well most of the time."
---
Hope for Stead McAlpin
5 Jun 2009
Eric is hoping the new deal struck at Stead McAlpin will work this time.
The workforce have decided to go with an offer by Chris Soaper after initially rejecting it. Eric says keeping the factory open means work can increase in the future.
Eric said,
"I don't think they are out of the woods yet - its a difficult situation.

"If the factory closed, nobody would have a job. If they can keep the factory open there is always the option to increase the work there.

"I understand the feelings of the workforce because they have been let down in the past. I hope it works this time."
---
Local Election Results mean Labour would have held at a General Election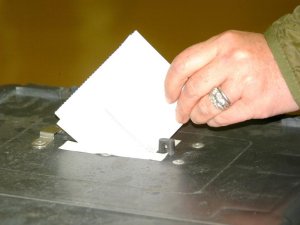 Labour would have held Carlisle in a General Election (Photo: FreeFoto)
5 Jun 2009
Carlisle MP Eric Martlew went on to say one of the most disappointed people in Carlisle today would be the Conservative Parliamentary candidate.
Despite what has been happening around the country Labour performed better than in the local elections held last year. A quick analysis said that Carlisle would have been held with a reduced majority.
He paid tribute to the Labour Councillors in the City and expressed disappointment in losing two excellent county councillors, Helen Horne and Anne Glendinning but thought that when the results are viewed throughout the country, Carlisle will be looked at as one of the better results throughout the country.
---
Thumbs down to Hilltop Heights
5 Jun 2009
Eric Martlew has released the results of a community survey study where he asked a number of questions about local issues.
The figure which stands out about this survey is that 77% of those who responded said Super Surgery should not be built at Hilltop Heights but in the centre of the city.
Only 9% of those surveyed were satisfied with the progress of the Renaissance Board whilst 55% were dissatisfied.
66% of those surveyed were in favour a new Sainsbury store being built in the Caldewgate area.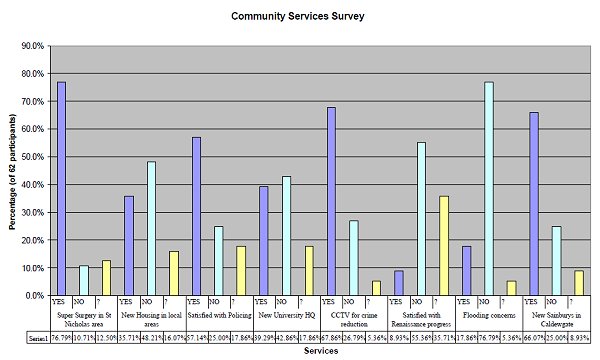 ---
'Sad dilemma' of Stead McAlpin workers
23 May 2009
Eric has spoken of the stark choice facing the remaining Stead McAlpin workers.
The administrators managing the factory's affairs have said that the plant will close unless a buyout deal can be done, leaving the 61 workers facing either pay cuts or no jobs at all.
Eric said,
"It's very difficult. They have worked there a long time and the pay has been reasonable, but they have got a stark choice.

"They are in a situation where they take a pay cut or stand to lose their jobs - that's the sad dilemma they face.

"Plus, there's the fact there's only statutory redundancy pay available. It's not an inviting prospect."

"The workers have now to make their decision. I am not going to advise them. They have been through a lot. I am sure they will reflect on it over the weekend."
---
Private Investment Royal Mail's best chance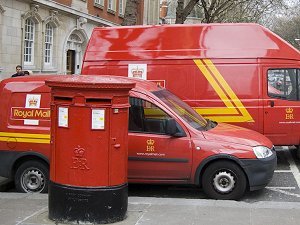 21 May 2009
Eric says that the plan to bring private investors into Royal Mail is its best protection against full privatisation.
He has refused to sign a Commons motion which is opposed to the plan, saying the 30% of extra investment will give Royal Mail the chance to modernise.
Eric said,
"I won't sign it because I believe this proposal is the best chance that Royal Mail has of not being privatised. Customers know that service has been deteriorating over the years.

"This plan would bring 30 per cent extra investment which will give Royal Mail the chance to modernise. I think the management have let Royal Mail down.

"This would give the business fresh impetus. It's not privatisation, which I would totally oppose. I fundamentally believe this is the best chance for Royal Mail. It will bring in extra management expertise and fresh investment."

"Royal Mail needs to grasp the opportunities afforded by the modern technologies of the internet and digital communications. This investment would help in that."
---
Break Pub chains
21 May 2009
Eric has called for a system that would keep the price of beer in pubs down.
He says many of the big pub chains have forced enterprising tenants out of business by pushing rents too high one a pub is successful. He and other MPs have met campaigners in London to promote their cause.
Eric said,
"Too often I have seen people take over a pub and make a real go of it, only to find that the company that owns it then puts up the rent to an extent that it almost becomes impossible for these landlords to earn a living.

"I'm not sure that Cumbria has had a worse time overall than anywhere else. We have lost a lot of pubs, because of changing habits, and because people don't go to traditional pubs so much as bars. There has been some effect from the smoking ban, but that's a price worth paying.

"We need to have a system whereby we can push up the price in supermarkets without affecting the pubs."
---
Sheep at risk
18 May 2009
Eric has called for a ban on sheep on Rickerby Park.
He has written to Carlisle city Council expressing concern that the sheep are vulnerable to attacks by dogs.
He wrote,
"The sheep, along with their lambs, are at risk of being chased by dogs and have no safe haven in which to escape. From an annual welfare perspective this is hardly an ideal situation.

"Secondly, responsible dog owners are finding it very difficult to walk through the park because the flock is large and very widespread. Rickerby Park had always been a major amenity for Carlisle.

"The problem is the incompatibility of dogs and sheep. Cattle grazing gives no problem. In fact, when the Highland Cattle are there is it an additional attraction to the park."
The city council say it is up to dog owners to control their dogs.
---
Eric to reveal all
16 May 2009
Eric is going to publish details of his expenses.
He intends to place all his receipts and claims back to 2005 in the public domain in the next few days.
Eric said,
"In the present situation, the sooner constituents know what the situation is regarding the local MP, the better."
---
'Why was Belah closed?' Eric asks Tory
15 May 2009
Eric has written to Tory and Lib Dem councillors asking why they supported the closure of Belah School, which has led to some children not getting into their local school.
Eric want to know what these councillors will do to solve the problem that their support created resulting in young children being taxied across the city.
Eric wrote to Cllrs Liz Mallinson and Olwyn Luckley:
"Despite my plea for you to oppose the closure and support my suggestion of a down-sized community school on the Belah site, you actively supported the closure. It is now glaringly obvious that you made the wrong decision which has resulted in distress for many families."

"I would like to know what steps you intend to take to ensure that children are able to attend a primary school in their neighbourhood and not have to be taxied to other parts of the city."
The fiasco may mean a new school will have to built in Belah, especially if a new housing development is built.
---
Prison could bring 400 Jobs
15 May 2009
Eric has said that a new prison at Kingmoor Park could bring 400 jobs to Carlisle.
He has met David Hanson, Minister of State, Ministry of Justice, with responsibility for prisons to persuade him to consider Carlisle when the government decides where five new prisons are to be built.
Eric said,
"I have had a meeting with the minister. He has said they are looking for a site in the north west and will meet a delegation if we want to see him. I want him to look carefully to Carlisle as one of the options. Nobody is saying 'Yes, we should have this', but we should find out more."
On the issue of jobs for the city, Eric added.
"The reality is that the days where a company is going to set up in Carlisle and bring 400 good jobs are over.

"This is a real opportunity to get good employment in the area and bring money into the economy. I think we should very carefully consider it. We are not saying we should have this, but we should express an interest with the minister, put a case together, look at it and if it works, go ahead with it."
---
Call to ban snares
12 May 2009
Eric is urging the government to ban snares.
He has put down a parliamentary motion drawing attention to a report which highlighted the suffering caused by snares and calling on the government to outlaw them.
The Early Day Motion reads:
EDM 1473
BAN ON SNARES
12.05.2009
Martlew, Eric
That this House congratulates the League Against Cruel Sports for producing the report War on Wildlife highlighting the indiscriminate suffering caused by snares; notes a recent poll conducted by the League Against Cruel Sports in conjunction with the Royal College of Veterinary Surgeons which found that 90 per cent. of respondents were strongly behind a ban on snares; and therefore calls on the Government to outlaw the manufacture, sale and use of all snares.

---
Labour has taken the right decisions
9 May 2009
Eric says that Labour has taken the right decisions to help Britain through the recession.
He says that if there were an election now, Labour would have serious problems, but by next year, the government's actions will be seen to have been the right ones.
Eric said,
"If there was an election now we would have serious problems. By the end of the year, the economy will start to improve and people will see we have taken the right decisions.

"I've seen private polling, which shows that the electorate is volatile. They are not greatly supportive of the Government but they're not convinced that David Cameron and the Tories are a real alternative."

"We have to say to people, 'we're not going to be telling you what to do all the time'. The smoking ban was radical legislation that has been accepted but there has been too much prescriptiveness. We have to be seen to be on the side of the individual."
On Labour's leadership he said,
"We're a year away from an election and Gordon Brown is going to lead us into it. If he wins, he will continue as Prime Minister and leader of the Labour Party. If he loses, I would expect him to go very quickly."
On the Prime Minister's style, he commented,
"The financial crisis brought out the best in him but he can appear a little remote talking about day-to-day issues. Tony Blair was very charismatic but the world has moved on and the country is ready for somebody less showy."
He fears a Conservative win next year.
"If the Tories revert to type, we will see the ordinary working people suffer and the rich getting better off. There will be savage cuts in public expenditure. My fear is that David Cameron isn't up to the job. He has modelled himself on Blair but he hasn't got Blair's intellect or beliefs."
---
CHA merger opposed
8 May 2009
A petition about the plans to merge Carlisle Housing Association (CHA) with Riverside in Liverpool has been handed to Margaret Beckett, Minister of State, Department for Communities and Local Government, and responsible for housing.
Eric is backing the campaign fearing a merger would lead to a loss of service in Carlisle and job losses in the city. He said the association need to listen to people. He expects to meet Margaret Beckett again soon.
Eric said,
"The people at the meeting were expressing genuine concerns about the accountability of the housing association.

"I'm sure I'll have another meeting with Margaret Beckett about how we can take the issue forward.

"In the past, things have happened on both sides which are best forgotten. I think Riverside, and the tenants' organisation should start afresh. The association needs to give the impression that they are listening to people and that they are not making decisions in private."
---
Stead McAlpin interest 'good news'
1 May 2009
News that up to five firms are interested in taking over the Stead McAlpin factory has been welcomed by Eric.
He has also been in contact with John Lewis about redundancy terms, saying their lack of help for former employees has produced negative publicity for the Partnership. He hopes the factory can be sold as a going concern.
Eric said,
"I think this is good news. At a time like this if people are interested it is obviously a good business, which we always thought it was. The product they make is second to none."
---
Harraby School in top 100
1 May 2009
Pennine Way Primary School in Harraby is just one of 100 schools in the country to be congratulated by Schools Minister Jim Knight.
Eric has added his pleasure at the school's success. The school is one of those that has seen the best sustained improvements in national test results.
Eric said,
"I'm delighted for Pennine Way. It is a school that has had problems but it has put those right and they have excelled. This is something that the teachers, staff, parents and pupils should be really proud of."
---
Parents urged to appeal school decisions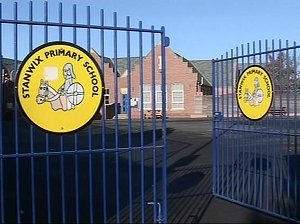 29 Apr 2009
Eric is advising parents who have failed to get their children into nearby schools to appeal.
After the closure of Belah School, which Eric opposed, there is a shortage of places at Kingmoor and Stanwix. Several families have contacted Eric asking for his help, as some schools offered are miles away from the children's homes.
Eric said,
"I would urge parents affected to appeal against the offers they received. I'd also ask the county council to look at putting teachers in where they can so people don't have to go outside their catchment area."
---
Lib Dem says Sorry and quits
29 Apr 2009
Steven Tweedie, Lib Dem councillor for Dalston, has apologised to Eric for 'negative tactics and ungentlemanly behaviour' on a website he set up to slur Eric.
He has also stepped down as his party's parliamentary candidate. Cllr Tweedie at first denied all responsibility for the website, but was later forced to admit that was untrue. Eric has accepted the apology.
Eric said,
"I was pleased he apologised. I was prepared to take it further but it's obvious now that Steven Tweedie was behind this website, which didn't bother me but did upset my family and friends. It's the sort of thing that gives politics a bad name."
---
Prison Plan for Kingmoor
28 Apr 2009
Eric says that the plans for a prison at Kingmoor Park might put investors off the business park.
But he said the plan should be looked at on its merits, noting that many communities are happy with prisons because of steady employment.
Eric said,
"All the areas I know which have prisons are happy to the extent that they provide regular employment and bring investment to an area.

"But one thing I'd be concerned about at this particular site is that it might put people off from moving to what is the premiere business park in the county. There are pros and cons."
The Kingmoor site is on a list of possibles published by the Ministry of Justice.
---
Close Shave for Ethanís Grandma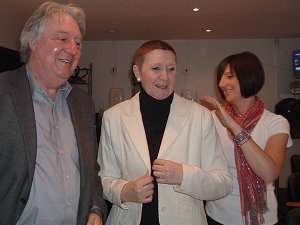 Eric watches as Nora's hair is removed
(Photo:Elsie Martlew)
25 Apr 2009
Eric joined the well-wishers when a Carlisle grandmother was shaved on Friday.
Nora Lowther was losing her long red hair at Rascal's Hairdressers to raise money for the Newcastle hospital ward which saved the life of her six year old grandson Ethan from a brain tumour. Ethan. of Dalesman Drive, Oakland View, will soon start an intensive course of chemotherapy.
---
Back to Belah?
25 Apr 2009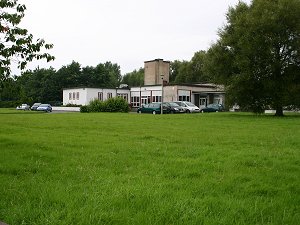 The old Belah school - a new one could be built here

Less than a year after closing Belah School, Cumbria County Council may have to do a U-turn.
Eric is due to meet Moira Swann, Director of Children's Services, on Monday to discuss the fiasco, which he opposed all along. There have not been enough places at Kingmoor and Stanwix and if a planned development at Crindledyke goes ahead, a new school, possibly at Belah, would have to be built.
Eric said,
"I welcome the council's acceptance that there is a major problem. The Labour councillors opposed the closing down of Belah School and they did say there is a problem. My phone has been red hot with parents distressed. But where are we going to get the money to build a new school?"
---
John Lewis has moral obligation
22 Apr 2009
Eric has co-sponsored a Commons Motion calling the John Lewis Partnership to honour its obligations.
The motion points out that the Stead McAlpin workers were guaranteed John Lewis conditions for two years, not yet up, and says that if the partnership does not honour that, it will no longer an employer of distinction.
The Early Day Motion reads:
EDM 1331
JOHN LEWIS PARTNERSHIP AND EMPLOYMENT RIGHTS
22.04.2009
Anderson, Janet
That this House recognises the importance of manufacturing industries to the parliamentary constituencies of Carlisle, Rossendale and Darwen and Hyndburn; is seriously concerned that Apex Textiles which, 18 months ago, took over the businesses of JH Birtwistle in Haslingden and Stead McAlpin in Carlisle from the John Lewis Partnership, with a commitment to honour the John Lewis terms of employment for any workers facing redundancy within two years, has now reneged on that commitment as a result of that company being called into administration; understands that, in the current climate, such a demand on Apex Textiles would have been difficult, if not impossible, to meet; considers, therefore, that John Lewis has a moral obligation to help to honour the terms and conditions its former employees would have enjoyed; notes that the John Lewis website claims that the company is an employer of distinction with the happiness of all its members at the heart of the John Lewis Partnership and that it also credits its founder, John Spedon Lewis, with a corporate conscience; and calls on the Government to impress upon the John Lewis Partnership its moral obligation to meet and fund the terms and conditions of those who have now lost their livelihoods, in the recognition that, if it does not, its claim to be an employer of distinction will no longer be taken seriously.

---
Flag To Fly For Armed Forces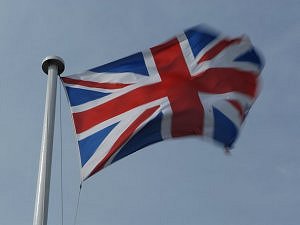 20 Apr 2009
Carlisle's MP, Eric Martlew, is pleased that Carlisle City Council has agreed to his request to "Fly a Flag for our Armed Forces" in the week 22 - 29 June.
"I wrote to the City Council last month asking them to take part in this event and I've just received a letter back from the City Solicitor agreeing to my suggestion,"
said Eric.
He continued,
"This ceremony is to pay tribute to the men and women in our Armed Forces, past and present, who have consistently given superb service to the nation, whether in defence of the realm, humanitarian relief, peace keeping or search and rescue.

"The flag - raising ceremony at 10.30 on Monday 22 June, Armed Forces Day, will give public recognition and appreciation to the work of our Armed Forces."
---
Lib Dems Exposed
15 Apr 2009
A Lib Dem Councillor has been exposed as being behind an anonymous website attacking Eric.
Ownership of the website has been traced to Steven Tweedie, Lib Dem councillor for Dalston, who admits the site is in his name but he says he is not involved and is just a 'caretaker'. Eric wants him to explain his involvement and says he thought all along it was a Lib Dem set-up.
Eric said,
"From the start, I thought this was a Liberal Democrat set-up. I think Councillor Tweedie has now got to explain himself. Why is he involved if it was not Liberal Democrat instigated?

"I am totally indifferent to this website. I just believe there was Liberal Democrat involvement in this."
The website has now been removed.
---
Saving Settle Line was 'turning point'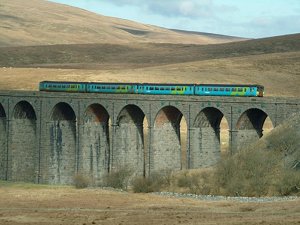 Settle to Carlisle Line (Photo: FreeFoto )
14 Apr 2009
Eric has said that the saving of the Settle-Carlisle line twenty years ago was a turning point.
Speaking at Garsdale Station on the anniversary of the announcement, he said the campaign to save the line had been proved totally justified, allowing expansion in freight traffic and easing problems on the west coast main line.
Eric said,
"It has been totally justified. If this line had closed it would have created massive problems for the railways in the north of England. The upgrade of the West Coast mainline would have been even more disruptive because you wouldn't have been able to divert traffic along the Settle line.

"The massive expansion in freight could not have happened, we wouldn't have had any room on the west coast mainline. It was the first step towards stopping the decline in railways. Since then no significant railway line has closed. It was the turning point. All we talk about now is expansion."
---
Jayne Prewitt
11 Apr 2009
Eric is one of several prominent local people who submitted testimony to the judge on behalf of Jayne Prewitt.
The former city mayor pleaded guilty to stealing £38,000 from the Southend Constitutional club to feed her addiction. Eric wrote on behalf of his old friend hoping to provide the judge with a balanced view of her.
Eric said,
"Jayne has been a friend of mine for 25 to 30 years. Obviously what she did was wrong and she has pleaded guilty to this and she has to be punished. But she has been a dedicated councillor and a good friend to me."

"When she left the council she was never really able to find a job that matched her abilities. She gave so much to the city. She helped me in a lot of my campaigns and she was a very good councillor who was well thought of in the area.

"We can't forget what she did before this and you have to stick by your friends especially in the bad times. I just hope that when this is over she can make a new life for herself."
---
Prime Minister goes from G20 to Carlisle
Eric and Gordon Brown among others at the police station

10 Apr 2009
As Gordon Brown visited Carlisle Eric welcomed him and said the visit was important for local businesses.
Eric said he was in touch with the Prime Minister about Stead McAlpin who asked to be updated by Eric. Eric said he was pleased the Prime Minister found time in his busy schedule to visit the city to talk to business and view the new police station.
Eric said,
"This time last week Gordon Brown was chairing the G20 summit. I am really pleased that he has accepted my invitation to come up. It is important he meets local businesses to answer questions about how we get out of recession."
Concerning Stead McAlpin, Mr Brown said,
"The issue raised is one Eric Martlew is taking up and I will talk to him about it."
---
'Crumb of Comfort' in Pirelli Job Cuts
9 Apr 2009
As Pirelli announce further redundancies, Eric has said the fact that so far they are voluntary is a 'crumb of comfort'.
He is contacting the company to clarify the job situation as this is the fourth round of job losses at the plant in a year.
Eric said,
"Obviously this is concerning. The fact they are asking for volunteers mitigates it to some extent. There are often people who would like to leave and go down different career paths. As long as it is voluntary is a crumb of comfort.

"If this must be done to preserve the future of the factory, it may be harsh but it is probably needed."
---
Tory Rates stance 'hypocritical'
2 Apr 2009
Eric says the Tory Prospective Parliamentary Candidate for Carlisle is hypocritical over the reduced rise in business rates.
Chancellor Alistair Darling has cut back the planned rise in business rates from 5% to just 2%, a move welcomed by the Tory Shadow Minister, but John Stevenson says business will suffer, even though the rise is less than the council tax demand that Mr Stevenson voted for.
Eric commented,
"John Stevenson is out of step with his party because Caroline Spelman, Shadow Secretary for the Office of the Deputy Prime Minister, actually welcomed the reduction in the rise in business rates.

"It's a lower percentage increase than Carlisle City Council is asking for in Council Tax, voted for by Mr Stevenson. Businesses are actually getting off lighter than householders. I find Mr Stevenson's position very hypocritical."
---
John Lewis must keep its Promise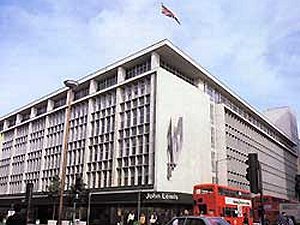 John Lewis headquarters

2 Apr 2009
Eric aims to hold John Lewis to an agreement which promised good redundancy terms to Stead McAlpin workers.
When the Carlisle plant was sold in September 2007 to Apes Textiles, but Eric believes that the agreement was that works made redundant within two years would receive John Lewis' more generous redundancy terms.
Eric said,
"I'm shocked by this but I'm not totally surprised. From the moment that John Lewis sold the firm its chances of survival decreased considerably.

"It's my belief that there is an agreement that if people are made redundant before September of this year then those workers will get the very generous redundancy package that John Lewis offers. I am going to insist that John Lewis hold to that agreement.

"These people were part of the John Lewis Partnership and they woke up one morning to find that their jobs had been sold and now it's up to John Lewis to keep their part of the bargain for these workers."

8 Apr 2009
As workers kept a vigil outside the plant, Eric took time out to support them by sharing the vigil for a time.
He said,
"In all my years as a Member of Parliament, I've never met staff who were so committed and felt so betrayed by a company they believed they were co-owners of. We've got to shame John Lewis into carrying out its obligations."
---
Saving the Settle Line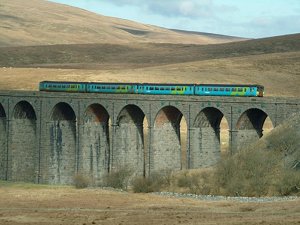 Settle to Carlisle Line (Photo: FreeFoto)
1 Apr 2009
Eric has tabled a Parliamentary motion applauding those who saved the Settle to Carlisle line twenty years ago.
He also points out this was the last attempt by any UK government to close a major railway line and says the decision to save the line was the start of the renaissance of rail.
Eric's Early day Motion reads:
EDM 1268
20th ANNIVERSARY OF SAVING OF SETTLE TO CARLISLE RAILWAY LINE
01.04.2009
Martlew, Eric
That this House welcomes the 20th anniversary of the announcement that the Settle to Carlisle railway line was to be saved; applauds the efforts of those who were instrumental in the campaign to save the line, including hon. Members, local councils and Friends of Settle to Carlisle Railway; acknowledges that this was the last attempt by any government to close a major railway line; and regards the decision as the start of the renaissance of rail.

---
Rail fare Reversal
31 Mar 2009
Eric has welcomed his victory in a campaign on rail fares.
He had been pressing for a reversal of a change that meant outward rail tickets could only be used on the stated date. But after Eric, as Chair of the All-Party Rail Parliamentary Group, was vociferous in demanding this be rescinded, and now the return ticket is valid for five days.
Eric said,
"The change had created a lot of confusion and wasn't really satisfactory. As chair of the All-Party Rail Group, I called a meeting with ATOC and following that they changed their minds. From March 16, tickets will be valid for five days. In my view, the change should never happened. It has caused an inconvenience for passengers."
---
Hilltop Buses not viable
30 Mar 2009
Eric has said that a plan to run buses to the proposed super surgery at Hilltop Heights is a non starter.
He maintains that the only way such services would be viable is by increased fares or a subsidy from the NHS. This comes after Dr Peter Weaving, lead GP for the Carlisle district, said he thought the public transport issues would be solved.
Eric said,
"To me the board of NHS Cumbria have given a commitment that if they can't put on direct buses from Upperby and Botcherby then they won't go ahead with the project.

"If they did then they would actually be penalising people in areas with the worst health and lowest income. It would be widening the health equality gap."
NHS Cumbria has approved the plan, but subject to satisfactory transport arrangements.
---
Praise for Four Year Campaign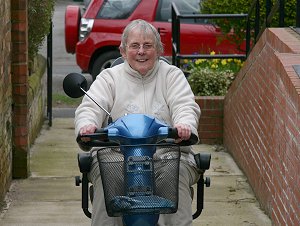 Mrs Joyti Saraswati
(Photo: Elsie Martlew)
26 Mar 2009
Eric has praised the determination of pensioner campaigners who have won a ramp at their care home.
Eric and his wife Elsie got involved in the matter at Edenvale in Stanwix run by Anchor Trust. Jyoti Saraswati, 75, became effectively housebound because there was no ramp for her wheelchair.
After a four year campaign, Anchor have now installed the ramp and Miss Saraswati can now get out and about.
Eric said,
"These vulnerable elderly residents have been made to wait too long for this ramp. They should be commended for their determination but they should not have been made to fight."
---
Doubts about Assisted Suicide
24 Mar 2009
Eric is calling for a proper debate on the issue of assisted suicide.
Patricia Hewitt is proposing an amendment to the Coroners and Justice Bill but Eric says the matter should be debated properly.
Eric said,
"We could get into a situation where people who are terminally ill will have pressure put on them to do this - or will put themselves under pressure - thinking they are a burden to others."

"I feel parliament is due a debate on this issue, but it should be a full debate, not this amendment. I don't think the time is right."
---
MP to present Housing Petition
20 Mar 2009
Eric has agreed to present a petition from Carlisle to the Housing Minister Margaret Beckett
It is opposing plans to amalgamate the Carlisle Housing Association and six more in the North-West. Critics say the loss of an independent CHA would means the cityís housing being administered from Liverpool. The petition, from the Carlisle and Rural Tenants Federation, has already attracted 2,500 names.
Eric said,
"Iím opposed to the merger because I can see absolutely no benefit from it at all. You have to remember that when CHA was formed in its present format it was after a vote by the tenants. So if they are going to make a significant change of this kind it should again be put to a vote of the tenants.

"The other thing is that the logic of the merger will, I suspect, be a reduction in the number of people working there. My fear is that there will not be any jobs transferred from Merseyside to Carlisle - it will be all the other way round."
---
Tackling Binge Drinking
18 Mar 2009
Eric has said the issue of binge drinking needs to taken seriously by politicians.
He was commenting in the wake of comments by Englandís chief medical officer, Sir Liam Donaldson, proposing a minimum price per unit of alcohol, a call backed by Professor John Ashton, Cumbriaís Public Health Officer.
Eric said,
"I think politicians should look at this issue seriously and talk to manufacturers and the pub trade and then come to a decision.

"This country has got a problem with binge drinking. We have got a problem with alcohol being sold for promotional purposes in supermarkets and it tends to be younger people who are buying it."
---
Tory claims now Ďsuspectí
13 Mar 2009
Eric says that Tory claims they would win the Carlisle seat at the next general election are now suspect.
He was commenting on the Conservativeís poor showing in this weekís city by-elections, where the Tory vote collapsed by 20% in one ward, while the Labour vote was relatively stable.
Eric said,
"This proves that comments by John Stevenson that the Conservatives are going to win Carlisle are now very suspect.

"The drop in the Tory vote is a comment on the leadership of the Conservatives and Liberal Democrats at the city council. People know theyíre doing a bad job and want them out."
---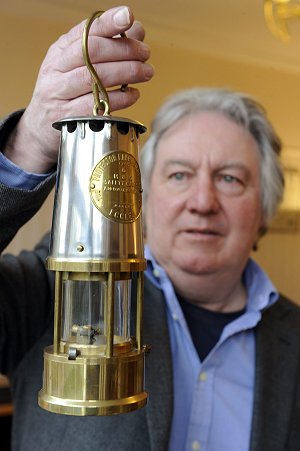 Carlisle and the Minersí Strike
11 Mar 2009
It may be 25 years ago, but Eric has not forgotten the Minersí Strike.
The local Labour Party, of which at that time Eric was Chairman and of Cumbria County Council, set about helping the miners.
Miners from Ellington Colliery, ĎThe Big Eí, came weekly to Carlisle during the miners strike and received gifts and money provided by Carlisle residents and later presented the local party with a Minersí lamp in recognition of that support.
Eric remembers to divisions that the strike caused, saying,
"There were two people to came across - a father and son. Soon after, I heard that the father had gone back to work and that it split the family."
---
Pirelli still looking to the future
9 Mar 2009
Eric has said it is encouraging to see that research and development on future projects is still going at Pirelli.
He says itís a difficult time for the workforce who face layoffs and some redundancies, but that this is better than Pirelli pulling out of Carlisle altogether. The demand for tyres has collapsed along with the demand for new cars.
Eric said
"I visited Pirelli on Thursday and itís clear that this is a very difficult time. But they are doing everything they can to ensure the long-term future of the factory. Some decisions are creating hardship among the workers and I donít underestimate how hard that is. However, these decisions are essential: people arenít buying cars so the demand for tyres is reduced.

"Itís better for these hard decisions to be taken now than no decisions taken and the factory closes. I was encouraged to see that there is still investment at the factory in areas like research and development where people are working on projects two years ahead."
---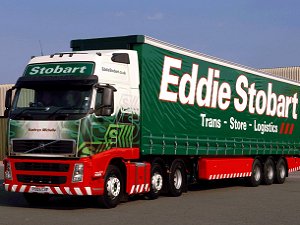 Backing for Road Freight
6 Mar 2009
Eric has co-sponsored a Commons motion in support of the road freight industry.
It draws attention to the impact of higher charges and fuel duty on the sector. points out the large number of jobs supported both directly and indirectly and calls on government to give the industry greater priority.
The full Early day Motion reads:
EDM 994
JOBS AND BUSINESSES IN THE UK LOGISTICS SECTOR
05.03.2009
Prosser, Gwyn
That this House supports the goals of the Every Penny Counts campaign which is supporting jobs and businesses in the road freight sector; notes that the success of the British economy is dependent on the success of its logistics sector, which directly employs some 2.3 million people and indirectly supports the work of many millions of others; recognises that the current economic downturn has had a severe and highly damaging impact on the logistics sector, causing insolvencies in the sector to double from fourth quarter 2007 to fourth quarter 2008; notes with concern that increases in costs to the logistics sectorís operations, such as increases to fuel duty and road vehicle testing charges are specifically targeting UK logistics companies that are struggling to stay afloat; and calls on policymakers to give greater priority to the impact of economic measures on the freight sector before more companies are forced out of business and more jobs are lost.

---
City Council Ďin denialí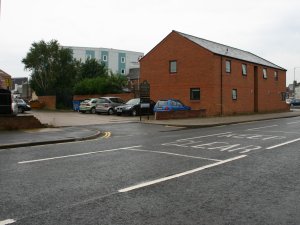 6 Mar 2009
Eric has hit out at the city council for not holding an inquiry into the Ďcatalogue of errorsí over the siting of a new family hostel.
Ignoring advice from Eric and others, the council had planned to put the hostel close to one that had housed sex offenders and drug addicts, and the city council only relented when the police intervened.
Eric said,
"A decision was nearly made that would have put vulnerable children in severe danger and it should never have got to the stage it did. If it had not been for the police intervening at the very last minute, this project wouldíve gone ahead. It was a disaster waiting to happen.

"The county council is saying we will look at this. The city council is in total denial. What they are saying is they are going to do nothing about it."
---
Cycle Coup for Eric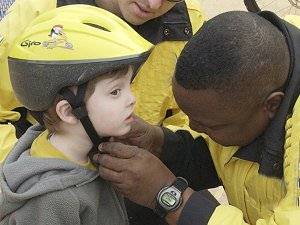 3 Mar 2009
Eric's long running campaign to save children from injury by enforcing the wearing of cycle helmets may be about to bear fruit.
The government is reported to be looking at the matter again, setting up a scientific inquiry into the effectiveness of the child cycle helmets, possibly making them compulsory by next year.
Eric said,
"I believe now, as I did then, that up to a dozen young lives could be saved every year if the law was to be changed.

"If parents tell youngsters to wear a helmet then they might or might not. If they tell them to do it because itís the law, then they will do it. We are talking here about under 16s.

"One of the positive things that did come out of my campaign five years ago was that the British Medical Association came out in favour of the move."
---
Super Surgery Site
2 Mar 2009
Eric wants St Nicholas Gate to be considered as the site for a new super surgery.
He says Hilltop Heights is unsuitable but there are empty business premises in St Nicholas Gate and on Botchergate that could be use which would be more accessible.
Eric said,
"In my view Hilltop Heights has only one advantage, itís in the south of the city, whereas St Nicholas Gate is also in the south, as well as being on the bus routes from Upperby, Currock and Harraby.

"We also, as a city, have a problem in terms of empty buildings at the bottom of Botchergate. If they were to go for a scheme in this area there may well be regeneration money available through Carlisle Renaissance.

"This is a way of killing two birds with one stone.

"The present bus diversion to Hilltop Heights are causing passenger journeys to increase by up to ten minutes.

"I think the St Nicholas Gate idea needs consideration. The retail sector is doing very badly at the moment and these buildings could be easily adapted to create something really special.

"It is the ideal place and the ideal time to do this. I can therefore see no reason to put this new surgery on one of the highest hills in the city."
In response to the doctorsí claim that Hilltop Heights is the best place, Eric said,
"I am amazed they canít find a better site then the one they are talking about. At this time there are three alternatives which are better for the patients.

"My concern is that the decision is not about what is best for the GPs, but what is best for the patients. Iím worried this is just pandering to the whims of GPs."
---
Cumbrian Dentists will fill the Gap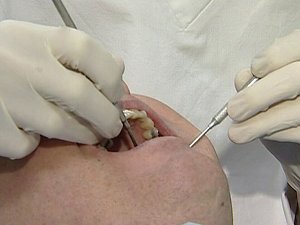 26 Feb 2009
Eric wants to visit the dentist, having seen the facilities at the opening of Carlisleís new dental education centre.
Situated behind the Cumberland Infirmary, the facility is also home to Carlisleís Dental Access Centre and Community Dental Service, and will train dentist who he hopes will choose to stay in Carlisle. Eric says this will help solve the shortage of dentists in the city.
Eric said,
"Ten years ago you would never have imagined setting this up here. Dental training centres werenít for the likes of us, they were for your Newcastles, Manchesters and Liverpools. But here we are. We want people to come to study at this centre and be attracted to the area, to form bonds and stay to practice here. Over time the people of Carlisle will really appreciate this centre. In about five years time Iím looking forward to going to a dentist thatís been trained here in Cumbria."
---
MP opposes Royal Mail Privatisation
25 Feb 2009
Eric has said again he is opposed to the privatisation of Royal Mail.
He say the governmentís plans are not privatisation an the government would retain a controlling share of the business, but it does the investment and modernisation that a private partnership should offer.
Eric said,
"It needs to be efficient with cash. Its pension fund is also in deficit and this cannot go on. Bringing in this expertise will be an assistance. The idea that everything is perfect now is not accurate.

"I am opposed to the privatisation of Royal Mail, but weíre not talking about that. As far as any threat to the Junction street depot is concerned, I am sure Carlisle is an efficient sorting office and the workforce is very good. Therefore, why would it be under threat?"
---
City of Opportunity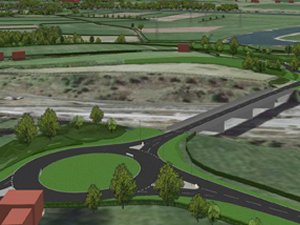 Impression of part of the CNDR

16 Feb 2009
Eric says that Carlisle has real opportunities because of massive public works.
Labour is ploughing cash into the city, £110M on various education sites alone. And then there are plans for the airport and the Carlisle Northern Development Route, all helping drive the city out of the recession.
Eric said,
"Because of the number of public works going on, there are real opportunities for Carlisle.

"Weíre going to have two new academies being built, a multi-million pound extension to Carlisle College, £20m spent on Trinity School, a headquarters for the university and the Carlisle Northern Development Route."
---
Lifeboat Lifeline
13 Feb 2009
Eric has received assurances that the Burgh by Sands Station will not close.
But while it is not certain that they will get a new boat, Eric is optimistic. He has met the responsible minister Jim Fitzpatrick and Rod Johnson of the Coastguard to make the case for the boat. A review is to be held.
Eric said,
"In the meantime I was given an assurance that the Burgh by Sands station will not close, whether they get the boat back or not. The volunteers will be given training in mud rescue and thereís a likelihood that they will be given an amphibious vehicle thatís yet to be finalised."

"Then of course we will be consulting fully on the replacement of the boat, and obviously I will be making strong representations that we should get a new one."
---
Remembering the State Management Scheme
13 Feb 2009
Eric wants a former pub to be reopened as a living museum to the cityís State Management Scheme.
The former Crescent Inn or White House pub could house the memorabilia as well as selling the Silloth brewed sell state managed ale and it would help revitalise a part of the city with too many unused buildings.
Eric said,
"I had hoped that the National Trust would buy the building but theyíve decided not to. The idea is still very much there and I am in talks about a way forward.

"I grew up with the State Management Scheme like everyone else of my generation. It is something that is unique to the city and worth commemorating. I think it would be wonderful for the Crescent Inn to be reopened looking the way it was in the 1920s."
---
Passengers should get a refund
12 Feb 2009
Eric is advising Virgin passengers to hang on to their tickets after the train operator admitted it had got some fares wrong.
Graham Leech of Virgin admitted under a grilling from Eric in the Commons that some fare rises were a mistake and fares would be reduced in May.
Eric said,
"Virgin should never have got it wrong in the first place. But if theyíre saying they have got it wrong, then come May people should be able to get their money back. I would advise passengers to keep hold of their tickets so they can claim."
---
Letís build now
12 Feb 2009
Eric has called for major public works to be started now.
He say this is a way of creating jobs at a time when Carlisleís unemployment is rising because of the banking crisis. He wants a start on roads, colleges and the Academies. He also is concerned that apprentices are losing their jobs and their chance of acquiring skilled status will be lost.
Eric said,
"We need to get some of the major public-sector construction projects underway such as the Carlisle Northern Development Route. There is the £35M extension to Carlisle College, the academies, the university and the redevelopment of Trinity School. These will help soak up people out of work in the construction industry. Next monthís will be a more accurate figure of where we are.

"The thing thatís worrying me is that young people part way through apprenticeships are losing their jobs. We need to ensure there are schemes and money available to enable them to complete their apprenticeships."
---
Morton Academy Plans
7 Feb 2009
Eric has visited Morton Academy and was pleased with what he found.
He said the children were pleased to be there and there was a sense of excitement. There are major developments planned for the school. He also said it was not fair to compare the cityís two academies now.
Speaking of his visit to Morton with his wife Elsie, Eric said,
"There is a sense of calmness and order about it. You get the feeling that the kids are pleased to be here. There is something for everyone to look forward to. This is a school thatís been in special measures twice, and personally Iím not sure it should have been, yet we can now feel an aura of excitement about the future.

"Itís not fair to compare the two Carlisle academies. One is being changed into an academy, the other is part of a merger and is subject to all the upset and rivalry that is bound to exist at first. Hopefully at the Central Academy they can put that behind them now and they are finally looking forward to becoming one school."
---
London could learn from Carlisle
6 Feb 2009
Eric has hit out at Tory London Mayor Boris Johnson for shutting the Capitalís bus services because of snow.
He says weather conditions in London were similar to Carlisle, and he praised Stagecoach In Carlisle for keeping services going in the snow.
Eric said,
"When I travelled down the weather conditions were identical between Carlisle and London. I would like to congratulate Stagecoach in Carlisle for continuing to provide a service, apart from in a few urban areas they were not able to get to because the county council no longer grits all bus routes."
---
Itís Snow way to be a role model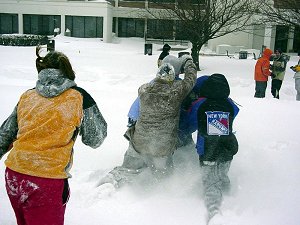 Some have fun in the snow

6 Feb 2009
Eric has criticised city schools that closed this week because of weather.
He says that city school in urban areas should have done more to remain open, and gives the wrong message to children that a bit of adversity is enough to give up. He said if city shops could open up, why not schools?
Eric remarked,
"I was shocked that some of the urban schools closed when children live nearby. I canít see any reason why city schools would need to close.

"In one way children get the opportunity to enjoy the snow but on the other hand it sends out the wrong message that we get a bit of adversity and everything has to close. Teachers are supposed to be role models for children.

"Many people who send their children to school have jobs and itís difficult when schools close to find childcare at the last minute. I understand schools having a reduced service if staff canít get in but ultimately the decision should be left up to the parents.

"If shops like Marks & Spencer and Tesco can open, then why canít the schools?"
---
MP attacks Virgin in Commons
5 Feb 2009
Eric has attacked Virgin Trains over their fares hike.
Fares were raised from £17 to £124 on early trains to Birmingham among others. Eric forced an admission out of the commercial director of Virgin Trains, Graham Leech that changes needed to be made during a session of the Commons Transport Committee.
Eric said,
"So you accept that these figures I have given you are correct, that you restricted the travel and almost doubled the cost of these fares. Are you saying now that you got it wrong? You are agreeing with me the fare from Carlisle to Birmingham went up from £71 to £124."
Mr Leech replied,
"In hindsight, in that particular case, we think it is right to make some changes. Yes, I am willing to make changes."
The transcript of the session may be read here.
---
Pirelli Hours Cut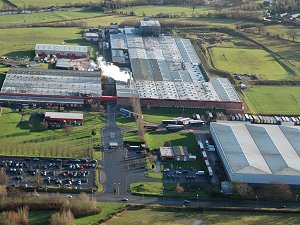 4 Feb 2009
Eric has said the cuts in hours at Pirelli will cause hardship for workers.
But he also says that the factory is modern with a high level of investment in quality tyres and the aim is to get through the downturn until demand for tyres recovers.
Eric said,
"The reduction in hours will create hardship amongst the work force but everybody can see that if people arenít buying cars, the demand for tyres drops off. Pirelli in Carlisle is an excellent, efficient factory and the company has invested millions over the years.

"What we need to do now is get through this period of economic downturn and once the world economy picks up again, people will start buying cars and the demand for tyres will increase. The Carlisle factory has gone from making standard tyres to high quality ones and the workforce has adapted to that and the company has invested capital to support that change."
---
Welcome for Rose Action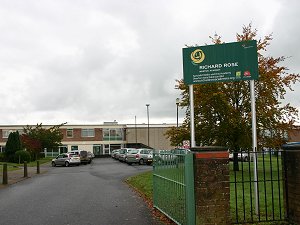 29 Jan 2009
Following the Ofsted report at the Richard Rose Central Academy, Carlisle MP Eric Martlew welcomed the action taken by the Governors.
He said,
"The appointment of such a strong management team should have an immediate effect on the performance of the school. Meanwhile I continue to hear excellent reports about the work being carried out at the Morton Academy"
Speaking on local radio later about this, Eric said,
"Iím pleased weíve got a new management regime. As well as the safety, they have also got to concentrate on those children in Year 11 and getting them exam results. After an Ofsted like that you canít say that they have not let people down. It was always going to be a difficult task, perhaps it was rushed, perhaps they shouldíve had a split site."
---
Richard Rose meeting positive
24 Jan 2009
Eric says his meeting with education officials and academy sponsor Brian Scowcroft was positive.
The troubled academy has been hit by a wave of student protest over the situation at the school, leading to temporary closure after one peaceful demonstration.
Eric said,
"It was a very positive meeting with the local education authority and Brian Scowcroft. They realised the seriousness of the situation and I think they realise urgent steps will have to be put in place to rectify the situation."
---
Pennine Way Primary to stay
23 Jan 2009
Pennine Way Primary school should move to the site of North Cumbria Technology College when that moves in 2011.
Eric says this would enable the primary school to use the facilities of NCTC, continuing existing practice. But the County Council has so far not given a decision about this in response to Ericís suggestion in letters to council chief executive Peter Stybelski.
Eric said,
"It would mean that the school could continue to use the facilities. There has been a tradition in Carlisle where primaries have moved into secondary school grounds - Robert Ferguson, Brook Street and Caldew Lea all did it. The advantage is of course there is more space as the secondary schools were developed for older and bigger children. It is an ideal opportunity to move Pennine Way and would certainly provide improved community facilities in some of the grounds of the old NCTC.

"It seems an appropriate time to consider the future of the Edgehill Road sites. The option, transferring Pennine Way to the NCTC site, seems a sensible use of resources. There will be an increased need to build new classes at Pennine Way soon as numbers grow."
---
Homes for Heroes
23 Jan 2009
Eric is trying to help ex-service personnel with housing problems.
He thinks that they have a worse deal no than when local councils controlled social housing. He has written to Kevan Jones, Parliamentary Under-Secretary, Ministry of Defence, asking for government help in setting housing priorities with Housing Associations.
In his letter he writes:
"I should be grateful if you would investigate whether former armed services personnel are given priority by social landlords when leaving the services. I feel that, despite the recent fall in house prices, it must be difficult for many to buy their own homes and that social landlords should have a duty to offer suitable accommodation.

"When local authorities managed their own housing stock it was the norm for them to allocate some priority in recognition of the unique position of service personnel; unfortunately I fear this may not be the case with many housing associations."
---
Bedsit Plan impacts social housing needs
19 Jan 2009
Eric is to open talks with Impact Housing about their plans to knock down bedsit flats.
The housing association want to knock down flats at Lister Court, Raffles, to make way for bungalows for the disabled and elderly. But Eric says this will exacerbate the shortage of affordable social housing in the city and a better site for the bungalows should be found.
Eric said,
"I am in favour of schemes to help people but I wonder whether we should be knocking down flats that have been built - probably some of the most modern flats in the social housing sector. When we have got a shortage of social housing they should not be knocking down flats, they should be looking for other sites."
---
Caldewgate Superstore
17 Jan 2009
Eric has been in talks with Sainsburyís about their plans for a new store on Caldewgate.
The company opted not build a store at Currock because of concerns over the traffic load, but Eric says that while the Caldewgate site is much better, there will still need to be improvements made there to prevent problems.
Eric said,
"I know some people are concerned about it not going to Currock, but Sainsburyís ruled it out because of traffic. They feel Caldewgate is a better site for traffic and commercial reasons and itís good for Carlisle that a large brownfield site is going to get built on. However, they are aware there are issues around traffic and air pollution in Caldewgate that need to be tackled. Hopefully the Carlisle Northern Development Route will alleviate some of those.

"They will need to carry out a traffic survey. That area of road is very wide and there are a variety of things that need doing to make sure itís not a problem. I was also concerned that the site is right next to a major employer, United Biscuits, but I have met the company and they are happy with the proposal.

"I was very pleased with what I heard from Sainsburyís and they are working towards putting a planning application in by the spring. Before then they will be holding public consultations."
---
200mph trains coming
16 Jan 2009
Eric has welcomed the governmentís announcement of a high speed rail route for the west coast.
It is many years away, but he says the government has made the commitment, and the line, initially from London to Birmingham, could later be extended to Scotland.
Eric commented,
"The line is very welcome and good news. Iíve been lobbying for this for a while. It wonít happen overnight - Iíd say it will take at least a decade but the commitment is there."
---
Up 20 kids lack local school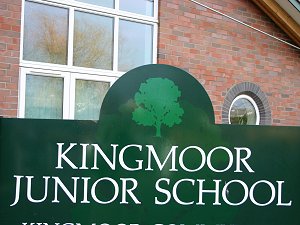 Kingmoor School, extra teachers?

16 Jan 2009
As parents in north Carlisle are forced to register their children for home education, Eric has again hit out at the lack of school places there.
He says that up to 20 children may be affected by problems following the closure of Belah School and he has had talks with Peter Stybelski, Chief executive of Cumbria County Council about it. He wants extra teachers at Kingmoor school for the extra children.
Eric said,
"We have got a situation since Belah School closed that we have got no capacity in the existing schools. The alternative is to send children around two miles away on bad roads. Weíve got to increase capacity up there. There are around 15 to 20 youngsters who canít get into local schools even though we were told there would not be a problem when they were considering closing Belah.

"There are two things, we canít build any more houses up there and are we saying to young families if you buy a house there, there is no place in a local school for you. It is a very serious situation that could have been avoided if they turned Belah into a community school. Urgent action needs to be taken."
---
West Coast Rail back on track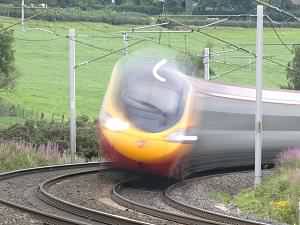 Virgin Pendolino train
(Photo: ATOC)
14 Jan 2009
Services on the West coast Main line have returned to normal, but Eric says the lineís reputation has been damaged.
He says that after a series of disruptions, what is now needed is a lengthy period of high quality, high speed service to restore the publicís faith in the route.
Eric, who Chairs the All-party Parliamentary Group on the West Coast Mainline said,
"What we have had is a series of incidents, the main one being the light aircraft crash, that no-one can be blamed for, but there have also been a series of technical problems.

"There is no doubt that in the short term there has been damage to the reputation of the West Coast Mainline. People will travel on it if it is fast, efficient and punctual. Once that reputation disappears they will use alternatives such as flying from Manchester or Glasgow.

"What we need now is a period of no disruption and good quality services. It is unfortunate we have had these problems as prices for the travelling public have gone up - beyond what would normally be justified. People are not going to pay a lot of money for a poor service."
---
Net Release
9 Jan 2009
Network Rail have agreed to remove the netting in Carlisle station.
Eric has campaigned for a long time about the nets that trapped birds, raising the matter in Parliament and with Ministers.
The nets were installed in 2001 to prevent starlings getting into the station and to reduce pigeon droppings, but many birds became fatally trapped.
Eric said,
"I am pleased this work will now be done, but it seems to me to have taken far too long for them to come to this decision.

"I have had to ask the transport minister about this in the House of Commons and the RSPCA have been involved, but finally they have come to the right conclusion."
---
Bail hostel doubt
8 Jan 2009
Eric has said he is not convinced that Carlisle needs another bail hostel.
The government wants to establish more of these, including one in Carlisle. They are for those classified as low risk only.
Eric said,
"Weíve had a bail hostel in Carlisle for more than 30 years and itís given us very few problems."
Police, councils and the Probation Service are all involved in setting up the homes, which are run by private company ClearSprings for offenders whose offences do not merit a custodial sentence but who have nowhere else to go. But local residents are not directly consulted, in part to prevent vigilante attacks.
---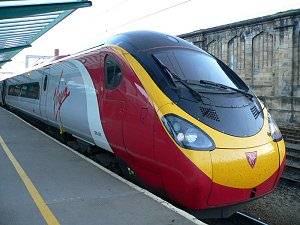 A Virgin train stopped at Carlisle

Eric wants answers from Network Rail
8 Jan 2009
Eric has said he will be asking Network Rail why there has been so much disruption on the West Coast Main Line.
He is both a member of the powerful Commons Transport Select Committee which will be asking for reports, as well as being Chair of the All Party Parliamentary Group for the line, which he set up.
Following a series of mishaps and power line failures, Eric said,
"Whether the maintenance is right, to whether the equipment is robust enough needs to be investigated. It may that the very cold weather, the higher speed of trains on the faster line along with there being more trains running all play a part. It is also possible that the pantographs may be a factor."

"We have spent £10 billion of public money on this line. Iím a member of the transport select committee and we will be asking for reports. It cannot continue as it destroys confidence in people travelling by rail."
The pantographs are the sprung mechanisms on the roof of the train that collect power from the overhead lines.
Power failures near Euston and further north, as well as a broken rail, have contributed to a week of chaos.
---
Turn up the Heat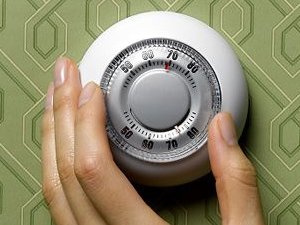 7 Jan 2009
Carlisleís MP Eric Martlew welcomed the £25.00 cold weather payments, as the cold snap hits Carlisle thousands of vulnerable people and pensioners will receive the highest ever Cold Weather Payment.
He said,
"When the temperature goes down no one should be afraid to turn up the thermostat - thankfully this cash boost will make a real difference to people in Carlisle who are worried about their fuel bills".
Those eligible to receive cold weather payments are pensioners, severely disabled people and families with a child under five or a severely disabled child, receiving the following benefits:
Pension Credit
Income Support
Income-based Jobseekers Allowance
Income-based Employment and Support Allowance
---
A Year of Opportunity
2 Jan 2009
Eric has said that 2009 could be a year of opportunity for Carlisle.
While it will undoubtedly be a difficult year, the number of projects, new academies and other public works including the five-mile Carlisle Northern Development Route, could mean better prospects for the city. But he is concerned at the lack of action on the Carlisle Renaissance, four years after the floods.
Eric said,
"We would be wrong to think 2009 is going to be anything but a difficult year. But because of the amount of public works going on, there are real opportunities for Carlisle. Weíre going to have two new academies being built, a multimillion pound extension to Carlisle College, £20M spent on Trinity School, a headquarters for the university and the CNDR.

"My concern though is we are coming up to the fourth anniversary of the floods and nothing concrete has happened with Carlisle Renaissance. We need the city council to stop consulting and take decisions on things like the Lonsdale and the Post Office on Warwick Road. The time for consulting has ended and its time now for action."
---
Virgin Unfare
2 Jan 2009
Eric is unhappy with Virgin Railís action on their fares.
Some fares are almost doubling with new rules for off peak and anytime tickets. Eric says that higher fares for a better service was not matched by lower fares when the service was poor.
Eric said,
"They say theyíre doing it because itís a better service but I canít remember them taking prices down when they had a poor service. Rail travel is becoming more like travel on budget airlines - the sooner you book, the cheaper you get a ticket. People will have to adapt to that."
---
---
On behalf of Eric Martlew, 3 Chatsworth Square Carlisle Cumbria CA1 1HB