Gerry Steinberg MP
Public Accounts Debate
Feb 2004
Commons Hansard
12 Feb 2004
Public Accounts Debate
3.18 p.m.
Mr. Gerry Steinberg (City of Durham): I congratulate the Chairman of the Committee on an excellent, comprehensive speech. He has covered most of the things that I was going to say, so that is a good start. I also congratulate the hon. Gentleman on the way in which he chairs the Committee. Even though he is an Opposition Member, he is very fair, as we would expect him to be, and it is a delight to serve on the Committee under him.
I very much look forward to this debate each year because it gives hon. Members the opportunity, if nothing else, to pay tribute to the National Audit Office. Its reports are the basis of all our work, and they can only be described as excellent. I now realise that, before I served on the PAC, my knowledge about most subjects was very limited indeed. Some would probably say it still is quite limited, but I can assure hon. Members that reading those reports gives us a lot of knowledge. We get an incredible amount of information from virtually every report on each subject, and a lot of information - details, facts and statistics - becomes available to us. When hon. Members are researching any topic, I suggest that they read an NAO report that covers it. I was shocked and amazed when I heard the Leader of the House say, in answer to a question this afternoon, that he had not read an NAO report. Shame on him! He should read every report that comes from the National Audit Office. If he is listening to the debate, I am sure he will take that advice.
I had a little chuckle to myself a few weeks ago when I saw the publicity surrounding the Health Committee's investigation into obesity. Its members appear to have travelled all over the world - I am not criticising that at all - to find obese people. They even went to Finland - they were probably pronouncing it wrong and thought they were going to Thinland. They spent weeks investigating the subject, when all they had to do was read the report that we produced about two years ago and examine their own Chairman - that would have given them an insight into obesity. [Hon. Members: "Ooh!"] I am sure he will not read Hansard.
I was surprised that the Chairman of the PAC did not mention the fact that our Committee won the parliamentary Committee of the year award - I am not quite sure whether it is a BAFTA. I thought he would have the trophy on display this afternoon. You, Madam Deputy Speaker, could have waved it above your head and shown the world what we are capable of. To be serious, though, without the NAO reports, I suspect that we would not be the Oscar winners that we are.
It is quite clear that the Public Accounts Committee is the Real Madrid of the Committee world - I was going to say Manchester United, but I changed my mind. That is particularly true since several Select Committees have come under severe criticism in the past six or seven months. There was an article by a Bernard Dineen in the Yorkshire Post last summer, entitled "Pompous MPs are feeble bullies". I shall quote directly from it:
"The worst moment in the David Kelly saga came when a loutish Labour MP said to him: 'Remember you are before the High Court of Parliament'. The High Court of Parliament? Who do these pompous MPs think they are? The Law Lords? If they had uncovered anything useful by penetrating questioning, their pomposity might be excused. But this pathetic bunch couldn't penetrate a rice pudding . . . The chairmen strut around, preening themselves as head of the 'powerful', 'influential', or 'formidable' watchdog . . . The worst committees have turned themselves into kangaroo courts, bullying witnesses and touting for publicity."
However, the article also says:
"With the exception of the Public Accounts Committee, most of them are a waste of space."
I have said how much I admire the NAO, and the same must be said of the PAC staff. They are also excellent, especially in the service that they provide for Committee members. Nothing is trouble for them and they are a pleasure to work with. I thank them for all the help that they have given me throughout the year.
Public Accounts Committee members are told that we do not have a good reputation with senior civil servants because we are supposedly a little too aggressive. They seem to forget that we work from National Audit Office reports that invariably show that the NAO has discovered weaknesses in Departments, fraud, incompetence, and so on. Frankly, the accounting officer who appears before us is responsible for those actions. It sometimes seems to slip accounting officers' minds that they sign NAO reports to show that they agree with their findings and conclusions. If they did not sign the reports, they could not be published or presented to the Public Accounts Committee. However, as I said yesterday, I sometimes feel that the report that I read and the report that the civil servants read are two different reports altogether, because they interpret them differently from Committee members.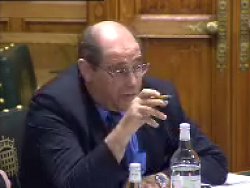 Gerry makes his point in the PAC

There is nothing more galling to me than when an accounting officer appears to be arrogant and complacent, and dismissive of Committee members' questions. We have a right - indeed, a responsibility - both to Parliament and to the taxpayer to ask searching questions of the accounting officers and witnesses who appear before us. We have a right to be taken seriously and for our questions to be answered, even if Departments would rather not answer them or would prefer them not be asked so that the information would not go into the public domain.

I had a little spat with a chief accounting officer - a permanent secretary - only a couple of weeks ago. Believe it or not, it involved Sir Andrew Turnbull. Hon. Members might ask, as did I, who he is. Apparently, he is the head of the civil service. He complained to the NAO about my aggressive attitude, and Sir John Bourn passed the complaint on to the Chairman of the PAC who, I can assure hon. Members, has reprimanded me. However, perhaps Sir Andrew should take note of his Departments rather than worrying about what Committee members have to say and ask. He should look at the number of cock-ups over which he presides and the wasted taxpayers' money that goes down the drain each year that could be used to fund better public services. We are not talking about millions of pounds, but billions.

The hon. Member for South Norfolk (Mr. Bacon) is a valuable member of the Committee - even though he sits on the Opposition Benches, he is quite a nice chap. He wrote an article for The Daily Telegraph that he passed round all members of the Committee. Although I do not want to make his speech for him, I am sure he will not mind me quoting from the article. Incidentally, he took the figures from reports that the Committee had produced. I ask Sir Andrew to read the hon. Gentleman's article, which says:
"The Department for Work and Pensions has received a black mark from the auditors every year since 1988 because of the volume of fraud . . . Each year, between £3 billion and £7 billion goes south through fraud and error. Five years ago, civil servants running social security were slammed by MPs for not knowing if housing benefit fraud was going up or down. They still don't.

There are 40 new Apache helicopters worth more than £1.2 billion stored in a warehouse on Salisbury Plain, at a cost of £6 million, because the Ministry of Defence" -
guess what -
"didn't train enough pilots in time.

Customs & Excise loses between £7 billion and £10 billion on unpaid VAT and £7 billion on excise duties on alcohol, tobacco and fuel. The Inland Revenue says £2.5 billion is at risk annually because of income tax self-assessment."
The computer system for the magistrates courts has already been mentioned. The article says that it
"saw costs explode from £156 million to nearly £400 million",
yet it still does not work properly.
"The new £500 million computer for the Child Support Agency isn't working, either: that's the one which replaced the old CSA computer"
system, which also did not work.
"The Government Communications Headquarters expected to pay £40 million for moving the signals intelligence computer systems into its new building. Managers told the GCHQ board it would cost £20 million . . . it cost £400 million.

The Government thinks the National Health Service loses 16 to 20 per cent. of its budget each year through waste, mismanagement, incompetence and fraud.

Dirty hospitals kill 5,000 people a year and cost £1 billion . . . Clinical negligence claims cost another billion."
Those facts are all widely available in NAO reports and in the reports that we have written. Yet Sir Andrew had the audacity to complain that I was asking questions about fraud, mismanagement and incompetence. Frankly, I think that he had some cheek. I suggest that he read the NAO reports and come up with ways of saving the taxpayer those billions of pounds that are going down the drain.
Not everyone agrees with me, and I have had one or two letters from members of the public - although not from my constituents, I am glad to say. One was from a gentleman - well, not actually a gentleman - who wrote to me and described me as a part of the female anatomy, and constipated at that. I shall leave that matter there, but perhaps we cannot always get praise from everyone.
I shall describe one investigation, to highlight what I mean by waste, and by not listening to what the PAC and NAO say. The Chairman of the Committee mentioned this matter. On 21 October 2002, we held a hearing with the Ministry of Defence and the Chief of the Defence Staff regarding an exercise that the military had undertaken named Saif Sareea, which was a key test of the United Kingdom's ability to conduct expeditionary warfare, and aimed at investigating what taxpayers get for their money from the MOD. That took place in Oman in September to October 2001, and was the largest deployment of UK forces since the first Gulf war, involving the movement of 22,500 personnel to Oman.
From the start of the hearing, the witnesses were defensive to the point of being dismissive of some of the questions put to them. I accept that the report from the hearing said that the exercise had been a success, but it also pointed out that two important pieces of equipment needed for desert warfare were inadequate: the Challenger 2 tanks, which the Chairman mentioned, and troops' personal equipment and clothing. Hon. Members who have been following the debate on equipment during the past year are perhaps beginning to realise what I am talking about. The problems with the Challenger tanks were addressed, but what about the personal equipment and clothing for troops in action in desert warfare? A major criticism of the 2001 exercise was that there were insufficient stocks of desert combat suits and footwear to equip the Joint Rapid Response Force.
Lo and behold, when the real thing happened less than two years later, the NAO tells us that a similar problem occurred. Again, personal equipment for the soldiers had not been provided and there may well have been - I am not saying that there definitely were - tragic consequences from some of the soldiers' not having the right body armour. Interestingly, I received a letter from a retired Major Thornton, ex of the Royal Northumberland Fusiliers. In something of a diatribe against the Government's policy, he made this valid point:
"It was plain to see from the TV pictures of the war that the troops did not have the correct kit, as some had for example Desert clothing whilst others had European clothing and you could clearly see some had the wrong boots on."
That criticism had been made of the Saif Sareea exercise, and yet two years later here was exactly the same thing happening again.
We are fully justified in making complaints and questioning vigorously to ensure that such things do not happen again. Questions must be asked as to whether lessons learned from the exercise were heeded in events two years later. Perhaps the most important failing that the Saif Sareea exercise highlighted was the problem with asset tracking: equipment was lost in transit and no one knew where it was. That is a long-standing problem, which has gone on for years and years and remains unsolved to this day. It was the main reason for some of the problems in the Saif Sareea exercise - again, we also saw it only a year ago.
Equipment in the Saif Sareea exercise was sent from the United Kingdom, but because of an unreliable tracking system, no one knew where it was or whether it had arrived. The report on the exercise made it quite clear that the two asset-tracking systems, named Global and Vital, were ineffective. The Global server routinely crashed throughout the exercise, although that was not acknowledged by the Defence Logistics Organisation. That is not surprising, because it never acknowledges anything. Vital, a consignment tracking system introduced as a result of an NAO recommendation following the first Gulf war, was by 2001 operating at around 500 per cent. capacity. During the exercise, it took 15 minutes for the in-theatre Vital system to discover the contents of a single ISO - individual spares order - container. The lack of the Vital system at the point of exit in the UK and the point of arrival in-theatre meant that if something was sent directly to the first line unit, there was no way of being able to check where it was - anywhere in the world - until it arrived at its destination.
Clearly, nothing had changed during the second Gulf war. The report on that told us that ammunition was present in abundance, although the press said that it was in short supply. However, it could not be transported from where it was to the front line because it was not known where the equipment was to transport that ammunition. The ammunition was there, but it could not be transported to the front line, so soldiers thought that there was a lack of ammunition. The problem with asset tracking had been strongly identified by the NAO and the PAC in October 2001, yet we saw the same problems a year ago. Nothing was done when we pointed out the problems. Although most Departments adhere to PAC recommendations, there are times when that does not happen and problems occur.
I have probably said more than enough, and other hon. Members want to participate, so I shall finish. I can already say that I am looking forward to the next debate on this subject, which should be in six or seven months' time.
House Speech Contents
Back to front page!
---