| | |
| --- | --- |
| Gerry's website praised by independent "Think Tank". | |
---
This website has drawn praise from the Institute of Economic Affairs which carried out a survey of M.P.'s websites. The Newcastle Journal gave the story prominence. Thank you!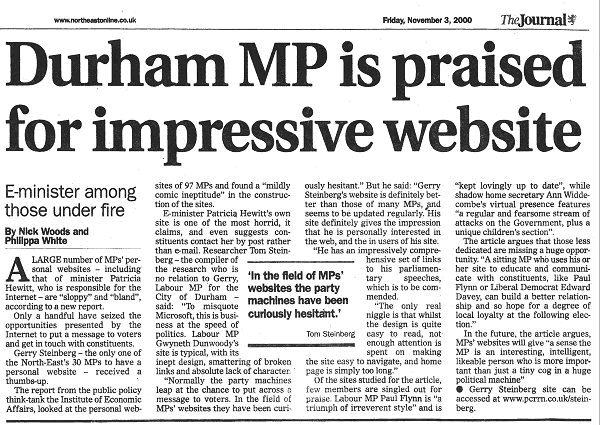 Since this was published, the home page has been revamped and shortened, and navigation made more accessible.
---
In the headlines again
This website has hit the headlines yet again, featured in the Newcastle Evening Chronicle on March 29. While several MPs in the North have websites, only two, this one and that of Lib Dem Alan Beith are linked to the House of Commons internet system. The paper urged other MPs catch up with the on-line revolution.

Gerry is quoted as saying,
"The website is the one place where I can get across my true feelings on issues without any worry about them being spun by others."
N.B. Also linked to the Commons system, but outside the Chronicle's area is the site of Lawrie Quinn, MP for Scarborough and Whitby.

Back to front page!