| | |
| --- | --- |
| Gerry Steinberg MP | Press Releases |

21/01/05 Parking Scheme - MP Supports Residents
09/12/04 Taxi Colour Appeal - Shameful Waste of Taxpayers' Money
01/12/04 Patients Denied Access to Local Services - MP Slams Healthcare Trust
18/11/04 Carol gets it wrong
10/11/04 Fireworks Laws - MP Asks "Are They Working?"
16/09/04 MP Joins Residents to Oppose Phone Mast
09/09/04 Narrow-Minded and Petty - MP Slams Local Councillors
23/08/04 MP Outraged at Plans to Transfer Jobs
18/06/04 MP Predicts Taxi Chaos in Durham
15/06/04 MP Criticises City Council over Gala Theatre Figures
06/06/04 MP Slams Dentists
02/06/04 Financial Mismanagement Claims - MP Urges Investigation
02/06/04 "A First Class Location" - MP Supports Case for Durham
25/05/04 MP Fights Bus Plans
19/05/04 Gerry Steinberg MP Urges the Government to Act Now to Ban Hunting with Dogs
14/05/04 MP Questions Defence Procurement Policies
13/05/04 MP Criticises Greedy Dentists
27/04/04 "Durham Now Closed for Business"
19/03/04 MP Calls on Post Office to Reinstate Branch Service
25/02/04 MP Slams University's Uncaring Attitude
13/02/04 MP Offers Help to Flagging Opposition
12/02/04 MP Supports College Accommodation Plans
12/01/04 Gerry opposes top up fees
08/01/04 MP Welcomes Refusal of Opencast Development

---
Parking Scheme - MP Supports Residents
Labour MP for the City of Durham, Gerry Steinberg, has joined forces with County Councillor Peter Thompson and Labour's Prospective Parliamentary Candidate, Roberta Blackman-Woods, to urge Durham County Council to resolve a problem in issuing parking permits to residents in Durham City.
Following concerns by residents that they have been denied parking permits, on the basis that they have access to off-street parking on drives or garages, the MP is meeting with the Leader and Cabinet Member for Transport and Sustainability to investigate how the issue can be addressed.
Mr Steinberg said:
"I can certainly appreciate the rationale for taking into account whether residents have access to off-street parking where parking is severely limited and is, at the same time, designated for on-street parking.

"However, in residential areas, where parking is restricted to residents only, this does seem rather a perverse decision. We shall therefore be discussing the regulations with Durham County Council next week.

"If the County Council is not prepared to review the regulations, we will have a situation where residents will not be able to park in front of their own homes, even if the streets are deserted.

"The response from NCP was to suggest that residents should use visitor parking permits, or pay to park on-street in a neighbouring area. This is just silly.

"After all, this excellent scheme has been hugely beneficial to many residents in Durham and I am hopeful that the Authority will positively respond to the difficulties which have been encountered."
21 Jan 2005
---
Taxi Colour Appeal - Shameful Waste of Taxpayers' Money
Labour MP for the City of Durham, Gerry Steinberg, has criticised Durham City Council following its decision to appeal the court's ruling that the introduction of a colour policy for taxis was not reasonably necessary.
Mr Steinberg previously tried to arbitrate in the dispute, attempting to liaise with the City Council to resolve the concerns of the taxi associations about the rationale and procedure for introducing the colour policy. He said:
"I regret that the City Council is so arrogant it always believes it is correct and the Taxi Association and the court are wrong.

"What particularly concerns me is the slapdash way it is using Council Taxpayers' money to try to force its will on people, irrespective of the thousands of pounds this is costing local taxpayers.

"The Council's management of this situation has been appalling. It could not even provide a reasonable case for the colour policy, other than to copy other Authorities in the County.

"As a result, Durham's taxpayers will foot the bill for this appeal, the costs for which will be exorbitant, already running into thousands of pounds awarded to Durham Independent Taxi Association, barristers' fees and senior officer time.

"There is a distinct lack of financial stewardship apparent at the Authority. Last week the Authority was extravagantly hiring hotel rooms for meetings, when it has an abundance of conference facilities. Now we see it wilfully squandering taxpayers' money on a case it can't win."
9 Dec 2004
---
Patients Denied Access to Local Services - MP Slams Healthcare Trust
Labour MP for the City of Durham, Gerry Steinberg, has stepped up his efforts to retain local healthcare services for village residents in Durham.
Patients in Kelloe and Quarrington Hill have been advised that Durham and Chester-le-Street Primary Care Trust is not able to accommodate any more patients at the podiatry and chiropody clinic in the neighbouring village of Coxhoe. Instead, services will be provided by Easington Primary Care Trust at Hartlepool and City Hospitals Sunderland NHS Trust, as their Thornley-based GP comes under Easington PCT.
Mr Steinberg, who has urged Durham PCT to reconsider, and has pledged to fight to protect the interests of the patients affected, said:
"It is completely unacceptable to force residents in Kelloe and Quarrington Hill, who live in Durham PCT area, to travel outside of the locality, purely for the convenience of the healthcare providers.

"The situation is even more outrageous when patients live within walking distance of a local clinic, but are being denied access to it.

"The PCTs have conveniently forgotten that patients in Kelloe and Quarrington Hill were forced to access GP services at Thornley, outside of their local PCT area, because the health authorities allowed them to be removed from the GP list at Coxhoe. To withdraw further services from these patients, on dubious grounds, is deplorable, particularly when the health authorities have placed them in this position.

"Patients must be able to access healthcare facilities in their area and the PCTs need to recognise that a further deterioration in the availability and accessibility of local services is just not acceptable."
1 Dec 2004
---
Carol gets it wrong
The LibDem Prospective Parliamentary Candidate for Durham City, Carol Woods, again demonstrated her ineptitude and lack of understanding of parliamentary procedure.
She accused Gerry Steinberg of doing a U turn on energy efficiency targets, but had she paid attention to the statement made in the Commons by the Housing Minister, she would see that the government has met the demands of Mr Steinberg and other MPs who signed an Early day Motion some months ago.
Gerry Steinberg had urged the government to meet the targets demanded by the energy efficiency lobby. The government has now agreed to meet the 20% reduction by 2010, equivalent to 5 MtC, as requested by Mr Steinberg.
Mr Steinberg said, "My position has been consistent all along. I wanted the government to set a target of 5MtC, and by agreeing to the 20%, this they have now done. No U turn was required. The Early Day Motion clearly influenced the government and did its job. We are delighted with the outcome."
So it's Carol Woods who is going round in circles, not Gerry Steinberg!
The relevant excerpt from Hansard is quoted below.
---
Commons Hansard, 17 Nov 2004
Madam Deputy Speaker (Sylvia Heal): With this it will be convenient to take Lords amendment No. 191C.
The Minister for Housing and Planning (Keith Hill): I invite the House to note that the Lords do not insist on their amendment No. 191 and that they have accepted Government amendments Nos. 191B and 191C, which were offered in lieu.
The House will recall that on Commons consideration of Lords amendments it disagreed with amendment No. 191, which placed a duty on the Secretary of State to take reasonable steps to ensure an increase in residential energy efficiency by at least 20 per cent. by 2010, based on 2000 levels. The Government have given further consideration to amendment No. 191. We continue to take the view that its effect will be broadly in line with that of existing policies on residential energy efficiency, and that there has been no weakening of the Government's determination to make serious progress on energy efficiency. However, we recognise the strength of feeling on this issue. We still believe that duties based on specific numerical figures are inflexible and better avoided in primary legislation, but we have decided to accede to the principle of the amendment as providing some comfort that the Government stand by the energy efficiency aim that they have declared. I am pleased that the 20 per cent. energy efficiency target will be included in the Bill. I am grateful to noble Members of the other place, who agreed in their wisdom to the amendment that the Government tabled on this subject.
We listened carefully to the arguments made in this House and elsewhere and we accepted the strength of those arguments. What we emphatically did not take into account was the disgraceful full-page advertisement naming names that appeared in The Guardian newspaper after the vote here. It was paid for by Greenpeace and an organisation called ACT, of which I personally had never heard before and of which I wish to hear no more. The advertisement pandered to the vulgar tabloid theory convenient to at least some elements hostile to the Government that Members of Parliament will always in some knee-jerk fashion cave in to pressures from the Prime Minister. Frankly - I speak as a former deputy Chief Whip - anybody with the most primitive knowledge of recent events in this Parliament will recognise that that is a lie.
The advertisement went on to state that the consequences of the vote would be the deaths of 30,000 people. That statement is outrageous. It is in plain ignorance of the facts of the case. Not even the most passionate advocate of the energy and fuel poverty amendments that we were debating would make such a dishonest claim, and nobody did so. The advertisement also betrayed a total ignorance of the way in which Parliament works.
I shall remind the House and, more to the point, those outside, how Parliament does work. I acknowledge the position of those Members of Parliament who felt that they could not support the position of the Government during the debate, some of whom have a long history of advocacy of the energy efficiency target, but I have to say to the House in all candour - I hope that this message gets through to those outside elements - that the voices to which I listened were the private representations of the colleagues who rightly supported the Government in the Divisions. If a Government are to work, they must depend on the support of Government Members, who continued in this case to make the argument with me. It was precisely because I recognised their loyalty and concern that I worked in Government to accept their argument. They are the Members who succeeded and to whom credit should be paid. There will be no names and no pack drill this time, but they know who they are, and I hope that they will claim the credit.
After the votes in question, one of my Labour colleagues wrote to The Guardian to say that, if anything, the Greenpeace advertisement would be more likely to heighten the Government's resistance to the energy efficiency amendment. I cannot say that I was not tempted. There is something of an object lesson here about the perhaps too easy signing of early-day motions; something along the lines of chickens coming home to roost springs to mind. Personally, as a Back Bencher, I resolved after the 1997 general election never again to sign an early-day motion, and I cannot say that I have suffered much as a consequence.
Nevertheless, we have done the right thing in supporting the 20 per cent. energy efficiency target in residential accommodation. All the evidence suggests that the Government have been working towards the target effectively and that they will achieve if not exceed it. I repeat that agreeing to it was nothing to do with the pathetic stunt by Greenpeace et al. I know that such outfits have to justify their donations by various stunts, but this stunt could well have backfired, and I wonder whether those involved really care about that.
I hope that the House will recognise that amendment No. 191B is a significant concession to colleagues who feel strongly about the matter. We are satisfied that the amendment will not place an additional burden on the Government. We have tabled it to rectify some technical deficiencies in Lords amendment No. 191. The definition of residential accommodation in amendment No. 191B mirrors that in the Sustainable Energy Act 2003 to bring the provision into line with the designated aims, and proposed subsection (2) clarifies that that duty does not affect the duty to designate an aim under that Act. Finally, amendment No. 191C, which amends clause 231, the commencement clause, provides that the new clause introduced by amendment No. 191B will come into force two months from the date of Royal Assent.
I therefore invite the House to agree to amendments Nos. 191B and 191C.
18 Nov 2004
---
Fireworks Laws - MP Asks "Are They Working?"
Labour MP for the City of Durham, Gerry Steinberg, has approached the Minister responsible to highlight concerns about the effectiveness of legislation governing the use of fireworks.
Following approaches from constituents concerned about the nuisance and distress caused by fireworks, Mr Steinberg has also contacted the police to clarify the number of offences committed and fines imposed using firework regulations.
He said:
"The additional laws and powers to tackle the misuse of fireworks, passed last year by Parliament, are most welcome.

"Equally, it is important to consider whether the regulations go far enough to address the genuine concerns and experiences of the public and reduce the number of incidents involving the anti-social use of fireworks.

"Whilst most people sensibly enjoy fireworks, we must not forget that they can be instruments of sheer torture when used irresponsibly.

"The Government must be made aware where this is not working and we must ensure that the powers which do exist to tackle anti-social firework activities are effectively used."
10 Nov 2004
---
MP Joins Residents to Oppose Phone Mast
Labour MP for the City of Durham, Gerry Steinberg, has joined forces with Labour's Prospective Parliamentary Candidate, Roberta Blackman-Woods, in her fight against the erection of a mobile phone mast in Croxdale, on the outskirts of Durham.
Mr Steinberg has contacted the Chief Executive of Vodafone to urge him to intervene, outlining his view that the mast is inappropriate and unnecessary. Durham City Council agreed the application, despite a previous refusal.
He said:
"I completely agree with residents that one of the proposed masts is too close to local homes and will form a permanent blot on a beautiful landscape.

"I have urged Vodafone to vigorously explore the other alternative sites which already exist. There are certainly other locations which would fulfil the networking needs of the operator, prevent irreparable damage to a picturesque area and alleviate the genuine concerns of residents living nearby.

"I am amazed that the City Council did not block the proposal to erect a mast on this site and I am appalled that local residents were denied an opportunity to present their views on the scheme."
16 Sep 2004
---
Narrow-Minded and Petty - MP Slams Local Councillors
Labour MP for the City of Durham, Gerry Steinberg, has criticised local LibDem councillors who refused to recognise efforts to safeguard jobs in Durham, following proposals to transfer a number of National Savings and Investments tasks to operations in India.
His comments follow a vote by LibDem City Councillors, who rejected a proposal to acknowledge his prompt actions in seeking Government intervention. Mr Steinberg said:
"It is quite clear that Durham City Council's ruling majority is more interested in petty party politics than in supporting genuine efforts to safeguard jobs in Durham.

"It is about time that certain councillors realised that protecting National Savings jobs is not a silly game. The long-term prospects for National Savings and its employees are a great concern to me and many other people in the area.

"I can't even understand the logic. Is it really true that they would stand by and see jobs transferred from Durham to India rather than seek Government intervention?

"Instead of supporting positive action to protect National Savings jobs in Durham, they are too busy pontificating on anything which serves their sense of self-importance or furthers their own political ambitions. This narrow-minded, petty behaviour is shameful."
9 Sep 2004
Press Release Contents  Back to front page!
---
MP Outraged at Plans to Transfer Jobs
Labour MP for the City of Durham, Gerry Steinberg, has asked the Treasury Minister to intervene in plans to transfer a "small number of administrative tasks" to Siemens Business Services' operation in India, as part of its out-sourcing partnership with National Savings and Investments (NS&I). He has also contacted Siemens to express his displeasure at the plans.
Speaking about the proposals, Mr Steinberg said:
"I am alarmed and bitterly disappointed at the company's intention to transfer a "small number of administrative tasks" to Siemens' operation in India. Although the company has offered an assurance that there will be no job losses or site closures as a result, I am outraged at these plans.

"When I agreed to support Siemens' partnership with NS&I, I did so purely on the basis that it offered the best prospects for National Savings, its customers and employees. I certainly did not campaign to safeguard and create jobs in Durham only for Siemens subsequently to transfer National Savings functions overseas. In fact, I actively lobbied against a submission made by a rival competitor, EDS, as this company had openly indicated its intention to transfer jobs from Durham.

"I am absolutely appalled at Siemens' proposal. Many meetings were held with the company, including discussions local MPs facilitated with Ministers, and it was never suggested that jobs might be transferred anywhere, let alone to India!

"This move is driven purely by commercial greed and has little to do with Siemens' stated desire to improve customer service and productivity. The stark reality is that the minuscule wages paid to workers in India will provide increased profits, at the expense of the job security of UK employees.

"Siemens' attempts to portray such a move as a "good way forward" are disingenuous and should be treated with the contempt they deserve.

"These proposals are the thin end of the wedge, providing a stark indication of the strategy the company will pursue if permitted.

"This is not something that I am prepared to sit back and accept and I have therefore contacted the Treasury Minister responsible to urge her to intervene in this matter."
23 Aug 2004
Press Release Contents  Back to front page!
---
MP Predicts Taxi Chaos in Durham
Labour MP for the City of Durham, Gerry Steinberg, has criticised Durham City Council for its proposals for structured deregulation of quantity restrictions on Hackney Carriages in Durham City.
Following discussions with Durham Taxi Association, the MP has approached the City Council to raise concerns about its suggested policies.
Mr Steinberg said:
"Despite requiring licensed operators to contribute £109 per licensed plate to undertake a Taxi Survey, the Authority has completely disregarded the recommendations of this independent survey to increase the number of licences issued by nine vehicles to eliminate present unmet demand.

"Instead, the City Council intends to issue nine additional licences now, but plans to issue further licences at unspecified intervals until the list of applicants has been exhausted.

"Concerns have also been expressed that new licences will not be issued in accordance with the established applications list. In addition, I have been told that the City Council does not intend to issue further licences to existing licence holders, which is extremely worrying.

"Whilst I support moves to address unmet demand, the strategy being pursued is ridiculous and completely ignores the comments and concerns of taxi operators, whose knowledge of the business is invaluable.

"The policies proposed are bizarre and would effectively discriminate against operators who are providing employment within the City. I agree with operators that disregarding established issuing procedures, in effect cherry-picking applicants, is unfair, open to abuse and cannot be justified.

"Under the proposals, most new licences would be issued to existing taxi drivers, many of whom already work for established taxi operators. These applicants would not provide a full-time taxi service, but would concentrate on weekends and evenings, when the financial rewards and work are plentiful.

"This is detrimental to taxi operators trying to provide a full-time, consistent and dependable service.

"Obviously, a reduction in the number of drivers working for full-time operators would create an overall driver shortage and the general public would see a decline in service.

"If the genuine concerns highlighted by taxi operators are not fully explored, the people of Durham, the travelling public and indeed taxi operators and their employees will suffer and the service provided will deteriorate enormously.

"I have therefore urged the local authority to review these policies and to develop a strategy which benefits Durham. Surely the City Council should be pursuing proposals to improve the service, not destroy it?"
18 Jun 2004
---
MP Criticises City Council over Gala Theatre Figures
Labour MP for the City of Durham, Gerry Steinberg, has criticised Durham City Council for trying to mislead the public with claims about subsidies for the City's Gala Theatre.
The original estimate for the Gala Theatre in 2003/04 (set by the previous administration) was £395,654, amounting to an intended subsidy of £33,000 a month.
At the end of 2003, the new administration was suggesting a revised estimate of £653,685. By the time full Council set the Council Tax in February, this had been revised upwards to £700,000. The final figure, we are now told, was actually £753,000. That is £357,000 more than was budgeted, as a result of a failure to control expenditure to the tune of over £29,000 a month.
£357,000 is the equivalent of an 8% increase in the City Council's Council Tax. So, if the Council had kept Gala expenditure to budget in 2003/04 there would have been no need to raise the Council Tax this year at all.
Following publication of the figures, Mr Steinberg said:
"This Council seems inclined to blame anyone for its financial incompetence. Claims that the previous Labour administration deliberately set a low original estimate are just silly. Does it think Labour intended to lose the election and set the Gala budget as a booby trap!?

"Bearing in mind funding of the Gala accounts for nearly 20% of Council Tax income, it is now clear expenditure is out of control and will continue to be so.

"A subsidy amounting to £54,000 a month is definitely not sustainable. If the Authority believes that it can con members of the public into believing that subsidies are reducing, then it is naïve."The Council also alleged that Council Tax had increased this year because the Government had not allocated it sufficient funding in its formula spending share.

"The reason that Council Tax has increased by more than twice last year's increase is clearly to cover the huge subsidies being channelled into the Gala Theatre. If it had not been subsidised to such an extent then Council Tax may well not have needed to increase at all.

"Council tax increases were totally to pay for the Gala Theatre.

"It is about time the City Council started being open, transparent and honest with the public, instead of accusing all and sundry in an attempt to divert attention from the true picture."
15 Jun 2004
Press Release Contents  Back to front page!
---
MP Slams Dentists
Labour MP for the City of Durham, Gerry Steinberg, has criticised dentists for forcing patients to pay for private dental services.
He said:
"I am extremely concerned that some patients are being effectively forced into paying for private dental services, as dentists see this as a lucrative way of operating.

"Although everyone is entitled to NHS dental services, dental practitioners are at liberty to choose at any time to cease to provide NHS services and more and more are opting for the private route. This, coupled with the closure of dental schools by the Tories in the 1990s, has exacerbated the situation.

"Financial rewards are far greater in the private sector and dentists can double their income by such a switch. Some dentists argue that the move is an attempt to reduce their working week, but this will be scant consolation to those who have to subscribe to private dental plans to access services, some of whom genuinely cannot afford them.

"It is interesting that these same dentists, who have previously managed quite nicely on salaries in excess of £50,000 providing NHS dental treatment, suddenly cannot do so. The fact that remuneration can easily rise to £100,000 by providing private dental services I am sure has nothing to do with it!

"There are still dentists within County Durham who are prepared to take new NHS patients and I am assured that emergency dental treatment is always available on the NHS. The Primary Care Trust is also in the process of recruiting a salaried dentist to provide purely NHS dental services in the area.

"There are still some dentists who are prepared to concentrate on providing NHS dental services, but sadly the numbers are rapidly declining.

"It is clear that private schemes are now being imposed on patients, who feel compelled to pay up as they need access to dental services.

"I particularly object to the imposition of these private plans on children, whose parents have little choice but to pay, in order to ensure the good dental health of their loved ones, especially important when teeth are developing.

"I think it is about time that dentists stopped expecting the public to pay to enhance their income in the private sector and instead concentrated on providing a valuable dental service to all patients on the NHS, irrespective of their ability to pay.

"After all, they seem to have coped admirably on their dentist salaries until now."
9 June 2004
Press Release Contents  Back to front page!
---
Financial Mismanagement Claims - MP Urges Investigation
Labour MP for the City of Durham, Gerry Steinberg, has raised questions with Durham City Council following claims of financial mismanagement by the Authority. The MP has been advised that the City Council has failed to collect over £1 million for services it has provided.
He said
"I am told that no bills have been issued for trade waste collection within Durham City for more than six months, since November 2003.

"I have therefore asked for clarification on why the City Council has failed to issue bills for more than six months and requested further details of the situation, including what other services the Council has provided but has failed to collect payment for.

"Just as importantly, I have requested details on when the Authority discovered there was a problem with its financial management systems and what steps have been taken to rectify this.

"Certainly, I feel that Council Taxpayers have every right to know the financial implications of the Council's failure to issue bills.

"It is also essential to establish how the Authority has managed to operate without collecting these charges, and whether it has needed to make up the shortfall in income or has lost interest on assets as a result of this failure.

"Rather bizarrely, the Council, with its much-publicised policy of being "transparent and open" has failed to issue a statement, either to the residents of Durham, or to members of the Council. I have therefore also asked for details of the District Auditor's view on this state of affairs."
2 Jun 2004
Press Release Contents  Back to front page!
---
"A First Class Location" - MP Supports Case for Durham
Labour MP for the City of Durham, Gerry Steinberg, has secured a pledge from Government Ministers that Durham will not be overlooked in plans to relocate public sector jobs from London and the South East of England to other parts of the United Kingdom.
Mr Steinberg, who has vigorously pressed the case for Durham, outlined his pleasure at assurances that departments and public bodies will not restrict their analysis of possible locations only to larger towns and cities included in a comparative analysis undertaken as part of the independent review of public sector relocation. To limit the sample, the analysis considered towns and cities with a 100,000 population threshold.
"Although suggestions that only sites included within the comparative analysis would be studied were misleading, I sought an assurance that the best locations would be considered, irrespective of the size of the immediate population. I am therefore delighted that the Minister has confirmed that a wide range of possible dispersal destinations, including smaller towns and cities, will be considered, consistent with business needs, greater efficiency and improvement of public service delivery.

"This is good news for Durham, with its strong history and established track record in offering effective delivery and value for money within the public sector, with National Savings and the Passport Office prime examples of this.

"There is no doubt that Durham is an ideal location, centrally placed within the Northern Region, with a mainline railway, easy access to local airports and excellent transport links to all major population centres throughout the north.

"Durham is a first class location for government departments and public bodies looking to relocate and I am confident that its attributes will prove highly desirable and much sought-after."
2 Jun 2004
Press Release Contents  Back to front page!
---
MP Fights Bus Plans
Labour MP for the City of Durham, Gerry Steinberg, has joined with Labour's Prospective Parliamentary Candidate, Roberta Blackman-Woods, to fight plans to withdraw bus services in Brandon and High Brandon village.
Mr Steinberg has urged bus chiefs to meet him and his prospective successor, together with local councillors, to discuss the proposals. He said:
"I am alarmed at these proposals. I understand that the withdrawal of some services will leave parts of the area, particularly where there is a high concentration of elderly residents, without a convenient service.

"I am keen to ensure that the operator does not simply impose inappropriate proposals on the travelling public, who will have to live with the consequences of these changes, without fully considering the implications.

"It is all very well engaging in a "public meeting" to consult local people, but such forums do not always offer the most constructive and informative opportunity for debate, or mechanism for agreeing an appropriate way forward. It is the knowledge and experience of local representatives that often raises valid and relevant considerations and offers the most valuable insight."
Roberta Blackman-Woods, who spoke on behalf of residents at the public meeting, said:
"First and foremost, we must ensure that the service provided is appropriate and adequate for the community who will use it.

"Whilst service modifications may be necessary, these must be based primarily on the needs of local users."
25 May 2004
Press Release Contents  Back to front page!
---
Gerry Steinberg MP Urges the Government to Act Now to Ban Hunting with Dogs
Gerry Steinberg MP this week demonstrated his support for a ban on hunting with dogs by backing the launch of a new report "Time to deliver the ban." The report, produced by Campaigning to Protect Hunted Animals (CPHA*), sets out the reasons why hunting must be banned, and why now is the time to do it. It was launched at a press conference on 19 May at which graphic footage of foxhunting, staghunting and hare coursing was also released.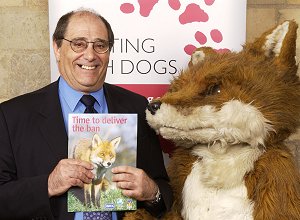 Gerry, with a fox

Gerry Steinberg MP says:
"Hunting with dogs is an inherently cruel activity carried out for the entertainment of a minority, and I firmly believe that it must be banned. Yet in spite of the overwhelming support for a ban among MPs and the British public, this issue has yet to be resolved. The Government made a commitment to reintroduce the Hunting Bill and enable Parliament to bring this issue to a conclusion. The only way to resolve this issue satisfactorily is to outlaw this barbaric practice once and for all.

"I have recently put my name to a parliamentary motion (EDM) that looks forward to the early reintroduction of the Government's Hunting Bill and that EDM now has a massive 250 signatures on it. Once re-introduced, the Bill can be dealt with in the House of Commons in just one day. If the House of Lords then rejects it, the Parliament Act procedure will apply and the Bill will automatically become law.

"I continue to receive huge amounts of correspondence from constituents on this issue and it will not simply go away. Now is the time for the Government to deal with it. Now is the time to consign hunting with dogs to the history books. Now is the time to deliver the ban."
*CPHA comprises IFAW (the International Fund for Animal Welfare), the League Against Cruel Sports and the RSPCA.
19 May 2004
---
MP Questions Defence Procurement Policies
Labour MP for the City of Durham, Gerry Steinberg, has questioned Ministry of Defence procurement policies, after revelations that the Swiss Government refused to allow an ammunition contract to be honoured during major hostilities in Iraq.
Following the disclosure at an inquiry by the Public Accounts Committee, of which he is a member, Mr Steinberg has raised concerns about the wisdom of MoD procurement policies in an Early Day Motion.
He said:
"The actions of the Swiss Government in suspending deliveries, refusing to honour an ammunition contract, seemingly for political purposes, could have had horrific consequences.

"I find the present policy quite outrageous, particularly as this has happened before and yet it seems the MoD has not learned from past experience.

"Although the UK has the capability to fulfil defence contracts and produce the ammunition required, these contracts are still being awarded to suppliers in other countries, which is incredible.

"In the North East, we have a dedicated and committed workforce which has produced ammunition supplies for British Forces for many years. UK suppliers can be relied upon in times of conflict, not only to fulfil the contracts but, if necessary, to increase production.

"The actions of the Swiss clearly demonstrate the need for a review of MoD defence procurement policies to ensure that contracts for vital equipment and goods for British Forces, which would be used during times of conflict, should in future be supplied by British companies wherever possible."
14 May 2004
Press Release Contents  Back to front page!
---
MP Criticises Greedy Dentists
Labour MP for the City of Durham, Gerry Steinberg, has slammed dentists for misleading patients when discontinuing NHS dental treatment in favour of private dental services.
He said:
"I am extremely concerned that some patients are being hoodwinked into paying for private dental services, when they are still entitled to NHS treatment.

"General Dental Practitioners are at liberty to choose at any time to cease to provide NHS dental services and only two dentists within Durham City are currently accepting NHS patients.

"The new Dental Contract recognises that some procedures, for example a routine 6-month check-up and polish, are unnecessary, involving irrelevant work being undertaken at great expense. Some dentists are refusing to accept the contract, instead focusing entirely on private work, performing financially rewarding procedures, irrespective of whether they are necessary.

"It is clear that more dentists are choosing to work entirely within the private sector, where the financial rewards are greater. However, in establishing their private business, some dentists are misleading patients, by failing to adequately inform them.

"They are happy to advise patients of the withdrawal of NHS services and to promote their private services, often by means of a private dental plan. However, they neglect to also inform patients that they are entitled to NHS dental services available at other dental practices.

"As a result, patients often assume that they have no option but to subscribe to the private plan if they wish to continue to access dental services.

"It seems to me that some dentists are focusing more on making money than providing a valuable service to patients, irrespective of their ability to pay. Some dentists are using the excuse that they cannot afford to continue under the NHS, which is complete nonsense. What they mean is they can make considerably more money in private practice.

"I would therefore urge patients who do not wish to participate in private dental schemes to seek the services of those dentists who are prepared to provide NHS treatment."
13 May 2004
---
"Durham Now Closed for Business"
MP Condemns Policy
Labour MP for the City of Durham, Gerry Steinberg, has condemned Durham City Council's decision to withdraw support grants for new and existing businesses in the City for at least one year. He said:
"I am dismayed at such an ill-conceived and blinkered approach. It seems incredible that the City Council does not appreciate the detrimental effect this policy will have on both new and existing businesses, and indeed the impact it will have on the City's economy generally.

"This policy is completely counterproductive and certainly will not help efforts to attract new business to Durham, or assist established businesses wishing to expand.

"I know of at least one business which is having difficulties as a result of the Council's strategy and has informed me that in its view Durham is now closed for business. The local authority's stance will do nothing to encourage the creation of jobs and prosperity throughout Durham.

"There is simply no justification for such a policy and therefore I have urged the City Council to reconsider its short-sighted approach on this important issue. If it refuses to review its decision, other areas will attract new business and Durham and its residents will suffer as a result."
27 Apr 2004
Press Release Contents  Back to front page!
---
MP Calls on Post Office to Reinstate Branch Service
Labour MP for the City of Durham, Gerry Steinberg, has called on the Post Office to promptly restore the Post Office Branch Service in Sherburn Hill, following a temporary closure.
He said:
"As soon as I was notified of this temporary closure, I contacted the Post Office Consultation Team to demand a guarantee that it will make every effort to secure alternative premises at Sherburn Hill.

"I appreciate that the situation has arisen as a result of the resignation of the sub-postmaster and the fact that the premises are no longer available for Post Office use.

"Nevertheless, I have urged that all possibilities must be fully investigated to ensure that this valuable service is promptly restored, and the people of Sherburn Hill are not deprived of this important resource for too long.

"I am acutely aware of the difficulties that even a temporary closure will create for local residents, particularly those without transport and people with mobility problems. It especially affects more elderly citizens, for whom the local post office provides a valuable focal point within the community.

"I therefore intend to continue to press the Post Office, to ensure that all avenues are vigorously pursued to reinstate the branch service at Sherburn Hill."
19 Mar 2004
---
MP Slams University's Uncaring Attitude
Labour MP for the City of Durham, Gerry Steinberg, has slammed the indifferent attitude of Durham University, to residents suffering as a result of inconsiderate and disruptive student behaviour.
Mr Steinberg contacted the University on behalf of a seriously ill constituent experiencing difficulties with students living adjacent to him. The University's Community Liaison Patrol failed to resolve the problems when contacted, so the MP urged the University to take effective action. He said:
"I am becoming exasperated by the University's attitude and inability to take this issue seriously. When I highlight genuine concerns, raised by people at the end of their tether, I simply encounter excuse after excuse. The University seems totally insensitive to what is happening to residents in Durham.

"The University's most recent response informs me there were only 23 calls to the Community Liaison Patrol from the central area last term, which puts the problem in context. It is deluding itself if it believes this is an accurate representation of the problems being experienced within the City. I wonder how many residents suffer in silence and how many don't know about the Community Liaison Patrol, let alone how to make a complaint about disruptive student behaviour.

"Residents will be delighted to know that the University's response to such incidents is to "advise students about their behaviour", and that "anything of consequence" is reported to the City Liaison Officer - who incidentally is also the LibDem County Councillor for one of the main areas affected - to investigate. If those investigating were awoken in the middle of the night on a regular basis, unable to find peace in their own home, then the situation may be different.

"I have therefore challenged the Vice-Chancellor and the City Liaison Officer to issue their personal telephone numbers, so they can be called on whenever disruptive incidents occur, whatever the hour. They may then gain an appreciation of the distress and frustration this causes, often to people who want nothing more than to live in harmony with their neighbours.

"To add insult to injury, the University suggested that I should actively support the establishment of a "robust code of conduct for landlords". This wouldn't be necessary if the University had addressed its lack of student accommodation years ago.

"Durham University completely ignores the suggestion that it should discourage inconsiderate and disruptive behaviour by enforcing a robust code of conduct, to ensure students are appropriately reprimanded for activities which adversely affect other residents.

"Instead, the customary excuses are offered, although I was surprised to learn that the University's "robust" response in imposing discipline is "usually in the form of a fine". Well that is a strong deterrent indeed for some students! If those who cause repeated nuisance were expelled, it would be clear to everyone that the University is taking the issue seriously and it is unacceptable to be a neighbour from hell.

"A LibDem spokesman says it is not a major problem in Durham. I suggest that they should ask the people affected by this their views. I'm sure they would get a quite different perspective.

"As always, it is someone else's problem. I am sure positive action would follow if the Vice-Chancellor and City Liaison Officer were repeatedly subjected to disruptive behaviour, like many residents."
25 Feb 2004
---
MP Offers Help to Flagging Opposition
Labour MP for the City of Durham, Gerry Steinberg, has offered to assist the LibDem's Prospective Parliamentary Candidate, who appears to have a fondness for copying his press releases and material on the MP's website.
Following recent statements by Carol Woods, the LibDem Candidate, on the relocation of public sector jobs from London, the MP was surprised that not only was his opponent making the same calls he had five months previously, but she was even raising identical issues, using precisely the same words, and in the same order!
On 6 February 2004 the LibDems were "calling on the Government to reconsider Durham for relocation of public sector jobs away from the South East and London." On 16 September 2003 Gerry Steinberg had urged that "Durham is not overlooked in proposals to relocate public sector activities from London and the South East of England to other parts of the United Kingdom."
In February the LibDem candidate realised that "Durham is a prime location, situated on a main railway line and centrally placed in the North East." In September Gerry was stressing "Durham City is centrally placed within the Northern Region, with a mainline railway station and easy transport links, by means of public or private transport, to all the other major population centres throughout the north. One could argue that its location offers a central point not obvious in other major conurbations."
Ms Woods announced that "Durham University is world-class, with an excellent reputation for research. Surely factors like that should be more important than whether the population in the immediate City is over 100,000." She of course knows that because five months ago Gerry pointed out that "one of the areas under consideration for relocation is research-orientated Government activities. The research pedigree of Durham University is world-class and to consider ruling out Durham, given that it is the best university in the region in terms of research, is simply absurd."
This week Ms Woods proclaimed "It is outrageous to reject Durham as a possible location simply because the immediate population of the city is below 100,000." Yet in September 2003, the MP had expressed his view that "Durham's rejection, purely on the grounds of an arbitrary population figure, is outrageous."
Is this purely a coincidence, or is Ms Woods so in awe of the MP's standing that she is unwittingly reproducing his statements? Responding to such flattery, Gerry Steinberg said:
"I am of course pleased that Carol Woods feels that the issues I have been pursuing for some time should be a priority for her also. I am flattered that not only is she happy to support my views, but she is equally happy to replicate my words, presumably as she cannot improve on the compelling arguments I have made.

"But I am a little concerned that it has taken her five months to follow my lead. If she is so lacking of her own ideas, I would be delighted to give her a few pointers on what matters to the people of Durham.

"For example, she could involve herself in persuading Durham University to address the shortage of, and problems associated with, student accommodation. Alternatively, she could back measures to assist communities blighted by anti-social behaviour, or even support young families through the child trust fund, instead of her stance in opposing these policies.

"I am happy for us to sing off the same hymn sheet if it is for the benefit of the people of Durham, although I had not anticipated we would be doing so quite so literally!"
13 Feb 2004
---
MP Supports College Accommodation Plans
MP for the City of Durham, Gerry Steinberg, has urged the Government Office for the North East speedily to approve Durham University's planning application for the provision of 1,000 student residential places at Howlands Farm and Parsons Field, Durham. The planning applications for new student residences at Howlands Farm, Durham require approval by the Government Office for the North East, as the development is adjacent to the Green Belt and woodland within an Area of Great Landscape Value.
Mr Steinberg said:
"I have campaigned for many years for the University to begin to address its failure to provide adequate accommodation for its students and am therefore delighted with the University's proposals.

"Durham City desperately needs the provision of further University student residences, which will significantly reduce pressure on the housing market in Durham for student accommodation.

"Concerns associated with the proliferation of student accommodation within the City are some of the most cited issues within my postbag and I am acutely aware of the difficulties being experienced and the strength of feeling on the issue. The present situation creates serious problems for both students and residents. The landlords raking in huge profits are the only ones presently benefiting from the University's lack of student accommodation.

"Durham University's proposed development will undoubtedly assist in alleviating some of the problems evident and I fully support the proposals.

"I have urged the Government Office to approve the application at an early opportunity in order that the University can have new student residential places available for 2005 and 2006. Any delay in approving these applications could have a significant and negative effect on the City, with constantly increasing University admissions, but a distinct lack of appropriate student accommodation to cater for the intake."
12 Feb 2004
---
City Council Student Debt Motion - MP Responds
MP for the City of Durham, Gerry Steinberg, has responded to Durham City Council's motion on Government proposals for university top-up fees, by maintaining his opposition to the fees.
Mr Steinberg said,
"As the City Council is aware, I have always been opposed to top-up fees, and my stance is on record for at least the last decade. Higher education should not deter anyone on the basis of affordability and nobody should have to leave college with huge debts."
In opposing the move, the MP added,
"The proposal is contrary to our 2001 election manifesto and the promise not to introduce top-up fees. Unless the Government can put forward a very persuasive argument, I cannot envisage changing my position.

If the City Council is genuinely concerned about students being ripped-off by top-up fees, why are those same Councillors, including the Finance Portfolio Holder and LibDem prospective parliamentary candidate, jumping on the landlord gravy train, profiting from renting houses in the City?

"Affordable student accommodation is equally significant when considering the expense incurred in accessing higher education.

"A landlord letting a single property to students can expect to receive an income in the region of £10,000 a year, even by conservative estimates. Some City councillors have more than one student-let property, which leads to a tidy profit, in anyone's opinion.

"If councillors were serious about student debt, they would be joining my efforts to put pressure on the University to provide adequate accommodation for all of its students, rather than perpetuating the problem by setting themselves up as student landlords. Instead, some councillors are happy to pontificate about the welfare of students, but are curiously silent when it comes to leading efforts to address the problem.

"The City Council's Leader accused me of a personal attack when I pointed this out. This could not be further from the truth, as it was actually University officials who raised the issue with me. Surely if the University recognises that Councillors profiting from the current proliferation of student-let properties is an important issue, then the City Council and its members should be able to grasp its significance?"
12 Jan 2004
Gerry backs Labour Manifesto
Gerry Steinberg has maintained his opposition to variable top up fees for universities.
Continuing his adherence to the manifesto upon which he was elected and his opposition to charges in principle, he voted against the government and for the "rebel" amendment in the crucial Commons division in the Higher Education debate on 31 March.
31 March 2004
---
MP Welcomes Refusal of Opencast Development
Gerry Steinberg, Member of Parliament for the City of Durham, has expressed his delight at the rejection of appeals by developers, Eco Energy Group Limited, to opencast coal on land adjacent to Junction 61 of the A1(M) Motorway, near Old Quarrington, Durham.
Mr Steinberg had vigorously opposed the application, which included an accompanying mixed-use development, including making numerous approaches to Ministers and an impassioned personal plea on behalf of local residents to the Inspector at the Public Inquiry. He said:
"My opposition to this scheme has always been based on the devastation that inevitably accompanies opencast coal extraction and the dreadful situation that residents would have been forced to tolerate if the application had been approved.

"Opencast mining on the site proposed would have had a terrible impact on the area, significantly damaging the environment, the quality of life of residents and the fabric and morale of the local community.

"The proposed mixed-use development offered nothing to compensate for the damage that would inevitably accompany opencast mining in this area and would in itself have had a detrimental effect on the character of the area.

"I am delighted that the Planning Inspector and the First Secretary of State have recognised what a complete disaster this scheme would be for the area by dismissing the appeal and refusing planning permission.

"This is an excellent outcome and a fitting reward for the magnificent work of Bowburn Opencast Action Group, whose strenuous efforts in resisting the development should be applauded."
8 Jan 2004
---