Putting Durham First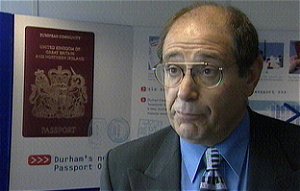 Gerry Steinberg MP at the opening of the Durham passport office.

Thanks to Gerry's unstinting efforts, the new regional passport office has opened in Durham, bringing new jobs to the area. Welcoming the decision to locate in the National Savings building, Gerry said, "We benefit from more employment being available for local people, and we no longer have to travel to Liverpool with passport problems."

Gerry was also instrumental in helping MacKays Carpets build their spacious modern factory in Langley Moor after outgrowing premises in Gilesgate Moor. There had been a risk of losing the company altogether, but thankfully, due to Gerry's intervention, the long established business stayed and jobs are saved.

I am committed to Durham says Gerry
Gerry Steinberg first became Member of Parliament for Durham City in 1987. Formerly a teacher and City Councillor, he has spent most of his life in Durham where he now lives with his wife Meg. He says he would never live anywhere else. "Durham is special" he said, "I enjoy the contrast between the villages and the City Centre, and the variety of people who live here."

Gerry keeps in close contact with the electorate. He has a full time office in the City, and maintains a busy schedule of surgeries around the constituency. Since 1997, he has received nearly four thousand letters seeking help on subjects ranging from fuel bill disputes to tax problems.

In Parliament, Gerry's special interests have been in education and animal welfare. He has been an active member of the Public Accounts Committee where he ensures public money is not wasted.

Gerry is well known for speaking out and fighting for Durham City. He was successful in getting funding for the Millennium development, bringing the new Passport Office to Durham with 500 jobs, and ensuring the relocation of Mackay's Carpet Factory, saving 300 jobs.

Gerry cares about the city and the villages. He will always put Durham first.